Do you want to equip your office/home office with a paper shredder?
Then you should check this article!
In this review, you'll learn more about the machine's performance, features and specifications before buying it.  Check those 25 short reviews on the best-rated shredders on the market. Our buying guide will help you through your buying process.
Our Top Picks
What Is A Paper Shredder?
It is a mechanical device that works with blades to cut paper into different particles (depending on the mechanism) which then fall into the bin situated under the head. It is a necessity for most offices but is also very common for household use. The market offers many kinds and you can learn more about each one underneath.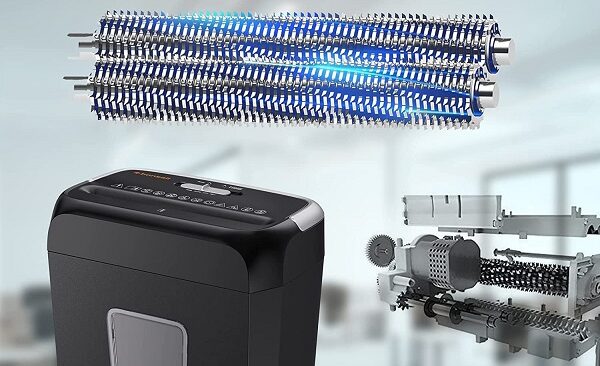 Where Are They Used?
Destroying paperwork is a usual occurrence in offices, they are mostly used in business world. However, they can also be used in households, where private individuals can destroy their personal documents. Also, they are used in government agencies, for destructing confidential, secret, and top-secret information.
Types Of Machines Used To Destroy Paper
The market offers an abundance of different machine types so that there is something for everyone.
Electric & Manual Options
The main two types are those powered by electricity or those that work manually by hand-cranking. Electric machines come in all sizes and cut types. Meanwhile, manual models are usually small with a strip-cut mechanism and good for handheld use, but they can be used even in places without access to electricity. Finally, some shredders can also work on batteries for easier portability but less intervention from your side.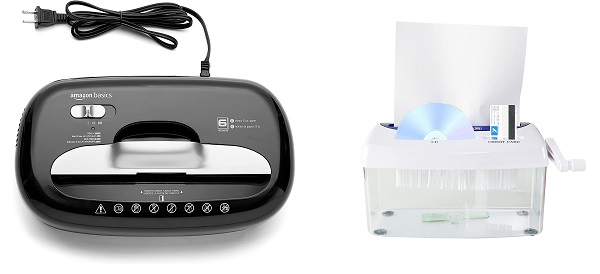 With A Bin Or Without A Bin
You can choose a device with a bin of many different sizes. However, some models can even come as a shredding head only, without a wastebasket. These are more portable, taking up less space when not in use. When in use, they can be fitted over different bins thanks to the extendable arm.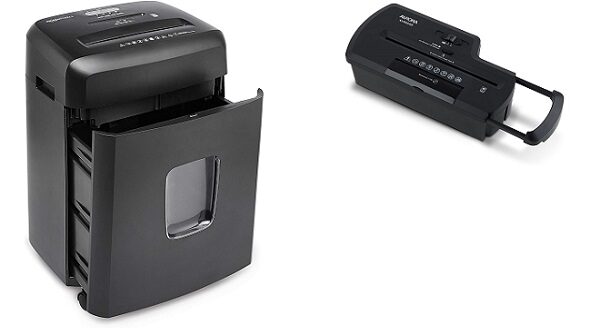 Heavy-Duty Vs. Commercial Vs. Industrial
Besides devices for home and office, you can also choose between heavy-duty, commercial, and industrial shredders. Heavy-duty ones are robust-made for shredding many sheets of paper at once. Moreover, commercial ones have higher sheet capacity, while industrial models have the highest sheet capacities and can run continuously.
Differences Between Cut Styles
You can choose machines with strip-cut, cross-cut, and micro-cut mechanisms. A shredder with a strip cut destroys paper into long spaghetti-like strips. Secondly, a cross-cut shredder destroys paper both horizontally and vertically so that the strips are much shorter. Finally, a shredder with a micro-cut mechanism shreds paper into tiny particles.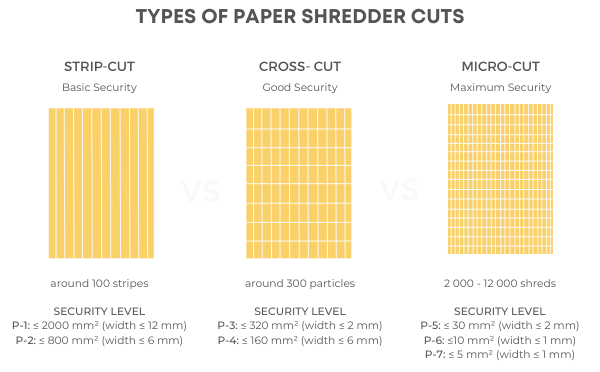 Which Security Level Should You Go For?
Different cutting types come with different security levels. First of all, these security types are laid out by the international DIN 66399 standard, from P-1 to P-7. Strip-cut types are security level P-1, P-2, and sometimes P-3. These are the lowest security levels, recommended for shredding non-sensitive, non-confidential documents. Secondly, cross-cut machines are usually P-3 and P-4 security levels. They offer medium security and are good for shredding personal documents and some confidential data. For the highest level of security, there are micro-cut machines. They are P-5, P-6 and P-7 security levels, great for shredding confidential, sensitive, secret, and top-secret data.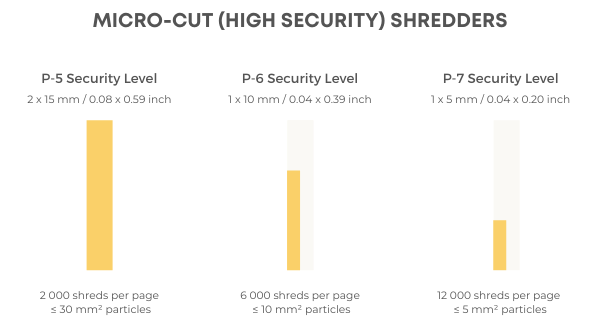 How Big Are Security Level Particles?
From P-1 to P-7, find out how big the paper shreds are for each of the seven security levels.
P-1 strip shreds – strips are equal to or smaller than 12 millimeters in width (½")
P-2 strip shreds – strips are equal to or smaller than 6 millimeters in width (¼")
P-3 strip shreds/cross cut – strips are equal to or smaller than 2 millimeters in width
P-4 cross-cuts – particles are equal to or smaller than 160 mm² with a width equal to or smaller than 6 millimeters
P-5 micro-cuts – particles are equal to or smaller than 30 mm² with a width equal to or smaller than 2 millimeters
P-6 micro-cuts – particles are equal to or smaller than 10 mm² with a width equal to or smaller than 1 millimeter
P-7 micro-cuts – particles are equal to or smaller than 5 mm² with a width equal to or smaller than 1 millimeter
Are These Machines Worth It?
Yes, it is worth investing in them if you want to prevent identity theft or any kind of misuse of your information and data. Moreover, you can even find micro-cut cutters for a small price, allowing you to properly destruct information before disposing of it.
Pros Of A Paper Cutting Device
Destroying paper with a machine has many benefits for your personal use and for your business. We have listed the most important ones below:
Saves time and space – shredding in a machine rather than by hand is a good way to save you time and free up storage space from unnecessary paperwork
Protects identity – by destroying your unopened mail, credit cards, bank statements, and other personal documents, you will protect your identity from thieves
Prevents espionage – by cutting business paperwork and documents, you will prevent competitors from trying to spy on you and your business
It is according to law – sometimes the law requires businesses to destruct information before disposing of it
Protects customers and employees – by destroying sensitive information your business collects on your customers and employees, you protect them and ensure their trust in your brand, and you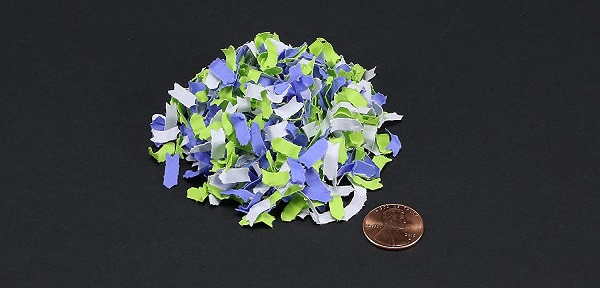 Cons Of The Same Cutting Device
This machine, however, can also be dangerous and some are reluctant to use them due to these reasons.
Fire hazard – if you leave a paper shredder on with the auto setting on, an electric fire could start; leaving it unattended if a paper jam occurs could also start a fire
Injuries – powerful units with strong blades could harm the user, children around it, or even pets
Can overheat – most mdels are not made for continuous use and can easily overheat if you extend their duty cycle over the recommended time
Paper jams – motor and blades can wear out so paper jams occur
Blades can become dull – over time and with continuous use, the blades will eventually become dull and blunt
Hampers productivity – when employees have to stand next to it to operate it, they lose precious time they could spend doing more important tasks
What Should I Look For When Buying Paper Shredder?
There are many features you need to consider when choosing this machine. Read this guide to make the search easier.
Security Level For Safe Shredding
Choose a medium security level, P-4, or higher if you are going to deal with personal documents and business paperwork with confidential information. For secret and top-secret information destruction, choose a shredder with level 6 of security (same as P-7). For destroying papers with no sensitive or confidential information, you can even go for P-1 or P-2 shredders.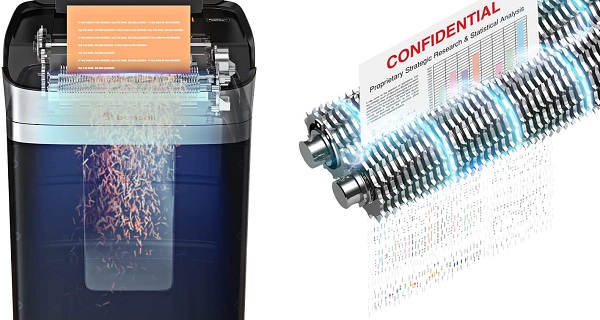 Sheet Capacity
Sheet capacity tells you how many sheets of paper you can destroy per pass. For occasional light-duty shredding, up to a 10-sheet shredder will be enough. If you are going to shred more frequently and with higher volumes of paper at home, choose a model that can cut at least up to 20 sheets per pass. For heavy-duty shredding and regular shredding, you can choose models that have a much larger sheet capacity at once, for example, 30+ sheets to hundreds of sheets.
Auto Vs. Manual Feed
Smaller shredders have a lower sheet capacity, featuring a manual feed. This means that you have to stand over it and feed it with sheets into the slot. On the other hand, an auto-feed shredder features a tray where you can put up to hundreds of sheets of paper at once, start it, and walk away. This is a great option for people who want to do other things in meantime.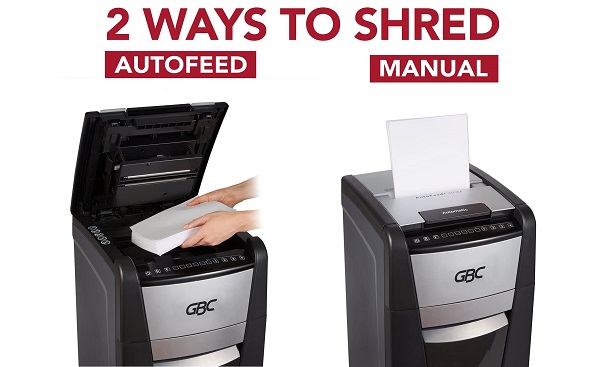 Bin Capacity
It is usually measured in gallons (or liters). You can choose up to a 5-gallon bin on a shredder for home use. In offices, you might need bigger than that. For instance, if you are shredding regularly and in larger volumes, you can even pick a bin of 10 to 20 gallons. Another thing to keep in mind is the shred type you choose. You will fit more micro shreds of paper than stripes.
Run Time/Duty Cycle
The duty cycle tells us how long the shredder can run before it needs to turn off to cool down and prevent overheating. Really cheap and small machines sometimes run for only 2 minutes which will be okay if you shred occasionally and don't have a lot of paper to destroy. However, for a home office, look for at least a 5-minute duty cycle. Also, for larger offices, you might need a model that runs for 20 minutes to even an hour. Finally, heavy-duty models can even run continuously without the need to stop and cool down.
Cooldown Time To Prevent Overheating
To protect the motor, most shredders have to be turned off after they reach the maximum run time. Weaker models can have a cooldown of around one hour after running for only a few minutes. This is okay if you are going to use it occasionally. For shredding more often, pick a model that does not need to cool down for longer than 20 minutes so that you can get back to shredding ASAP.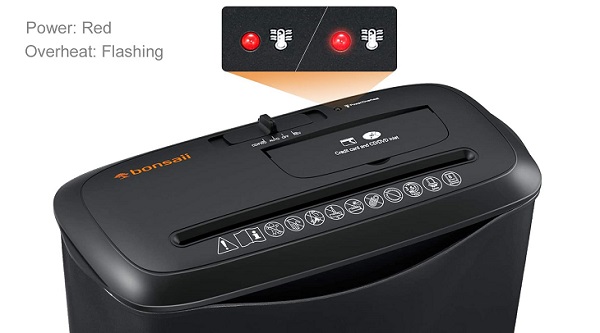 Number Of Users
For home use, you won't need more than a single-user unit. However, for offices and departments, you will need a multi-user model. For smaller offices, up to 5 users might be enough. Otherwise, you can even check out models for 5 to 10 users or 10 users and over.
Low Noise For Distraction-Free Workplace
Shredders can sometimes be loud which is recommended neither for home use nor for offices. Pick a machine that works at a level of around 60 decibels and not over. This is the best for hearing health and for keeping the workplace free of distraction.
Safety Features
To protect the user and anyone that might come into contact with it, it is recommended to look for the following safety features. For instance, look for auto-start and auto shut-off, auto-reverse, safety locks, detection of fingers and hands when they are close to the blades, etc.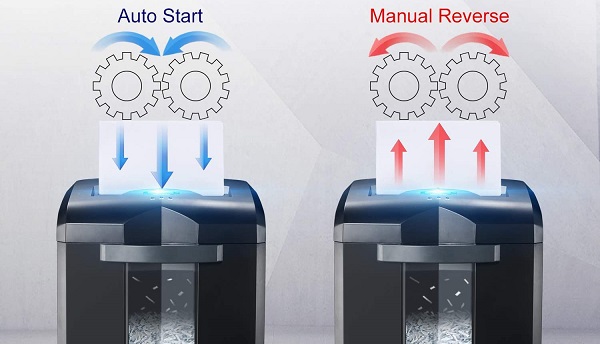 Auto-Lubrication
Paper shredders in bigger sizes can be equipped with an auto-oiler function. This way, you don't have to worry about oiling blades all the time. Also, you won't have to get your hands dirty and the shredder will be maintained for optimal performance.
Wheels For Easy Mobility
Some machines feature wheels or casters, especially if they are big, heavy, and with big bins. With wheels, you can move them around the office or home.
Suitable For Cutting Different Media
In most cases, you will want to destroy more than just paper, you could destry staples, clips, CDs, DVDs, and even credit cards. Check if the model you have is suitable for these materials before you decide to destroy them to prevent damage.

What Is The Best Brand?
Of course, there is more than one popular brand on the market. You most probably won't go wrong if you buy an AmazonBasics, Bonsaii, or Fellowes machines. They are reliable brands with amazing ratings and customer reviews.
How Much Should I Spend On It?
How much you should spend this machine depends on where you are going to use it and what for. For instance, personal models for household use shouldn't cost you more than 50 dollars. Otherwise, a good and reliable shredder can be found for up to 400 dollars.
Best 25 Paper Shredders
Best Office: Fellowes Powershred 125Ci
Commercial-grade Item
Fellowes Powershred 125Ci is a commercial-grade machine suitable for small and medium-size office spaces. It measures 28 x 11.3 x 21 inches and weighs 55 pounds. It has four wheels for easier transport and thanks to its cross-cut mechanism, it provides a high-security level.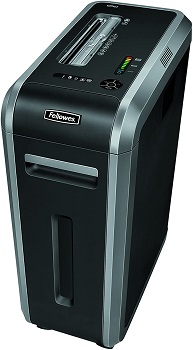 SafeSense Technology
This office shredding machine shreds 18 sheets of paper per single pass. It is perfect for shared offices with five users max. Fellowes destroys paper with clips and staples, credit cards, CDs and DVDs. Its Jam-proof system eliminates paper jams. SafeSense Technology stops shredding when detecting hands.
Best Home: Fellowes Powershred W11C
High Security Level
Fellowes Powershred W11C shredding machine meets all your home office needs. It measures 17.7 x 13.6 inches, so fits under your home office desk or table. Fellowes shred credit cards, documents and paper with clips and staples. Also, it provides a high-security level for your sensitive documents.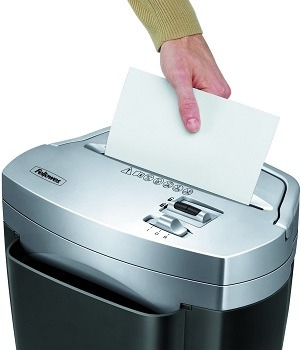 12 Sheets Of Paper
This home paper cutter provides a continuous run time of 5 minutes then requires a cool-down period of 20 minutes. The lift-off bin comes with a convenient handle for easy use. Feed it with 12 sheets of paper per once. Safety Lock will disable it if detect fingers.
Best Commercial: Intimus 16.50 Paper Shredder
Industrial Use
Intimus 16.50 is a robust shredder designed for industrial use. It measures 50 x 47 x 70 inches and weighs 1600 pounds. This commercial device is suitable for large companies that use heavy-duty equipment. The cross-cut blade type allows it to cut paper into tiny particles.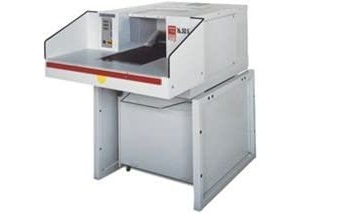 Fast Device
This shredder achieves a shredding speed of 47.2 feet per minute. There is a conveyor belt that making the entire process much faster. Intimus shreds 330 sheets per single pass. Thermal and overload protection prolongs the motor's lifespan. It shreds paper, credit cards, CDs and DVDs.
Best Cheap: Bonsaii C220-A Paper Shredder
Cross-cut Shredder
Bonsaii C220-A features a user-friendly design, it's perfect for home office use. It measures 13.2 x 8.7 x 17.8 inches and weighs 13 pounds. Equipped with four universal wheels that make transport easier and front wheels are lockable for stable placement. Bonsaii is a cross-cut that destroys 12 sheets per pass.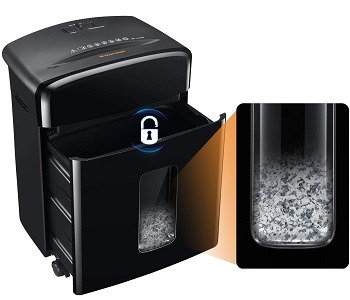 Automatic Shredding
Its continuous run time lasts 5 minutes, then Bonsaii requires 45 minutes of the cool-down period. Bonsaii is a cheap paper cutting machine that destroys paper with clips and staples and credit cards. When Bonsaii detects paper, it will start shred automatically. Also, it features overheating and overloading protection.
Best Micro Cut: Aurora AU1540MB
Professional-grade Shredder
Aurora AU1540MB is a reliable professional-grade unit available in a grey color. This is the perfect choice for those who require the highest level of security. Aurora has a P5 security ranking making it ideal for highly sensitive and top-secret documents.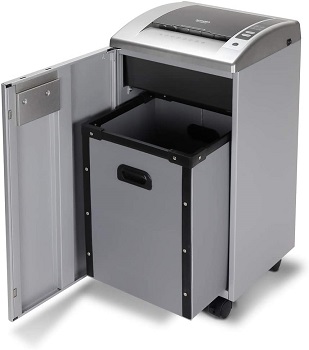 Runs 60 Minutes
Its micro-cut mechanism cuts the letter-size paper into 2592 pieces, making it unreadable. Insert the credit card, paper with clips and staples, CDs and DVDs into the slot. It accepts 15 sheets of paper at once. Aurora runs for 60 minutes without stopping. Auto-reverse function prevents paper jam.
Best Cross Cut: Bonsaii EverShred C169-B
Mobile Shredder
Bonsaii EverShred C169-B has a heavy-duty cross-cut mechanism suitable for office and home office use. It comes equipped with four casters for mobility. Two front wheels feature brakes for stable placement. Bonsaii features a powerful motor with continuous duty operation.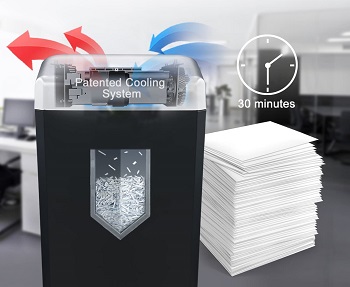 Pull-out Wastebasket
A patented cooling system prolongs the motor lifespan. Bonsaii provides a medium security level, P-3 and it shreds 14 sheets per pass. The pull-out wastebasket features a large transparent window, allowing you to see when the bin is full. It runs for 30 minutes continuously and destroys 3500 sheets of paper in that time.
Best Cardboard: HSM Powerline FA400c
Industrial Shredder
HSM Powerline FA400c is a large machine measuring 61.7 x 45.5 x 65 inches in size. It is really heavy, weighing 937 pounds. Four robust casters make the transport easy. This is a cross-cut cutting machine suitable for industrial use which provides a medium level of security.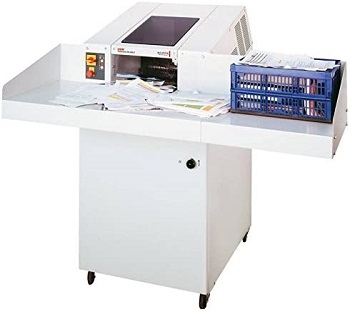 Paper-jam Protection
This cardboard shredder can shred up to 120 sheets of paper. Also, this machine is very fast, its shredding speed is 43.3 feet per minute. HSM Powerline shreds optical discs, credit cards, paper, cardboard and USB flash drives. Paper jam prevention protects the motor and device.
Best Strip Cut: GBC DS22-19
Pricey Item
GBC DS22-19 features a high price and very quality performance. It measures 14 x 19 x 29 inches and weighs 65 pounds. This heavy-duty strip cut shredding machine is designed for large offices. It can be used by 10-20 people and shred a large amount of paper.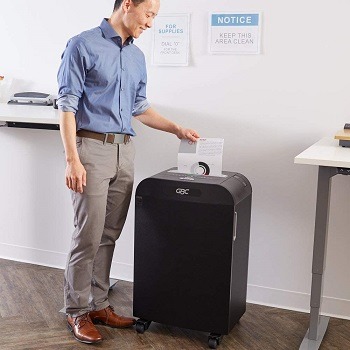 Basic Shredding Needs
Because of the P-2 security level, which is the basic level, this machine isn't designed for confidential and top-secret documents. Shreds up to 22 sheets at a time. It cuts credit cards, CDs and DVDs. Powerful motor provides continuous duty operation. Integrated jam-free technology prevents paper jams.
Best Diamond Cut: Bonsaii EverShred C149
Pull-out Wastebasket
Bonsaii EverShred C149 model is a large and strong device, measuring 14.1 x 11.2 x 21.4 inches and weighing 23 pounds. This is a diamond-cut shredding unit cuts paper into 1/4 x 1-50/80-inch particles. It comes with a pull-out wastebasket that holds 6 gallons or 23 liters.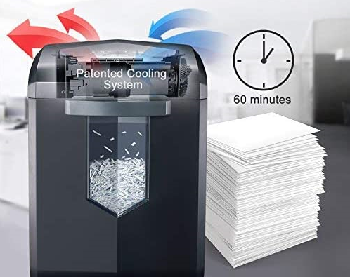 60-minute Shredding
Insert the paper with clips and staples, credit cards, CDs and DVDs into the slot. It features a continuous running time of up to 60 minutes without stopping. Bonsaii is powerful enough to shred up to 18 sheets per single pass. A patented cooling down system protects the motor from overheating.
Best Big: GBC DM11-13
Mobile Item
GBC DM11-13 is a big and robust machine suitable for medium and large offices. It weighs 71 pounds and measures 14 x 19 x 24 inches in size. It is ideal for use in shared office spaces. Comes equipped with four swivel casters that make mobility easier.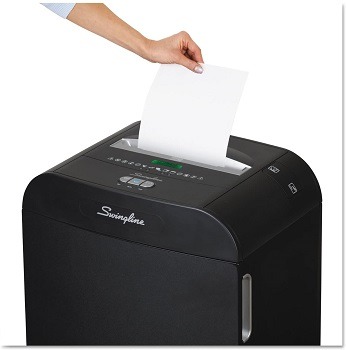 Continuous-duty Shredder
This is a micro-cut device that cuts paper into tiny particles. GBC is a continuous-duty model that doesn't require a cool-down period. Non-stop Jam-free technology automatically detects when the machine has reached capacity. Intelligent Power Save mode conserves energy.
Best Auto Feed: Fellowes AutoMax 350C
Robust Device
Fellowes AutoMax 350C is a large device, it measures 32 inches in height and 15 inches in width. It weighs 70 pounds, but the casters make transport easier. A 2-year warranty is provided for the machine and the cutters are backed by 20 years. It has a cross-cut system that works automatically and manually.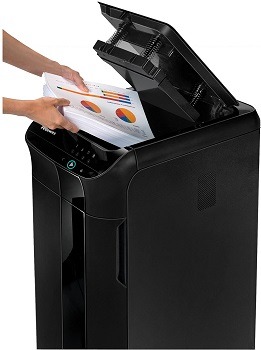 350 Sheets Of Paper
It shreds paper with clips and staples, credit cards, junk mail, CD/DVD and glossy paper. The maximal bin capacity is 18 gallons. Load the tray with up to 350 sheets of paper and the Fellowes will shred them for 6-7 minutes. The auto-feed paper cutter has a run time of 45 minutes. The jam prevention includes auto-reverse mode.
Best Personal: EZBasic 5-sheet Shredder
Compact Shredder
EZBasic is a bigger but compact shredder you can place under your desk or workstation. It measures 7.4 x 14.9 x 13.5 inches in size EZBasic is perfect for home office use. Feed it with paper, credit cards, staples and small paper clips. Put 5 papers into the slot at a time and one credit card.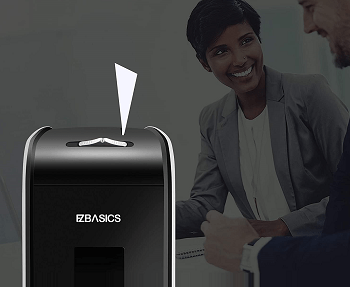 Low Noise Level
It runs 5 minutes continuously, ten require a cool-down time of 30 minutes. This personal paper shredder provides a high-security level suitable for private and sensitive documents. Its noise level is low, EZBasic produces 58 decibels, which is similar to people's conversation. Oiling isn't needed.
Best Handheld: Muji Handy Shredder
Solid Steel Blades
Muji is a handheld paper cutter available in white color. It is a small and compact device that measures 7 x 1.9 x 1.4 inches in size. Made of durable and quality plastic while the blades are made of solid steel. It doesn't require a power cord, this is battery-operated item.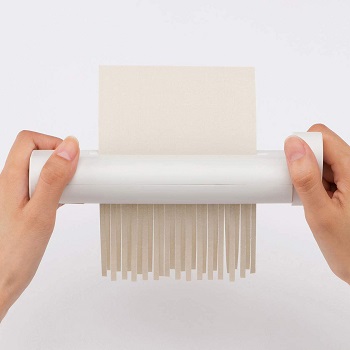 Strip-cut Shredder
Control it manually, there is a knob at the side so turn it when you want to shred paper. Muji shreds two papers at a time, but it is necessary to fold them. This small shredding machine isn't designed for thick paper such as printer paper, credit cards, etc. It shreds paper into long strips. When not in use store it in the tray.
Best High Security: Ideal 2445
Commerical Machine
Ideal 2445 is a machine for commercial use that measures 11.4 x 15.5 x 25 inches in size. Its feed slot is 9.5 inches wide. It is equipped with a powerful motor of 1/2 horsepower. The micro-cut mechanism shreds paper into 1/32 x 3/16-inch particles.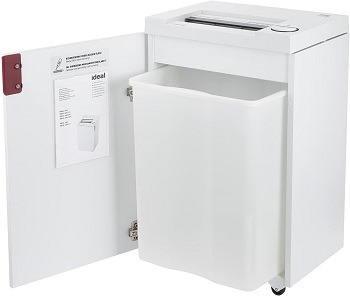 The Highest Security Level
This high-security device has a durable and lightweight bin, easy to empty. It is an eco-friendly wastebasket, it doesn't require bags for particles. Ideal provides the highest level of security, P-7. It is HIPAA and FACTA compliant, protects information against identity theft.
Best Without Wastebasket: Aurora AU800SD
Extendable Arm
Aurora AU800SD is a professional strip-cut machine that comes without a basket. Meaning, you can attach it to any basket size, which includes extra-large baskets, too. Aurora features an extended arm, so it's easy to adjust it. It shreds paper, credit cards, CDs and DVDs.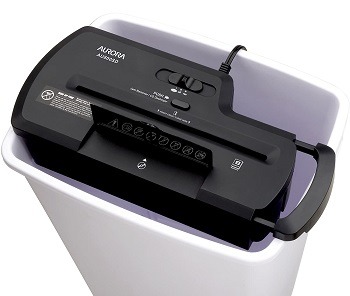 Automatic Start/Stop
This model without wastebasket shreds at a speed of 9.8 feet per minute. Insert 8 sheets of paper at a time. There are two slots – for paper and for credit card/CDs/DVDs. Aurora features auto-start and auto-stop features, this is energy efficient. Overheat protection prolongs motor lifespan.
Best Portable: Kikar USB-operated Device
Battery-operated Device
The Kikar is an electrical device that you can use wherever you want. It is really useful, you can use it whenever you need it and store it in your bag, backpack, or briefcase. It measures 11.3 x 3.9 x 2.5 inches in size. Kikar is powered by 4 AA batteries and you can recharge it with a USB cable.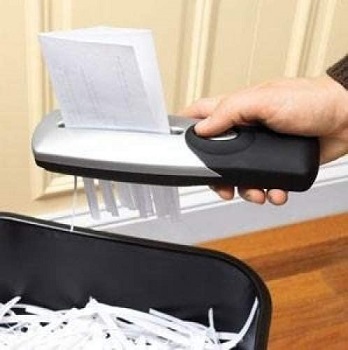 Two Modes
Its slot is 4.5 inches wide, so you can feed it with one folded A4 paper. This portable machine cuts the paper into long strips. Kikar isn't designed for thick paper or credit cards. There are two buttons, for reverse and forward modes. It is equipped with a strap for convenient use.
Best Quiet: Wolverine SD9113
Meets ETL Standards
If you work in a shared office with your colleagues, look for a quiet shredding device, like the Wolverine SD9113 model. It is a pricey and tested item that meets ETL standards. Moreover, a 1-year warranty is provided by the manufacturer. Shreds up to 18 sheets of paper into 5/32 x 1-3/-inch particles.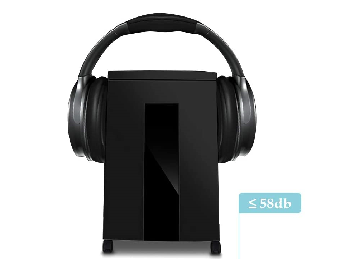 Patented Cooling System
Also, it shreds CDs and credit cards. The integrated blades cut the disc into three pieces. Wolverine runs for up to 60 minutes continuously supported by the patented cooling down system. It produces a low noise level of 58 decibels. Jam revere system automatically detects and clears paper jams.
Best For Credit Card: Aurora AU870MA
Micro-cut Device
Aurora AU870MA is a high-security machine that destroys papers with clips and staples and credit cards. Insert one credit card at a time. It has a micro-cut shredding system equipped with a lift-off head. Simply lift the head and throw the garbage. The bin capacity is 3.9 gallons.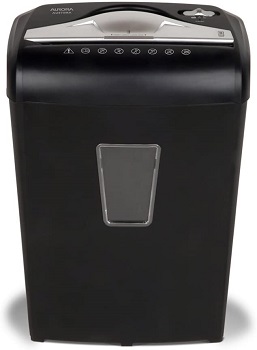 User-friendly Design
Shreds up to 8 sheets of paper per pass. The overload sensor will light up if the bin is full and automatically stop shredding. Aurora's continuous run time lasts 5 minutes, then leave it for 30 minutes to cool down. This credit card destoryer features a user-friendly design.
Best For CD: Bonsaii DocShred C156
5.5-gallon Capacity
Bonsaii DocShred C156 is a big machine equipped with a large 5.5-gallon wastebasket capacity. Also, there is a small transparent window, allowing you to check bin status. Feed it with 8 sheets of paper per pass. This micro-cut shredding machine will keep your confidential information safe.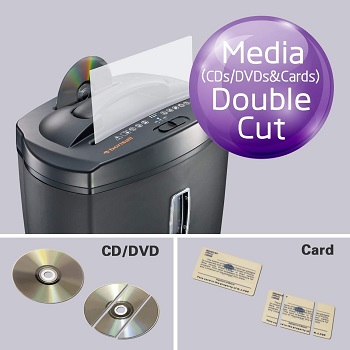 Thermal Protection
Besides the paper, Bonsaii destroys credit cards, DVDs and CDs. There is a separate slot for CDs and DVDs. The CD and DVD shredder features auto-start and manual reverse functions that clean paper jams. Thermal protection prolongs motor lifespan by shutting the device when needed.
Best For Mail: Aurora AU1200XD
Compact Shredder
Aurora Au1200XD is a small desktop cutter that is 13.1 x 9.9 x 11.7 inches in size. It has a weight of 17 pounds. This junk mail machine easily cuts CDs, DVDs, credit cards, junk mail and unopened mail. Perfect for personal and home office use.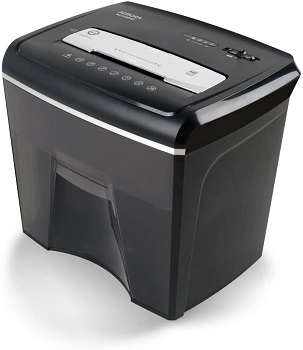 Cross-cut System
It is a cross-cut with a P-4 security rating which offers a high level of security. The maximum sheet capacity for a single pass is 12 papers. Aurora runs quietly and it works for 5 minutes continuously. After that, a 45-minute cooling down period is needed.
Best 10-sheet: Royal Cross-cut Shredder
Tested Device
Royal is a compact device is designed to meet your small office or home office needs. It measures 15 x 12.2 x 7.7 inches in size. Its entry slot is 8.7 inches wide. This 10-sheet shredding device is made of high-quality plastic making it wear-resistant. It is tested and meets safety standards.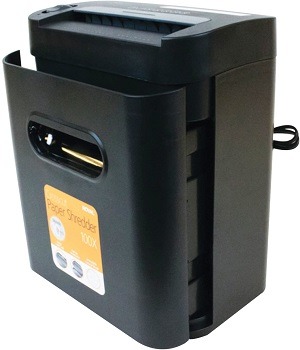 SafeSense Technology
It shreds paper with clips and staples and credit cards, not designed for CD/DVD shredding. Powerful 1/2-horsepower motor shreds up to 10 sheets in a single pass. Royal will start to shred paper automatically when detecting it. SafeSense technology shuts off the machine if your hands are close to the feeding slot.
Best 12-sheet: Royal 112MX
Classic Console Design
Royal 112MX features a sturdy classic console design, it is perfect for small offices and home offices. It is easy to operate with and maintain it, and its price is affordable. Royal dimensions are 7.7 x 12 x 16.5 inches, weighs 16 pounds and it is mounted on the wheels.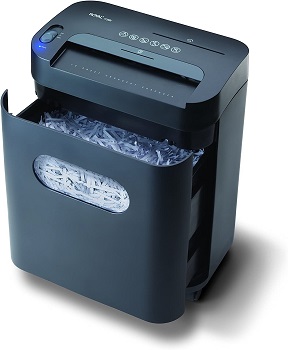 No Maintenace Needed
This 12-sheet paper cutter shreds paper with clips and staples, credit cards, CDs and DVDs. There are two separate slots for paper and CDs. The integrated sensor detects paper and starts shredding automatically. It isn't necessary to use oil or lubricate sheets for maintenance.
Best 20-sheet: Aurora AU2040XA
P-4 Security Level
Aurora AU2040XA is a large device, measuring 16.3 x 11.8 x 26.2 inches in size and weighing 34 pounds. It comes with four casters for convenient mobility. Aurora is a cross-cut that destroys paper, credit cards, CDs, DVDs. Insert confidential documents without worry. Shreds up to 20 sheets per pass.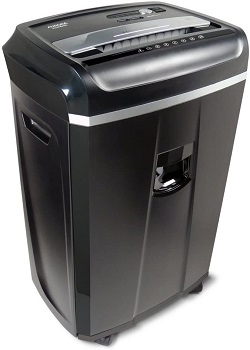 LED Indicators
Through the small transparent window, you can see if the bin is full. Its max capacity is 7 gallons. The control panel is equipped with LED indicators that show overload, overheat, bin and power status. Aurora 20-sheet shredder runs 60 minutes continuously. Auto-reverse mode prevents paper jams.
Best Professional: Fellowes Powershred 325Ci
Pricey Item
Fellowes Powershred 325Ci is a large professional machine with dimensions of 27.5 x x 38.7 x 24.8 inches and a weight of 88 pounds. However, you don't have to worry because it comes with casters for easy mobility. This is a pricey item which warranty last 2 years.
High Sheet Capacity
This cross-cut provides a high-security level suitable for confidential document shredding. It shreds credit cards, DVDs, CDs, paper with clips and staples, junk mail. Fellowes shreds 22 sheets of paper at once and the bin holds 22 gallons of trash. Continuous run time lasts 45 minutes.
Best Heavy-duty: Bonsaii C222-A
Lockable Wheels
Bonsaii C222-A measures 14.7 x 9.6 x 21.8 inches and it's is very heavy. Equipped with four swivel casters for easy transport. These are universal and detachable wheels and two front wheels are lockable providing stable placement. It shreds paper into tiny particles.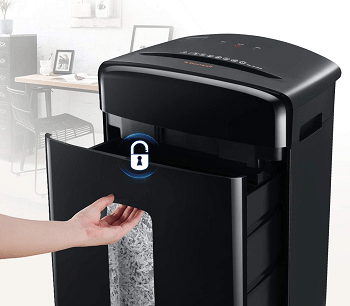 Jam-proof System
This heavy-duty machine shreds credit cards and paper with clips and staples. The integrated jam-proof system prolongs the shredder lifespan, it prevents paper jams. The overheating and overloading protection technology keeps sustainable use. Shreds up to 20 sheets per pass.
How To Use A Shredding Machine?
To shred paper properly, follow these steps:
Check the blades while it is unplugged to see if they are in a good state to start shredding.
Learn which sheet capacity the model you have can take and which materials you can shred.
Insert paper into the dedicated slot for it. If you are going to shred CDs/DVDs or credit cards, there is usually a separate slot for that.
Turn it on by pressing and holding the on button or turning the switch on.
If a paper jam occurs, press the reverse button to free up the paper stuck between the blades.
Empty the bin after shredding (or before it gets too full) and recycle the shredded particles to help the environment.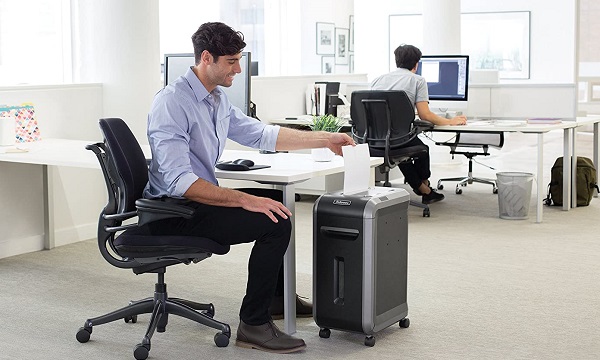 How To Maintain Your Machine?
For these devices to work properly, you will have to take good care of them. This will include keeping the blades clean, oiled at all times, the bin emptied before it gets too full, etc.
Do Blades Wear Out?
The more paper you shred, the more it will wear out the blades. Especially if you go over the maximum sheet capacity which heightens the chance of paper jams. That is why it is important to keep the unit maintained regularly to prolong its work time.
What Happens If You Don't Use Oil?
If the blades on the are not oiled regularly, the machine will start making squeaking noises, paper jams will occur more often, and, eventually, blades will become too dull to cut through paper.
How Do You Sharpen These Blades?
They can be sharpened by running a sheet or two of aluminum foil through them. The foil is soft enough to go through the blades but metallic enough to sharpen them.
How Often Do You Need To Use Lubrication?
A paper shredder needs to be lubricated every 15 minutes (micro-cut) to every 30 minutes of use (cross-cut). Also, lubricate it after every intense shredding session and each time you empty the bin.
How To Oil It?
You can oil it by putting oil directly on the blade. Another way to do it is to use a lubricant sheet. The third way is to apply oil on a sheet of paper and then run it through it. After that, start the reverse mode for a few seconds. Repeat for up to three times and your blades should be oiled properly and equally.
Do You Need Paper Shredder Bags?
You don't need bags if you have a shredder with a bin. However, it can be helpful for emptying the bin more easily to prevent shreds from spilling everywhere. If your shredder does not come with a bin, then bags will be a good idea.
How Often Should You Clean It?
It is recommended to clean it every month, especially if you use it very often. If you do not, then cleaning it a few times a year will be enough.
How to Keep It From Getting Hot?
To prevent the motor from getting hot or overheated, there are some rules you can abide by and follow. First of all, do not go over the maximum sheet capacity per pass. Second of all, do not keep it on for longer than its maximum duty cycle. Likewise, allow the shredder to be turned off for the recommended cooldown time to prevent it from overheating. Turn the shredder off and unplug it after every use.
Can I Use WD-40 For Lubrication?
WD-40 and other general-purpose lubricants are usually not recommended for lubrication. Instead, it is intended for you to buy shredder oil or lubricant sheets.
How Many Years Can These Devices Last?
They can last even up to 10 years if you maintain them properly, keep them oiled, cleaned, and working according to the manual and recommendations of the manufacturer.
Troubleshooting Tips
We have compiled some of the most obvious troubleshooting tips to help you recover your machine if anything happens.
Shredder won't operate – to get it back to operate, ensure it is plugged into the socket correctly and that the blades are situated properly – this should fix the problem
A paper jam occurred – run it in reverse and remove the paper, if it keeps happening, it is time to oil the blades
The shredding process is too loud – if your shredder unexpectedly gets louder, it is most probably time to oil it
The shredder won't take paper – your machine might have stripped gears or have some other damage; you will have to get it serviced or replace it
The shredding process stops in the middle – chances are it just needs to cool down; also check if the bin is too full, or some paper got jammed
How To Ensure Your Safety?
This is not a very dangerous machine but you can ensure your safety while using it if you follow some safety tips outlined by The U.S. Consumer Product Safety Commission (CPSC).
Keep the shredder turned off and unplugged when not in use.
Never place your hands or fingers into the shredding slot.
Do not wear loose clothes when operating – the clothes can get caught between the blades if they enter the shredding opening.
Keep your tie, necklace, hair, and other items away from the shredding opening.
Place the shredder away from the reach of children or pets.
Never allow your children to operate it, not even under an adult's supervision. It is too dangerous.
How Do You Destroy A Document Without A Shredder?
You can still destroy documents if you don't own this machine. Here are the most popular ways to do it:
Burn the documents – light them on fire to get rid of them, but you will have to deal with ashes afterward
Shred by hand – this is not a good solution if you have a lot of paper to go through
Soak in bleach and water – put paper into a bucket and soak it in water and bleach
Use shredding scissors – instead of using a machine or shredd by hand, you can cut paper with scissors for shredding
Hire a professional shredding service – instead of investing in a shredder, you can pay a service to destroy your paperwork for you
Go to a community shredding event – check when your neighborhood or community is hosting a shredding event and destroy your documents there