On the search for cardboard shredder models for commercial or home use?
If you are, then keep reading this post about the best models currently available in the market. After reading reviews, learn how to pick the best item for your needs. You'll learn more about shredding speed, design, mobility, security features and more.
Our Top Picks
Best 7 Cardboard Shredders
BEST OF BEST CARDBOARD SHREDDER
HSM Powerline FA4000c Shredder
Heavy Item
HSM Powerline is a large shredder machine, it measures 61.7 x 45.5 x 65 inches in size. It is extremely heavy, weighing in at 937 pounds. Because of its weight, it has four robust casters that make it easy to transport if necessary. This is a cross-cut industrial cardboard shredder with a medium level of security.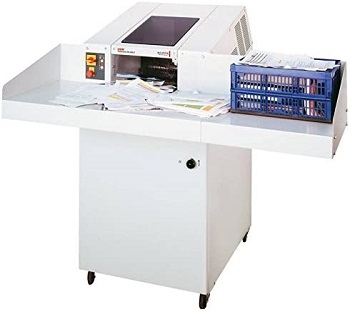 Automatic Reverse Function
In a single pass, this cardboard shredding machine can shred up to 120 sheets. HSM shredding speed is 43.31 feet per minute. The trash can is enormous with a  capacity of 104 gallons/390 liters. It shreds optical discs, credit cards, paper and USB flash drives. If there are any paper jams, the machine will automatically reverse the paper. For more similar models, read my post on heavy-duty industrial shredders.
Highlighted Points:
large paper shredder
very heavy item – 937 pounds
equipped with four casters
cross-cut industrial shredder
shreds optical discs, credit cards, paper
automatic reverse function
BEST INDUSTRIAL CARDBOARD SHREDDER
Intimus PacMaster Shredder
Use-friendly Panel
This sturdy shredder machine has a width of 27.2 inches, a depth of 18.5 inches and a height of 37.4 inches. It is a pretty heavy shredder, weighing 308 pounds, so there are four swivel casters that provide easy transport. Intimus is equipped with a user-friendly interface.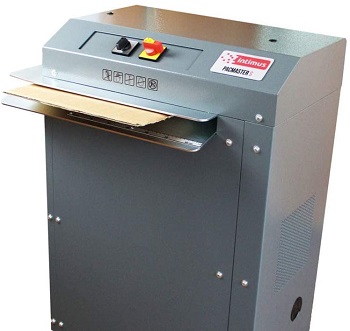 Emergency Stop Switch
There is a lockable power switch that also serves as an emergency stop. A size guide on the interface allows you to measure an accurate cutting format for cardboard. Intimus shreds old and obsolete cardboard. The feed slot width is 16.7 inches and its shredding speed is 34 feet per minute. If you'd like to know more about industrial cardboard shredder machines, check the linked review.
Highlighted Points:
sturdy steel cardboard shredder
user-friendly interface
lockable power switch
size guide on the interface
wide feed slot
shredding speed is 34 feet per minute
BEST PACKAGING CARDBOARD SHREDDER
HSM Multi-layer Shredder
Meets Safety Regulations
The dimensions of this strong and powerful shredder for packaging are 38 inches in height, 28 inches in width and 19 inches in depth. It weighs 390 pounds, therefore it's equipped with wheels making it easier to move around. HSM shredder is a green solution that meets national and international safety standards.
Continuous-duty Operation
Because the HSM is a multi-layer cardboard shredder, feed it with three cardboard layers per single pass. Its motor is designed for continuous duty operation, it doesn't need a cool-down period. A thermal fuse protects it against overheating. For more similar materials, check the article on the best high-capacity paper shredders.
Highlighted Points:
strong and powerful shredder
continuous duty operation
rips through multiple layers
heavy, but equipped with wheels
no cool-down period needed
BEST OFFICE CARDBOARD SHREDDER
HSM ProfiPack C400 Shredder
High-quality Build
HSM ProfiPack C400 is a popular shred box for offices that is built in Germany from high-quality materials. It is a single-layer box shredder. Moreover, it's compact and easy to use in any office. Equipped with powerful cutting rollers that cut a cardboard layer into padding material, that can be used as packing material.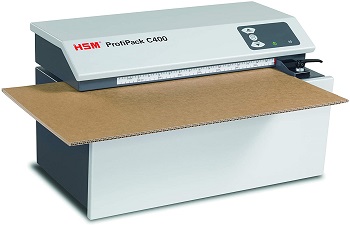 Continuous Run-time
Its feed slot is 16.3 inches wide. Almost any size of cardboard will fit into this opening, and it'll shred it at a rate of 26 feet per minute. The motor doesn't require a cool-down period and it's able to run continuously. The integrated thermal fuse prevents overheating. Check other small office shredders by clicking on the link.
Highlighted Points:
made of quality materials
powerful cutting rollers
wide feet slot
shredding speed – 26 feet per minute
able to run continuously
the thermal fuse prevents overheating
BEST HEAVY DUTY CARDBOARD SHREDDER
Intimus 16.50 Shredder
Cross-cut Machine
Intimus 16.50 is a heavy-duty shredder machine for cardboard with the following dimensions: 50 x 47 x 79 inches. It weighs 1600 pounds. This machine is suited for high-end organizations that use heavy-duty equipment. Cardboard is shredded into 0.24 x 1.97-inch using this cross-cut shredder.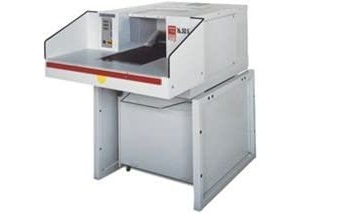 Fast Shredding Process
The conveyor belt at the feed unit speeds up the shredding process, resulting in a shredding speed of 47.2 feet per minute. It features a large sheet capacity, capable of holding up to 330 sheets of paper at once. Intimus also features overloading and overheating protection. If you looking for models like this one, read the heavy-duty office shredder article.
Highlighted Points:
large heavy-duty machine
suitable for commercial use
cross-cut shredder type
conveyor belt increases speed
shredding speed – 47.2 feet per minute
shreds 330 sheets at once
overloading and overheating protection
BEST CROSS CUT CARDBOARD SHREDDER
Sem Cross-cut Paper Shredder
Medium Security Level
Sem 5146P is a powerful heavy-duty model equipped with a big hooper. This cross-cut shredder provides a medium security level and it's able to shred paper, optical media, plastic cards, thin cardboard, staples and paper clips. It accepts 70 sheets of paper at once.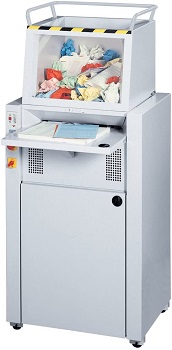 Mobile Shredder Machine
This cross-cut box shredder has 29 x 30.5 x 67 inches in size and it weighs 564 pounds. Four sturdy casters make transport easier. It features auto-start and auto-stop, meaning, Sem start shreds automatically and stop when there is no paper. For more similar models, check the office cross-cut shredder post.
Highlighted Points:
powerful shredder with a big hooper
ensures medium security level
cross-cut shredder machine
accepts 70 sheets at once
equipped with four sturdy casters
auto-start and auto-stop
BEST MICRO CUT CARDBOARD SHREDDER
Boxis AutoShred Shredder
High Capacity Machine
Boxis AutoShred machine features a large capacity, it's able to shred 700 sheets of paper at once. Put large paper stacks in the feed and this micro-cut shredder will cut them automatically. Boxis cardboard box shredder offers the highest level of security, making it ideal for confidential documents.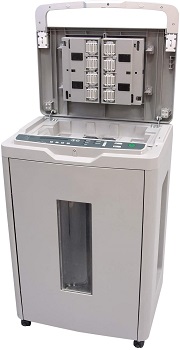 Lock The Lid
Its shredding speed is 19.7 feet per minute. Don't forget to lock the lid with a security code after inserting a stack of paper into the feed opening. Boxis will shred the paper automatically and the reverse function will keep the cutters clean. More info and models find in the post on micro cut paper shredders.
Highlighted Points:
able to shred 700 sheets at once
micro-cut paper shredder
the highest security level
shreds at the speed of 19.7 feet per minute
security features
automatically shredding process
Things To Know About Cardboard Shredder
For people or companies who struggle with cardboard waste, a cardboard box shredder machine is a great option. In this section, you'll learn how this machine works, its speed, security features, and other useful info.
Shredding Material – Shredders are able to shred paper, staples, paper clips, ID cards, credit cards, CDs, DVDs, cardboards, etc. Only heavy-duty paper shredders are powerful enough to shred cardboard, so read the product description carefully.
Shredding Speed – One of the most important features is the shredder's speed. So, before buying check this feature. It measures is FPM or feet per minute – how quickly the shredder can shred paper. On the list above there are fast shredder machines.
Run Time – Heavy-duty cardboard shredder machines usually don't require a cool-down period. That means they are able to run continuously, even for hours. These machines don't have limited run time which is ideal for commercial use and big companies. Just take care of the waste bin.
Cutting Type – There are three different forms of cutting – cross-cut, micro-cut and strip cut. The cutting type depends on the security level you'll need. If you want a high-security level, choose a micro-cut shredder, the shredded particles are unreadable.
Powerful Blades – These powerful industrial or home devices are equipped with strong, steel and durable blades or cutters. They are able to cut cardboard, paper, optical media and paper quite easily. Some industrial shredders have an automatic oiling system, so require minimal maintenance.