Are you interested in a powerful paper shredder for your business?
Then you should look for a device that will protect your sensitive documents from falling into wrong hands. Depends on your requirements and budget, we will help you to learn how to pick the best cutting machine so you can pick the best one for your situation.
Our Top Picks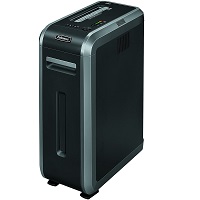 Fellowes Powershred 125Ci Shredder
OVERALL RATING: ★★★★★
This powerful shredder runs 45 minutes continuously, it uses SilentShred and SafeShred technologies.
Jump To Review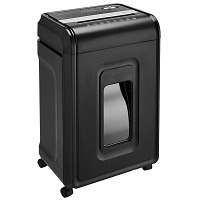 AmazonBasics Paper Shredder
OVERALL RATING: ★★★★☆
AmazonBasics is a cross-cut with a 24-sheet capacity, an automatic anti-jam system and thermal protection.
Jump To Review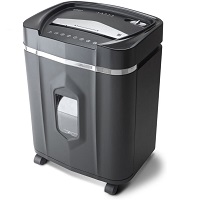 Aurora AU1210MA Professional Shredder
OVERALL RATING: ★★★★☆
Aurora provides the highest security level for confidential documents shredding, it can take up to 12 sheets of paper.
Jump To Review
What Kind Of Shredder Is Best For Your Business?
Choosing the right machine is crucial because destroying data is something you should definitely practice before disposing of it. But with the abundance of devices used for shredding paper with the help of blades available on the market, how can you know which one is suitable for your business?
Type Of Cutting Mechanism
There are two cutting types to consider for your professional shredding needs. Both od them can be good, but that depends on how sensitive the data you will be destroying is.
A cross-cut type – destroys paper into short strips (sometimes confetti shapes or diamond shapes, depending on the model). It is a good option for destroying non-confidential data, but it is still possible to put the shreds back together, although quite hard.
A micro-cut type – is a better option for confidential data than cross-cut, as it shreds paper into smaller particles. These are much harder to put back together and sometimes even impossible.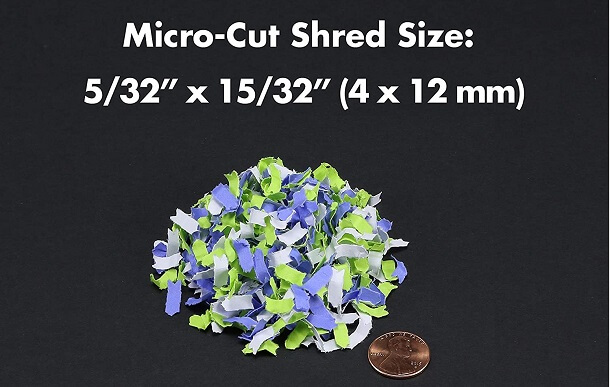 Is It For A Small Or A Large Office?
If you need a paper shredder for a small office, then you should go for this option. It is much smaller in size to fit confined spaces. On the other hand, for a big office, you will need a model with multiple users and one that can shred continuously or for a long time. Such models can also be used for centralized shredding.
Commercial Vs. Industrial Vs. Business
When comparing a commercial and an industrial machines, the biggest difference is in how small the shredded pieces are and how high the volume of paper they shred is. In reality, an industrial shredder will destroy more paper in an hour and do it in smaller pieces than a commercial model. But, a commercial shredder will destroy sensitive information securely too but usually cannot run as long and as fast as an industrial-grade model. Finally, a business model can be either a commercial or an industrial-grade one, as long as it serves certain needs.
6 Reasons You Need A Paper Shredder
If you are unsure of whether shredding is a good step to take with all your unnecessary company documentation, we bring you 6 crucial reasons why it is.
Gets rid of fire hazards – having piles and stacks of paper and documents lying around your office or headquarters can be a fire hazard that you can safely get rid of by regularly shredding
Saves time and storage space – you will save time by shredding it rather than by doing it manually as well as storage space where you can actually put documents that need to be kept
Avoids corporate espionage – by shredding paper, you protect it from both identity thieves and your competitors waiting for an opportunity to get a hold of your sensitive and confidential information
Makes customers and employees feel safe – both employees and customers like to know that their confidential data is being treated with respect by safely destroying it before disposal
It is according to law – before disposing of confidential information, under the Data Protection Act, it is required to destroy documents such as medical records, personal addresses, salary slips, etc
Eases the paper waste management – businesses produce trillions of sheets of paper waste every year in the US alone, but with a good shredder in the company, you can even recycle paper, create compost or mulch, or even use it for the protection of glass and other delicate materials (for example, glass)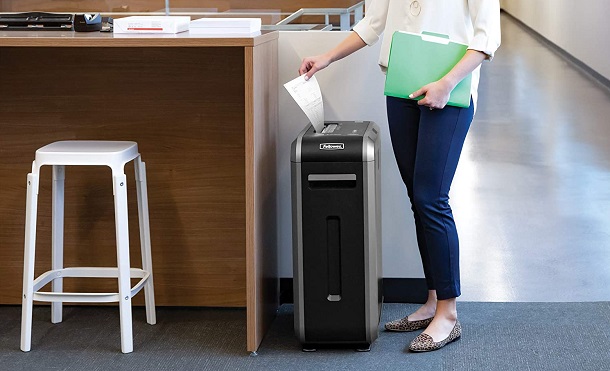 What Makes A Good Company Paper Shredders?
Many considerations go into choosing the best paper shredding device . For starters, you can consider the sheet and bin capacity of different models, their noise level, safety features, duty cycle, and more.
Sheet Capacity
To use a machine to destroy your business documents, a model with a sheet capacity of under 10 sheets will not suffice. Instead, you might need a model that can cut through at least 12 sheets at a time or even 20+ sheets at a time. These are more suitable for professional use.
Bin Capacity
The higher the sheet capacity you go for, the higher the bin capacity should be, too. You will need at least a 5-gallon bin capacity, or even up to 15 gallons to catch all your shredded pages before you need to empty it.
Auto Or Manual Feed
One feature that will make your shredding more or less convenient is a choice between an automatic or a manual feed. An auto-feed model is a popular choice for those who do not want to stand next to it and feed it manually per pass. Instead, you can put all the documents that need shredding (do not exceed the max capacity) and start the shredder. If you do not have high volumes of paper to shred at once, a manual feed shredder will be enough.
Noise Level
Do not go for shredders that produce noise at a level higher than around 60 decibels. They will give you a headache and make you more unproductive by distracting you from the task at hand.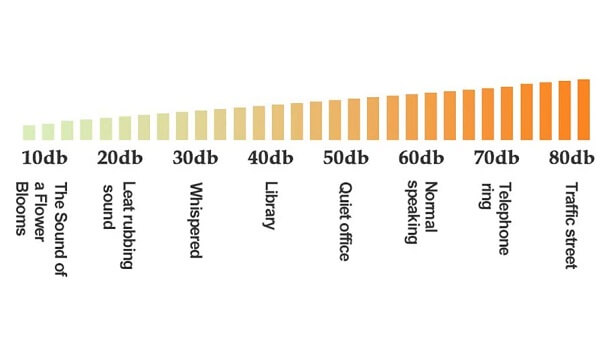 Duty Cycle
A duty cycle is a very important specification. It shows you how long your shredder can run before it needs to shut off and cool down. Models for business shredding can run for 30 to 60 minutes usually. If you need to cut more paper, go for the one with a longer cycle, at least 40+ minutes.
Cooldown Time
Once the shredder meets the maximum run time (duty cycle), it will have to turn off to cool down and prevent overheating or other damage to the motor. Some models will have to cool down for even 50 minutes, while some may need less. If you need to shred more and more often, pick one with a shorter cooldown time, for example, 15 to 20 minutes.
Auto-Lubrication
By using auto-lubrication features, the machine will always be optimally oiled without your interference. Choose the one with auto-lubrication if you fear you might forget to oil it yourself regularly or if you want the extra convenience.
Features For Safety
Some features useful for your safety include automatic start and automatic shut-off. Besides that, it is smart to choose a device with anti-jam features, as well as detection of hands and fingers near the blades that stop the shredder to prevent injuries.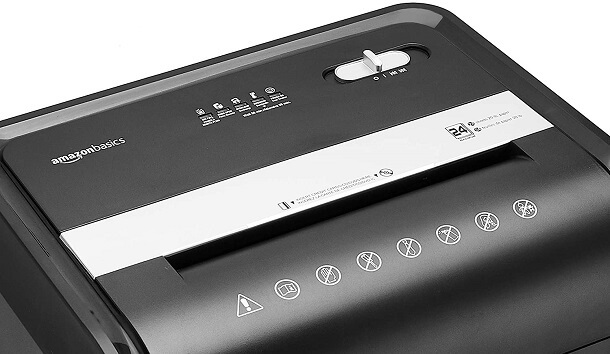 Number Of Users
If only a few people in your office use a paper shredder, you won't need a shredder suitable for more than 5 users. However, if you have a populated office, a model with at least 5 to 10 users will come in handy.
Materials They Can Shred
When destroying business data, you might have to shred more than just paper. Some machines can even cut through CDs, DVDs, credit cards, paper clips, and staples. Choose those if you need to destroy optical media and more.
Best 5 Business Paper Shredders
Fellowes Powershred 125Ci Shredder
SPECIFICATION:
Security Level: P-4
Shred Type: Cross-Cut
Dimensions: 28.9 x 21.1 x 11.3 inches

Weight: 55 Pounds
Bin Capacity: 14 gallons
Sheet Capacity: 18 sheets
Heavy-duty Machine
Fellowes Powershred 125Ci is a large shredding machine. It has 28 inches of height, 11.25 inches of width and 21 inches of depth. Before buying, check out if you have enough space for it. There are four casters because it weighs 55 pounds.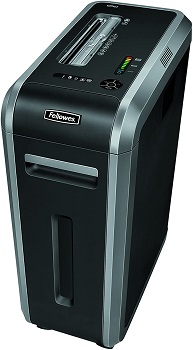 Five Users
It is a cross-cut that provides a high-security level, P-4. When it shred the paper, one particle size is 5/32 x 1-1/2 inches. That is pretty tiny and hard to reassemble and read. Powershred shreds up to 18 sheets per pass. it is an ideal choice for 5 users or more.
High-capacity Bin
This device has the capability to shred CDs, DVDs, credit cards, junk mail, paper clips and staples. The shredded paper falls into the pull-out bin. Its capacity is 14 gallons. Through a transparent window, you can see if the bin is full and do you need to empty it.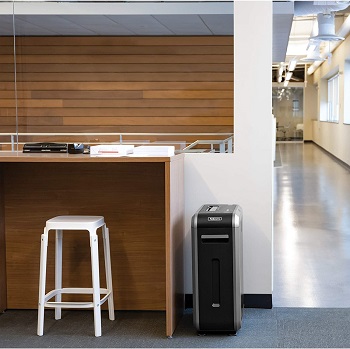 SilentShred technology
The 125Ci has a jam-proof system that prevents paper jams. The SafeSense technology will disable the machine if the sensors detect hands or fingers. This is energy efficient shredder, it has low power consumption. The shredder runs 45 minutes continuously before off. The sound level is optimal, so this device is good for shared workspaces.
Overall:
Safety:
Power:
Size:
Weight:
Funcionality:
PRICE
approx: $550 – $1000
determined by online offer (Amazon, Walmart, Lowe's) and seasonal sales
Highlighted Points:
continuous duty cross-cut shredder
SilentShred technology ensures a comfortable environment
automatic shut off if sensors detect hands
optimal power consumption
run time lasts 45 minutes
pull-out bin with 14-gallon capacity
AmazonBasics Paper Shredder
SPECIFICATION:
Security Level: P-4
Shred Type: Cross-Cut
Dimensions: 11.0 x 15.2 x 23.5 inches

Weight: 32.41 Pounds
Bin Capacity: 7 gallons
Sheet Capacity: 24 sheets
24-sheet Capacity
AmazonBasics is an Amazon brand, they produce a lot of different shredding options. This model is available with a different sheet capacity. You can decide which is optimal for your needs. In this short review, the focus is on a 24-sheet paper shredder which is good for small business. The price is affordable.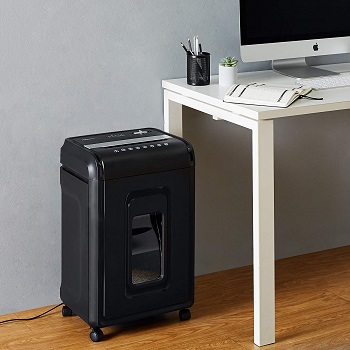 Mobile Shredder
That sheet capacity means that you can put 24 sheets of paper per single pass into this device. It will shred it without problems. Its dimensions are 11.02 x 15.16 x 23.39 inches. AmazonBasics weighs 32 pounds. But you can easily move it because there are castors.
Powerful Motor
This cross-cut heavy-duty office shredder destroys the paper into 3/16 by 1-27/32" pieces. The security level is P-4, it is a medium security level. AmazonBasics shreds paper, credit cards, small paper clips and staples. Put only one credit card at the time. It is able to shred CDs and DVDs.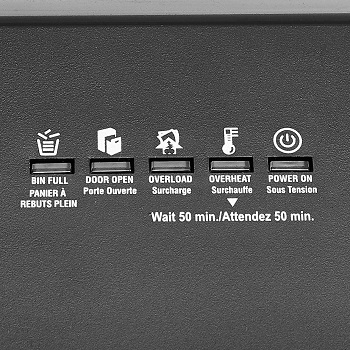 Long Run Time
AmazonBasics run time lasts 40 minutes. Then you need to leave it for up to 50 minutes to cool down. If you leave it to work longer than its max run time, the device will automatically shut down to protect the motor from overheating. It features 4 modes – auto, reverse, forward and off. The LED indicators show you the operating status.
Overall:
Safety:
Power:
Size:
Weight:
Funcionality:
PRICE
approx: $160 – $180
determined by online offer (Amazon, Walmart, eBay) and seasonal sales
Highlighted Points:
cross-cut shredder turns paper into confetti pieces
it shreds up to 24 sheets per single pass
it runs 40 minutes before 50 minutes of cool-down time
LED indicators for overheat, overload, door status
automatic anti-jam feature minimalizes issues
overheat sensors protect the motor
Aurora AU1210MA Professional Shredder
SPECIFICATION:
Security Level: P-4
Shred Type: Micro-Cut
Dimensions: 14.4 x 11.0 x 19.3 inches

Weight: 22.40 Pounds
Bin Capacity: 5 gallons
Sheet Capacity: 12 sheets
Sensitive Documents
Aurora AU1210 is a professional grade cutting machine. It is a small but powerful. Choose this model if you looking for a model that provides the highest security for your confidential documents because it is a micro-cut.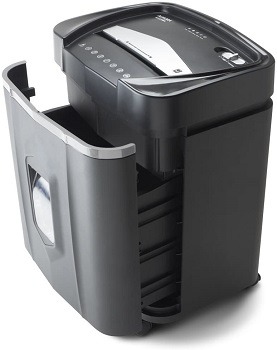 Continuous Run Time
Aurora's run time is 60 minutes continuously. That is a very long period of shredding. This machine destroys credit cards, paper clips, staples, CDs and DVDs. The max capacity is 12 sheets per pass. Because it is a micro-cut machine, the shredded pieces have 5/32 x 15/32 inches.
Overload Protection
You can't overload the wastebasket, because there is LED light which will indicate if the bin is full. There are more LED lights for standby, overheat and door open status. If paper jams, the sensors will turn on the automatic reverse and shred the paper again.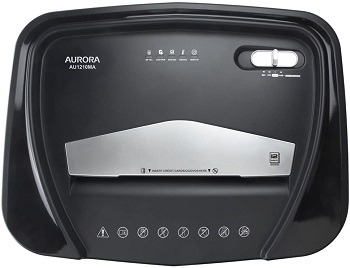 Small Business Shredder
The pull-out wastebasket has a capacity of 5 gallons. There is a small transparent window, so when the bin is 2/3 full, you should empty it. The throat is 8.7 inches wide. Aurora is good for small business use and below 5 users. Its dimensions are 14.41 x 11 x 19.33 inches.
Overall:
Safety:
Power:
Size:
Weight:
Funcionality:
PRICE
approx: $120 – $130
determined by online offer (Amazon, Walmart) and seasonal sales
Highlighted Points:
micro-cut shredder designed for small business use
mobile paper shredder with four casters
the wastebasket can hold up to 5 gallons
LED indicators for easy control
12-sheet per single pass
Bonsaii C149-C Paper Shredder
SPECIFICATION:
Security Level: P-4
Shred Type: Micro-Cut
Dimensions: 14.2 x 11.2 x 21.5 inches

Weight: 23.11 Pounds
Bin Capacity: 6 gallons
Sheet Capacity: 18 sheets
Affordable Price
Bonsaii Evershred C149-C is a heavy-duty device, it is a medium-securitiy cross-cut model. The four casters provide mobility, you can easily move it from one room to another. It features brakes, too. It measures 14.17 x 11.22 x 21.46 inches and weighs 23 pounds. The price is affordable.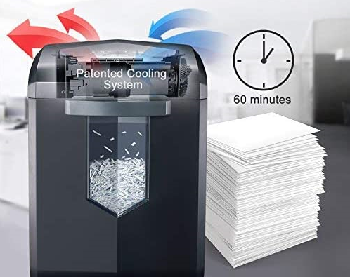 Non-stop Shredding
Bonsaii features a powerful motor that provides 60 minutes of continuously shredding. At that time, you can shred everything you need. Its patented cooling system ensures that long shredding. This diamond-cut shredder takes up 18 sheets per single pass. It shreds the paper into 13/64 x 1-37/64" pieces.
Low Noise Level
This product is a good option if you want to place it somewhere with more people. That's because it is quiet with only 62 decibels. It is easy to pull out the wastebasket and throw the shredded paper. Its capacity is 6 gallons. Also, there is a transparent window for filling status and you can use bags for paper shreddings.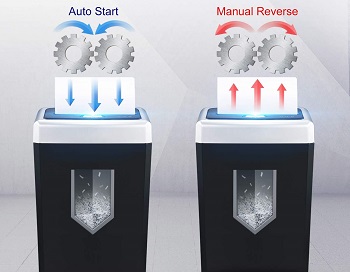 Jam Protection System
Bonsaii features sensors and they detect if you put the paper near the feed slot. Then the device starts to shredding immediately. If paper stucks, the auto-reverse feature will reverse the cutters and shred the paper again. The overheating and overloading technologies prolong motor life.
Overall:
Safety:
Power:
Size:
Weight:
Funcionality:
PRICE
approx: $160 – $180
determined by online offer (Amazon, Walmart) and seasonal sales
Highlighted Points:
continuous run time up to 60 minutes
advanced cooling and cutting systems
max sheet per single pass is 18 papers
auto-start and auto-reverse features
it provides ultra-quiet operating
overheating, overloading and anti-jam protections
GBC Paper Shredder Machine
SPECIFICATION:
Security Level: P-4
Shred Type: Super Cross-Cut
Dimensions: 19.0 x 13.9 x 25.3 inches

Weight: 45.2 Pounds
Bin Capacity: 11 gallons
Sheet Capacity: 300 sheets
High Price
This GBC has a really high price, but it has many advanced features. This high-security machine has 19.02 x 13.9 x 25.39 inches and it weighs 45.2 pounds. There are casters if you need to move it from one place to another.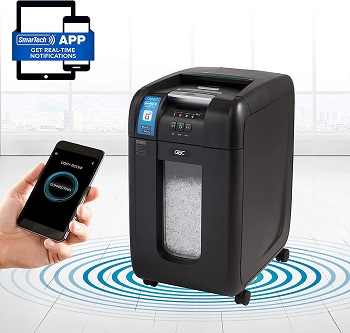 Confidential Security Level
It is a super cross-cut and it gives you P-4, which is a high-security level. Shred all your data without any worry. This machine uses the SmarTech app, install it and control the device remotely. It will alert you when the shredding is finish or if there is an issue.
Auto-feed Feature
GBC has an auto-feed chamber. That means you can put 300 sheets of paper in the chamber and the rollers will automatically destroy the paper. If you want to shred paper manually, the max capacity is 8 sheets per single pass. It runs 30 minutes before 30 minutes off.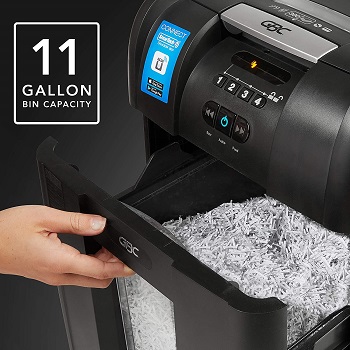 More Useful Features
This machine shreds paper clips, staples, credit cards CDs/DVDs. The GBC shredder has self-cleaning cutters, so you don't have to maintain it by yourself. There is the power save mode when the shredder is in the standby position. Auto+ jam clearance minimalizes paper jams. The pull out bin holds up to 11 gallons.
Overall:
Safety:
Power:
Size:
Weight:
Funcionality:
PRICE
approx: $1900 – $2100
determined by online offer (Amazon) and seasonal sales
Highlighted Points:
intelligent machine with SmarTech app
continuously run up to 30 minutes
self-cleaning cutters ensure the best performance
shreds up to 300 sheets with auto feed
max 8 sheets for manually shredding
an energy-efficient device with an anti-jam feature
Other Things To Take Into Consideration
If you still have some confusion over buying and operating a cutting machine, we recommend you check out these frequently asked questions.
How To Take Care Of Your Shredder With Lubrication?
To keep your shredder working properly, without squeaking and paper jams, you will have to lubricate it regularly. If your model has an auto-lubrication feature, you won't have to worry about this. On the other hand, lubricant sheets and shredder oil will be necessary to keep your blades oiled if you do not have this automatic feature. For cross-cuts, lubricate the blades every half an hour of use. For micro-cut models, do so every 15 minutes of use.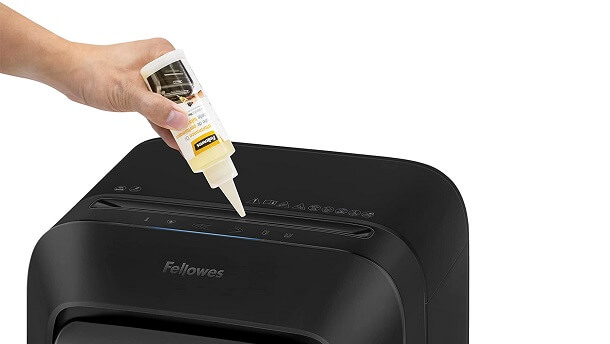 Should You Rent Or Buy It?
A shredder can either be bought for use or you can sometimes even rent it. If you are unsure of what to do, check the pros and cons of buying and renting.
Benefits And Limitations Of Renting
If you have to shred paper from time to time, renting could be a good choice as you won't have to worry about repairing it. On the other hand, it could be an empty investment as you will have to rent each time you have enough paper to shred and you might not be able to choose the best model and type for your needs.
Benefits And Limitations Of Buying
Buying a means you will be able to choose the model that exactly fits your needs. Likewise, buying will, on the other hand, mean that you have to maintain it and meet the necessary confidentiality laws if shredding sensitive information.
Final Verdict
Did you already find your favorite device? If you are in dilemma, we recommend the Fellowes Powershred 125Ci. This powerful shredder is intended for multiple users, it features a 20-sheet capacity, high shredding speed and advanced jam protection. For more similar models, consider office shredders review. If you work in a small office, this post about the best small office shredders will be useful for you.