Do you want to buy a reliable credit card shredder?
The credit card paper shredder will protect your personal information from an identity thief. Here we will introduce you to the functionality of credit card shredder and its other shredding options. After you learn about shredder's important features, check out those models and pick one.
Our Top Picks
Best 6 Credit Card Shredders
Best Of Best Credit Card Shredder
Aurora AU870MA Shredder
Paper Clips, Staples, Credit Cards,…
Aurora AU870MA shredder is a high-security paper shredder with a P-4 security level. It quickly shreds credit cards, the limit is one credit card at the time. Also, Aurora shreds small paper clips, staples and paper. The shredded particles have 5/32 x 15/32 inches.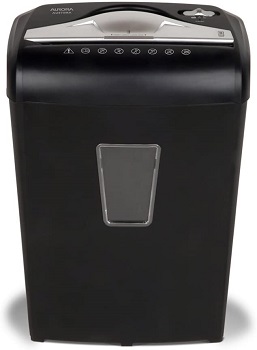 3.9-gallon Wastebasket
This micro-cut shredder features a lift-off head. When you want to empty the bin, just lift the head of the shredder and throw the garbage. The bin can hold up to 230 sheets, which is a capacity of 3.9 gallons. At once, you can put 8 sheets of paper.
Personal Use
Aurora has a continuous run time of 5 minutes. Then leave it for half an hour to cool down. Because of this short run time, this credit card shredder is the best for personal use at home or small office. The user-friendly design offers three modes – auto, off and reverse.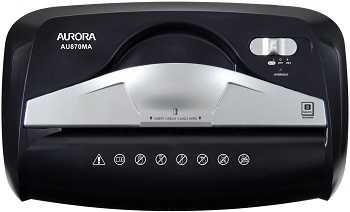 Overheat Indicator
On the top panel, there is an LED indicator that will light on if you leave the device to run longer. This feature will prevent overheating and prolong motor life. The maintenance of this small credit card shredder is low, you don't have to oil or lubricate it, just empty the bin when it's time.
Highlighted Points:
high-security micro-cut paper shredder
it destroys paper, credit cards, staples, clips
overheat LED status indicator
continuous run time of 5 minutes
the waste bin has 3.9 gallons of capacity
Best Home Credit Card Shredder
Bonsaii C209-D Shredder
Convenient Handle
Bonsaii DocShred C209-D shredder is a perfect device for home use. Its dimensions are 18.5 inches of height, 7.9 inches of depth and 12.6 inches of width. It is designed with a convenient handle for easy emptying. Also, there is a large transparent window, so you can see if the bin is full.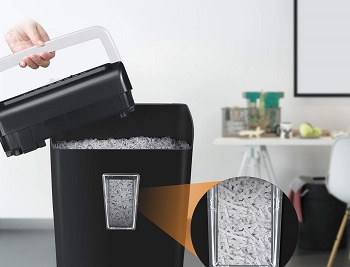 Multi-purpose Shredder
This cross-cut credit card shredder provides medium security level, so you can put confidential documents into the slot. The entry is 8.66 inches wide. Bonsaii is able to shred paper, credit cards, small paper clips and staples. It can take 10 sheets of paper per pass and one credit card per pass.
Large Wastebasket
If you lift the head of the diamond-cut shredder, it will stop shredding immediately. The wastebasket has a large capacity, it is 5.5 gallons of shredded paper. That is approximately 320 sheets of paper. So, you don't have to empty the bin frequently, it is large enough for any home use.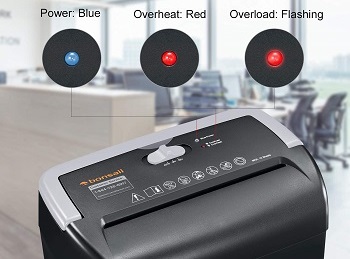 Easy Operation
If the paper is jammed, use the manual reverse feature and clear out the device. If Bonsaii shreds over its max running time and become overheated, it will shut down automatically. This feature protects the motor and improves optimal performance. The run time lasts 4 minutes.
Highlighted Points:
cross-cut paper shredder with 10-sheet capacity
large transparent window for easy emptying
indicator lights for overload, overheat and power status
convenient handle on the head of the shredder
the wastebasket can hold up to 320 sheets
the run time lasts 4 minutes, 40 minutes off
Best Office Credit Card Shredder
Sentinel FM102P Credit Card Shredder
Four Caster For Mobility
Sentinel FM102P shredder is a medium-sized device, its dimensions are 12.8 x 8.5 x 16.9 inches. It weighs 16 pounds and features four casters for easy mobility. You can move it from one office to another, wherever you need to shred some material. Sentinel is made of quality plastics and metal.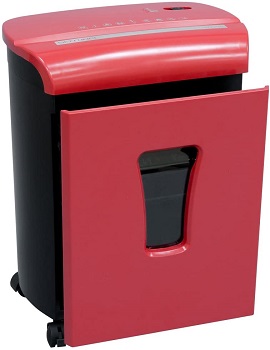 Attractive Colors
Usually, this kind of small office shredder is available in black or grey colors, but Sentinal offers more attractive colors. You can choose between red, grey, blue and black colors. Choose one of these colors and make your workspace more comfortable. The price of this shredder is affordable.
Reliable Device
Sentinel is a micro-cut shredder, so it offers a P-4 security level. Shred your confidential documents without worry. It shreds up to 10 sheets of paper per single pass and one credit card at the time. The shredded particle has 4 x 10mm and it is impossible to assemble it and read.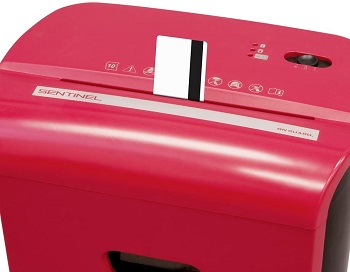 Quick & Quiet Shredder
The shredding speed is 6 feet per minute. That means Sentinel is able to shred 60 sheets of paper per minute. That is a good speed for office credit card shredder. The continuous run time lasts 2 minutes. Sentinel features an auto start/stop functions with manual reverse. It runs quietly. The bin capacity is 3.5 gallons.
Highlighted Points:
four colors for everyone's taste
office micro-cut paper shredder
made of quality materials
continuous run time is 2 minutes
the ultra-quiet operation for a comfortable workspace
auto start/stop and reverse features
Best Small Credit Card Shredder
Swingline GBC Paper Shredder
Good Quality
The GBC paper shredders are produced by Swingline, the GBC is a new brand, the products have the same quality. This is the Personal Duo model which is intended for a single user. It is compact and has 19 x 10.8 x 18.6 inches. The price is affordable and the warranty lasts 1 year.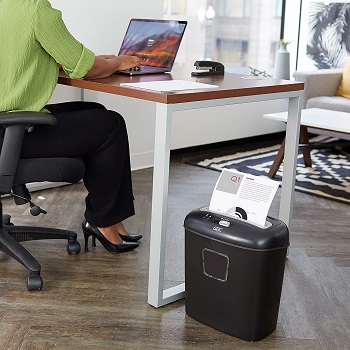 Unopened Junk Mail
This super cross-cut shredder shreds paper into two directions. It provides a high-security level, it meets the P-4 standard. GBC shredder shreds paper, credit cards, CDs, DVDs and unopened junk mails. You don't have to take out junk mail out of the envelope.
12-sheet Capacity
GBC small paper shredder shreds up to 12 sheets of paper at the time. It provides a run time of 4 minutes. The cool down-period lasts 40 minutes. The shredded paper drops into a pull-out waste bin which can hold up to 5 gallons. A small transparent window makes emptying easier.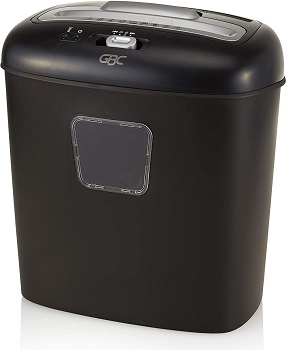 Jam-proof Shredding
On top of the device, you can find light indicators. The indicator is red if the feed capacity is full, the green light means there is more space for shredding. This feature will prevent overloading the wastebasket and paper jams before it occurs.
Highlighted Points:
cross-cut shredder meets everyday security needs
this machine shreds DVDs, CDs, staples, credit cards
convenient pull-out 5-gallon wastebasket
LED indicators prevent overheat and overload
12-sheets of paper per single feed
Best Big Credit Card Shredder
Fellowes AutoMax 150C Shredder
Heavy-duty Machine
Fellowes AutoMAx 150C large paper shredder is designed for heavy-duty shredding. It is an ideal choice for people who need to shred a massive amount of paper. Its dimensions are 20 x 13.63 x 21.31 inches and it weighs 28 pounds. The price is high and the warranty for the machine lasts 2 years. For cutters, it lasts 5 years.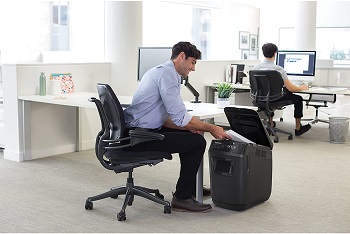 Hands-free Shredding
This credit card shredder offers automatic shredding. It is hands-free and hassle-free. If you use an automatic shredding, put the paper into the tray and press play. You can put 150 sheets of paper into the tray. Then go back to your work.
Manual Shredding
If you want to shred a few sheets of paper, the max is 8 papers per single pass. This device also shreds credit cards and paper with staples and clips. Fellowes AutoMax runs continuously for 12 minutes and the cool-down period lasts 25 minutes.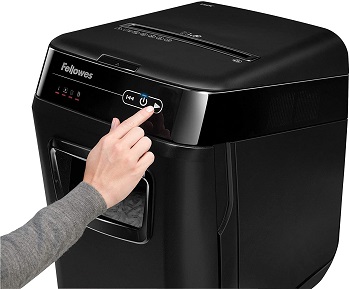 SilentShred Technology
This is a cross-cut credit card shredder that shreds paper into 5/32 x 1-1/2" particles. The auto-reverse mode will turn on if the paper starts to jam. The pull-out bin has a high capacity of 8.5 gallons. This machine uses SilentShred technology and produces 60 decibels.
Highlighted Points:
heavy duty credit card shredder with a high price
it shreds paper, credit cards, staples and paper clips
automatic shredder for up to 150 sheets of paper
auto-reverse function if a paper jam occurs
low noise level – 60 decibels only
the running time last 12 minutes
Best Cheap Credit Card Shredderr
AmazonBasics Cross-cut Shredder
Good Item
This is a more affordable option than other credit card shredders on this list but is really good. AmazonBasics offers a wide choice of sheet capacity. This short review will focus on the shredder with a capacity of 6 sheets of paper per single pass.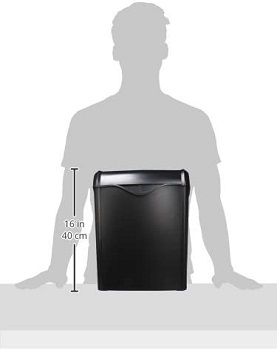 Medium Security Level
This cross-cut shredder is a compact paper shredder, it measures 12.10 x 7.7 x 15 inches. It weighs 8 pounds. It will fit in your home, office, under the desk, everywhere. This machine shreds paper into pieces of 3/16 by 1-27/32 inches. AmazonBasics provides a medium security level, P-3.
3-minutes Of Run Time
It is able to shred paper, paper clips, staples and credit cards. The AmazonBasics runs 3 minutes continuously. Then leave it for up to 30 minutes and you can use it again. You can put 6 sheets of paper per single pass. Put only one credit card at the time.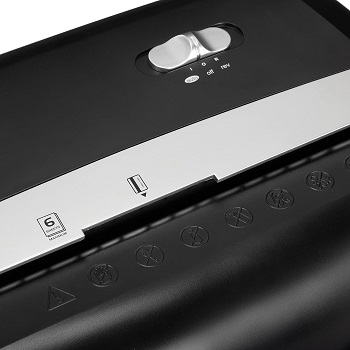 Auto Start Feature
This credit card shredder provides more secure than strip-cut shredders and it shreds faster than micro-cut. The pull out wastebasket has a capacity of 4.1 gallons. It features a reverse function for paper jams. Also, there is an auto start, which saves energy.
Highlighted Points:
cross-cut credit card shredder with 6-sheet capacity
put one credit card per single pass
three modes – auto, off and reverse
thermal protection prevents overheating
runs 3 minutes continuously before the cool-down period
Things To Know About Credit Card Shredders
Not all shredders are capable to shred the credit cards. So read the specifications before purchase. In this short buying guide, you will learn more about different shredders' capabilities.
Credit Card Shredder Design – Some shredders are designed for paper shredding only. The credit card shredder features a more powerful motor and stronger blades. That is necessary because credit cards are made of a harder material. Some shredders have a separate slot for credit cards.
Shredding Options – As we mention, not all shredders can destroy paper and credit cards. if you decide to buy a paper shredder, choose the model which is able to shred CDs, DVDs, credit cards, paper, paper with staples and clips.
Credit Card Amount – While electric paper shredders are able to destroy from 1 to 20 sheets per single pass, that not work with credit cards. Almost all credit card shredders can't take more than one credit card. Don't put more than one card, because you'll damage the machine and the warranty doesn't cover that.
Run Time – If you want to buy paper/credit card shredder for credit cards only, you don't have to buy a machine that has a long-running time. You can buy a credit card shredder which is able to run continuously for up to 10 minutes. Also, you need to be aware that the cool-down period lasts twice longer than run time.
Cutting Type – Maybe you don't understand the difference between different cutting types. There are micro-cut, strip-cut and cross-cut office paper shredder types. If you need to shred sensitive documents, consider cross-cut and micro-cut shredders. That also works for credit card shedding. Shredder destroys credit cards into a few pieces, so nobody can use it again.
Final Verdict
After reading these short reviews, you maybe find your favorite credit card shredder. In our opinion, the best one is the Aurora AU870MA shredder. Aurora is an affordable micro-cut shredder, so it shreds paper and credit cards into tiny particles, it features reverse function and thermal protection. If you are interested in affordable paper shredders, read the review of the best paper shredders under $100 or best paper shredders under $50 post.