Have you lost your job recently and now ask yourself can a person live without a job and how to survive this period?
If you have ever been unemployed, then you know how stressful is to survive without a monthly income.
Here we'll look at some strategies and methods that you can use to survive this stressful period.
How Much Money Do You Need To Live Without Working?
Some people said that the point of accumulating money is to be able to trade it for time and freedom.
So, what amount of money is needed to live without working? It depends on your situation – are you single or have family, kids? Where do you live? What are your living habits? So there's no one and the same amount of money that might be enough for every person. However, if we look at statistics and see that average monthly spending in USA is $5 111 which means $61 334 per year, now we can do some estimations.
Meaning, you need up to around $5 000 per month. If you give up on some of your habits, you will need less money.
If you tend to live with no incomes for a longer period, you can use retirement estimation method called 25 times rule.
It's simple. You should multiply your annual spending by 25 and that's the minimal amount of money you'll need for your lifestyle. Of course, this rule isn't precise.
There is an example – if you calculate that the minimal annual spending that will allow you a good life is $40,000, then you'll need at least $1 million.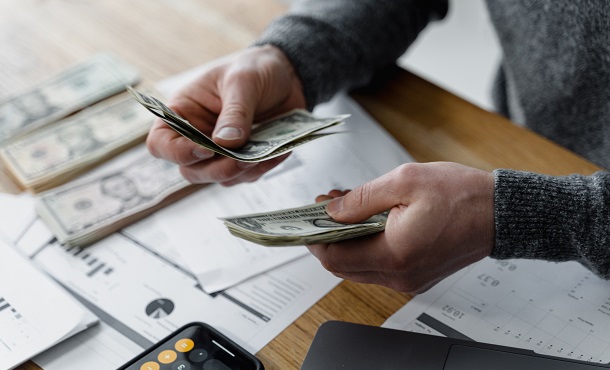 Then you should set a goal for when you'll be able to achieve that savings goal. For example, if you want to have that $1 million saved in 20 years and if your investments provided a 6% annual return, you should save $2,154 per month.
Sounds a bit hard but still not hard as average household spending.
Also, this rule doesn't say for what period that amount of money will be sufficient for you. It depends on your spending but you can change your habits and ensure you can survive without a job.
Let's see how to do it.
How To Live Without a Job?
There are a few ways how to deal with this stressful situation. Firstly, you should find some source of income so you can support yourself until you find a "real" job or until you become an entrepreneur.
Finding Source Of Income
Here you can find some ideas on how to make some money until you get another job or start your own.
Make a job out of your hobby – Is there something you're good at that can bring you income? Do you know how to sew, how to play an instrument, are you good with animals? Then you can sew or repair clothes, give instruction, or be a dog-sitter. No matter what you do, you can find a way to monetize it. Maybe you can even turn your favorite hobby into a job. Save as much as possible and then you can start your own business. You can start a business with 1k, if you don't believe, check some ideas on that link.

Do website tasks – Many websites need people to do quick tasks for a small amount of money. For example Amazon's Mechanical Turk or Short Task. The amount of money is small, but these are easy tasks.
House and pet sit – When people go away on vacation, they need someone who will take care of their houses and pets. When you start, there will be a small amount of money, but you can get references, advertise yourself online and spread your business.
Resell junk – You can do garage sales or hang out on websites (like Craigslist) and look for free or low-cost items. Sometimes you just need to clean and refurbish items and you'll get a lot more money when reselling them.

Rent your home – If you own a house or apartment, you can rent a small and cheap apartment for yourself and then rent out your own house. It can be a short-term thing, for special events like birthdays, etc.
Run errands – Many people have quick errands or chores that need to be done, but they don't have time for that. That includes picking up groceries, riding to the doctor, delivering a package, etc. A good place for that is TaskRabbit.
Do stock photography – Many websites and magazines pay a small fee or license someone else's pictures, so they don't need to take them themselves. If you own a high-quality camera, you can take some good pictures and then license them through Flickr or other similar websites.

Become a tutor – In the field, you know well, like math, science, IT. There are a lot of advertisements for tutors on sites like Craigslist.
Do some advertising work – You can help companies with advertising. Also, you can get paid for taking part in various surveys and focus groups.
Design products – If you have some basic art skills and Photoshop, you can design some T-shirts or other products and try to sell them online. For example, a site like Redbubble will sell, produce and ship your products (in exchange for a cut of the profit) for you.

Write website content – You can produce content for websites, and these sites will pay for articles you write.
Run a blog – Find the topic that you understand and make blog posts, YouTube videos, etc. Use tools like Google Ads and place ads on your site.
Apply for unemployment benefits – Of course, each state has different requirements, but you could receive a percentage of your former salary until you find another job.
Saving Money
If you lose your job, then it's time to make some changes in your life and everyday routine. Here we'll mention some tricks to help you save some money.
Use the base necessities – Usually, we think that we need all sorts of things and these things easily suck up a lot of money. Look at everything you spend money on a daily/monthly basis and reevaluate them. Do you really need fast food, gym membership, TV, or candies?

Live at home – Of course, if you can. That can save you a lot of money and that will help you to improve your financial situation.
Track your money – That means, track how you spend your money. Look at your bank statements to see where your money goes. You'll definitely find purchases that you really didn't need.
Plan your budget – Plan how you'll spend your money and try to stick to the plan. Try to save as much money as possible and avoid doing those little purchases.
Buy things at a discount – Everything you buy can be found at a discount – food, household items, clothing, devices, etc.

Avoid using credit cards – This money comes with the interest you have to pay. That means, everything you want to pay with credit cards costs more.
Use public transport – When you consider car maintenance, car insurance, gas and other car payments, you'll conclude that public transport will save you a ton of money.
Best Place To Live Without a Job
Except for changing your daily habits, sometimes change of your location might help.
Here, we'll mention several cities where living without a job might be feasible, at least for a short time. Things we took into consideration are the cost of rent, public transport, housing costs and cost of living.
Knoxville (Tennessee)  – For example, the median rent for a one-bedroom apartment is $840. Residents have a lower cost of living than the national average. The average cost of the home and monthly rent are pretty below other big metro areas.
Las Vegas (Nevada) – This city provides endless opportunities for jobs, entertainment, activities, etc. Low state taxes ensure affordable living. Public transportation is very well organized, so you don't have to have a car.

Houston (Texas) – When compared with other similar metro areas, the median home sale price in Houston is on the lower side. Also, the overall cost of living is lower than the national average. Keep in mind that Houston is the fourth largest city in the U.S.
Arlington (Texas) – This city has a low unemployment rate (2.6%) and a low crime rate. Young professionals who looking to start their careers won't have a problem finding work in this city. It is known as one of the greenest cities in the U.S.
Memphis (Tennessee) – For a large metro area, Memphis has a low cost of living. Rent prices, mortgage expenses and expenses for food and services are lower than in other big areas.

Tuscon (Arizona) – It is a mid-sized city of almost a million people. If you love outdoor activities, this is the perfect place for you. Also, it is the perfect place for entrepreneurs. The cost of living is lower than the national average as well as housing costs.
Akron (Ohio) – Residents enjoy a significantly lower cost of living than the national average. Akron has low home prices and a user-friendly public transportation system.
Final Verdict
You may wonder can a person live without a job and yes, that could be possible. However, don't see this lifestyle as a long-term solution, not having a job can be extremely stressful. Use our tips until you find another job or start your own business.