Want to equip your workplace with a useful machines for everyday use?
Then this article is for you!
Buying an office shredder sounds like an easy task, but there are quite some things to look out for. Check out our list and read this useful guide and you'll know what features and specifications you need to take into consideration when picking one.
Our Top Picks
What Makes Some Shredder Suitable For Your Office?
To be able to use this machine in your office, you will have to do a lot of thinking and consider a lot of specifications. Only then will you be able to choose the one that is fitted to your needs completely. Do not rush the process but think about the following.
Home Office Vs On-Site
The first thing to think about is whether you want it for headquarters or to work from home. For the latter, you won't need a really big model as you probably won't have enough space to fit it in. That is why we recommend checking out units for small businesses. On the other hand, for a standard workplace, there are plenty of types to choose from, covering everyone's needs, including large shredders, high-capacity ones, etc.
Shredder Types You Can Choose
Small Models – a small machine will be good enough for not just confined spaces but also for occasional shredding in any office that doesn't require dealing with many sheets of paper regularly.
Large Machines – for highly-populated offices, you might need to get a model that can handle a lot of sheets at once, run for a long time, and be used by multiple office staff
High Capacity Devices For Demanding Needs – you might benefit the most from a shredder that offers a high sheet and bin capacity if you are looking to destroy stacks of documents on a daily basis
Desktop Models – if you want a personal model for your desk, it is a great option to get rid of small amounts of paper without having to walk to the central machine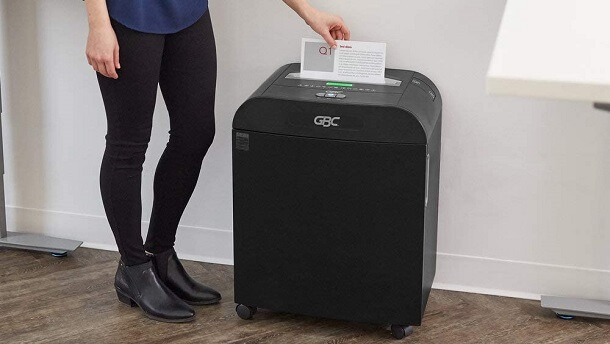 Commercial Vs Heavy-Duty Vs Industrial
Out of the three options, an industrial-grade one will get rid of most documents while also cutting them into the smallest particles. A commercial one is a good option for destroying sensitive information too, but does not run as long and as fast as an industrial model. Finally, a heavy-duty shredder is a machine that can run continuously and is built to handle more than just destroying the paper.
What Does It Do To Paper?
It is a document-destroying mechanical device that cuts paper into long strips, short strips, or small particles (depending on the cutting type) with the help of blades. It's main purpose is to cut up sheets of paper so they are harder or even impossible to put back together.
Which Cutting Type Is The Best For You?
Those three cutting types are strip-cut, cross-cut, and micro-cut. A strip-cut cuts sheets of paper into long strips that can be still fairly easy to put back together so the security level is low. A step up from it are cross-cuts with medium security level, destroying documents into shorter strips. The highest level of security comes with a micro-cut models that are destroying papers into tiny particles that are very hard (or even impossible) to put back together. Thus, micro-cut is recommended for destructing sensitive documents before disposal.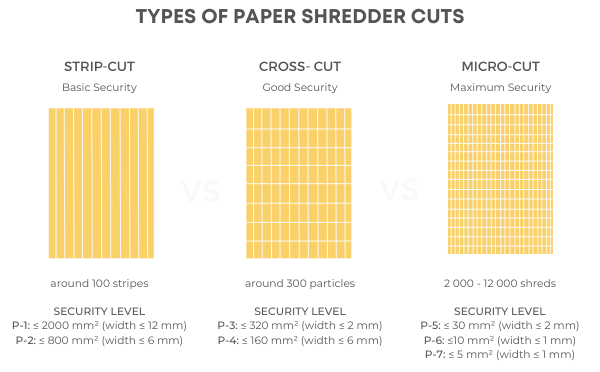 Why Does Your Work Need This Machine?
There are multiple benefits of using a shredder for your corporation's documents. Below, we have listed and explained the most important ones.
Frees up storage space – by destorying paper you no longer need to keep a record of, you will free up a lot of storage space around and prevent fire as the paper is a big fire hazard
Saves time – it is easier and it will take less time to destroy paper in a good shredder than if you tried to do so manually
It is according to law – destroying confidential documents your business might be in possession of is necessary according to the law before you can safely dispose of them
Ensures trust in customers and employees – both employees and customers like to know that they can trust businesses will securely dispose of documents containing their personal and other confidential information
Prevents corporate espionage and identity theft – as we have mentioned before, these machines are capable of destroying documents beyond recognition, thus protecting your identity and preventing your competitors from learning about your business secrets and other confidential data
The Specs That Will Make Your Choice Easier
It is not easy to pick a device that will be a good investment. For example, your choice will depend on the following features and how important they are to you – size, sheet and bin capacity, run and cooldown time, and more.
Shredder Size
You can choose between smaller and larger sizes, such as commercial shredders, industrial-grade paper shredders, and shredders for heavy-duty use. If you want to cut continuously, go for a heavy-duty model, if you want to cut for long and into tiny particles, choose an industrial shredder, and a commercial option is good for you if you don't have to shred all the time and fast.
Sheet Capacity
For a small office, a 12-sheet shredder is more than enough. An industrial-grade unit will be able to destroy even 100+ sheets per pass. If you need a model with more than 12-sheet capacity but not as strong as an industrial one, those that cut 20 sheets or even 60 sheets per pass will suffice.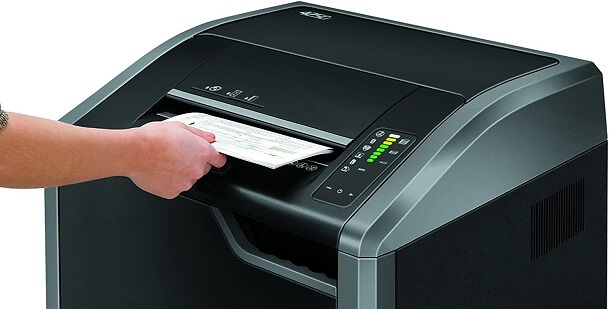 Bin Capacity
There are different bin capacities and most of them are measured in gallons. For occasional shredding in confined spaces, you will need a model with a bin of 5 to 10 gallons. The bigger the sheet capacity, the bigger the bin capacity, too. For regular shredding of high volumes of paper, look for bin capacities of 15+ gallons.
Safety Features
This operation not only be easy, but also safe. That is why some models ensure safety with the help of many features. For instance, you can find models with auto shut-off and auto-start. Also, some can detect your hands or fingers being close to the blades and then stop shredding for safety.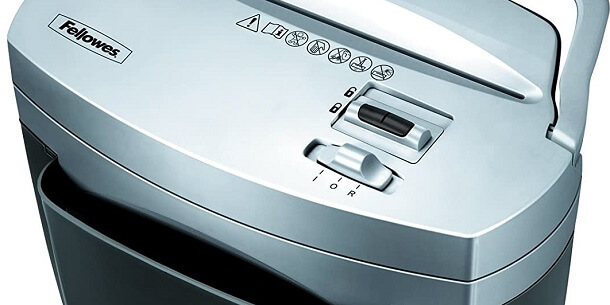 Duty Cycle
Duty cycle, also called run time, tells us how long it can run for before it needs to cool down. You should never go over the maximum run time as you will risk motor damage and overheating. If you need an item for occasional use, look for basic models that run 5 to 10 minutes. For high volumes of shredding regularly, choose a shredder with a 60-minute run time or more. Also, some shredders can run continuously.
Cooldown Time
Models that are not made for continuous use, come with a longer or a shorter cooldown time. Some may need as little as 30 minutes to cool off while some might even require 60 minutes to do so. For more shredding, choose those that need as little as 10 minutes to cool off.
Do You Want To Shred Paper Only?
If you want to shred only paper, you won't have a big challenge with finding the proper model. However, if you also want to destroy other materials, such as optical media, make sure the device is also suitable for CDs, DVDs, paper clips, staples, and credit cards.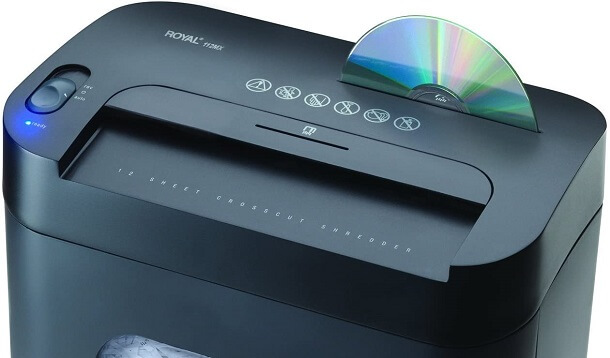 Low Noise Level For Productive Workplaces
To ensure a productive, distraction-free workplace, ensure your the shredding machine does not make a lot of noise. It is recommended to choose between models that cut at around 60 decibels.
Number Of Users
Models in small sizes are not made for use by multiple users, but bigger models can sometimes be for 1 to 5 users, 5 to 10, and sometimes even more than 10 users. Choose the number according to how many people in your office will shred paper.
Best 20 Office Shredders
Fellowes 125Ci Powershred Paper
Large Item
Fellowes Powershred 125Ci is a large unit suitable for small and medium-sized offices. It measures 28 x 11.3 x 21 inches and weighs 55 pounds. It is equipped with four wheels for easier transport. Fellowes is a cross-cut, or confetti-cut, that provides a high-security level.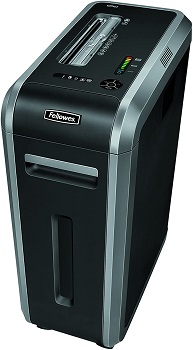 Jam-proof System
It shreds 18 sheets per single pass. This business cutting machine is perfect for offices with five users or more. Fellowes Powershred can shred paper, staples and clips, credit cards, CDs and DVDs. The bin capacity is 14 gallons, through the transparent window you can see when the bin is full. A jam-proof system prevents paper jams.
Fellowes Powershred W11C Shredder
Cross-cut Mechanism
Fellowes Powershred W11C is a useful device that fits under or next to your desk. It has a height of 17.7 inches and a width of 13.6 inches. It can shred paper, paper with clips and staples and credit cards. It isn't designed for CD/DVD destruction. The cross-cutting method provides a high-security level.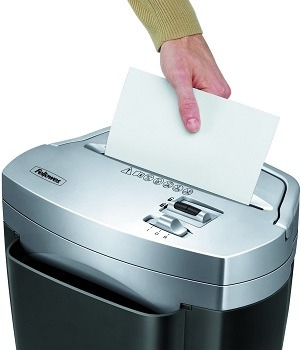 Safety Lock Feature
This home office paper destroyer runs five minutes continuously then it requires a cool-down period. Shreds 11 papers per pass. The lift-off bin comes with a convenient handle for easy emptying. Fellowes features Safety Lock that will disable paper shredders if detect hands or paws. It's very safe for use.
Bonsaii C206-D Micro-Cut Paper Shredder
Lockable Wheels
Bonsaii C206-D is one of the best options for small spaces currently available in the market. Place it under your office desk, in the corner of the room, it fits anywhere. Shredder's dimensions are 17.9 x 13.2 x 9.1 inches and weigh 12 pounds. Bonsaii comes with universal casters and two lockable front wheels.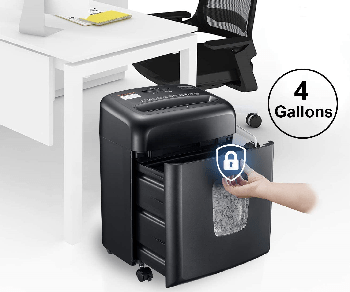 Micro-cutting Technology
This micro-cut type cuts the sensitive and confidential documents into tiny and unreadable particles. Also, it destroys credit cards, paper with staples and clips. Bonsaii can shred 8 sheets or paper per single pass. In auto mode, shredding begins when the device detects paper.
Rexel Auto+ 60X Paper Shredder
Compact Machine
Rexel is a compact yet powerful shredder machine. With 16.9 x 11.6 x 13.7 inches in size, it fits anywhere. It features a high price and a 2-year warranty provided by the manufacturer. Rexel shreds credit cards, paper with clips and staples and provides a medium level of security.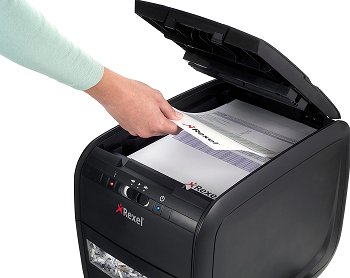 Auto-feed Feature
It is a model that can cut 60 sheets of paper per single pass. Load the tray with a stack of paper and Rexel will shred it automatically. Rexel provides low noise, making it suitable for use in the office. It runs for five minutes and then requires a 40-minute cool-down period.
HSM B32c Securio Paper Shredder
Mobile Shredder Machine
HSM Securio B32C measures 15.7" x 19.6" x 31.2" in size and weighs 60 pounds. Equipped with four swivel casters for easy mobility. This device shreds paper, paper clips, credit cards, CDs and DVDs. It can shred 17 to 19 sheets of paper per single pass.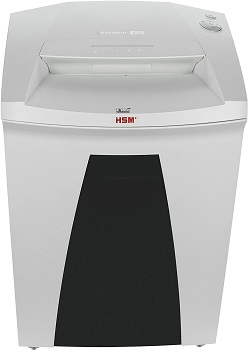 High-capacity Bin
The maximum number it can destroy per minute is 247 sheets. There is a high-capacity wastebasket that accepts 21.7 gallons of garbage. HSM features a powerful motor that runs continuously and doesn't require a cool-down period. It has low power consumption.
GBC DM11-13 Mirco-cut Shredder
Energy-saving Item
Swingline/GBC DM11-13 is a big shredding device that measures 30.4 x 19 x 24.3 inches in size and weighs 71 pounds. It is ideal for use in shared offices. It is equipped with four casters, it's easy to move it from one place to another. Intelligent Power Save will conserve energy.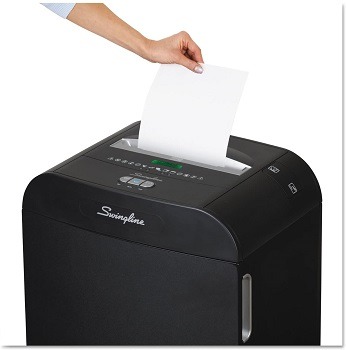 Self-cleaning Cutters
This P-5 machine cuts paper into tiny particles that are almost impossible to read. That cutting technology makes the shredder suitable for high-sensitive and confidential documents. The maximum sheet capacity is 11 papers. The intelligent self-cleaning cutters clean the paper jam automatically.
Intimus 347904 PacMaster Shredder
User-friendly Interface
Intimus PacMaster 347904 is a large and robust shredder with 27.2 x 18.5 x 37.4 inches in size and weighs 308 pounds. It is equipped with casters for easy transport. The user-friendly interface has a size guide and a lockable power switch. This switch is useful as an emergency stop switch.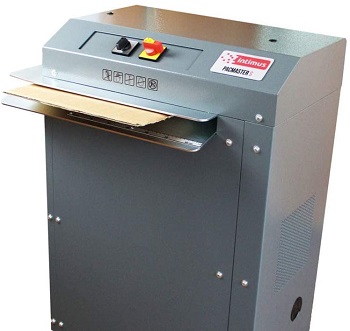 Steel Construction
Extremely robust steel plate housing is designed for heavy-duty use. This cardboard shredding machine shreds old and obsolete cardboard to robust packaging material. Intimus has a fast shredding speed of 34 feet per minute for quick operations. Feed it with two layers of cardboard.
HSM Powerline FA400c Shredder
Industrial Use
HSM Powerline FA400c is designed for industrial use and high demands. This is a large item that measures 61.7 x 45.5 x 65 inches. It is a heavy item, there are 937 pounds, so for easy transport, there are four durable casters. A medium security level is provided by cross-cutting technology.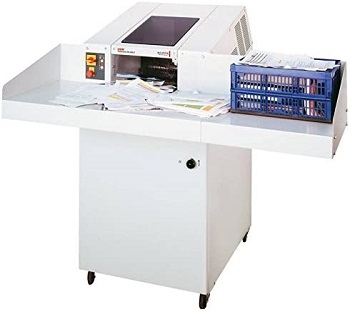 Automatic Reverse Function
HSM shredder for office shreds 120 sheets per single pass and it does it very fast. It shreds at the speed of 43.3 feet per minute. The huge wastebasket has a capacity of 104 gallons. It shreds optical discs, credit cards, papers and USB flash drives. The automatic reverse function prevents paper jams.
Bonsaii C149-D Heavy-duty Paper Shredder
Quality Performance
Bonsaii C169-B is suitable for medium and large offices. It features superb performances and a reasonable price. Four swivel casters allow you to move the device wherever you want. Two front casters are lockable for stable placement.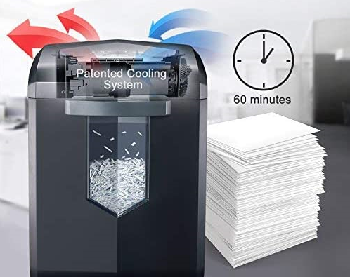 60-min Run Time
Continuous running time lasts 60 minutes without waiting to cool down. If you put too much paper in the paper slot the auto-reverse function will automatically reverse the cutters and release the jammed paper. The micro-cut technology allows it to shred paper into tiny pieces, impossible to read.
Amazon Basic Paper Shredder
Desktop-size Shredder
Amazon Basic is an affordable machine that weighs 17 pounds. It is a desktop size shredder, so fits on your office desk, workbench, shelf, floor, etc. Amazon Basic measures 13 x 11.7 x 9.9 inches in size. It shreds paper, junk mail, credit cards, CDs, DVDs, small clips and staples.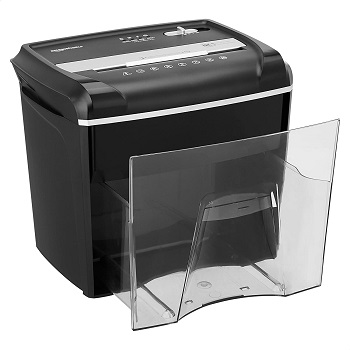 Auto-start Feature
It cuts paper into criss-cross particles of 5/32 x 1-7/32 inches wchih are ideal for confidential and secure documents. Its duty cycle lasts 8 minutes, then it requires a cool-down period of 45 minutes. When the sensor detects the paper, Amazon Basic will start shredding automatically.
Aurora AU1210MA Paper Shredder
Professional-grade Device
Aurora Au1210MA is equipped with high-security micro-cut technology. It provides ultimate protection with particles 6 times smaller than typically cross-cut shredded paper. It shreds up to 12 sheets of paper per pass and provides ultra-quiet operation.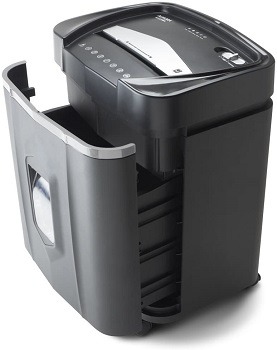 Integrated Sensors
This office micro-cut model destroys CDs, DVDs, credit cards, clips, staples and paper. You can't overload the wastebasket, the LED indicator will detect when the bin is full. If paper jams, the integrated sensor will turn on the automatic reverse and shred the paper again.
Royal MC14MX Paper Shredder
Two Slots
Royal MC14MX measures 14.5 x 18.7 x 27 inches and weighs 34 pounds. For better mobility, it is improved with four casters. This electric cutting machine is backed by a 1-year warranty. It cuts paper with clips and staples, DVDs, CDs. There is a separate slot for credit cards, CDs and DVDs.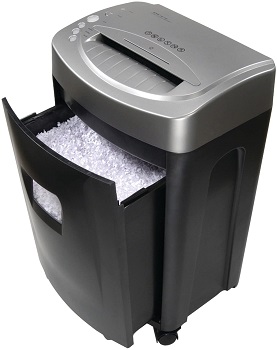 Automatic Features
This is a shredder machine designed for confidential document shredding. Shreds 14 sheets of paper per single pass and the shredded particles fall into an 8.5-gallon wastebasket. Auto-start and the auto-stop features will turn on/off the device when needed. Easy to use.
Aurora AU1200XD Paper Shredder
Small But Powerful Device
Aurora AU1200XD is a compact desktop-style device suitable for small offices and personal use. It measures 13.2 x 9.9 x 11.8 inches. Aurora fits on your desk or shelf and doesn't require much space. A small but powerful machine can shred paper, CDs, DVDs and credit cards.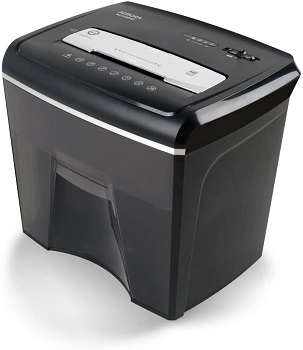 Transparent Wastebasket
It provides a high-security level, P-4, suitable for sensitive, private and confidential documents. Insert 12 sheets of paper per single pass. This compact unit's pull-out wastebasket is transparent, it's easy to see when the bin is full. Aurora runs 5 minutes continuously, then you need to leave it to cool down.
Fellowes 38480 Poweshred Office Shredder
Strip Cut Shredder
Fellowes Pwershred 485i is a large and robust device designed for commercial use. This model uses strip-cut to shred documents, meaning, it cut paper into long strips. It is 37.5-inch high, 25-inch wide, 20-inch deep and weighs 160 pounds. Four durable casters making transport easier.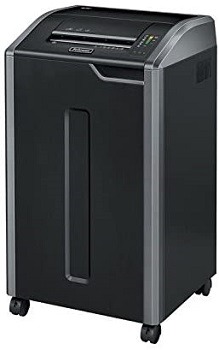 38 Sheets Per Pass
It's not designed for sensitive documents, because of its low-security level. Fellowes can shred 38 sheets of paper per single pass. Ideal for 10+ users. This high-capacity paper cutter shreds junk mail, CDs, DVDs, credit cards, paper with clips and staples. Motor runs continuously without a cool-down period needed.
Destroyit 2600/2 SMC Paper Shredder
NSA Approved Item
Destroyit 2600/2 SMC is a pricey NSA-approved model that meets standards for high P-6 security level. It provides the highest security level suitable for top-secret and confidential documents. It is a cross-cut shredder with 25 x 28 x 13 inches in size.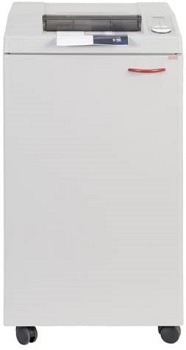 It is equipped with wheels and a powerful motor that runs continuously with shorts pauses between cycles. Destroyit shreds 6 sheets of paper per pass. Its wastebasket has a capacity of 28 gallons. The high-security shredding product comes with a transparent safety shield for customer protection.
Aurora AU1060MA Paper Shredder
Professional-grade Shredder
Aurora AU1060MA is one of the best-rated models on the market. This is a professional-grade shredder that measures 20 x 11 inches in size. It s a micro-cut that cuts particles into unreadable pieces. This white paper shredder provides a high-security level.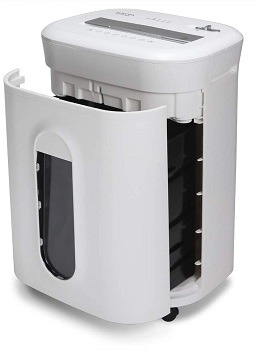 It shreds credit cards, paper with small clips and staples. Aurora can run for 60 minutes without stopping. Its sheet capacity is 10 papers and the bin holds 6 gallons of trash. The control panel has LED indicators that show power on/off status, door status, overheating and overloading.
Wolverine SD9113 Paper Shredder
ETL-certified Model
Wolverine is a pricey unit, it is ETL certified and backed by a 1-year warranty. It provides a continuous shredding of up to 40 minutes, so in that time you can shred a large number of sheets. Its cooling down period lasts 60 minutes. This is a quite paper shredder suitable for shared workplaces.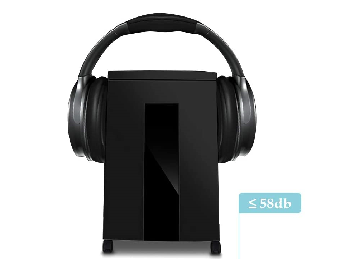 6.6 Feet Per Minute
It provides a very high-security level, P-5. Wolverine has a shredding speed of up to 6.6 feet per minute, meaning, it shreds 200 sheets of paper per minute. The wastebasket capacity is high, it holds 21 gallons. Jam reverse system automatically cleans the shredder.
Insignia Ns-ps10cc Shredder
Grey Model
This Insignia grey model is a cross-cut that provides a medium level of security. It cuts paper into small pieces, so don't feed it with highly sensitive documents. Insignia shreds paper, CDs, DVDs and credit cards. Its power cord is 3 feet long.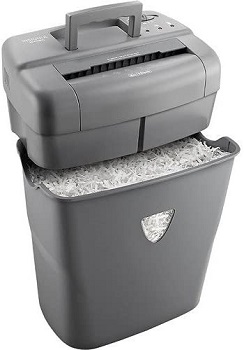 Fast Shredding Speed
It cuts 10 sheets of paper per single pass, so this 10-sheet paper shredder has a large wastebasket. It shreds up to 9.8 feet per minute. There is a convenient handle on the lift-off bin, so it's easy to empty it. The Control panel contains three modes – auto, off and reverse for paper jams.
Royal 112MX Paper Shredder
Easy To Control
Royal 112MX has a sturdy classic console design, it's suitable for home or small offices. It is easy to operate and maintain. The power cord is built-in and the instruction book is included in the package. Its price is affordable, it stays under 100 dollars. Royal measures 7.7 x 12 x 16.5 inches.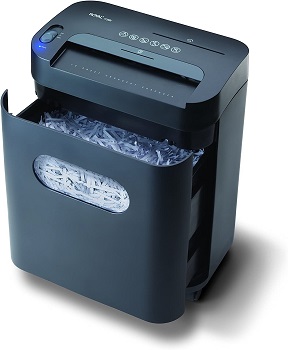 Mobile Device
This 12-sheet paper shredder is mounted on the wheels, making transport easier. It features the ability to shred paper with clips and staples, credit cards, CDs and DVDs. There are two separate slots for paper and credit cards. An integrated sensor will detect paper and start shredding automatically.
Sentinel FM101P Paper Shredder
Red Item
Sentinel is a medium-sized device, it measures 12.8 x 8.5 x 16.9 inches in size and weighs 16 pounds. It has four durable casters for easier transport. It is made of quality plastic and metal. Except for the red color, this credit card cutter is available in grey, blue and black.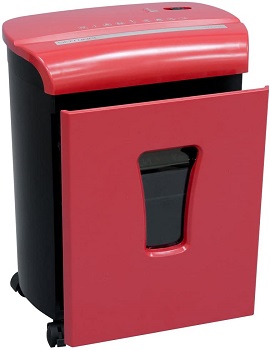 Micro-cut Shredder
It provides a high-security level, P-4 so it is suitable for sensitive and confidential documents. Shreds up to 10 sheets of paper per single pass and one credit card. Sentinel features auto-start/stop functions with manual reverse for jammed paper.
Maintenance: Do This To Protect This Machine
There are a few things you can do to keep your shredder running for long and smoothly. You will save money on repairs and having to buy new shredders more frequently if you follow these rules.
How Often Should You Lubricate?
Any paper shredder you choose will need maintenance. Some come with auto-lubrication to self-oil the blades without your interference. On the other hand, those that don't have auto-lubrication require you to oil the blades yourself. Use either oil or lubricant sheets on cross-cut models after every 30 minutes of use and on micro-cut every 15 minutes of use.
How Else Should You Take Care Of It?
Besides keeping the blades oiled, you can also prolong the life of your shredder and its motor by sticking to the following. Run it in reverse from time to time. It will release all paper and dust particles stuck between the blades. Likewise, you should also unplug the machine when it is not in use.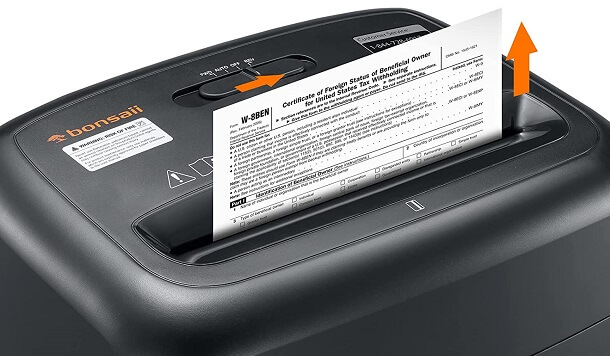 Which Security Level Is Good?
According to the international DIN 66399 standard, you can choose between security levels P-1 to P-7. A P-1 offers the lowest level of security and is not recommended for sensitive and confidential data. Neither are P-2 and P-3. For the destruction of personal identifiable information, you should go for at least a P-4. A P-5 will offer even more security, while P-7 creates such small particles that the paper is impossible to put back together. Use the latter for secret and top-secret information. For offices, we recommended P-4 to P-7 paper shredders, depending on what type of information you are going to shred.
What Else Can You Do To Shred Paper?
If you are not convinced your office needs a shredder and you still want to destroy paper, here is what you can do. You can go for a cheaper option of using shredding scissors to cut documents with sensitive information. Also, you can hire a professional shredding service to do the shredding for you. Likewise, you can also burn your documents, turn them into pulp with the help of water and bleach.