The 20-sheet paper shredder will be perfect for your needs?
Before purchase, it's important to know something about these machines. We'll explain what a 20-page shredder is intended for, about their bin capacity, run time and safety features. Read our buying guide, then check out those models and find the best one for your requirements.
Our Top Picks
5 Best 20-sheet Paper Shredders
Best Of Best 20-sheet Paper Shredder
Aurora Au2040XA Paper Shredder
Portable Shredder
Aurora AU2040XA is a big device, it measures 16.3 inches of width, 11.8 inches of length and 26.22 inches of height. It is a heavy product, there are 34 pounds. Aurora features four casters for easy mobility. This is a cross-cut paper shredder that has an affordable price.
High-Security Level
This 20-sheet paper shredder destroys the paper, paper clips, staples, credit cards and CDs/DVDs. The security level is P-4, so it shreds papers into small particles of 5/32 x 1-9/16 inches. Shred your confidential documents without worrying.
Pull-out Bin
In front of the business paper shredder, there is a small transparent window, s you can see if the bin is full. It is a pull-out bin with 7 gallons of capacity. The LED indicator will turn on if the bin is full. There are more LED indicators, they are for standby, overload, overheat and door open status.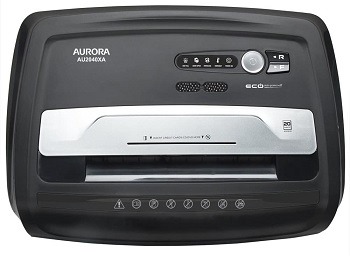 60 Minutes Continuously
Aurora is able to run 60 minutes without stopping. The motor doesn't produce a loud noise, it won't disturb your colleagues in the office. The anti-jam auto-reverse feature prevents paper jams. If the device isn't in use for 5 minutes, it will automatically shut down, which saves energy.
Highlighted Points:
large cross cut paper shredder
shreds CDs, DVDs, clips, staples and credit cards
non-stop 60 minutes run time
auto-reverse function prevents paper jams
LED indicator for easy control
the energy-saving system when the item isn't in use
Best Cross-cut 20-sheet Paper Shredder
Ativa 20-sheet Paper Shredder
Large Device
Ativa OMX203P paper shredder is a large cross-cut paper shredder with a medium security level. It is perfect for small or medium offices and home use. This device weighs 39 pounds, so it comes with casters for easier transport. The warranty lasts 1 year and the price is affordable.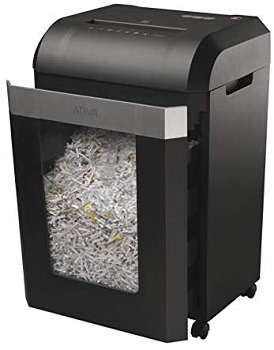 Powerful Shredder
This 20-sheet paper shredder cuts through CDs, DVDs, staples, clips and credit cards. Some customers said that you can put more the 20 sheets per time, it is a very powerful machine. The cross-cut design destroys paper into pieces of 3/16 x 11/16 inches. It is difficult to read. The speed of shredding is 6.03 feet per minute.
Automatic Stop
The pull out bin has a high capacity, it holds up to 7.7 gallons or 29 liters. The paper entry is 8-11/16 inches wide, so it can accommodate most documents. You don't have to empty it so frequently. The Ativa will stop shredding if the bin reaches its maximum. That prevents paper jams and other unwanted damages.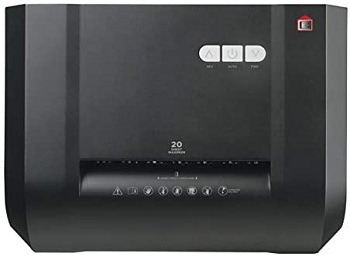 Cleaning Paper Jams
The Ativa is able to detect overload, then it stops shredding, turns the indicator on and starts to automatically reverse the blades. Ativa features many safety functions, that include covered blades, sensors and safety lock. The auto-start starts to shred when the sensors detect the paper. When the shredding is over, the device will stop working. Ativa runs continuously for up to 30 minutes.
Highlighted Points:
crosscut paper shredder with a 30-minute run time
safe for use with covered blades and safety lock
auto-start and auto-stop features
pull-out bin with 7.7-gallon capacity
casters for easy mobility
Best Heavy-duty 20-sheet Paper Shredder
Bonsaii C222-A Paper Shredder
Universal Wheels
Bonsaii C222-A is a heavy-duty paper shredder. Its dimensions are 14.70 x 9.60 x 21.80 inches and it isn't lightweight. So it is equipped with four universal casters. They are removable. The front wheels are lockable, they won't move when you park the device.
Unreadable Particles
This heavy-duty office shredder shreds paper into the particles of 5/32 x 1-32/64 or 4 x 40mm. These particles are smaller than micro-cut. It isn't possible to read them. Shred all your confidential and sensitive documents. Bonsaii shreds paper, paper with clips and staples and credit cards.
Jam Proof System
Bonsaii features an automatic start and manual reverse function. The shredder will automatically reverse the blades if you put too much paper into the slot. The continuous working time lasts 20 minutes, then leave it to cool down. This 20-sheet paper shredder produces 60 dB, it is an optimal sound level.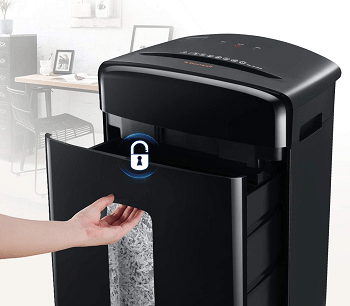 LED Indicators
Through a transparent window, you can see if the bin is full. The pull-out bin holds up to 6.6 gallons. Bonsaii features overheat and overload protection. They protect the motor from damage. The LED indicators will turn on if you need to intervene. It is easy to use this shredder.
Highlighted Points:
removable casters with lockable front wheels
high-security level for sensitive documents
auto start and manual reverse features
high efficient with 20 minutes of shredding
ultra-low noise level for a comfortable environment
Best Micro-cut 20-sheet Paper Shredder
Fellowes LX22M Powershred Shredder
Enhanced Security
The Fellowes LX22M Powershred is a micro-cut paper shredder. This shredder type provides the enhanced security. It shreds the paper into the pieces of 5/32 x 1/2 inches. Nobody can read that. The device has 23.7 inches of height, 16.5 inches of width and 11.7 inches of depth.  It features casters.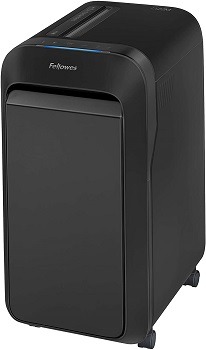 1-3 Users
LX22M paper shredder shreds junk mail, staples, credit cards and paper clips. It isn't intended for CDs and DVDs, so don't put them in the entry, you can damage the blades. This powerful paper shredder is an ideal choice for a small office, it is intended for 1 to 3 users.
SafeSense Technology
The run time lasts up to 30 minutes before the cool-down period. The integrated SafeSense technology detects if your fingers or hands are too close to the slot and automatically stop shredding. So, it is safe even if you use it at home. This shredder is 100% jam-proof.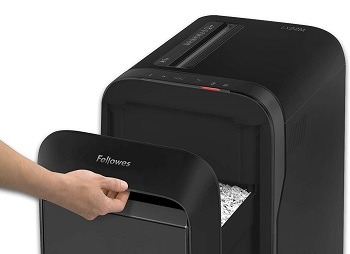 Intellibar Technology
Fellowes uses Intellibar technology. That includes a runtime indicator that will alert you when the shredder is nearly its max time and needs to cool down. The Efficiency Meter indicates the possibility of increased sheet capacity. In that way, you can maximize the shredder productivity.
Highlighted Points:
jam-proof features automatically detect too much paper
ideal for sensitive documents shredding
intended for office with 1 to 3 users
runtime indicator shows when it's time to cool down
runs for up to 30 minutes continuously
Best Office 20-sheet Paper Shredder
GBC DX20-19 Paper Shredder
Medium Offices
The GBC paper shredder, model number DX20-19, is a powerful device designed for medium and large offices. Its dimensions are 14 x 19 x 29 inches. This item weighs 79 pounds. But you can move it easily from one office to another, there are stable casters.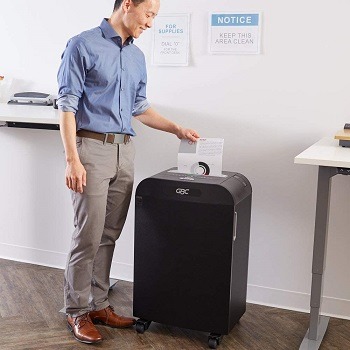 Max Feed Capacity
This 20-sheet paper shredder can be used by 10-20 users. It is a cross-cut shredder with a general P-3 security level. Don't shred sensitive documents with private information. The GBC paper shredder has a large bin capacity of 19 gallons. When you want to empty it just pull it out.
Low Noise Level
Its powerful cutters have the ability to shred 20 sheets per time, but in addition, it shreds paper with clips and staples, CDs, DVDs and credit cards. GBC is adjusted to office, it doesn't produce a loud noise, it is below the 60dB. This quiet paper shredder ensures minimal disruption.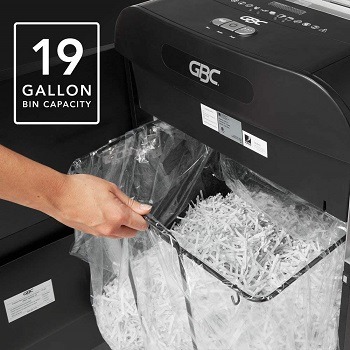 Jam-free Shredding
The jam-free feature prevents users to put too much paper into the entry. If that happens, the device will stop shredding immediately. The red and green indicators show load capacity. The Self-cleaning cutters automatically remove shredded parts. The power save function conserves energy.
Highlighted Points:
cross-cut paper shredder with basic security level
this item produce only 60dB
self-cleaning cutters prevent paper jams
large pull-out bin with 19-gallon capacity
intelligent power save function
continuous duty run time
Things To To About 20-sheet Paper Shredder
The 20-sheet paper shredders are large devices with many safety and advanced features. Let's see which features a good paper shredder should have.
Powerful Motor – The heavy-duty paper shredder which has a capability to shred 20 sheets per single pass has a powerful motor of 1/2 or 1 horsepower. Their cutting blades are made of quality materials, so they are durable. Before buying check out the warranty.
Bin Capacity – Because these paper shredders are able to shred a high volume of paper per once, they usually feature large wastebasket. The bin capacities could be different, from 7 to 20 gallons. If your shredder has a large bin, you can empty it less frequently.
Shredder Purpose – The 20-page paper shredder isn't intended for occasionally shredding. If you need to shred the paper three times per week, find the weaker shredder. This type is designed for often shredding, offices with multiple users and departments.
Noise Level – Because these devices use a powerful motor, it can produce a high noise level. If you want to sue the shredder in the office, that could be pretty annoying. Before purchase check out the noise level. The 60dB or below is comfortable and won't disturb your colleagues.
Safety Features – If many people use this high capacity paper shredder, it should have some safety features. The sensors around the paper entry detect hands and automatically shut down. Some models have a safety lock, covered blades and more.