Are you looking for a shredder able to destroy a large amonuts of materials?
To solve this problem, you will need to get yourself a commercial paper shredder!
In this article, you'll find the best-rated machines currently available on the market. Keep reading because here is what to consider when shopping for one along with the top models we reviewed.
Our Top Picks
What Is A Commercial Shredding Machine?
It is the type of shredder meant for large shredding in offices or any other space where you might need to shred a lot of paper regularly. They have to be designed for efficiency and security when dealing with confidential and sensitive information. To shred paper, put it into the opening with the blades where it is shredded into small particles. The shredded pieces are caught in a bin under the cutting head.
Why Would You Get a Commercial Machine?
You can earn money by offering a shredding service to others with this type of machine. After you buy it, you can open a business and shred paper for others, providing them with a service of safely destructing confidential information.
Commercial Vs. Professional
Professional devices are those you can use in offices to destroy your paperwork. Thus, a commercial one does not have significant difference from a professional one. Both will cut more than small models can take and are suitable for medium and large offices.
What Defines A Commercial Device?
To be suitable for commercial use, a shredder needs to meet some requirements.
High-volume – to be able to deal with sensitive files and confidential information on a daily basis so it needs to have a high sheet capacity per pass and have a large bin to hold a lot of paper
The continuous shredding duty cycle – it will need to run for a long time continuously, without having to turn off to cool down, to shred paper efficiently without wasting time
A conveyor belt – some models can also feature a conveyor belt to make the shredding process faster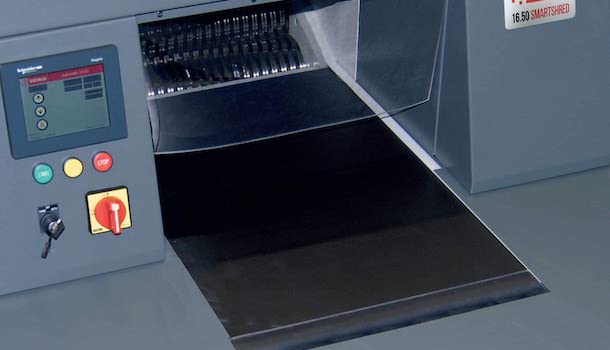 How Much Can It Cost?
A really large unit with a high capacity usually costs between $1,500 and $4,000 or more. Some advanced models with the highest performance can cost you even tens of thousands of dollars. Smaller models for small offices can be found even for around $500 to $1000.
Difference Between Commercial And Industrial
While a commercial machine is made for high volumes of shredding, it won't be as powerful as an industrial. An industrial machine shreds paper in bulk at once and can handle the needs of a whole organization, making it an in-house shredding machine. On the other hand, a commercial device will be able to handle the needs of an office with multiple users, making it a centralized office paper destroyer.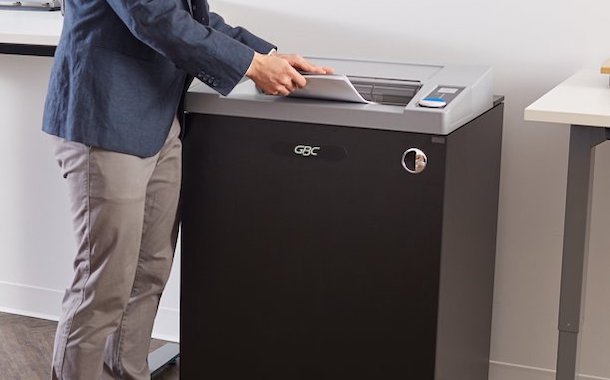 Pros & Cons
Just like any other paper cutter, they advantages, as well as disadvantages. Let's check them out to see if they are worth your money.
PROS:
save personnel time – by using it in an office, your personnel will save time by shredding more paper at once and having to spend less time emptying the bins
save on general expenses – by saving time, your office will also save money, even money you would otherwise need to destroy paper in a different way
protect your business, personnel, customers – by shredding up all sensitive information and confidential files before getting rid of them, you will keep your business, personnel, and customers safe
CONS:
big size cannot fit small spaces – if you want to use a one in a small space, chances are you won't have enough space to fit it in
expensive – these devices are not affordable so they might not be suitable for everyone's budget
Helpful Guide To Picking The Right Machine
Check out which features and specifications you need to be aware of to choose the best cutting device for your needs:
Shredder Dimensions
Most of them are big in size, sometimes with a powerful motor of even 1 horsepower. They will be over 50 inches so you cannot put them in small rooms. They are a better choice for centralized use in big offices.
Maximum Durability
To shred high volumes of paper at once, you will need to make sure the blades and the shredder altogether are made from durable metals. If possible, even look for blades and cutters that are protected by warranty.
Type Of Cut
You can find all three types of mechanisms. Firstly, a strip-cut machine will shred paper into long strips, making it a good choice for destroying non-sensitive documents. Secondly, a cross-cut cutting type will cut paper into long strips horizontally and then vertically to create shorter confetti-like strips. It offers a medium level of security for shredding personal documents and business paperwork. Finally, a shredder with a micro-cut mechanism destroys paper into the tiniest particles. This means you can even use it to destroy confidential data with the highest level of security.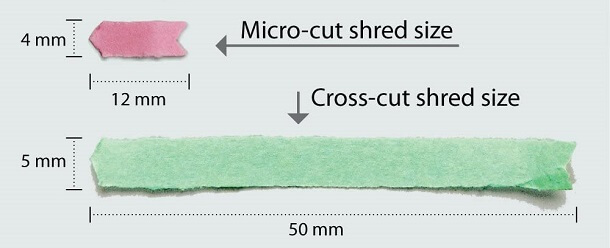 Security Levels
According to the international DIN 66399 standard, you can choose between paper shredders' security levels from P-1 to P-7. A P-1 level is the lowest level of security and P-7 is the highest. If you are going to shred any kind of sensitive information, choose at least P-4 or higher (personal documents, mail, business documents), and choose P-7 for destroying top-secret and secret information.
Bin Capacity For Commercial Use
These models come with bigger or smaller bins so choose according to how much and how often you are going to shred. For instance, if you are going to shred from time to time, pick a model of over 5 gallons. For everyday shredding of high volumes of paper, you should go for over 20-gallon bins.
Sheet Capacity
The best choices are able to shred at least around 20 sheets of paper per pass. Some will even accept 80 sheets of paper at once or even more. If you have piles of paper to shred every day, choose a model that is at least around 50 sheets per pass.
Continuous Duty Cycle
While it is good to have a shredder with a continuous duty cycle, not all models will be able to do so. For light-duty shredding, you won't need a model that can shred for longer than 10 minutes at a time. For higher demand, choose models that can cut for a few hours before they need to cool down. Finally, if you have to shred paper constantly, choose ones that are built for continuous running.
Noise Level
Due to their powerful motors, these devices may sometimes be a bit loud. If you want to prevent this, choose models that can work at a level of around 60 decibels and not louder. This way, you will make the workplace more pleasant without noise distractions and you might even prevent hearing problems and headaches.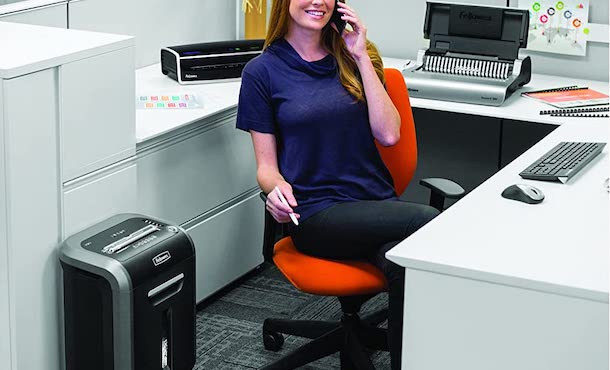 Do They Need Cooldown Time?
This depends on the model you go for. Those that are built for continuous shredding do not need to turn off to cool down. However, this does not mean that you should not leave the shredder turned off to rest when you don't need to use it. For models that have a recommended run time, they will have to rest to avoid overheating. If you want to shred more frequently, pick a model that needs no longer than 20 minutes to cool down.
Safety Features
These powerful shredders should have some safety features. Some come with a safety shield above the feed slot to protect your hands. Also, models with sensors can detect your hands and automatically turn off the device,
Automatic Oiler
If you do not want to mess with having to oil your shredder, look for those that have an automatic oiler feature. That means the blades and cutters will stay lubricated for optimal performance.
Auto-Feed Vs Manual Feed
Units can have an auto-feed tray where you put the paper and they do the rest. On the other hand, a manual feed requires you to stand over the feeding slot and feed the sheets of paper per pass. If you want to deal with other things while shredding, choose an auto-feed model that often has a higher sheet capacity.
Number Of Users
Some shredders are only meant for the operation of one to two users. But large commercial devices can be used by 5 users, 10 users, or even more. The bigger your office, the more users might have to shred paper.
Cutting Different Materials
Besides destroying paper, you might have to also destroy CDs and DVDs, or paper clips and staples on paper. Choose one that can cut all the materials you want to destroy because you mustn't feed a machine with materials it is not suitable for.
Can It Shred Cardboard?
No, they are not meant for shredding cardboard material. To cut cardboard, you will have to invest in a separate shredder suitable for it.
Best 15 Commercial Paper Shredders
Ideal 2604 Micro-cut Paper Shredder
Micro-cut Shredder
Ideal 2604 is a centralized shredder designed for medium-size offices with 4-5 users. It shreds paper, credit cards, CDs, DVDs, paper clips and staples. This is a micro-cut that provides the highest security level. Solid steel cutter shafts are covered by a 1-year warranty.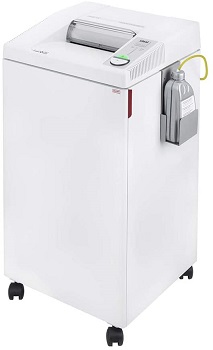 Automatic Oiler System
This heavy-duty device features a revolutionary electronic capacity system that monitors several sheets and prevents paper jams. It cuts 6-8 sheets at once and 244 sheets per minute. The automatic oiler lubricates the cutting heads and provides optimal performance.
Fellowes Powershred 79Ci Shredder
Jam-Proof System
Fellowes Powershred 79Ci is a compact device fitting in any office or home office. Its dimensions are 21.4 x 15.4 x 10.4 inches. Designed for daily use and 1-2 users. It shreds paper, credit cards, staples, paper clips, CDs, DVDs and junk mail. The integrated jam-proof system prevents paper jams and keeps the device clean.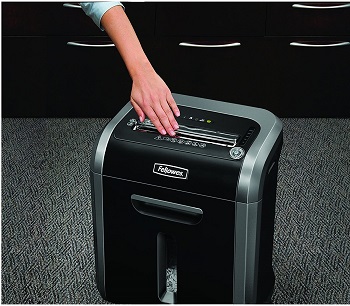 SafeSense Technology
It's a cross-cut shredding type that ensures a high-security level, making it suitable for sensitive and confidential documents. When hands touch the paper slot, the SafeSense technology automatically stops with work. It shreds 16 sheets per pass and runs 20 minutes continuously. Ideal for small offices because it produce low noise.
Aurora Anti-Jam Cross-cut Shredder
Cross-cut Machine
Aurora is a big device ideal for medium-sized offices, it measures 16.3" W x 11.8" L x 26.2" H. It is heavy, therefore equipped with four casters for easy transport. Aurora uses diamond-cutting technology to shred paper, paper clips, staples, credit cards, CDs and DVDs.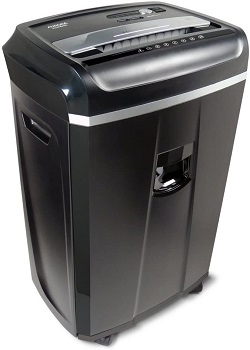 Auto-reverse Function
The security level is high, so shred sensitive documents without worry. On the front of the 20-sheet paper shredder, there is a small transparent window, it's easy to check if the bin is full. Moreover, the LED indicator will turn on if the bin is full. The anti-jam auto-reverse function keeps the shredder clean.
HSM Securio B32 Paper Shredder Paper Shredder
Four Casters
HSM Securio is a white machine that weighs 60 pounds and has 15.7 x 19.6 x 31.2 inches. The integrated four casters make mobility easy. This office shredder destroys paper, paper clips, staples, credit cards, CDs and DVDs. Its maximum sheet capacity is 17-19 papers per pass.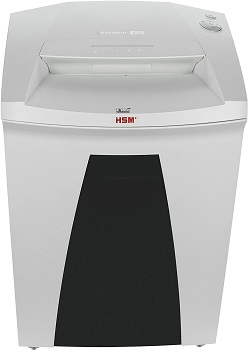 Fast Shredding Speed
HSM Securio can shred 247 sheets per minute, it's very fast and efficient. Also, the wastebasket has a large capacity, it's 21.7 gallons. Anti-jam technology prevents jams when you overload it. Its motor runs continuously without a cool-down period needed. It's a UL-approved device.
Fellowes Powershred Paper Shredder
For Confidential Documents
Fellowes Powershred W11C machine features a practical design, it fits under any office or home office desk. This machine measures 17.7 inches in height and 13.6 inches in width. It shreds credit cards, paper, staples and clips. Also, it's good for confidential documents, providing a high-security level.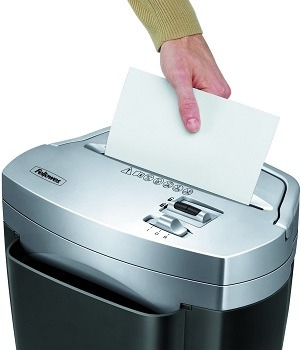 Security Features
The shredded particles are tiny and have 5/32 x 1-3/8 inches in size. Fellowes is a home office unit that has a short run time, it lasts 5 minutes. Then leave it for 20 minutes to cool down. The lift-off bin comes with a convenient handle, its capacity is 4.7 gallons. Safe Lock disables shredder when detects hands or paws, it's safe to use.
HSM 450.2 Industrial Shredder
Powerful Motor
HSM 450.2c is equipped with a powerful continuous-duty motor. The motor uses the chain drive power the shred the materials. HSM is a large paper shredder available in white color and equipped with four durable casters for mobility.  With cross-cut technology, the shredded particles are unreadable.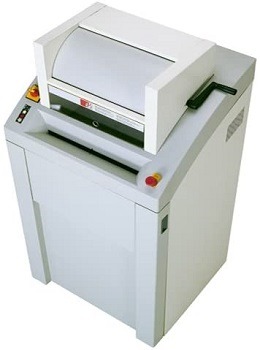 Automatic Operation
Insert paper, paper with clips and staples, CDs, DVDs, credit cards and USB sticks into the feed slot. Within the device, there are sturdy and durable cutting rollers. HSM shreds automatically when detecting materials and it accepts 85 sheets of paper per pass. The Control panel is equipped with a keypad and LED display for easy operation.
Bonsaii Anti Jam Paper Shredder
18-sheet Capacity
Bonsaii C149-C model is a heavy-duty electric machine equipped with four casters. It is easy to move it from one place to another. It measures 14.2 x 11.2 x 21.5 inches and weighs 23 pounds. Use it for paper, credit cards, CDs/DVDs shredding. The max number of papers per single load is 18 sheets.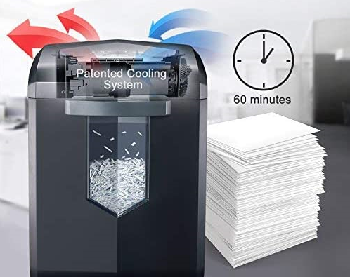 Auto-jam System
This model runs continuously for one hour and the cool-down period lasts 10 minutes. Bonsaii uses a patented cool-down system and its motor produces 62 decibels, ideal for office use. The paper jams will be cleaned up automatically by an auto jam system. The overload and overheat protection prolong the shredder's lifespan.
Aurora AU1540MB Paper Shredder
Professional Shredder
Aurora AU1540MB is a reliable model with a high price. This micro-cut type is ideal for people who need to shred highly sensitive and confidential documents. It meets P-5 security standards. Aurora shreds letter-size paper into 2592 pieces.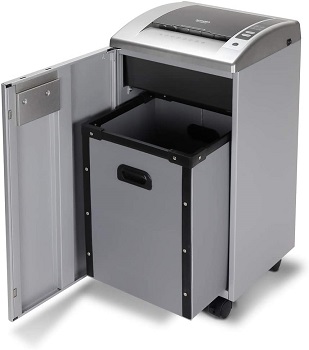 Auto-reverse Feature
This is high capacity shredder able to shred credit cards, paper with clips and staples, CDs and DVDs. Insert max 15 sheets per single pass. It provides a non-stop 60-minute continuous run time. If paper sticks, the auto-reverse function will reverse the cutters and clean the jam.
Royal 10-sheet Paper Shredder
Quality Material
Royal 29171Y is a big machine that meets any office needs. Its dimensions are 15 x 12.2 x 7.7 inches and its entry slot is 8.75 inches wide. It is made of quality plastic and is wear-resistant. This model is tested and meets many safety and quality standards.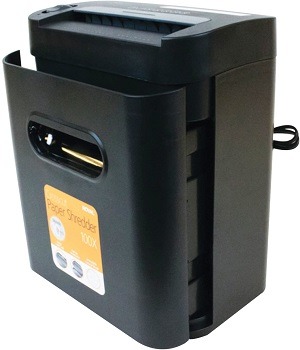 Credit Card Shredder
The machine can shred paper and credit cards and is not designed for CDs and DVDs. There is a separate slot for credit cards. This 10-sheet paper shredder has a powerful motor of 1/2 horsepower. The switch features three options – auto, off and reverse. A 1-year warranty is provided by the manufacturer.
Ativa Micro-cut Shredder
Micro-cut Device
Ativa is a 12-sheet shredder, designed for industrial office use. Ite shreds confidential and top-secret documents into tiny and unreadable particles. It destroys paper with clips and staples and credit cards. Backed by a 1-year warranty. Its wastebasket has a capacity of 6 gallons.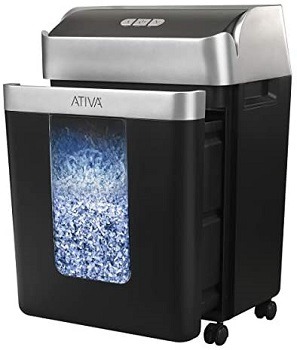 Fast Shredding Speed
This 12-sheet paper shredder features a good shredding speed, so you can destroy a large amount of paper quickly. Able to shred 20 minutes continuously. The integrated sensors detect if the device is overloaded and start to reverse blades. The dimensions are 22 x 11 x 15 inches.
Fellowes Powershred 325Ci Pro Paper Shredder
Medium Security Level
The Powershred uses a cross-cut way to shreds the sheets. It provides a high-security level, P-4 that shreds sheets diagonally from both corners, so it is almost impossible to read it. If you put the A4 paper into this device, it will cut it into 400 particles and more.
High Bin And Sheet Capacities
This one of the best pro paper shredders is able to shred credit cards, DVDs, CDs, staples, paper clips and junk mail. The sheet capacity is 22 sheets per pass and the bin capacity is 22 gallons. It is a high volume bin, so you don't have to empty it very often. It is great for 6 to 10 users.
Aurora AU121oMA Professional Shredder
Professional-grade Shredder
Aurora AU1210MA uses a cross-cut way to shreds papers. It cuts the CDs, DVDs, credit cards and paper clips. You can shred documents with private information because this machine has a high P-4 security level.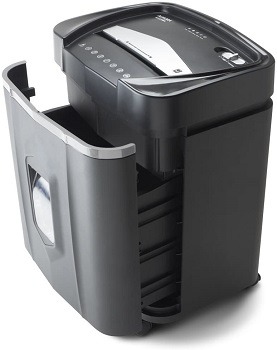 Efficient Jams Function
If paper jams happen, the Aurora has anti-jam technology and auto-reverse function. You can run it for 60 minutes without pause. The cooling-down period lasts 45 minutes. It shreds up 12 sheets per pass which fall into a 5-gallon bin.
AmazonBasic Paper Shredder
Security Cross-cut Paper Shredder
This cross-cut shreds the papers into very small pieces, they look like confetti. AmazonBasic meets a high P-4 security level. When you put the paper into the machine, you don't have to remove paper clips or staples. Also, you can feed it with CDs and DVDs.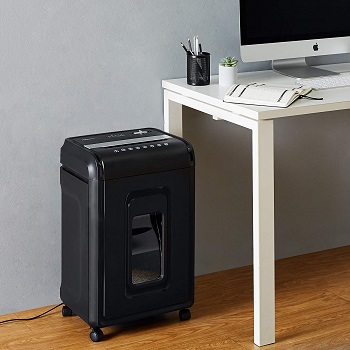 Safety Auto-off Feature
AmazonBasic runs 40 minutes continuously. Then you need to leave it to cool down for 50 minutes. If it works longer than max time, it will automatically shut off to protect the motor from overheating. Before using, read the instruction.
Intimus 16.50 Cross-cut Shredder
Large Shredder
Intimus 16.50 is a heavy-duty machine that measures 50 x 47 x 70 inches in size and weighs 1600 pounds. This machine is suited for large companies that use heavy-duty equipment. It's a cross-cut type that cuts paper into 0.24 x 1.97-inch particles.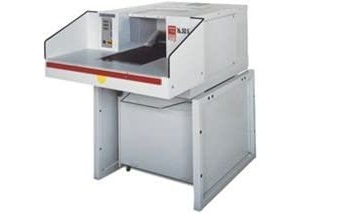 High Sheet Capacity
A conveyor belt making the shredding process even faster. Intimus shredder achieves a shredding speed of 47.2 feet per minute. Also, it's able to shred 330 sheets per single pass, this machine has a high sheet capacity. Thermal and overload protection prolongs the shredder's lifespan. Shreds paper, CDs/DVDs and credit cards.
Bonsai C169-B Paper Shredder
Whisper Quiet Device
The C169-B features a medium-duty motor with a shredding speed of 5.3 feet per minute. The Bonsaii motor runs quietly, it produces the noise of 62 decibels. So, it won't distract you with the noise, you and your colleagues can focus on the work.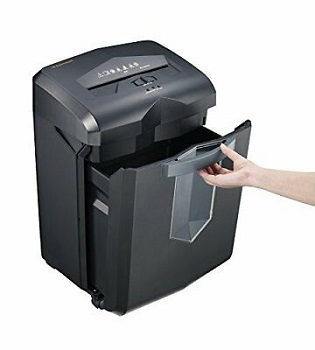 Patented Run Technology
The Bonsaii is a micro-cut that will cut paper into very small pieces. The patented technology prolongs the run time, so this device is able to work 60 minutes before the cooling down period. It requires 10 min only for cooling. It will shred the 12 sheets at a single pass.
Maintenance: Do And Don't
To ensure it runs properly and cuts paper fast and securely without any problems, you will need to maintain the machine. This means you will have to keep the blades clean and lubricated and do some other maintenance steps. For example, you should keep your shredder turned off and plugged out when not in use. Moreover, you should run it in reverse from time to time to free up any paper particles that might be stuck between the blades.
Should You Oil It?
Yes, they need to be oiled to run properly. Some of them come with automatic oilers so that you don't have to do it yourself. Otherwise, oil it often, after every intense session of shredding, every time you empty the bin, and whenever you notice the blades are starting to struggle with cutting. You can lubricate the blades with either shredder oils or lubricant sheets.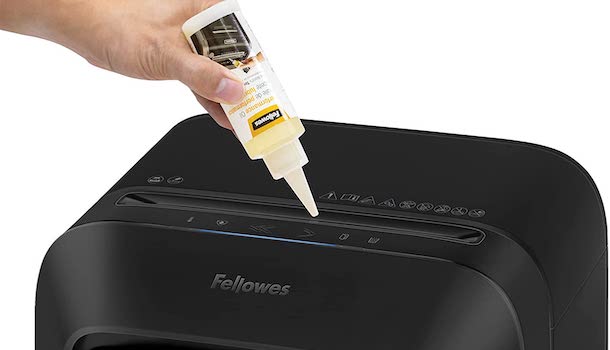 What Does The Red Light Mean?
Once you remove the shredding head from the bin so that you can empty it, the red light will turn on. To prevent this, turn it off and unplug it before emptying the bin.
How Long Should This Machine Last?
They cut more paper in their lifetime than standard shredders. However, they are also built to be more durable and resistant to wear. You should get between 5 and 10 years out of it before you need to change it.
Why Do They Stop Working Or Wear Out?
They usually stop working due to paper jams and blades wearing out after a long use without proper maintenance and lubrication. To prevent this, do not put in more sheets of paper at once than recommended and empty the bin before it gets too full. Finally, oil it as recommended above to prevent it from wearing out.
Services As An Alternative
If you do not want to invest in a shredder, you could alternatively hire a shredding service to do it for you. Then, your personnel won't have to spend time on destroying it. On the other hand, you will have to wait for the service to do it for you, which you might not want for your highly confidential documents.