Do you know how to maintain your paper shredder?
So, if you look for the best paper shredder lubricant or lubricant sheets, keep reading. Here you can read how to properly maintain your paper shredder and which products are the best for that.
Our Top Picks
Best 5 Paper Shredder Lubricants & Lubricant Sheets
Best Of Best Paper Shredder Lubricant Sheets
Ativa Lubricant Sheets
Universal Sheets
The Ativa produces quality lubricant sheets for a paper shredder. The lubricant paper size is 8.68 inches of width and 5.94 inches of length. Or in centimeters: 21.8 x 5.94. These sheets are compatible with almost all paper shredders. If you are not sure about yours, measure the feed opening.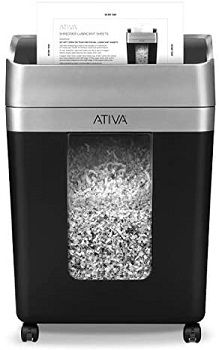 12 Sheets Per Pack
If you decide to buy these sheets, you'll get 12 sheets in one pack. The price is affordable. Use these lubricant sheets after every paper shredder intense use. They will reduce shredder noise and prolong motor life. The shredder blades will work optimally if you regularly oil them.
Easy To Use
It is very easy to use these lubricant sheets, first, turn on the reverse mode for 10 seconds, then shred the lubricant sheets. Press the reverse function again. That's it. After oiling, before you put sheets into the shredder, clean them from dust.
Highlighted Points:
optimal lubricant sheets for all paper shredders
affordable price
simple to use
these sheets extend the shredder's life
Best Paper Shredder Lubricant
Fellowes Shredder Lubricant
For Fellowes Paper Shredders
The Fellowes is a very popular brand that produces quality paper shredders. They make their own oil for shredders. So, this lubricant is specially made for their products. The bottle is made of plastic material and has 1.5 x 3.5 x 8 inches.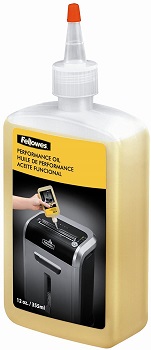 Pick The Pack
On Amazon, you can buy the pack with 2, 3, 4 5, or 6 bottles. If you use your paper shredder often and it runs intensively, you should consider the pack with more bottles. For the optimal results, oil your paper shredder at least twice a month.
355ml Bottle
One bottle contains 12 oz or 355 ml. If you don't use paper shredder so often, this bottle will last for a few months. It is a practical squeeze bottle which have an extension nozzle. It is very simple to use this lubricant. The price is affordable. The lubricant is designed for Fellowes micro-cut and cross-cut shredders.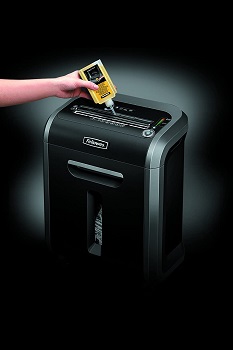 Optimal Performances
The Fellowes recommends that you oil their micro-cut shredders every 15 minutes of use and for cross-cut shredders, it is twice a month. If you take care of your paper shredder in this way it will last for a long time and provide quiet and optimal performances.
Highlighted Points:
lubricant for micro-cut and cross-cut shredders
simple to use and improves shredder performance
read the instruction before use
choose the pack depends on the shredder use
Best Paper Shredder Lubricant Sheets
GoECOlife Lubricant Sheets
Low Price
The GoECOlife GLL12 pack contains 12 lubricated sheets and you can find them for a low price. Use these sheets depends on the intensity of paper shredder use. The micro-cut shredders require more care than the other two paper shredder types.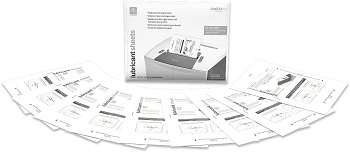 No Mess
It is easy to use these sheets, you won't make a mess or oil everything around you. The lubricant is between two thin papers, so you won't oil your hands or shredder. The sheet size is 8.5 x 11 inches. Just put it into the paper shredder like usual.
Paper Shredder Size
Because of the lubricant sheets size, they will fit into standard size paper shredders and paper shredders with wide throat opening. So, turn the lubricant sheet over depends on your paper shredder opening size. They will help with paper jams and noise reduction.
Highlighted Points:
lubricant sheets for standard and large paper shredders
12 sheets in one pack
they help with paper jams and reduce noise
Best Cheap Paper Shredder Lubricant
Bonsaii Shredder Lubricant
Twist Cap
The Bonsaii paper shredder lubricant is a very acceptable price. The product comes in a yellow bottle with instructions. The bottle contains 400ml of lubricant. There is a twist cap, so it very easy to use it. Use the lubricant in Bonsaii shredders, but it can be used on other shredders, too.

Lubricant The CD Slot
If your paper shredder has separate CD/DVD slot, you can use the lubricant on it. The Bonsaii recommend to lubricant the paper shredder every 30 minutes after intensive use. Or twice a month if you don't use the paper shredder very often.
Oiling Process
The lubricant is good not just for oil the shredder, but for sharpening. The Bonsaii said that you need to turn off the paper shredder and then apply some oil across the feed slot. It is very simple and this is all maintenance you need to do.
Highlighted Points:
find this lubricant at affordable price
it oils and sharpens shredder blades
use it on CD slot, too
for any paper shredder
Best 12-pack Paper Shredder Lubricant Sheets
AmazonBasic Lubricant Sheets
Two Packs
The lubricant sheets don't have a high price, but there are some which still cost less the others. If you looking for that, consider AmazonBasic lubricant sheets. They offer two packs – a pack with 12 sheets and a pack with 24 sheets. Choose the pack depends on your paper shredder use.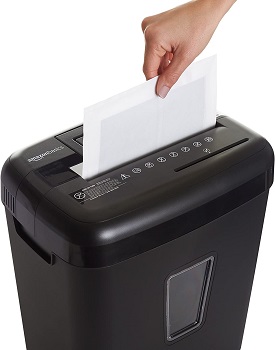 More Efficient Work
These sheets will clean, sharpen and lubricant your paper shredder. It will run fast and without loud noise. If you lubricate your paper shredder, it will reduce paper jams and run more efficiently. Use these sheets like regular paper shredding.
No Static Dust
The AmazonBasic lubricant sheets are suitable for all paper shredder which have 8-9/16 inches paper slot or even wider. So before you order this product, measure your paper shredder opening. These luamp;bricant sheets reduce static dust into the paper shredder.
Highlighted Points:
12 lubricant sheets for efficient paper shredder run
order it for an affordable price
reduce static dust and sharpen the blades
Things To Know About Shredder Lubricant & Lubricant Sheets
In this paper shredder maintenance guide, you'll learn what you need to do to maintain your paper shredder, how often you need to do that, and which products are the best.
Optimal Performance – Every paper shredder type requires maintenance. If you take care of it, the shredder will provide optimal performance. The paper dust in the machine causes the issues. There are two different ways – lubricant oil or lubricant sheets.
How To Oil It – You can put some oil on the blades directly after the shredder finish with its run time. The other way is to put oil on the paper and feed the shredder with it. Also, you can buy lubricated sheets and put them into the paper shredder.
Micro-cut Paper Shredder – There is no one rule on how often you need to oil the paper shredder. If you notice that it works difficult or if it gets jammed easier than before – it's time to oil it. The micro-cut paper shredder requires more oiling than the other two shredder types.
The Best Oil – Many people think that they can use any vegetable oil and apply it to their paper shredder. That isn't recommended. You should use an oil/lubricant designed for a paper shredder because that oil is made for heat-treated shredder's cylinders.
Oil & Lubricant Sheets Price – The price of any paper shredder lubricant is low and the product lasts for a few months. The lubricant sheets cost more, but they aren't expensive. Choose which method you want to use for your paper shredder and prolong its life.
Final Verdict
You can read about two different products for paper shredder maintenance. If you want, you can use both. But we recommend the GoECOlife lubricant sheets. There are 12 sheets in the pack, it is simple to use them without a mess and they reduce the noise level. If you looking for durable bags, read the post about paper shredder bags. If you still don't have a shredder machine, find some models in the best home office paper shredder review.