Do you know how to maintain your paper shredder?
So, if you look for the best paper shredder lubricant or lubricant sheets, keep reading. Here you can read how to properly maintain your paper shredder and which products are the best for that.
Our Top Picks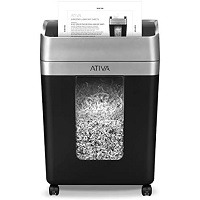 Ativa Lubricant Sheets
OVERALL RATING: ★★★★★
The Ativa shredder lubricant sheets are universal, they are affordable and it is simple to use them.
Jump To Review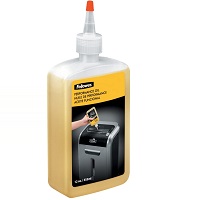 Fellowes Shredder Lubricant
OVERALL RATING: ★★★★☆
The Fellowes lubricant is available in different packs, use it for micro-cut and cross-cut shredders.
Jump To Review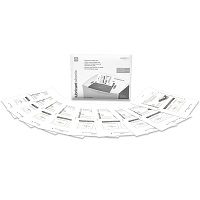 GoEColife Lubricant Sheets
OVERALL RATING: ★★★★☆
There are 12 lubricated sheets per single pack, they are good for standard and large paper shredders.
Jump To Review
What Is Paper Shredder Lubricant?
Lubricants for paper shredders are used for cleaning the blades of the shredder by keeping them oiled so they can run smoothly.
Types Of Lubricants
There are two most usual types of lubricants – paper shredder oil and lubricant sheets. Here you can learn about the difference between oil and lubricant sheets for your paper shredder.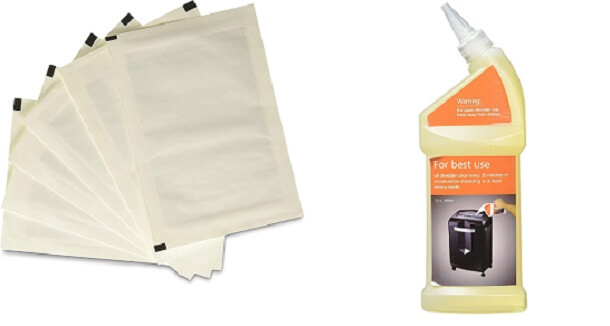 What Are Lubricant Sheets?
These sheets are envelopes filled with oil you feed to the paper shredder and it helps reduce friction and sharpens the blades while also keeping them clean. Lubricant sheets apply lubrication on the cutting blades to prolong their life.
What Is Shredder Oil?
Shredder oil is one type of lubricant used to maintan and sharpen the cutting blades on a paper shredder. Ideally, you should use the oil of the same manufacturer as your device for the best compatibility. Usually, the oil is made from the following ingredients: solvent refined hydrotreated middle distillate, severely hydrotreated light naphthenic distillate, butylated hydroxytoluene, and commercial oleic acid.
Oil Vs. Sheets
Sheets are more convenient to use than oil because you do not have to handle oil and get your hands dirty. Moreover, they do not make a mess like oil can in case you put too much of it on the blades. However, they have the same benefits.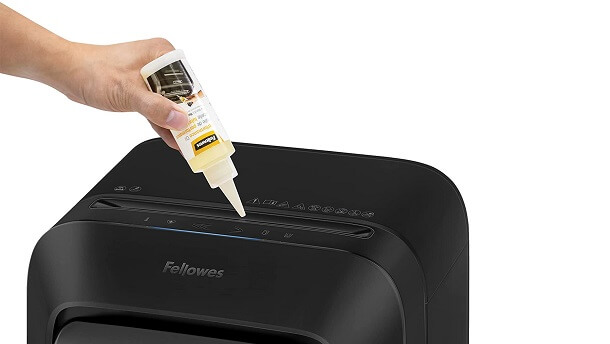 Do Paper Shredders Need Lubrication?
Yes, they do. Why? Because they have many benefits for the performance of the machine. Here are some of them:
Cleans the teeth and blades – dust and paper particles that might be left behind on the blades or teeth are removed with oil to keep the blades sharp
Sharpens the blades – lubricant sheets have the property to sharpen the blades with the help of an inner liner, sometimes made of aluminum
Prevents paper jam – particles that accumulate on the blades over time are removed for smoother paper shredding so the paper does not get stuck inside.
Prevents loud noises – once the dust is removed with the oil, the machine is also quieter as there is less friction
Prolonged lifespan – the device can maintain its performance at a high level by keeping the blade oiled and running smoothly
How Often Should You Lube Shredders?
Depending on the cutting type and how much you use it, here is how often you should put oil it and lube. Micro-cut shredders should be oiled after every 15 minutes of shredding, and cross-cut every 30 minutes of use. For other models, oil or lubricate them whenever you empty the waste bin or do it at least twice a month. Also, you should do it after each intense shredding session. Lastly, if you start experiencing jams or loud noises, it is time to oil or lubricate.
Best 5 Paper Shredder Lubricants & Lubricant Sheets
Ativa Lubricant Sheets
SPECIFICATION:
Type: Lubricant sheets
Dimensions: 8.58 x 5.94 inches

Package: 12 sheets
Universal: Yes
PRICE
approx: $10 – $15
determined by online offer (Amazon, Walmart) and seasonal sales
Universal Sheets
Ativa produces quality lubricant sheets. The lubricant paper size is 8.68 inches of width and 5.94 inches of length. Or in centimeters: 21.8 x 5.94. They are compatible with almost all paper shredders. If you are not sure about yours, measure the feed opening.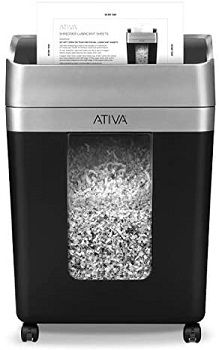 12 Sheets Per Pack
If you decide to buy these sheets, you'll get 12 sheets in one pack and they come with affordable price. Use them after every intense shredding seires. They will reduce noise and prolong motor life. The blades will work optimally if you regularly oil them.
Easy To Use
It is very easy to use lubricant sheets. First, turn on the reverse mode for 10 seconds, then shred the sheets. Press the reverse function again. That's it. After oiling, before you put sheets into the opening, clean it from dust.
Highlighted Points:
optimal lubricant sheets for all paper shredders
affordable price
simple to use
these sheets extend the shredder's life
Fellowes Shredder Lubricant
SPECIFICATION:
Type: Lubricant oil
Volume: 12 ounces

Package: 1 bottle
Universal: Yes
PRICE
approx: $5 – $10
determined by online offer (Amazon, Walmart) and seasonal sales
For Fellowes Machines
The Fellowes is a very popular brand that produces quality paper shredders. They make their own oil too. So, this lubricant is specially made for their products. The bottle is made of plastic material and has 1.5 x 3.5 x 8 inches.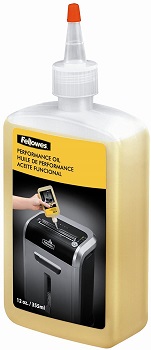 Pick The Pack
On Amazon, you can buy the pack with 2, 3, 4 5, or 6 bottles. If you use your shredder often and it runs intensively, you should consider the pack with more bottles. For the optimal results, oil it at least twice a month.
355ml Bottle
One bottle contains 12 oz or 355 ml. If you don't use the device so often, this bottle will last for a few months. It is a practical squeeze bottle with an extension nozzle. It is very simple to use this lubricant that is designed for Fellowes micro-cut and cross-cut products.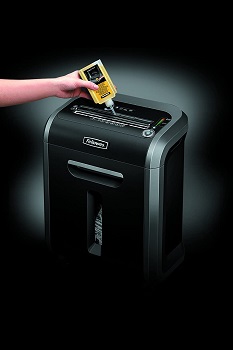 Optimal Performances
The Fellowes recommends that you oil their micro-cut machiens every 15 minutes of use and for cross-cut types, it is twice a month. If you take care of your shredder in this way it will last for a long time and provide quiet and optimal performances.
Highlighted Points:
lubricant for micro-cut and cross-cut shredders
simple to use and improves shredder performance
read the instruction before use
choose the pack depends on the shredder use
GoECOlife Lubricant Sheets
SPECIFICATION:
Type: Lubricant sheet
Dimension: 8.5 X 11 Inches

Package: 12 pack
Universal: Yes
PRICE
approx: $15 – $30
determined by online offer (Amazon) and seasonal sales
Low Price
The GoECOlife GLL12 pack contains 12 lubricated sheets and you can find them for a low price. Use sheets depending on the intensity of paper shredder use. The micro-cut ones require more care than the other two types.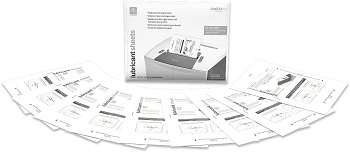 No Mess
It is easy to use sheets, you won't make a mess or oil everything around you. The lubricant is between two thin papers, so you won't oil your hands or shredder. The sheet size is 8.5 x 11 inches. Just put it into the paper shredder like usual.
Paper Shredder Size
Because of their size, they will fit into standard sized and paper shredders with wide throat opening. They will help with paper jams and noise reduction and prolong the life of the shredding machine.
Highlighted Points:
sheets for standard and large shredders
12 sheets in one pack
they help with paper jams and reduce noise
Bonsaii Shredder Lubricant Oil
SPECIFICATION:
Type: Lubricant oil
Volume: 12 ounces

Package: 1 bottle
Universal: Yes
PRICE
approx: $15 – $30
determined by online offer (Amazon, Walmart) and seasonal sales
Twist Cap
The Bonsaii lubricant has a very acceptable price. The product comes in a yellow bottle with instructions. The bottle contains 400ml of liquid. There is a twist cap, so it very easy to use it. Use the lubricant in Bonsaii shredders, but it can be used on other shredders too.

Lubricant The CD Slot
If your paper shredder has separate CD/DVD slot, you can use the lubricant on it too. The Bonsaii recommends to lubricant the device every 30 minutes after intensive use. Twice a month if you don't use it that often.
Oiling Process
The lubricant is good not just for oil the shredder, but for sharpening. The Bonsaii said that you need to turn off the paper shredder and then apply some oil across the feed slot. It is very simple and this is all maintenance you need to do.
Highlighted Points:
find this lubricant at affordable price
it oils and sharpens shredder blades
use it on CD slot, too
for any paper shredder
AmazonBasic Lubricant Sheets
SPECIFICATION:
Type: Lubricant sheet
Dimension: 6 X 8-9/16 inches

Package: 12 pack
Universal: Yes
PRICE
approx: $8 – $15
determined by online offer (Amazon) and seasonal sales
Two Packs
The lubricant sheets don't have a high price, but there are some which still cost less the others. If you looking for that, consider AmazonBasic sheets. They offer two packs – a pack with 12 sheets and a pack with 24 sheets. Choose the pack depends on your need.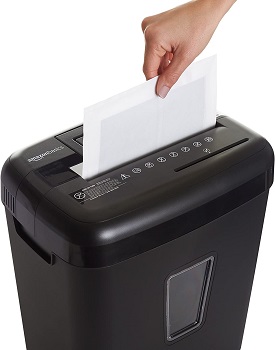 More Efficient Work
These sheets will clean, sharpen and lubricant the shredder. It will run fast and without loud noise, also, it will reduce paper jams and run more efficiently. Use these sheets like you would use a regular paper.
No Static Dust
The AmazonBasic sheets are suitable for all models with 8-9/16 inches slot or wider. So before you order this product, measure your paper shredder opening. These lubricant sheets reduce static dust into the paper shredder.
Highlighted Points:
12 lubricant sheets for efficient paper shredder run
order it for an affordable price
reduce static dust and sharpen the blades
How To Oil A Paper Shredder?
You can oil or lubricate it in three different ways. The first way is to apply the oil directly to the blades. The second way is to do it by applying oil in a zigzag pattern on a sheet of paper and then feed the shredder with it. Finally, you can also lubricate the paper shredder with lubricant sheets.
Applying Oil Directly
The method in which you apply the oil directly onto the blades is the first option. Firstly, turn on the reverse setting for 20 seconds. Then, pour the oil directly into the paper input from one side to the other. Finally, turn the shredder on for 30 seconds without paper and it is ready to go.
The Sandwich Method
In this method, you feed the paper shredder with a sheet of paper on which you zigzag some shredder oil. Firstly, zigzag oil from one side to the other along with the sheet and let it soak for a few seconds. Then, put another sheet on top to make a sandwich. Then, use the reverse setting for 10 seconds. After that, feed the shredder with the sandwich sheets. Finally, turn the reverse option on for another 30 seconds, and it is done.
Using Lubricant Sheets
The last method is to buy lubricant sheets you feed into the shredder like you would with paper. Firstly, run the reverse setting for 10 seconds. After that, put the sheet into the paper input. Then, run the reverse setting for a further 30 seconds and it is lubricated and ready!
Which Method Is Recommended To Use?
Out of the three above-mentioned methods, you should always use the one that is recommended by the manufacturer. If there is no recommendation in the manual, you can use any of the methods, preferably the sandwich method or the lubricated sheet to reduce oil spillage.
Paper Shredder With Automatic Oiler
Some models have an automatic oiler feature so that you do not have to worry about oiling your shredder. Check the model of your shredding machine to see if you have this feature.
Alternative Ways To Lubricate Your Paper Shredder
Besides the special lubricants made for paper shredders, there are some other ways you can keep your shredder oiled. However, there are also some lubricants that you should avoid.
Other Options For Oiling
Firstly, you can use oils specifically marketed as oils for paper shredders. Secondly, you can use some other that cost less but are also recommended. For example, as a shredder oil substitute, you can use mineral oil, vegetable oil, and some even suggest soaking paper in baby oil and running it through the paper shredder for lubrication. However, if possible, stick to official oil. Do not use aerosol oils, only vegetable-based ones.
Can You Use WD-40 To Oil A Shredder?
WD-40 and other general-purpose lubricants and oils are generally not recommended for oiling a shredder. It is mostly recommended to just use the official oil from marketed manufacturers of shredder oils.
Are Lubricant Sheets Necessary?
If you do not have oil you can use to maintain the cutting blade, then lubricant sheets are necessary. If you are already using the oil, then lubricant sheets are optional.
Final Verdict
You can read about two different products for paper shredder maintenance. If you want, you can use both. But we recommend the GoECOlife lubricant sheets. There are 12 sheets in the pack, it is simple to use them without a mess and they reduce the noise level. If you looking for durable bags, read the post about paper shredder bags. If you still don't have a shredder machine, find some models in the best home office paper shredder review.