Are you looking for the best portable paper shredder?
Then you should read this review, here we talk about the different shredders, what makes them portable and what are their benefits. Also, we choose some models to hel you choose so check out their features.
Our Top Picks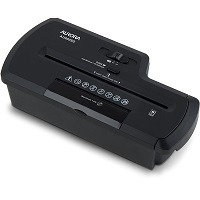 Aurora AU800SD Paper Shredder
OVERALL RATING: ★★★★★
The Aurora is a powerful strip cut paper shredder, it comes without a wastebasket, but there is an extendable arm.
Jump To Review
Muji Handy Shredder
OVERALL RATING: ★★★★☆
This is a manual shredder designed for receipts shredding, so it doesn't require batteries or electric power.
Jump To Review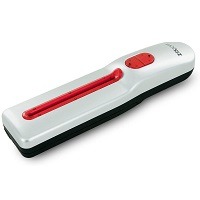 Ziszor 33050 Portable Handheld Shredder
OVERALL RATING: ★★★★☆
This is a handheld machine powered by batteries, it has forward and reverse options and affordable price.
Jump To Review
What Do We Mean By Portable Shredder?
There is no specific model of a paper shredder that is portable. By adding a word "portable", we are referring to ones that are manufactured for eaier transportation and using on the go if needed.
What Makes One Model Portable?
For a shredder to be portable, it either needs to be small enough for easy carrying or it should have casters that allow a user to wheel it around from one spot to another. Also, this considers lightweight models that won't be too heavy when you are carrying them.
Portability Determined By Power Source
A truly portable machine for paper is one that can be used anywhere, which means it will have to be operated by hand or battery. Electric models will be portable only if you are going to be using it in places with access to electricity. Another option is to go for a USB model that will also provide you with use in multiple spaces with access to a USB port.
Choose The Right Paper Shredder For Easy Transport
The market offers plenty of different models you can easily carry around. Here you can see which one would fit your needs best.
Handheld Paper Shredders
A handheld model is ideal for light-duty shredding. It features a handle with buttons for operation and a paper feed slot/throat. It is operated by batteries and can usually handle under four sheets of paper at once. They do not have a basket so they are really small for easy storage.
Mini Manual Models
Mini paper shredders are usually manually operated by turning the knob. They have a slot where you feed the paper and by turning the knob, the paper goes through the blades and the basket catches it. It can usually handle paper, receipts, bills, and even PP plastic.
Devices That Are Easy To Transport
Small models can be kept on your desktop in your home office, small business office, school, and more. They are small in size, usually only around 10 inches. If you are going to shred confidential documents with it, make sure it features a cross-cut or a micro-cut mechanism. You can get ones that are manual, battery-powered, or electric.
Use Wheels To Move It Around
Besides the above-mentioned small options, there is another portable type on the market. They feature wheels, so you can easily move them around the office or house.
Shredders Without Basket You Can Take With You
Another option is the one with only the head. A basket-less paper shredder is easy to carry and usually has an extendable arm that makes it fit over wastebins of different sizes.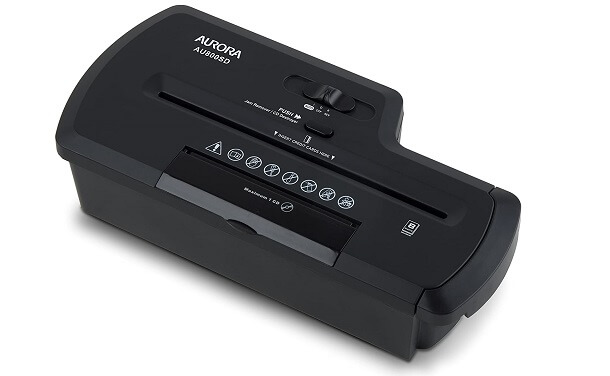 How Much Can You Shred Before It Needs To Cool Down?
Depending on the model and how strong it is, shredders have shorter or longer cool-down times. Some models can only shred for 5 to 10 minutes before they need to turn off and cool down. Some stronger models can cut longer, for 15 to 20 minutes before you need to give them a chance to cool down.
Why Do You Need A Portable Option?
Hhandheld, desktop, and even models without a wastebasket can be used in the house. What for? You can destroy junk mail, receipts, bank statements, and bills that contains your personal data and other confidential information.
Can It Shred Credit Cards?
Not every model will be able to shred credit cards. Those cards are thicker than paper so before feeding a shredder with a credit card, make sure the manufacturer approves it by reading the manual.
What Are The Benefits Of A Portable Devices?
While shredders, in general, have a lot of benefits, portable ones are specific because they are good for the following:
Taking up little space – they are small enough for storage, travel, and transport
Multi-use – you can fit them under a desk, on the desk, in your closet, small apartment, RV, and more
Light-duty shredding – great for destroying personal documents, junk mail, bills, and more
Saving time and space – by destroying multiple sheets of paper at once, you also save time and space
Cheaper option – as they are small, these shredding devices cost less than big models
Best 5 Portable Paper Shredders
Aurora AU800SD Paper Shredder
SPECIFICATION:
Security Level: P-1
Shred Type: Strip-Cut
Dimensions: 6.5 x 12.99 x 2.95 inches

Weight: 5.41 pounds
Bin Capacity: No bin
Sheet Capacity: 8 sheets
Powerful Machine
Aurora AU800SD is a professional type of paper shredder. It is powerful enough to shred papers, paper clips, staples, credit cards, CDs and DVDs. Its dimensions are 6.50 x 12.99 x 2.95 inches and it weighs 5.48 pounds. It is lightweight, so you can carry it with you.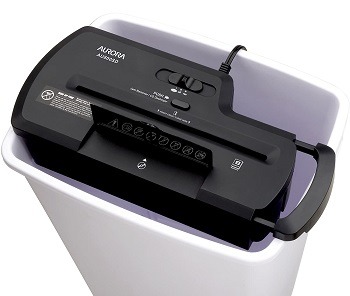 Sheet Capacity
This model accepts 8 sheets per single pass and shreds them into the long strips. They aren't thick, there are 1/4 inches, but it's possible to assemble and read the paper parts. Therefore, Aurora isn't the best choice for sensitive documents.
Adjustable Arm
Aurora shreds paper quickly, 9.8 feet per minute. The paper slot is 8.7 inches wide, so you can put A4 paper into the device. The most interesting feature is an extendable arm and the max length is 15 inches. Attach it to small or large wastebaskets.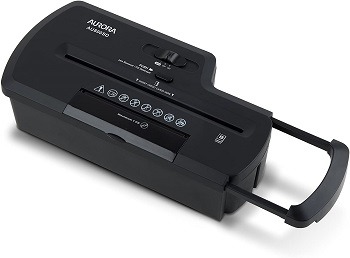 Smart Functions
When Aurora is in standby mode, it doesn't use power. That saves energy consumption, just like the auto stop and start functions. On the device, there are LED lights that indicate if it is turned on and if the motor starts to overheat.
Overall:
Safety:
Power:
Size:
Weight:
Funcionality:
PRICE
approx: $25 – $40
determined by online offer (Amazon, Walmart, eBay) and seasonal sales
REASONS TO BUY:
Auto stop and auto start features
LED light for overheat and power
Extendable arm to fit other bins
REASONS TO AVOID:
Only 8 sheets per single pass
Muji Handy Shredder
Security Level: P-1
Shred Type: Strip-Cut
Dimensions: 7.2 x 2 x 1.2 inches

Weight: 4.30 ounces
Bin Capacity: No bin
Sheet Capacity: 2 sheets
Authentic Product
Before you buy it, you need to check some information. There are many fake products, so check if your product has this written on it: Sold by Muji USA and fulfilled by Amazon. If your desired Muji product has that, you can be sure that it is an authentic Muji product.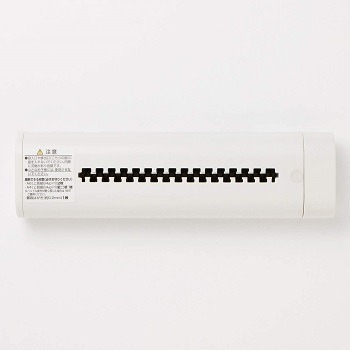 Manual Shredder
Muji manual device is very simple to use. Also, it doesn't require batteries or electric power because it is powered by your strength. When you put the paper into the slot (one at a time), you need to turn the knob which rotates the blade and cuts the paper.
Light-duty Use
Muji is able to cut the paper into long strips, so it isn't the best device for confidential documents. You can put postcards into the slot, but it isn't designed for thick materials like letter paper, credit cards, cardboards and others. It is intended for receipts and small thin papers.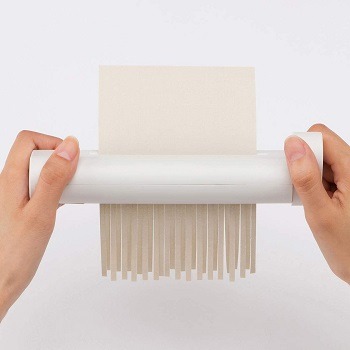 ABS Plastic Material
If paper jams happen, you can easily pull the paper out. Just rotate the handle in the opposite direction. The Muji dimensions are 7.2 x 2 x 1.2 inches. It is small, so you can store it in your home or office drawer. This item is made of quality ABS and the blade is made of steel.
Overall:
Safety:
Power:
Size:
Weight:
Funcionality:
PRICE
approx: $20 – $45
determined by online offer (Amazon, Walmart, eBay) and seasonal sales
REASONS TO BUY:
Mnually operated paper shredder
Very light and small
REASONS TO AVOID:
Designed only for receipts and thin papers
Ziszor 33050 Handheld Shredder
Security Level: P-1
Shred Type: Strip-Cut
Dimensions: 12.4 x 4.5 x 2.4 inches

Weight: 1.46 pounds
Bin Capacity: No bin
Sheet Capacity: 5 sheets
Cordless Device
The Zsizor 33050 is another portable option. It is cordless and has 12.4 x 4.5 x 2.4 inches with weight of 1.5 pounds. It is a light-duty device designed for everyday junk mail and other documents. You can shred the papers wherever you want, in your office, home, even your car.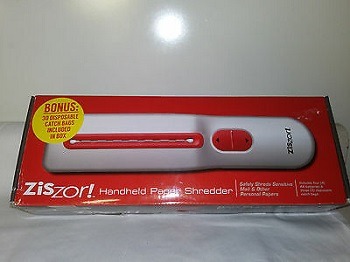 4 AA Batteries
This handheld item is powered by four AA batteries and they are included in the package.You can use it wherever and whenever you want, that is very practical, you don't have to collect your sensitive document and carry them around.
Two Options
On the handle, you can use two options, which you can switch manually. There are forward and reverse options. If the paper stuck, use the reverse option and clear the device. The Zsizor shred the paper into long strips.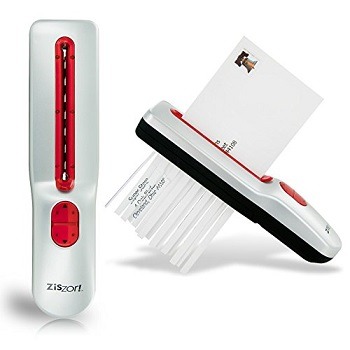 Fold The Paper
If you want to shred papers into smaller unreadable pieces, fold the paper and it put it between the blades. But be careful, you can fold the paper 2-way, that's the limit if you don't want paper jams. You can shred the documents directly over the wastebasket, or you can use some plastic or carton bag.
Overall:
Safety:
Power:
Size:
Weight:
Funcionality:
PRICE
approx $15 – $20
determined by online offer (Amazon, eBay) and seasonal sales
REASONS TO BUY:
It is powered by batteries
Shredding and reverse features
REASONS TO AVOID:
Not for credit cards or thick paper
Senreal Manual Paper Shredder
Security Level: P-1
Shred Type: Strip-Cut
Dimensions: 7.3 x 4.2 x 6.1 inches

Weight: 1.06 Pounds
Bin Capacity: 1.5 liters
Sheet Capacity: 2 sheets
Seneral's Design
This handheld shredder is 7.2 inches long, 4.1 inches wide and 5.9 inches of height. It doesn't take much space. The Seneral is available in four colors – black, blue, red and orange. It is designed for paper, bills, receipts and PP plastics. The price of this shredder is low.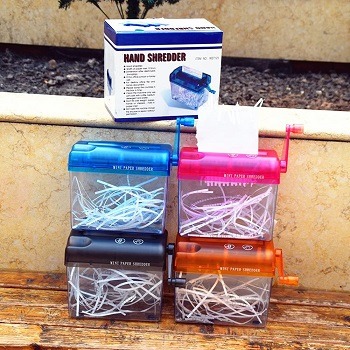 Simple To Use
It is another easy to use model. There is a handle, so manually turn the knob and shred the paper. This small item is intended for those who need to destroy a small amount of paper. Keep in mind that before you put the A4 paper, you need to fold it on half.
Transparent Wastebasket
The slot is 12.3 inches wide, so it is pretty small. When the Seneral shreds the paper, the strip is 3mm or 0.1 inches wide. This device has two parts, the shredding unit with handle and the wastebasket. It is transparent, so you can see if it's time to empty it.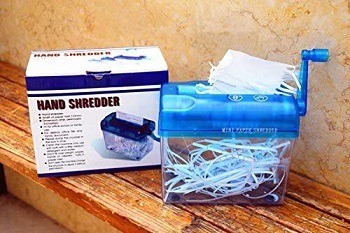 Just For Paper
The Seneral isn't suitable for credit cards, thick paper, paper clips and staples. So, before you put the paper into the device, remove all pieces that could cause damage. The max sheet capacity is 2 papers. This manual shredder is made of ABS and metal.
Overall:
Safety:
Power:
Size:
Weight:
Funcionality:
PRICE
approx: $10 – $20
determined by online offer (Amazon, eBay) and seasonal sales
REASONS TO BUY:
Light and easy to use
Comes with wastebasket
Kikar Paper Shredder
Security Level: P-1
Shred Type: Strip-Cut
Dimensions: 2 x 10 x 2.75 inches

Weight: 15.2 ounces
Bin Capacity: No bin
Sheet Capacity: 2 sheets
Electronic Paper Shredder
The Kikar is an electronic device. It is very practical, use it when you need it. When you don't, you can put it into your bag, purse or briefcase. The dimensions are 11.3 x 3.9 x 2.5 inches and 0.97 pounds. It can be powered by 4 AA batteries or you can recharge it with a USB cable.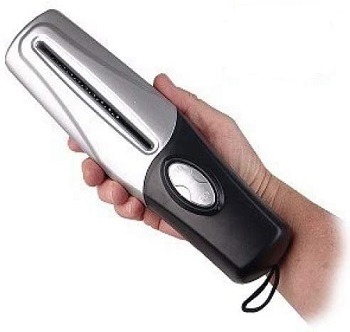 Long Strips
This machine is designed for people who need to occasionally shred their sensitive documents. The slot for paper is 4.5 inches, so you can feed it one folded A4 paper per single pass and it will shredd it a strip cut way.
Comfortable For Hand
This battery-operated shredder isn't intended for thick paper or credit cards, you could damage it. You can can find two buttons one it. Once if for forward and the other for reverse. The handle is comfortable for your hand, there is a carrying strap. You can put it around your hand to prevent the device from falling.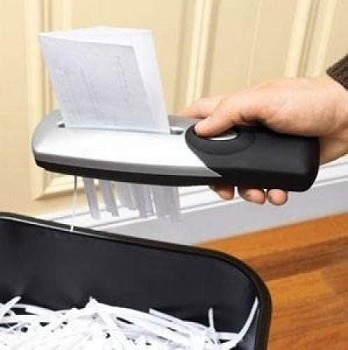 No Overheat Protection
The Kikar doesn't have overheat/thermal protection, so you need to be careful when you use it. It runs slowly and it's intended for a small amount of paper. When you finish with your task, store the Kikar wherever you want, it is small and fits in a desk drawer.
Overall:
Safety:
Power:
Size:
Weight:
Funcionality:
PRICE
approx: $20 – $30
determined by online offer (Amazon, Walmart) and seasonal sales
REASONS TO BUY:
Electronic model
Carrying strap for easier transportation
Reverse and forward functions
REASONS TO AVOID:
The slot is 4.5 inches wide
When This Device Isn't a Good Choice?
These models are compact in size, so they have a short run time. For this reason, they are not recommended for every kind of shredding.
Cannot Be Used For Large Shredding Capacity
Most shredders you want to carry with you have to be rather small. This means that they won't be strong enough to have a large shredding capacity. Usually, they will take maybe up to 5 sheets per pass. If you need to shred more than that, you might need one in a bigger size.
What Cutting Type Do You Need?
A strip-cut shredder cuts sheets of paper into long strips and has the lowest level of security. It is not recommended to shred confidential documents. A cross-cut shredder cuts into strips first and then into smaller particles with a higher level of security. A micro-cut shreds into even smaller particles that are much harder to reassemble. Finally, a nano-cut model shreds into tiny particles that are impossible to reassemble for the highest level of security.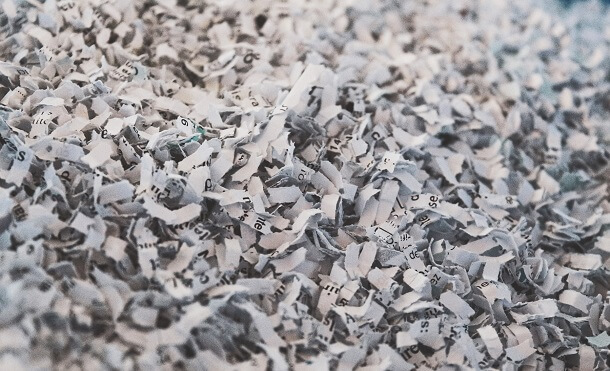 Micro-Cut Or Cross-Cut?
Choosing between micro-cut and cross-cut depends on how sensitive your paperwork is. If you need a higher level of security, go for a micro-cut. For other sensitive information, a cross-cut will be enough.
What Can You Use Instead?
If you don't want to spend money on a paper shredder, there are some alternative approaches. For instance, you can put the documents on fire, hire a paper shredding service, or use bleach and a screwdriver. If you are looking for a cheap alternative you take with you, a pair of shredding scissors will do the trick.
Final Verdict
We hope you find the best model for you. If you ask us, we recommend the Aurora strip cut device. It is a bit different than others on the list, but it is portable and it doesn't have a waste bin. The good thing is that there is an auto start/stop feature, overheat protection, and jam remover. If you want to read about other smaller devices, read the personal paper shredder review. For people who work in small team, check out the quiet office shredder post.