Are you looking for the best portable paper shredder?
Then you should read this review, here we talk about the different portable shredder types and which are their benefits. Also, we choose some models and separated them in 5 categories so check out their features.
Our Top Picks
Best 5 Portable Paper Shredder Machines
Best Of Best Portable Paper Shredder
Aurora Professional AU800SD
Powerful Machine
Aurora AU800SD is a professional strip cut paper shredder. It is powerful enough to shred the paper, paper clips, staples, credit cards, CDs and DVDs. Its dimensions are 6.50 x 12.99 x 2.95 inches and it weighs 5.48 pounds. It is lightweight, so you can carry it with you.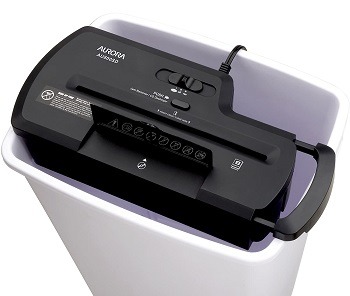 Sheet Capacity
This portable paper shredder shreds the paper into the long strips. They aren't thick, there are 1/4 inches, but it's possible to assemble and read the paper parts. Therefore, Aurora isn't the best paper shredder for sensitive documents. It accepts 8 sheets per single pass.
Adjustable Arm
Aurora shreds paper quickly, the shredding speed is 9.8 feet per minute. The shredder's slot is 8.7 inches wide, so you can put A4 paper into the device. The Aurora has an extendable arm and the max length is 15 inches. Attach it to small or large wastebaskets.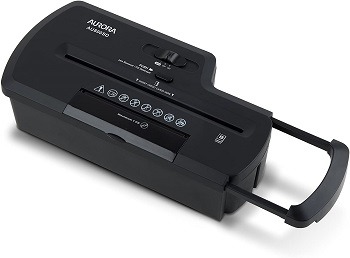 Smart Functions
When the Aurora is in standby mode, it doesn't use power. That saves energy consumption, just like the auto stop and start functions. On the device, there are LED lights that indicate if the shredder is on and if the motor starts to overheat. The jam remover cleans the paper if it jammed.
Highlighted Points:
the professional strip cut shredder
auto stop and auto start features
LED light for overheat and power
extendable arm for different bin sizes
8 sheets per single pass
good for credit cards, CDs, DVDs
Best Handheld Portable Shredder
Muji Handy Shredder
Authentic Product
Before you buy this portable paper shredder, you need to check some information. There are many fake products, so check if your product has this on it: Sold by Muji USA and fulfilled by Amazon. If your desired Muji product has that, you can be sure that it is an authentic Muji product.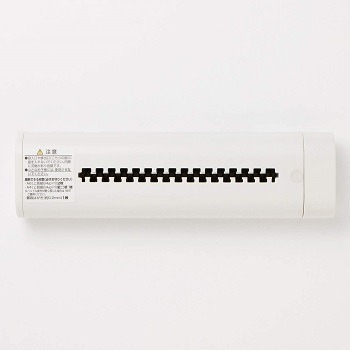 Manual Shredder
The Muji portable shredder is a manual device, so it is very simple to use it. This paper shredder doesn't require batteries or electric power. When you put the paper into the slot, you need to turn the knob which rotates the blades. You can put one paper at the time.
Light-duty Use
The Muji is able to shred the paper into long strips, so it isn't the best device for confidential documents. You can put postcards into the slot, but it isn't designed for thick materials like letter paper, credit cards, cardboards and others. It is intended for receipts and small thin papers.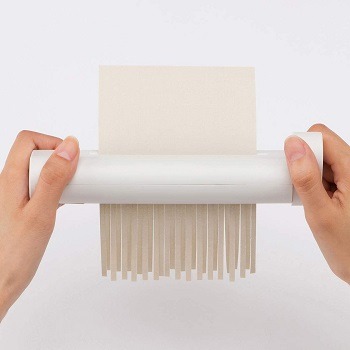 ABS Plastic Material
If paper jams happen, you can easily pull the paper out. Just start to rotate the handle in the opposite direction. The Muji dimensions are 7.2 x 2 x 1.2 inches. It is small, so you can store it in your home or office drawer. This item is made of quality ABS and the blade is made of steel.
Highlighted Points:
this small paper shredder is made of ABS material
the blades are made of steel
designed for receipts and thin papers
manually operated paper shredder
it has an affordable price
Best Cheap Portable Paper Shredder
Ziszor Portable Handheld Shredder
Cordless Device
The Zsizor 33050 is a portable handheld paper shredder. It is cordless and has 12.4 x 4.5 x 2.4 inches and it weighs 1.5 pounds. It is a light-duty device designed for everyday junk mail and other documents that contain personal information. You can shred the papers wherever you want, in your office, home, car.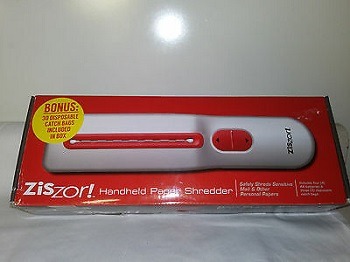 4 AA Batteries
This portable handheld paper shredder is powered by batteries. It requires four AA batteries and they are included in the package. So, you can use it wherever and whenever you want, that is very practical, you don't have to collect your sensitive document and carry them around.
Two Options
On the handle, you can use two options, you need to switch them manually. There are forward and reverse options. So, it is very simple to use this portable paper shredder. If the paper stuck, use the reverse option and clear the device. The Zsizor shred the paper into long strips.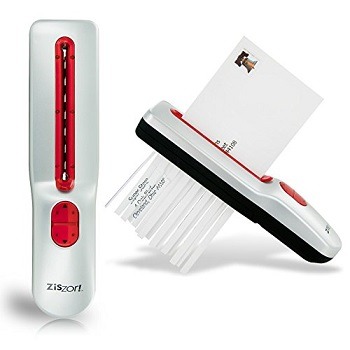 Fold The Paper
If you want to shred your paper into smaller unreadable pieces, fold the paper and them put it into the paper shredder. But be careful, you can fold the paper 2-way, that's the limit if you don't want paper jams. You can shred the documents directly over the wastebasket, or you can use some plastic or carton bag.
Highlighted Points:
compact handheld paper shredder
it is powered by batteries
it has shredding and reverse features
put it in your bag or briefcase
not for credit cards or thick paper
Best Small Portable Shredder
Senreal Manual Paper Shredder
Seneral's Design
This handheld paper shredder is 7.2 inches long, 4.1 inches wide and 5.9 inches of height. It doesn't take much space. The Seneral is available in four colors – black, blue, red and orange. It is designed for paper, bills, receipts and PP plastics. The price is low.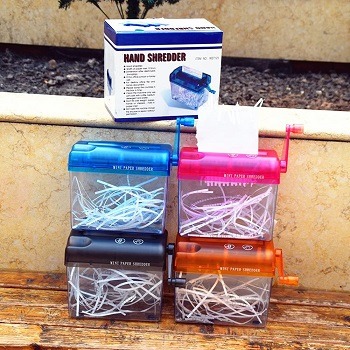 Simple To Use
It is a manual paper shredder and it is easy to use it. There is a handle, so manually turn the knob and shred the paper. This paper shredder is intended for those who need to rarely shred a small amount of papers. Before you put the A4 paper, you need to fold it on half.
Transparent Wastebasket
The slot is 12.3 inches wide, so it is pretty small. When the Seneral shreds the paper, the strip is 3mm or 0.1 inches wide. This device has two parts, the shredding unit with handle and the wastebasket. It is transparent, so you can see if it's time to empty it.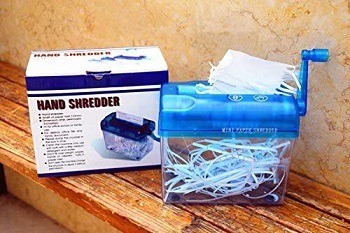 Just For Paper
The Seneral isn't suitable for credit cards, thick paper, paper clips and staples. So, before you put the paper into the device, remove all these small pieces which could damage the paper shredder. The max sheet capacity is 2 papers.  This manual shredder is made of ABS and metal.
Highlighted Points:
manual paper shredder with handle
the maximal sheet capacity is 2 papers
transparent wastebasket for easier emptying
small and practical for occasional use
Best Battery Portable Paper Shredder
Kikar Paper Shredder
Electronic Paper Shredder
The Kikar is a portable paper shredder, it is an electronic device. It is very practical, use it when you need it, also, you can put it into your bag, purse or briefcase. There are 11.3 x 3.9 x 2.5 inches and 0.97 pounds. It can be powered by 4 AA batteries or you can recharge it with a USB cable.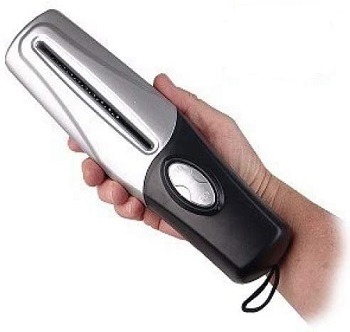 Long Strips
This portable paper shredder is designed for people who need to shred their sensitive documents occasionally. The slot is 4.5 inches, so you can feed it one folded A4 paper per single pass. The Kikar shredder shreds the papers in a strip cut way.
Comfortable For Hand
This battery-operated paper shredder isn't intended for thick paper or credit cards, you could damage it. On the paper shredder, you can find two buttons, for forward and reverse. The handle is comfortable for your hand, there is a carrying strap. You can put it around your hand to prevent the device from falling.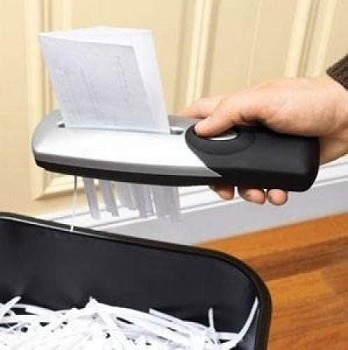 No Overheat Protection
The Kikar doesn't have overheat/thermal protection, so you need to be careful when you use it. It runs slowly and it's intended for a small amount of paper. When you finish with paper shredding, store the Kikar wherever you want, it is small and fits in a desk drawer.
Highlighted Points:
electronic portable paper shredder
control the device with reverse and forward functions
runs on 4 AA batteries or USB
carrying strap for more safety
the slot is 4.5 inches wide
Things To Know About Portable Paper Shredders
There are some features you should consider before you buy a portable paper shredder. There are battery-operated, manual, electric, and other shredder types.
Small And Compact – They are usually small, so you can easily move them from one place to another. These small paper shredders are very practical products if you travel a lot and don't want to leave your sensitive documents for someone to read. Put it in your bag and carry it.
Manual, Electric, USB  – Some portable paper shredders are manual and require your own strength to run. Then there are electric paper shredders, which require electric power. The battery-operated paper shredder needs one or two batteries which you can replace or recharge. You can buy new batteries or charge it with USB.
Sheet Capacity – Those types of shredders have smaller dimensions and less power than large paper shredder machines. So, the sheet capacity is low, you can feed it with one paper at the time. Also, they usually can't shred staples, credit cards, CDs or DVDs.
Affordable Price – Because portable paper shredders aren't so powerful, they have more affordable prices than regular paper shredders. If you work with a small number of papers and need to use a paper shredder rarely, this product is a good choice.
Where To Buy It – Usually, you can find these devices in the stores which sell equipment for office or in bookstores. If you want, you can order the portable paper shredder online. In the webshops, you can find a wider offer. Visit Amazon, there we find all those models above.
Final Verdict
There are some portable paper shredders, we hope you find the best one for you. I recommend the Aurora strip cut paper shredder. it is a bit different than others on the list, but it is portable, it doesn't have a waste bin, but there is an auto start/stop feature, overheat protection, and jam remover. If you want to read about other small paper shredders, read the compact paper shredder review. For people who work in small offices, check out the best small office shredder post.