Do you want to buy a big paper shredder?
Continue reading this review, because here you'll find out about big shredder's capacity, dimensions, bin capacity, run time and other useful information. Read our buying guide and then compare those six models, you will find the best one for your requirements.
Our Top Picks
Best 6 Big Paper Shredders
Best Of Best Big Paper Shredder
Swingline DM11-13 Shredder
Pricey Item
The Swingline DM11-13 is a large paper shredder, its dimensions are 30.40 x 19 x 24.30 inches. This machine weighs 71 pounds. Don't worry about its weight, there are four casters, so it's easy to move this shredder where you need it. It has a high price.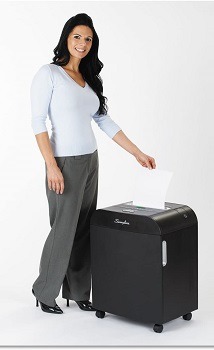 Micro-cut Shredder
This big paper shredder machine cuts the paper into tiny particles, it's a micro-cut shredder. Besides the paper, the shredder shreds credit cards, paper clips and staples. Insert all of your sensitive documents into the slot, the Swingline features high-security level, P-5. Nobody can steal your private information.
Jam-free Indicator
The maximum number of papers you can insert into this machine is 11 sheets at the time. The pull-out bag is able to hold up to 13 gallons. The jam-free indicator delivers two lights, the red light means there is too much paper inserted and the green light means, there is room for more papers.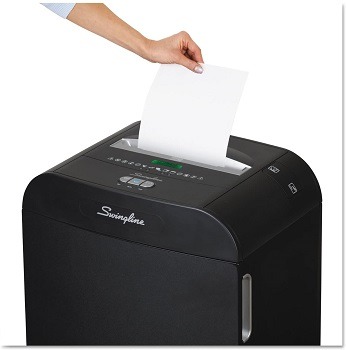 Self-cleaning Cutters
The Swingline shredder features Intelligent self-cleaning cutters. The sensors detect if some shreds are stuck, they clean the shreds automatically. This feature minimalizes paper jams. There are more intelligent features; the power saving mode and the SelfOil which automatically lubricates cutters and ensures smooth shredding.
Highlighted Points:
large paper shredder with casters
it provides a high-security level, P-5
shreds credit cards, clips and staples
pull-out bin has a 13-gallon capacity
insert 11 sheets of paper at the time
self-cleaning cutters and self-oil feature
Best Office Big Paper Shredder
Fellowes Powershred Paper Shredder
For Large Offices
The Fellowes Powershred is a heavy-duty office document shredder. It is suitable for commercial use and large offices. Powershred has 37.5 inches of height, 22 inches of width and 20 inches of depth. It weighs 165 pounds, but don't worry, this device is mounted on the wheels.
30 Sheets Per Pass
This large cross-cut shredder has the ability to shred 30 sheets of paper per single pass. Also, Fellowes shreds credit cards, paper with staples and clips, junk mail, CDs and DVDs. The paper entry is 12 inches wide, you don't have to fold the paper. This shredder can be used by 10+ users.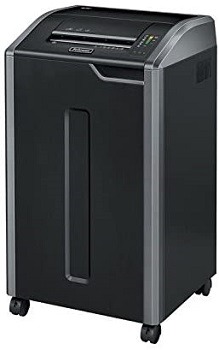 No Cool-down Period
Powershred provides a high-security level, P-4, it shreds the paper into the particles of 5/32 x 1-1/8 inches. The bin has a capacity of 30 gallons or 113 liters. Because of the powerful motor which delivers 1.9 HP, this large paper shredder is able to run continuously.
Rapid Paper Shredder
Besides the high sheet capacity, this shredder destroys the paper quickly. Its shredding speed is 20 feet per minute. You don't have to oil it, there is auto-oil technology. Because it is an office paper shredder, it doesn't produce a loud noise, there are 75 decibels. Also, there are SafeSense technology and jam-proof system.
Highlighted Points:
powerful cross-cut shredder with 1.9 HP
it shreds paper with clips and staples, CDs/DVDs, credit cards
it runs continuously without stopping
max sheet capacity per pass is 30 papers
the bin holds up to 30 gallons
the shredding speed is 20 feet per minute
SafeSense technology protects hands and fingers
Best Micro-cut Big Shredder
Bonsaii 4S30 Paper Shredder
Stylish Design
Bonsaii 4S30 is an elegant paper shredder available in white color. It will fit in any office or home decor. The dimensions of this big shredder are 16.14 x 12.60 x 24.57 inches. The weight is 38 pounds. Bonsaii is designed with four casters, but you can remove them.
Solid Steel Cutters
The cutters are made of the quality and durable steel, so this device is able to shred the paper as well as credit cards, CDs and DVDs. It features a separate bin for CDs/DVDs and credit cards. That bin holds up to 0.37 gallons. The paper bin has a capacity of 7.9 gallons.
P-5 Security Level
This is a micro-cut shredder machine that destroys the paper into tiny particles of 5/64 x 25/64 inches. You can completely rely on this big paper shredder. Insert maximally 10 sheets of paper at the time. The continuous running time last 240 minutes, which is 4 hours of shredding.
Patented Cooling System
Because of the patented cooling system, the cool-down time lasts 10 minutes only. Bonsaii features auto-start/stop and the reverse functions. If you insert too much paper into the paper slot, the device will automatically reverse the cutters. The shredding isn't loud, there are 58dB for a comfortable environment.
Highlighted Points:
heavy-duty micro-cut shredder with P-5 security level
240 minutes of continuous running time
auto-reverse and auto-start/stop features
max 10 sheets of paper at the time
overheating and overload protection
separate bin for CDs/DVDs and credit cards
Best Cross-Cut Giant Shredder
Ideal. 2465 Big Paper Shredder
3-year Warranty
Ideal. 2465 office cross-cut paper shredder is a large white device. It measures 28.75 inches of height, 15.5 inches of width and 11.75 inches of depth. It weighs approximately 40 pounds, so there are wheels for easy mobility. The price is affordable and the device comes with a 3-year warranty.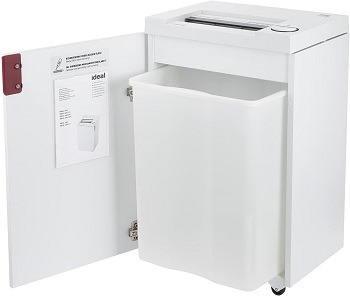 Criss-cross Particles
This big paper shredder ensures the P-5 security level, it destroys the paper into the criss-cross pieces of 3/16 x 1-1/2 inches. It shreds staples, clips and credit cards. The motor delivers 3/4 horsepower and it is able to shred 11 sheets of paper at the time.
Optimal Noise Level
The Ideal is a fast paper shredder, it can shred 324 papers per minute. It is designed for multiple users, max 4 people. It runs continuously and the cool-down period is minimal. Also, it delivers an optimal noise level, which won't disturb you or your colleagues.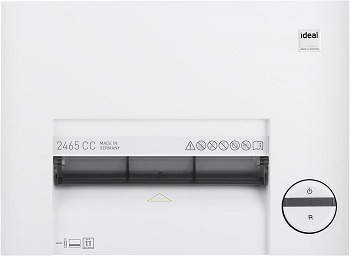 Safety Feature
Above the paper entry, there is a safety flap. It protects your hands, fingers, ties or other objects from cutting shafts. The jam prevention technology uses an auto-reverse feature which automatically detects too much paper and reverses the blades. The bin holds up to 9 gallons.
Highlighted Points:
powerful cross-cut paper shredder
it reaches a high-security level, P-5
runs continuously with a short cool-down period
easy-to-remove bin with a 9-gallon capacity
transparent safety shield protects hands
Best Heavy-duty Large Capacity Paper Shredder
GBC Auto-feed Paper Shredder
Auto-feed Shredder
The GBC paper shredder isn't a manual shredder, it's an auto-feed paper shredder. That means you can insert a stack of paper into the auto-feed tray and leave the device to shred the paper. The max capacity is 300 sheets of paper. It is a heavy-duty paper shredder intended for 5 to 10 users.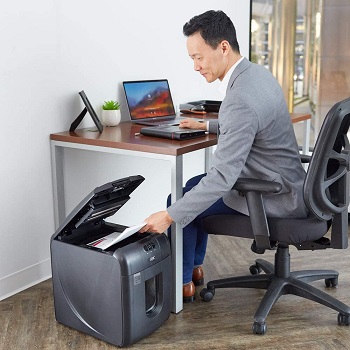 Remote Control
This big paper shredder works with the SmarTech app. Download the app on your smartphone and track the shredder. You'll receive notifications when the shredding is complete or there are any issues. This supper cross-cut shredder ensures a P-4 security level, which is enough for confidential documents.
Paper Shredder With Large Bin
This machine runs 30 minutes continuously, then it requires 30 minutes of the cool-down period. It works ultra quietly. The pull-out wastebasket provides a large capacity of 11 gallons. You don't have to empty it so frequently. You can use manual feed and insert up to 8 sheets per pass.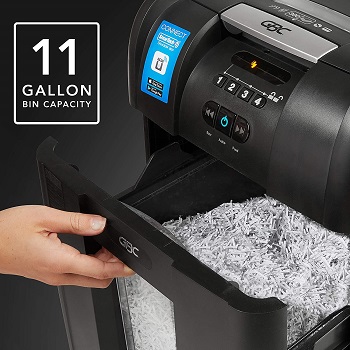 Intelligent Features
The GBC shredder features self-cleaning cutters, there is no need for manual oiling. Also, there is Auto+ jam Clearance, which provides smooth shredding without paper jams. The Power save mode conserves energy when the device is in standby mode.
Highlighted Points:
auto-feed cross-cut shredder
it accepts up to 300 sheets per pass
insert 8 sheets of paper for manual shredding
no maintenance with self-cleaning cutters
energy efficient product with the power save mode
control the device remotely with the app
Best Industrial Large Paper Shredder
HSM 450.2c Industrial Shredder
Industrial Shredder Machine
HSM 450.2c is an industrial paper shredder. It features a sturdy continuous duty motor. The motor uses a chain drive power to shred the different materials. The HSM shredder is available in white color, it is a large device with durable casters for easy mobility.
Floppy Discs, USB Sticks
It shreds the papers in a cross-cut way, so the particles are very small and unreadable. Besides the paper, it is able to destroy paper with clips and staples, CDs/DVDs, credit cards, floppy discs, USB sticks. That is possible because of solid steel cutting rollers.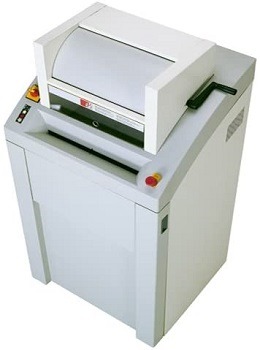 LED Display
When this large paper shredder detects some materials, it will start to shred automatically. When the shredding is finished, the device will shut off. For convenient and safe loading, there is a large hopper. On the control panel, there is a keypad with an LED display, you can see operation status anytime.
Anti-jam Technology
You can insert 85 sheets of paper maximally. Also, this paper shredder has a large bin capacity, it holds up to 76 gallons. When the jam is detected, the HSM automatically switches the device into the reverse mode. This shredder features continuous duty operation.
Highlighted Points:
large and powerful cross-cut shredder
it shreds USB sticks, floppy discs, CDs, credit cards
the motor provides continuous duty operation
it accepts 85 sheets of paper at the time
auto-reverse mode prevents paper jams
Things To Know About Big Paper Shredder
This buying guide is short, but it contains all the useful information you should know before buying a giant shredder. Check some big paper shredder's features before you read the reviews.
Sheet Capacity – The big paper shredders offer a large sheet capacity. Check out the paper shredders with 20+ sheets per single pass. Also, you can choose between two shredder types: manual and auto-feed. If you choose auto-feed shredder its capacity is even higher, some of them can shred 300 sheets per pass.
Bin Capacity – It isn't practical if you have to shred a high amount of paper and your shredder features a low-volume bin. The bin capacity should be appropriate, choose between 15+ gallons. For bin, you can use plastics bags or reusable bags. Some shredders don't require a bag at all.
Run Time – Unlike the home office or small office paper shredders, the giant shredders have longer run time. Some of the models are able to run 60 minutes, 4 hours or even continuously, without stopping. Choose the run time depends on the amount of paper you need to shred.
Safety Features – These big devices feature powerful motors. You should be aware of possible injuries. Always keep children or pets away from these machines. Safety paper shredders have safety shields, hopper or sensors. The sensors detect if there are hands near the paper entry and shut off the device automatically.
Multiple Users – The large paper shredders are designed for commercial use, departments, warehouses or big offices. So they can be used by multiple people. The more people, the more shredding material. The large capacity paper shredders could be used by 10+ users.
Final Verdict
As you can see, there are many good giant shredders on this list. But, we recommend the Swingline DM11-13 paper shredder. This big shredder features self-cleaning cutters, Power-save mode, self-oil and its capacity is 11 sheets of paper. If you are interested in large capacity shredders, check out the review of high capacity paper shredders. In the next post about 20 sheet paper shredders, read about shredders which shred a large amount of paper per single pass.