You want to have a 10-sheet paper shredder and consider some options?
Here we'll introduce you to a few 10-sheet paper shredders which have quality features. If you looking for a shredder for home/office, micro-cut, cross-cut, you'll find the best models in this article. Before reviews, check out which features are important to have.
Our Top Picks
5 Best 10-Sheet Paper Shredders
Best Of Best 10-sheet Paper Shredder
Royal 10-sheet Cross-cut Paper Shredder
Quality Material
Royal 29171Y paper shredder is designed to meet your office or home needs. It has 15 inches of height, 12.25 inches of width and 7.75 inches of depth. The entry slot is 8.75 inches wide. This paper shredder is made of quality plastics and it is wear-resistant.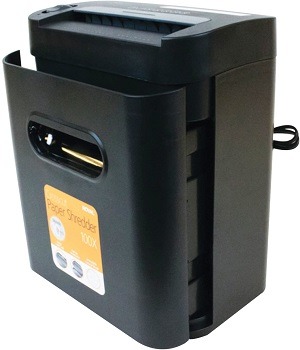 Credit Card & Paper
In case you find the piece of shredded paper in the basket or between the blades, it is completely normal. All Royal paper shredders are tested and safe for use. This machine has the ability to shred credit cards and paper. It isn't intended for CDs/DVDs. Also, remove the staples and clips from the paper.
Slide-out Bin
There is a separate slot for shredding credit cards in shredder. You can recycle the paper. This cross-cut shredder cut the paper into 5/32 x 1-5/8" small particles. The slide-out waste bin has a capacity of 3.3 gallons. In the front of the device, there is a clear viewing window, it's easy to see when it's time to empty the bin.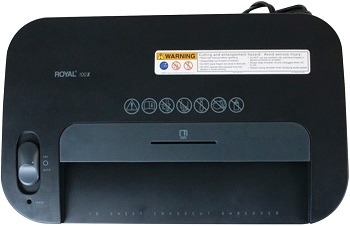 1/2 Horsepower
The Royal 10 sheet paper shredder features a powerful motor, it delivers 1/2 horsepower. The switch has three options, auto, off and reverse. Turn on the auto mode and the device will automatically start and stop working. The reverse function will clear the stuck paper. The warranty for this item lasts 1 year.
Highlighted Points:
it shreds paper and credit cards
there is a separate slot for credit cards shredding
the slide-out bin has a 3.3-gallon capacity
perfect for home and small office use
auto-start, reverse and off features
Best Micro-cut 10-sheet Paper Shredder
Aurora AU1000MA Paper Shredder
Unreadable Pieces
Aurora AU1000MA is a micro-cut paper shredder with a 10-sheet capacity. This machine is able to shred the credit cards, paper clips, staples, CDs and DVDs. You can put one credit card/CD/DVD per pass. The shred size is 5/32 x 15/32 inches. The security level is P-4.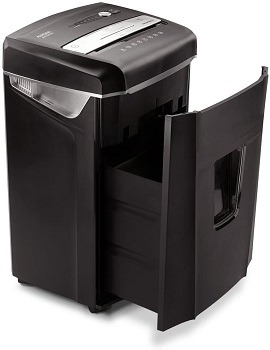 Portable Item
The dimensions of this 10-page paper shredder are 13.86 x 16.73 x 24.17 inches and it weighs 25.9 pounds. Because it is a bit heavy, the Aurora AU100MA shredder features for casters so you can consired it a portable paper shredder. The basket volume is 5 gallons, when you need to empty the bin, just pull it out.
No Forced Entry
The continuous run time, when you put 10 sheets, is 12 minutes. After shredding, leave the device to cool down. If somebody tries to put too much paper into the slot or to push the paper with force, the Aurora will automatically powers off. That prevents paper jams.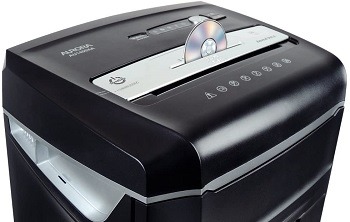 Jam-free Feature
If sensors detect that there is too much paper into the machine, the Aurora will stop shredding. These two features prevent paper jams. If you do not use the machine for up to 5 minutes it will automatically powers off and saves the energy. The warranty lasts 1 year.
Highlighted Points:
provides the protection for sensitive documents
run time last 12 minutes continuously
shreds CDs, DVDs, credit cards, staples, clips
ShredSafe technology prevents forced entry
auto power off if the device isn't in use for 5 min
pull-out basket with a 5-gallon capacity
Best Cross-cut 10-sheet Paper Shredder
Ativa 10-sheet Cross-cut Shredder
Criss-cross Type
Ativa C187-H paper shredder provides a medium security level. It is a cross-cut paper shredder. You can use this device to shred paper, credit cards, paper clips and staples. You don't have to remove them from paper. But it isn't intended for CD/DVDs.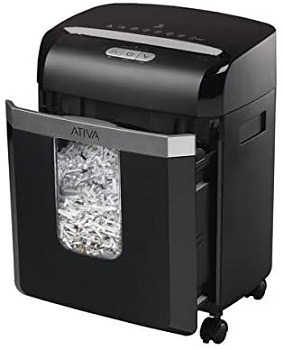 3.4-gallon Bin
This 10-sheet paper shredder ensures quickly shredding. Ativa turns the paper into 3/16 x 1-9/16 inches of shredded pieces. It helps to protect your documents safe from the thief. The pull-out waste bin can hold up to 3.4 gallons or 12.9 liters. The four casters improve mobility.
Automatic Features
Ativa shreds continuously for up to 5 minutes. The cool-down period lasts 30 to 40 minutes. The power switch is back on the panel. Ativa features auto-start and stop options, you don't have to wait for the shredder to finish, it will stop by itself.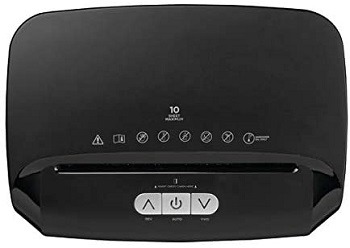 Motor Protection
If sensors detect that the motor starts to overheat, this office cross-cut shredder will automatically stop working. Also, overload protection prevents paper jams. So you don't have to clear the paper jams with your hands. The blades are covered and there is a safety lock that prevent injuries.
Highlighted Points:
shreds continuously for 5 minutes
the waste bin volume is 3.4 gallons
safety lock prevents injuries
the blades are covered for your safety
overheat and overload protection
Best Office 10-sheet Paper Shredder
Insignia 10-sheet Cross-cut Shredder
Trusted Machine
Insignia paper shredder, model number NS-PS10CC is a cross-cut paper shredder. It provides a medium level of security. You can feed the machine with confidential documents without worry about identity thief. It cuts paper in the pieces of 0.2 x 1.3 inches. Because of that, it is good for small office use.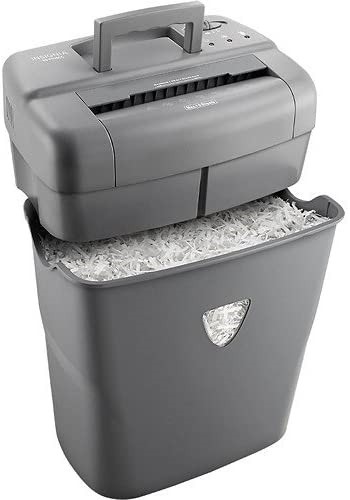 CDs And DVDs
This cross-cut paper shredder is available in grey color. That is a universal color, so it will fit in any decor. It is primarily intended for paper, but also, it can shred CDs, DVDs, credit cards, paper clips and staples. The power cord is included in the package and it has 3 feet of length.
Lift-up Bin
This machine with 10-sheet capacity is ideal for small office use. The shredding speed is fast, Insignia shreds 9.8 feet per minute. The wastebasket has a high volume, it can hold up to 5.3 gallons. On the top of the device, there is a convenient handle, lift the handle up and empty the bin.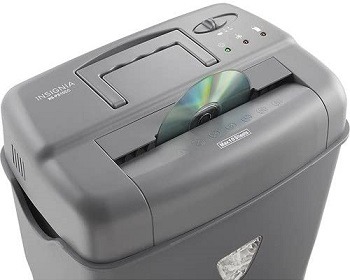 Easy Operation
The slot for the paper is 9.1 inches wide. It is enough for standard size paper. Insignia features three modes. There are auto-on, reverse and off. Push the reverse button if the paper jammed in the slot or between blades. Insignia is 16.5 inches high, 13-9 inches wide and 9.4 inches long. It weighs 13 pounds.
Highlighted Points:
designed for small offices
provides a high level of security
auto, off and reverse functions
lift-up bin has a capacity of 5.3 gallons
it shreds the paper with 9.8 feet per minute
Best Home 10-sheet Paper Shredder
Sentinel FM100P Shredder
Compact Product
Sentinel FM100P paper shredder is a compact product. It has 14.3 inches of length, 7.7 inches of width and 15.4 inches of height. It weighs 12 pounds. It is not heavy, so you can easy move it without any help. Sentinel has an affordable price and it is perfect for home use.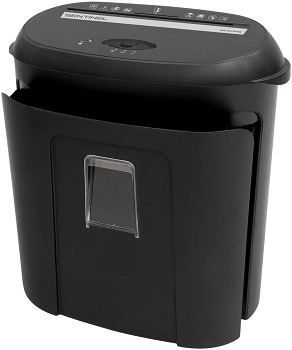 Sensitive Documents
This micro-cut paper shredder destroys the paper into tiny particles. If you don't want other people could read our personal documents, consider this home office paper shredder. Sentinel paper shredder has the ability to cut the papers and the credit cards.
See-through Bin
The pull-out bin is easy to empty, you don't have to reassemble the shredder to throw the garbage. The bin has a volume of 3.04 gallons. Also, there is a see-through window, you don't have to open the bin, check the filling level through the glass.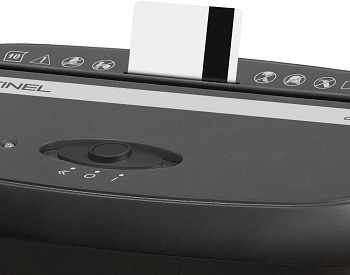 Lubricated Sheets
There are three modes – auto start, off and reverse. The Sentinel features overheat sensors. If you leave for the device to run over its max limit, the motor will overheat. The sensors detect the warmth and automatically turn off the shredder. For best performances, use the lubricated sheets.
Highlighted Points:
perfect paper shredder for home use
overheating protection for long motor life
in case of paper jams, push the reverse button
micro-cut shredder for the highest security
not intended for DVDs or CDs
Things To Know About 10-sheet Paper Shredder
The 10-sheet paper shredders have the same sheet capacity, but there are more similar features, that include bin capacity, run time, ability to shred selected material and more.
Item Dimensions – This paper shredders aren't large devices. Mostly, they are intended for a small office, home or personal use. They usually fit under your work or home desk. Choose this device if you work with a small amount of paper, it will make your job easier.
Shredded Material – The 10 sheet paper shredders can be designed for different materials. Some of the models aren't able to shred CDs and DVDs. If you save your data on optical discs, check out CD/DVD shredders. If you need to shred credit cards, put only one card at the time.
Run Time – These aren't a heavy-duty paper shredders with 60 minutes of run time. They usually have 10 minutes of continuous run time or even below that time. But for that amount of paper, it is enough. Don't exceed the recommended limit, you'll cause the paper jams.
Wastebasket Volume – The 10-sheet page shredders don't have a high waste bin capacity. It goes from 2 to 9 gallons. But if you don't use the shredder so often, it is pretty enough. Some bins have LED indicators that detect when the bin is full.
Useful Sensors – Many paper shredder use sensors for easy operation. For example, that include overheat and overload protections. If you forget to turn off the device, the sensors will detect motor overheating and shut off the device. The overload function prevents annoying paper jams.
Final Verdict
The best 10-sheet paper shredder from this list is Royal Paper Shredder. This paper shredder is a medium-duty cross-cut shredder with SafeSense technology and auto start/stop features. In the post about small paper shredders, you can find similar shredder characteristics. Check out the other small shredders in the review of the compact paper shredders.