Are you looking for plastic and paper bags for your paper shredder?
There are many paper shredder bags on the market, but not all are compatible with your paper shredder. Our buying guide will help you with the decision. Also, you'll learn how to make less plastic garbage.
Our Top Picks
Best 5 Paper Shredder Bags
Best Large Paper Shredder Bag
Fellowes 125ci Shredder Bags
Easy-to-use Dispenser Box
The Fellowes is very popular company, they produce quality paper shredders and compatible bags for them. This package contains 50 bags and ties. They are packed in carton, and you can easily pull the new bag out. The box includes long wire ties to securely close the bags.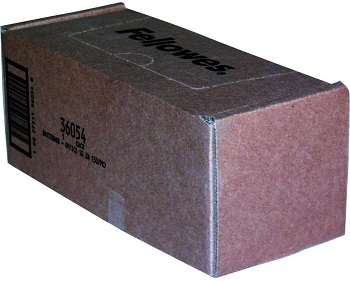 Fellowes & Other Models
These shredder bags are compatible with some Fellowes paper shredders, that include Fellowes 125i, 125Ci, 225i, 225Ci, 2250M and 2250S paper machines. But, these bags fit with other similar paper shredders models on the market, like Aurora, AmazonBasic, Royal and Swingline.
Bag Capacity
The models above are intended for large offices. So, these Fellowes bags have a high capacity. One bag can take from 16 to 20 gallons of paper. So, these bags are a great choice for office paper shredders, commercial and industrial paper shredders.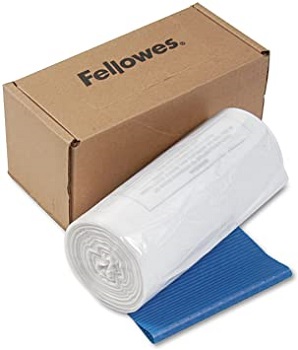 Unwanted Plastics
Everybody should take care of their environment. With this paper shredder bags, you'll keep it clean. These bags are reusable, so use one bag multiple times. Also, they are 100% recyclable. The Fellowes produces bags with small capacity – 6 gallons and high capacity – 38 gallons.
Highlighted Points:
reusable and recyclable
for medium and large paper shredders
compatible with Fellowes and few other models
50 bags in a single package
Best Recyclable Shredder Bag
Swingline Shredder Bags
Shredder Bags Made Of Paper
The Swingline GBC shredder bags are very quality bags  They have a high volume, so it will fit perfectly with all Swingline large office paper shredders. These bags are made of paper. Swingline bags are made of recycled material and they are 100% recyclable.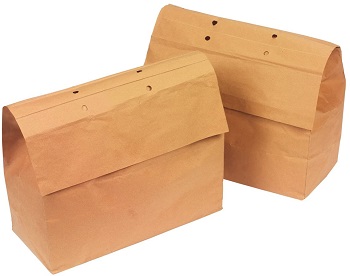 Durable Bags
If you take care about environment, these bags are for you. They have a high capacity, so one bag has a volume of 30 gallons. Use it in the office with many peoples or for commercial grade paper shredders. They are tough and reinforced so they can withstand sharp parts of shredded materials.
Choose The Capacity
One package contains 50 paper bags. They come in a carton box that has 20 x 20 x 8 inches. If you like this product, you can check other bags dimensions, there are 13-19 gallons, 21 gallons and 31 gallons. If you can smaller Swingline paper shredder, there are options for you.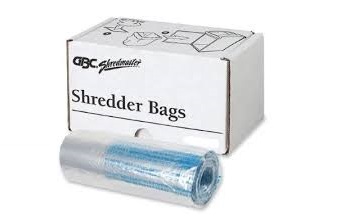 High Price
These recyclable bags have a high price. They aren't affordable for everyone, because the production process isn't easy. But they are quality, save the environment from plastics and you can reuse them.
Highlighted Points:
eco-friendly materials
compatible with Swingline shredders only
made of recycled materials
high capacity for large shredders
50 bags per box for a high price
Best Universal Paper Shredder Bags
Upper Midland Bags
Small Paper Shredders
The Upper Midland paper shredder bags are universal. They can fit in almost any small paper shredders which have a bin capacity of max 15 gallons. It is very simple to out the bag in and takes it out of the bin. The dimensions of one bag are 24 inches wide and 33 inches long.
Premium Quality
These are transparent bags and they are made of premium plastics. So, they are durable and they won't tear if there are sharp parts of shredded materials. The one package contains 50 quality bags. They have perforated lines, so you can easily separate them.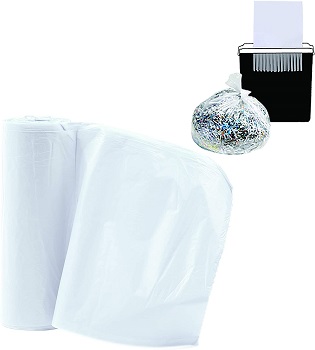 Recyclable Bags
These shredder bags are compatible with Fellowes paper shredders, AmazonBasic paper shredders and other popular paper shredder brands. Also, there are more benefits, the Upper Midland shredder waste bags are recyclable. Put them in a recycling container. These bags have an affordable price.
Highlighted Points:
they fit perfectly with many small paper shredders
durable premium plastic material
for max bin capacity of 15 gallons
perforated lines for simple separation
inexpensive price
Best Plastic Shredder Bag
Destroyit Shredder Bags
Destroyit Shredders Only
The MBM Destroyit produces plastic bags for their paper shredders. They come in a roll and one roll contains 80 individual bags. These bags are designed especially for Destroyit shredders, that include 3803, 4000, 4003, 4004, 4005, 4011, 4012 and 4014 models.
Unbreakable Bags
These paper shredder models have a high bin capacity, so these bags can handle a lot of shredded materials. They can take 42 gallons and more. MBM paper shredder bags are made of the quality and durable materials, so they won't break if they are full.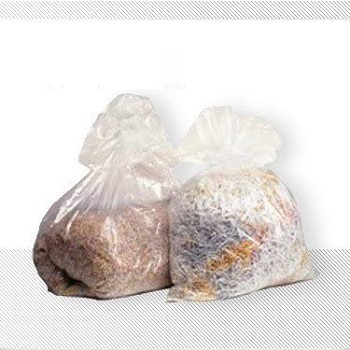 Expensive Product
The size of these bags is 918 or 80ct. The dimensions of a single bag are 18 inches in width, 5 inches in height, and 12 inches in depth. Each bag is made of durable tear-resistant material, so you can rely on it. The MBM Destroyit bags have a high price.
Highlighted Points:
designed for MBM paper shredders only
high bag capacity – 42 gallons+
made of durable materials
80 bags in a single package
they have a high price
Best Small Paper Shredder Bags
BSBValue Shredder Bags
Noble Manufacturer
The BSBValue produce good bags for a very low price. If you can't afford the expensive original paper shredder bags, consider this product. When you buy these shredder waste bags, the manufacturer donates 2% of their net profits to support childhood cancer charities.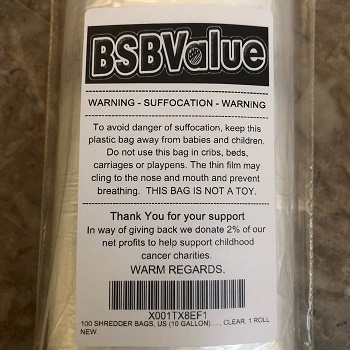 No Ties
On every product, you can find a warning. These bags could be attractive for babies and small children, so keep them away from the kids. The bags don't have ties, because the manufacturer wants to keep their low price. It is not a problem, you can use them without ties.
10-gallon Capacity
Before you order these small and affordable paper shredder plastic bags, measure your shredder. When you measure it, there must be less than 48 inches around its top. They will fit wit small paper shredders because these bags have a capacity of 10 gallons.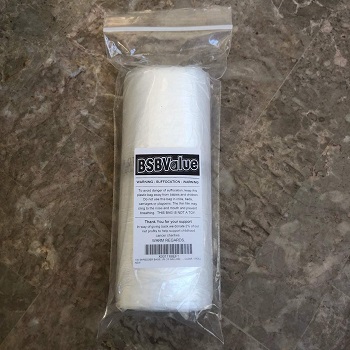 Fused Bottom Seam
Every bag has a fused bottom seam, so you can seal the content and distribute the weight of the bag. One roll contains 100 bags. They are made of quality plastic and won't break easily. Also, the bags are made of recyclable materials and you can throw it in a recycling dumpster.
Highlighted Points:
manufacturer donates money for charities
fits in small paper shredders
you can recycle them
there are no ties on the bags
keep them away from children
Things To Know About Paper Shredder Bags
In this short buying guide, you will find out the difference between paper shredder bags and ordinary bags. Also, you'll learn how to choose the best shredder bags.
Many Sizes – Before purchase, you need to measure your paper shredder bin. Also, the bin volume is important. If you have a personal paper shredder, you need to buy small shredder bags. Some bags are specially designed by paper shredder manufacturers for their products.
Ordinary VS Paper Shredder Bags – Some people buy regular garbage bags for their paper shredder. The ordinary garbage bags are much cheaper than the original ones. But the shredder bags are tough and durable. They can withstand sharp CDs and DVDs parts.
Protect The Environment – When you empty the bag, you don't have to throw the paper and the bag. Throw the paper into the paper dumpster, but reuse the bag. These bags are strong and you can use it many times. In that way, you protect nature from more plastics.
Paper Shredder Bag Price – Yes, the paper shredder bags are more expensive than regular wastebasket bags. But, buy reusable bags and you can use it for a long period of time. Also, every package contains many bags, so when you buy it, it could last for a few months.
Where To Buy Them – The paper shredder bags, you can order from the same manufacturer who produces the shredders. Also, there are universal bags, they are more affordable. Check out in the store with office equipment. On Amazon, you can find a wide paper shredder bag offer.
Final Verdict
Depends on your paper shredder size, choose the best bags. We recommend Destroyit paper shredder bags. They have a high price, but they are made of the quality wear-resistant materials and have high capacity. If you still looking for a good paper shredder, read the review of the best home office paper shredder. For those who work with sensitive documents, there are useful information in the post about high-security shredder.