Did you consider an electric paper shredder for your home or office?
There are some mechanical devices on the market, but the electric paper shredders are more convenient. This review contains three main parts  – our short buying guide, best electric paper shredder reviews and a short review of the best models. Learn more about these products and find the most suitable for you.
Our Top Picks
Best 6 Electric Paper Shredders
Best Of Best Electric Paper Shredder
Royal MC14MX Shredder
Large Device
The Royal MC14MX paper measures 14.5 x 18.75 x 27 inches. It is a big device. Also, it weighs 34.35 pounds, so it isn't lightweight. For better mobility, this electric paper shredder features four casters. You can move it easily. The warranty lasts 1 year and the price is high.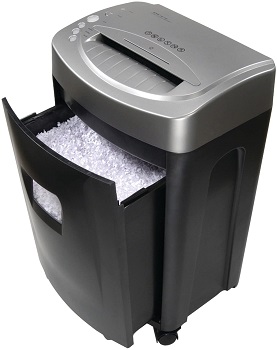 Micro-cut Type
The MC14MX paper shredder cuts paper, paper clips, staples, DVDs and CDs. The cutting slot for CDs, credit cards and DVDs is separate from the paper slot. It is a great choice for both, office and home use. It is a micro-cut paper shredder, so the security level is highit is a high-security paper shredder.
Transparent Window
Royal features 1 horsepower, so it is able to shred 14 sheets of paper per single pass. The shredded paper falls into a pull-out wastebasket. It has a capacity of 8.5 gallons. That means it can take approximately 575 sheets. In the bin, there is a small transparent window, so you can see if the bin is full.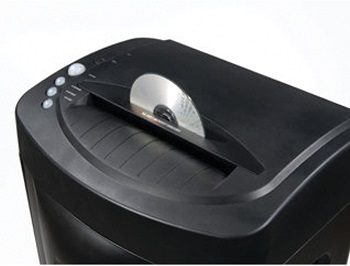 Auto Features
The Royal electric paper shredder has an auto-start and auto-stop features. When you put the paper near to the feed opening, the shredder will automatically start working. When it shreds the paper, it will stop. There is no energy wasting. This paper shredder comes with a built-in power cord.
Highlighted Points:
large electric paper shredder with casters
micro cut type for sensitive documents
it shreds 14 sheets of paper at the time
separate slot for CDs, DVDs and credit cards
bin capacity is 8.5 gallons
automatic start and stop features
Best Small Electric Paper Shredder
Fellowes Powershred 79Ci Paper Shredder
Small But Powerful
Fellowes Powershred 79Ci electric paper shredder is a compact but powerful device. It has 21.3 inches of height, 15 inches of width and 10 inches of depth. Because of its weight of 28 pounds, it features casters for easier transport from one room to another. It requires 120V.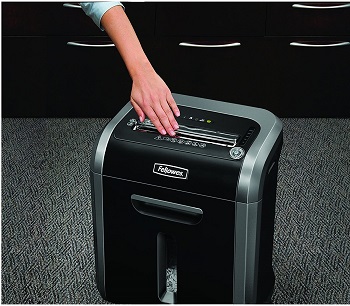 Cross-cut Shredding
This is a cross-cut personal paper shredder that shreds the paper into small particles of 5/32 x 1-1/2 inches. The security level is P-4. Also, it is able to shred paper, credit cards, CDs, DVDs, paper with staples and clips. You don't have to remove it before shredding.
SafeSense Technology
This paper shredder is intended for a single user. It can shred 16 papers per pass. It is good for office or home use. If you use it in your home, you don't have to worry about child or pet safety. If hands or fingers touch the feed slot, the Powershred will automatically stop shredding.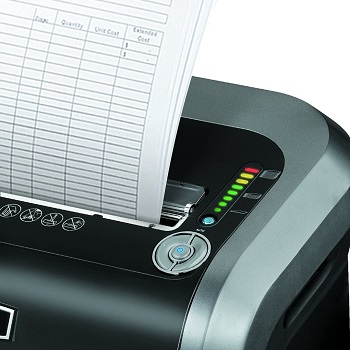 Anti-jam System
The Jam-proof system eliminates paper jams. The sensors detect if there is too much paper and immediately reverse the blades. This feature maximizes the shredder's productivity. Powershred shreds up to 20 minutes before it requires a 30-minute of the cool-down period. It features a 6-gallon bin.
Highlighted Points:
cross-cut paper shredder for single users
run continuously for 20 minutes
the cool-down period lasts 30 minutes
SafeSense technology prevent injuries
it's able to shred 16 sheets at the time
Best Big Electric Paper Shredder
Wolverine SD9101 Shredder
Quality Steel Cutters
The Wolverine SD9101 paper shredder features a super-alloy steel cutter and steel grade gear wheel. Also, it has great wear resistance. You can use it for a long time. The required power is 120 V and the frequency is 60Hz. The casters provide easy mobility.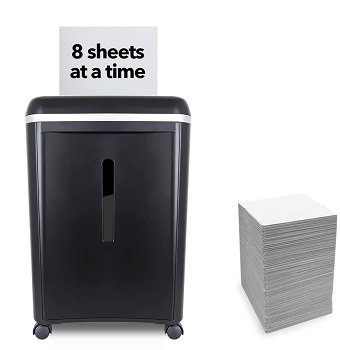 Highest Security Level
This micro-cut provides the highest security level, P-5. It shreds the paper into 3/32 x 15/32 inches, which is impossible to reassemble and read. If you need to shred confidential documents, consider this professional paper shredder. The shredding speed is 6.6 feet per minute or 2 meters per minute.
4.5-gallon Of Paper
The maximum continuous run time is 10 minutes. Then leave it for at least 30 minutes to cool down. At once, you can put 8 sheets of paper. The pull-out wastebasket can hold 4.5 gallons of paper. You can see if it's time to empty the bin through the bin window.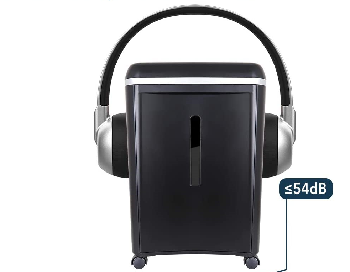 Low Noise Level
The Wolverine electric paper shredder isn't noisy. It has ultra-quiet smooth performance and produces only 54 decibels. If you use this shredder in the office, it won't disturb you or your colleagues. You don't have to maintain it, it features self lubricant bearing. This model is available in black and white colors.
Highlighted Points:
quality alloy steel cutters for best performance
micro-cut paper shredder with P-5 security level
sheet capacity – 8 sheets per pass
pull-out basket with transparent window
10 minutes of continuous run time
Best Office Electric Shredder
Aurora AU1210MA Shredder
Professional-grade Device
Aurora AU1210MA is a professional grade electric paper shredder. It measures 14.41 x 11.02 x 19.33 inches and it weighs 22 pounds. It isn't a heavy device, but there are casters for easy mobility. Aurora quickly shreds paper, paper with clips and staples, credit cards, CDs and DVDs.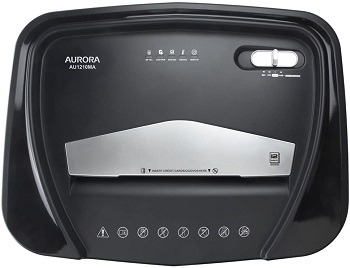 Wide Throat
This micro-cut heavy-duty office paper shredder shreds paper into tiny particles of 5/32 x 15/32 inches. If you work with sensitive documents, it is useful to know that this shredder meets the high-security level, P-4. The throat of this device is 8.7 inches wide. Aurora accepts 12 sheets of paper per single pass.
Auto-reverse Feature
The Aurora is able to shred the paper continuously for 60 minutes. Because of that, it's good for small and medium offices. The anti-jam technology includes the auto-reverse feature. If the paper starts to stuck into the machine, the auto-reverse feature will reverse the blades and release the paper.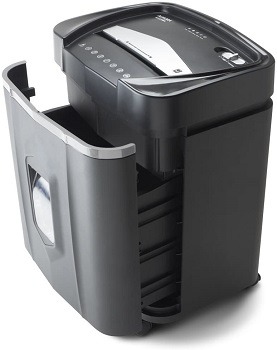 Special Features
The pull out bin has a 5-gallon capacity. On the head of the shredder, there are few LED indicators that show overheat, standby, bin-full, overload and door open status. So, it is pretty simple to use this device. Also, Aurora is adjusted to the office, it works quietly.
Highlighted Points:
professional-grade micro-cut paper shredder
high P-4 security level for sensitive documents
12 sheets of paper at the time
the continuous run time lasts 60 minutes
LED indicators help you to use the shredder
Best Home Electric Shredder
AmazonBasics Paper Shredder
6-sheet Capacity
AmazonBasics paper shredder has many similar models, which means you can choose the sheet capacity. There are models with 6, 8, 12, 15, 18 and 24 sheet capacity. In this short review, we talk about AmazonBasics for home use which has a 6-sheet capacity.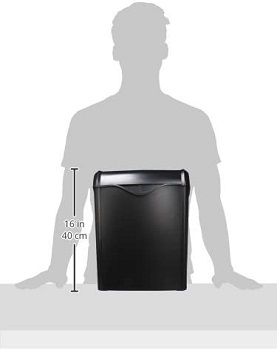 Medium Security Level
This electric paper shredder measures 12.1 x 7.7 x 15 inches and it weighs 8 pounds. You can easily place it wherever you need it. It is a cross-cut compact paper shredder that shreds the paper into 3/16 x 1-27/32 inches. AmazonBasics provides a medium security level, P-3.
Run Time – 3 Minutes
This compact paper shredder is able to shred paper, paper clips and staples. Also, you can put one credit card per time. It shreds some models of CDs and DVDs. The shredded paper drops into 3.8 bin. Use this device for 3 minutes, then leave it up to 30 minutes.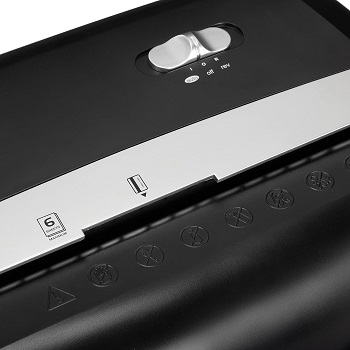 Three Modes
If you leave this electric shredder to shred over its limit, the thermal protective sensors will immediately shut off the device. So, overheating isn't possible. There are three modes on the control panel: auto, off and reverse. In auto mode, the shredder will automatically start to shred when you put the paper near the slot.
Highlighted Points:
compact electric paper shredder for a home
it shreds up to 6 sheets per single pass
it runs continuously for 2 minutes
thermal sensors prevent motor damage
three modes for auto, off and reverse
reverse mode prevents annoying paper jams
Best Heavy-duty Electric Shredder
Bonsaii EverShred C149-C Shredder
4 Casters
The Bonsaii EverShred C149-C shredder is a heavy-duty industrial paper shredder, its dimensions are 14.17 x 11.22 x 21.46 inches. It weighs 23 pounds. Bonsaii features four casters, so you can place it wherever you want. It doesn't have to stand in one place. The price is affordable.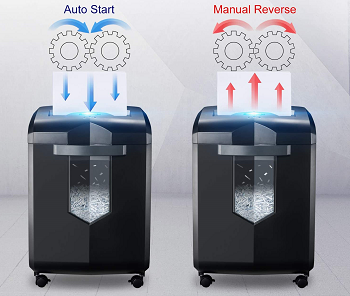 Shred Ability
You can use this electric shredder for CDs, DVDs, credit cards, paper clips and staples shredding. The cut size is 1/4 x 1-50/87 inches. The max sheets per one load are 17-18 sheets of paper. The Bonsaii can run continuously for up to 60 minutes, the coll down period lasts 10 minutes only.
Noise Level
Bonsaii uses a patented cooling system, so you can use it again after a short cool-down period. The motor produces only 62 decibels. It won't disturb you while you are working. This medium-duty motor shreds the paper with a speed of 5.3 feet per minute. The basket capacity is 6 gallons.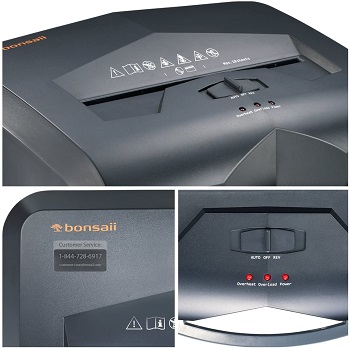 Automatic Anti-jam
The automatic anti-jam system with auto start and auto reverse will clean up the paper jams automatically. You don't have to push the button, the device will detect the issue and solve it. The overload and overheating protection prolong motor life.
Highlighted Points:
high-quality heavy-duty paper shredder
it takes the paper, paper clips, staples, CDs/DVDs
shreds up to 18 sheets per pass
running time last 60 minutes
shredding speed is 5.3 feet/minute
Things To Know About Electric Paper Shredders
On the market, you can find paper shredders like a mechanical device and an electric device. The electric shredders require some power, so check out the energy-efficient shredder with safety features and overheating protection.
Required Power – Every paper shredder comes with a power cord. When you plug this device into an electric outlet, then you can control it with buttons. You don't have to unplug it after every use. Most electric paper shredders are powered by 115V, 120V or 22oV. Its electrical motor is rated by horsepower.
Energy Efficient Shredder – The electric paper shredder uses 150 watts of power. Before purchase, consider the energy-efficient paper shredder. They have auto start and auto stop function. That means when the electric shredder shreds the paper, it will automatically turn off.
Overheating Protection – You need to be careful with an electric paper shredder. Some of them have overheating protection, but not all. If a quiet paper shredder features overheating protection, the sensors will detect if the motor starts to overheat and immediately shut down the device.
Safety Features – Because this is an electric device, there is a risk of injuries. Especially if you have a heavy-duty paper shredder. Look for a shredder which has sensors around the feed slot, they will detect if your hands or fingers are near the slot. Then the device will stop shredding. If you wear a tie, hold it when you put papers into the device.
Silent Performance – The motor starts the shredder, so some kind of noise is unavoidable. The manufacturers are aware of that issue, so you can buy paper shredder with very quiet performances. The optimal noise level is about 60 decibels. Everything under 60dB is pretty quiet.
Final Verdict
We offer you six different electric paper shredders, so choose the one which suits you with its size and features. We recommend the Royal MC14Mx paper shredder. It has a 14-sheet capacity, casters for mobility and user-friendly features. If you interested in more small shredders, read the small paper shredder review. If you looking for the opposite, consider the post about large paper shredders.