Do you want to know more about auto feed paper shredder?
Here you can find all relevant information about this paper shredder type. We recommend reading the buying guide, it contains useful information which will help you to decide which model is the best for you. We make research and choose the top 5 auto-feed paper shredders.
Our Top Picks
Best 5 Auto-feed Paper Shredders
Best Of Best Auto-feed Paper Shredder
Fellowes AutoMax 350C Shredder
Walk-away Shredder
Fellowes AutoMax 350C paper shredder is a big device, it has 32 inches of height and 15 inches of width. This machine weighs 70 pounds. There are casters, so it is easy to move the device wherever you need it. The price is high, the warranty for the product lasts 2 years and for cutters 20 years.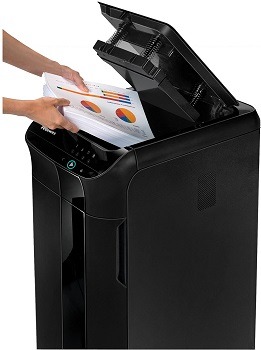 Auto & Manual Shredding
It is a cross-cut large paper shredder, so the shredded particles have 5/32 x 11/2 inches. The Fellowes is able to shred credit cards, staples, paper clips, junk mail. CDs, DVDs and glossy paper. You can shred the paper in two ways – auto and manual. The bin holds up to 18 gallons.
Up To 350 Sheets
If you want to shred the paper automatically, load the tray with up to 350 sheets of paper, press play and go back to the work. Fellowes is able to shred 350 sheets of paper in 6-7 minutes only. If you want to shred papers manually, the limit is 12 sheets of paper. The run time last 45 minutes.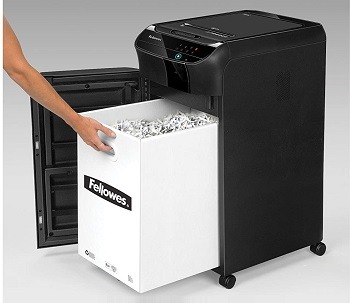 AccuFeed System
This system ensures fast and accurate automatic shredding. The jam prevention includes automatic reversing the blades and reducing time to clear the paper jams. The Smart lock feature keeps the shredder locked until the shredding cycle is complete. The device will turn on sleep mode when it isn't in use.
large cross-cut paper shredder
it takes 350 sheets of paper for auto-feed
shreds up to 12 sheets manually
sleep mode saves energy
bin capacity is 18 gallons
The smart lock feature protects the documents
Best Micro-cut Auto-feed Shredder
Boxis AutoShred AF100 AutoFeed Micro-cut Shredder
Choose the Model
Boxis AutoShred AF100 paper shredder is available in three versions, choose between 100-sheet, 110-sheet and 60-sheet. Here the focus is on the 100-sheet model. This is an auto shredder on the casters. It measures 13.60 x 9.50 x 21.90 inches. It weighs 20 pounds.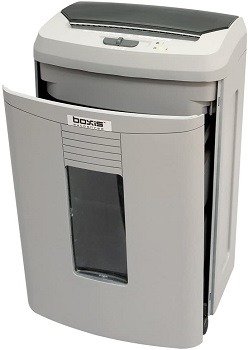 100 Sheets At The Time
This is a micro-cut paper shredder that shreds the paper into tiny particles of 0.16 x 0.39 inches or 4 x 10mm. Micro-cut shredders provide the highest security level. It is ideal for people who work with secure documents. The auto-feed tray can take 100 sheets at a time.
10 Sheets Manually
The auto-feed will destroy the sheets with shredding speed of up to 11 feet per minute. Boxis features automatic forward and reverse modes. These features minimalize paper jams. If you use the manual shredding, put 10 sheets per single pass.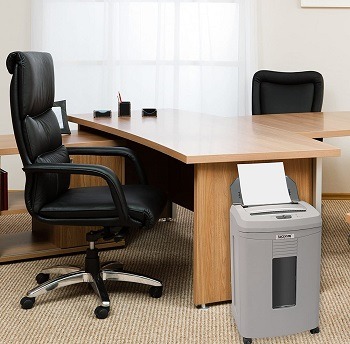 Overheat Protection
The Boxis business paper shredder runs continuously for up to 20 minutes when it manually shreds the paper. The pull-out wastebasket has a capacity of 6 gallons. Through the transparent window, you can see if the bin is full. This auto-feed paper shredder produces 65dB. There are LED indicators for overheat, overload, door open and bin full status.
micro-cut shredder with the highest security level
shredding speed – 11 feet per minute
load the 100 sheets in the auto-feed tray
shreds 10 sheets per pass manually
20 minute of continuous run time
Best Cross-cut Auto-feed Paper Shredder
Rexel Auto+ 60x Shredder
2-year Of Warranty
Rexel Auto+ 60x paper shredder has a 16.93 x 11.61 x 13.78 inches and it weighs 16.8 pounds. It is a cross-cut paper shredder which provides basic P-3 security level. The shredded pieces have 4 x 45mm. The price is affordable. The warranty for the product lasts 2 years and on the cutters lasts 5 years.
5 Sheets For Manual Shredding
This auto-feed shredder is bale to destroy credit cards and paper with clips and staples. You can load the auto-feed tray with maximally 60 sheets of paper. If you want to shred the paper manually, don't put more then 5 sheets of paper.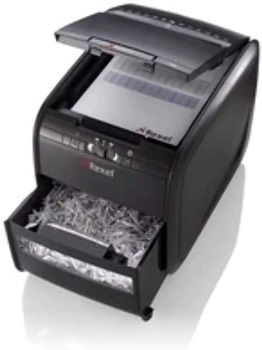 Optimal Noise Level
This compact paper shredder is suitable for the small office because it doesn't produce a loud and annoying noise. The noise level is under 60 decibels. The continuous run time for manual shredding lasts 8 minutes. The cool-down period lasts 40 minutes. The bin has a capacity of 15 liters or 3.9 gallons.
compact cross-cut shredder for small office/home
takes up to 60 sheets for auto-feed
max 5 sheets of paper shreds manually
runs continuously for up to 8 minutes
transparent bin with 3.9 gallons of capacity
Best Office Auto-feed Paper Shredder
Swingline GBC AutoFeed Paper Shredder
Compact Device
Swingline GBC paper shredder, model number 1757573, isn't so large device. Its dimensions are 22.88 x 18.25 x 23.25 inches. This small office shredder weighs 41 pounds. It features durable casters for easy mobility, so it is great for small office. The warranty for the machine lasts 2 years and for cutters, it is a 10-year warranty.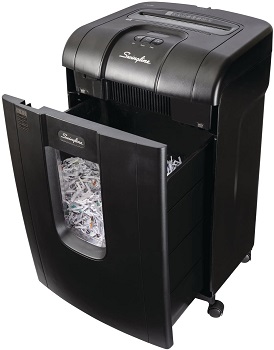 Super Cross-cut
This cross cut paper shredder can take up to 230 sheets of paper in auto-feed tray. Just put the stack of paper into the tray, turn on the device and leave it to shred. After shredding, the Swingline will go in sleep mode or turn off. This machine provides P-4 security level, so feed it with confidential documents.
Auto Jam Clearance
The Swingline auto-feed shredder uses Intelligent Auto+ Jam Clearance feature which automatically reverse and re-shred stuck papers. The self-cleaning cutters autoamtically remove the shredded particles from blades. These small pieces can cause the paper jams.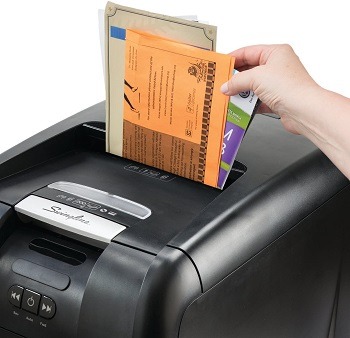 Power Save Feature
The Power Save feature turn off the device if it isn't in use for few minutes. The pull out wastebasket has a capacity of 9 gallons. The LED indicators light up if the bin is full. Put 7 sheets for manually shredding. This device has a separate slot for credit cards, CDs and DVDs. The run time lasts 16 minutes.
compact super cross-cut shredder
designed for small offices
it shreds paper, paper clips, staples
separate slot for credit cards, CDs and DVDs
automatic anti-jam feature
self-cleaning cutters pervent paper jams
Best Large Auto-feed Shredder
Dahle ShredMATIC 35314 AutoFeed Shredder
Big Device
Dahle ShredMatic 35314 shredder is available in white and grey color, it features casters for mobility. It provides high security level, P-4. When the Dahle shreds the paper, the particle size is 3/16 x 5/8 inches. This item has 14 inches of length, 17 inches of width and 25.25 inches of height.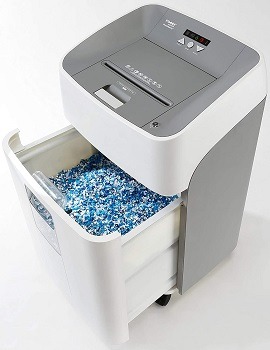 Multiple Users
This white paper shredder is good for office profesionals, business owners, financial institutions and security firms. Dahle auto feed shredder is designed for 3 to 5 users. Load the auto-feed tray with 300 sheets per time. It shreds the paper  with or without staples for 85 feet per minute.
No Maintenance
You can use the manual feed for up to 14 sheets of paper per single pass. In case of overload, the automatica jam protection will reverse the blades and shred the paper again. You don't have to use oil or lubircated sheets for maintenance, this device is oil-free.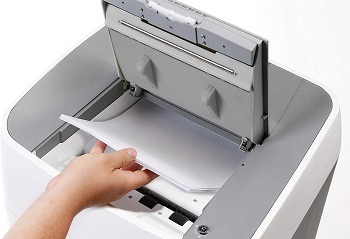 Auto-lock Feature
If the shredder isn't in use, the Dahle will autoamtically shut down and conserve the energy. The waste volume is 11 gallons and the decibel level is 60dB. Dahle features aut-lock comparetment for added security. Nobody can open the shredder during its use.
lead the auto-feed tray with 300 sheets
the manual feed accepts 14 sheets
oil-free and hassle free paper shredder
automatic paper jam protection
power saving mode when the device isn't in use
Things To Know About Auto-feed Paper Shredder
These shredder types are different than a manual paper shredder. Check out their size, noise level, sheet capacity and other features.
Shredder Size – The auto-feed paper shredders are intended for a large amount of paper. Because of that, they have powerful motor and durable cutters. Also, these shredders are usually large devices. Use it for office with multiple users. These business paper shredders require some free space to fit in the room.
Sheet Capacity – The sheet capacity depends on the model. Some auto-feed shredders can take up to 700 sheets per pass. Choose the capacity which is suitable for your needs. It is easy to use an auto-feed shredder, just load the tray and push the play button.
Cutting Type – The auto-feed devices are available in different cutting type, almost like a regular paper shredder. There are micro-cuand cross-cut office shredders. If you work with sensitive documents, consider micro-cut paper shredder, it provides the highest security level.
Noise Level – It seems like this paper shredder produces a lot of noise because of its powerful motor, but that isn't true. All of these models on the list have noise levels under 65 decibels. That is acceptable for shared workspaces. Don't go over that level, it will interfere with your concentration.
Shredder Price – It is simple to use this device, load the tray and go back to work. These shredders have advanced features, jam-proof design and many safety features. Because of these characteristics, they have a higher price than regular paper shredders.
Final Verdict
After you read all these reviews, choose the model which suits best your needs. If you can't decide, we recommend the Fellowes AutoMax 350C shredder. You can load it with 350 sheets of paper for automatic shredding and 12 sheets for manual shredding, it has a safety lock feature and auto-reverse mode. If you are interested in a shredder with high capacity consider the post about 20-sheet paper shredders. Or you can check more powerful devices in heavy-duty office shredders review.