Are you looking for a quality receipt scanner to help you efficiently run your small business and track expenses?
Then keep reading, we gathered the essential information about these products and describe the important features in our buying guide at the end of the article. Check out these 12 reviews and find the scanner that will meet your scanning needs.
Our Top Picks
Best 12 Receipt Scanners
BEST OF BEST RECEIPT SCANNER
Epson WorkForce ES-55R
Mobile Scanner
This mobile scanner weighs less than a pound and measures 1.8 x 10.7 x 1.3 inches in size. It is powered by USB so you can use it anywhere. Supports Windows 10/8/7 and Mac OS. Epson provides versatile scanning for everyday receipts, invoices, documents.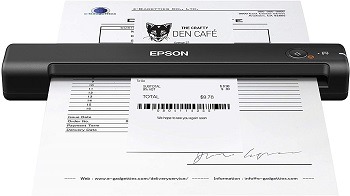 Receipt Management Software
This portable receipt scanner includes Nuance OCR, so you can create, convert, edit and assemble searchable PDFs. Also, receipt management software is included, it automatically extracts and categorizes data from receipts. Export data to third-party software – QuickBooks, Quicken, TurboTax and more.
Highlighted Points:
lightweight and mobile scanner
powered by USB
works with Mac and Windows
built-in Nuance OCR
receipt management software
export data to third-party software
BEST ORGANIZER AND RECEIPT SCANNER
Xerox Portable Duplex Scanner
DVD With Software
The package includes a Xerox scanner, USB cable, power supply, power plug adapters, warranty card, ADF pad, DVD with a user manual, software and drivers. The item dimensions are 11.7 inches in length, 4 inches in depth and 2.9 inches in height. It scans color, black & white, greyscale documents and receipts.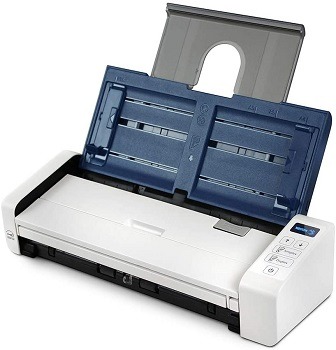 OCR Software
Xerox bill scanner is compatible with Mac and Windows with included drivers. This cheap document scanner scans 20 pages per minute and 40 images per minute at 300 dpi. OCR software allows you to convert your scans into editable and searchable files, so you can organize your important data with ease.
Highlighted Points:
powered by USB
scans color, black&white and greyscale documents
works with Mac and Windows
scans 20 pages per mintue
included OCR software provides file organization
convert your scans
BEST QUICKBOOK RECEIPT SCANNER
Raven Pro Document Scanner
Desktop Device
Raven Pro is a multi-page document scanner that meets high scanning needs. It is ideal for small and medium offices. This compact sheet-feed scanner measures 12.4 x 8.1 x 7 inches, so fits on any desk. It scans color, black & white and greyscale documents, receipts and business cards. Easy to set it up.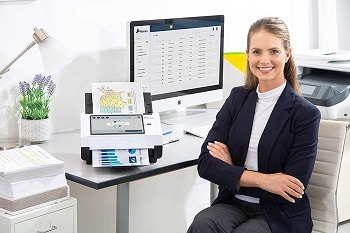 High-capacity Scanner
Equipped with a large 8-inch LED screen that provides more visibility, easier navigation and document editing without a computer. Suitable to scan directly to endless destinations. Raven Pro receipt scanning machine scans up to 60 pages per minute and the automatic document feeder has a capacity of 100 sheets. Connect it with Quickbooks online for scanning receipts.
Highlighted Points:
compact sheet-feed scanner
scans documents and receipts
scan stacks automatically
large 8-inch LED screen
no computer needed
scans to multiple destinations
BEST DOCUMENT AND RECEIPT SCANNER
Doxie Go SE Portable Scanner
Battery-operated Device
Doxie Go SE is an intuitive portable scanner powered by rechargeable batteries. Very practical for on-the-go business people. Take it anywhere it doesn't require a computer. The scanner size is 12.2 x 2.3 x 1.7 inches and it weighs 1.1 pounds. Delivers a resolution of 600 dpi, which is enough for documents and receipts.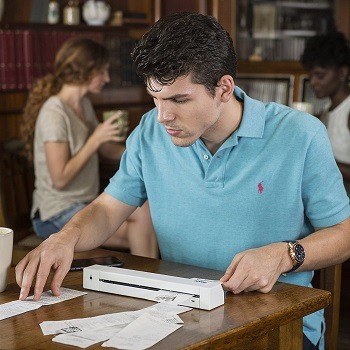 Awarded Technology
This scanner for photos and documents scans up to 400 pages per charge and store up to 8000 pages before you need to sync them. Doxie app is included, so you can send your scans directly to your favorite apps. The receipt scan machine uses awarded ABBYY OCR technology which recognizes text and creates searchable PDFs. Backed by a 1-year warranty.
Highlighted Points:
battery-powered scanner
no computer needed
resolution of up to 600 dpi
Doxie app included
send your scans to apps or PC
create searchable files
BEST BUSINESS RECEIPT SCANNER
Brother Compact DS-640 Scanner
Micro USB Cable
Brother DS-640 is a compact portable receipt scanner ideal for small offices or home offices. Use the included micro USB 3.0 cable to power the device and easily scan directly to a PC or laptop. It scans receipts, embossed cards, ID cards, plain paper, business cards, etc. Delivers a resolution of up to 300 dpi.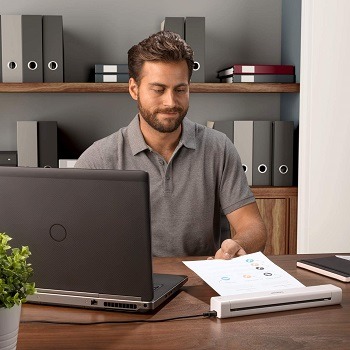 Scan To Multiple Destinations
Use the free iPrint&Scan desktop app for scanning to multiple destinations such as PC, network, email, cloud services and OCR. Supports Mac, Windows and Linux and TWAIN, SANE, WIA, ICE drivers. You can easily optimize images and text with auto-color detection, text enhancement, image rotation and more.
Highlighted Points:
mobile and lightweight scanner
powered by micro USB cable
scans receipts, business cards, ID cards
resolution of up to 300 dpi
scan to multiple destinations
supports Mac, Linux and Windows
BEST iPHONE RECEIPT SCANNER
Doxie Flip Cordless Scanner
Ultra-mobile Scanner
Doxie Flip is an ultra-mobile cordless flatbed scanner that you can use anywhere. It is designed for photos, memories, albums, small notebooks, scrapbooks, letters, receipts, postcards. Doxie uses software that makes importing, adjusting, saving and sharing your scans easy. Works with Mac, Windows, iPhone and iPad.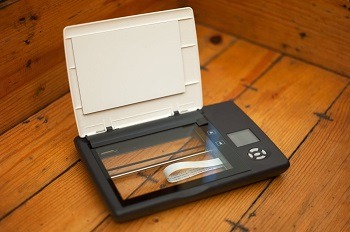 Intelligent Auto Adjust
This bill scanner features an automatic image recognition system that delivers crisp digital images. Your scans will look great with smart cropping and contrast. AutoStitch feature takes multiple, overlapping scans and merges them together into one big image. It doesn't require a computer, works on batteries.
Highlighted Points:
mobile flatbed scanner powered by batteries
scans postcards, books, receipts, photos
works with iPhone, iPad, Mac and Windows
an automatic image recognition system
auto-stitch feature
it features a removable lid
BEST PORTABLE RECEIPT SCANNER
NeatReceipt Mobile Scanner
Lightweight Scanner
This is a slim and lightweight portable receipt scanner that measures 1.6 x 10 x 1.3 inches and weighs 1.6 pounds. It works where you work, making it a perfect tool at work, at home or on the go. NeatReceipt enables you to scan receipts, business cards and documents. You can organize, store and secure important information.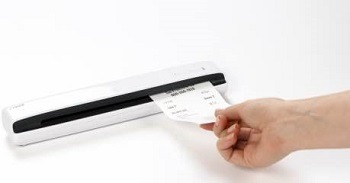 SmartSorting Feature
NeatReceipt scanner allows you to export data, scan to PDF and use SmartSorting to help organize and convert your files to editable text. You can export information to PDF, Excel, Quicken, Quickbooks, TurboTax and more. Save digital copies of receipts and keep track of expenses.
Highlighted Points:
slim and lightweight scanner powered by USB
portable and practical to use
scans receipts, business cards and documents
export data to PDF, Quickbooks, Quicken
SmartSorting feature
BEST ADOBE RECEIPT SCANNER
HP ScanJet 2500 Flatbed Scanner
IRIS Pro OCR Software
HP ScanJet Pro 2500 is a compact flatbed scanner that comes with a power cord and adapter, installation guide and USB cable. It scans documents, booklets, receipts, handwritten notes, legal-size documents. The scanner includes IRIS Pro OCR software that converts scans into editable documents, is compatible with Adobe PDF Reader, and more.

Additional Features
Powerful software allows you to auto orient, auto crop, resize, color detects, remove background, and more. This multi-page scanner scans up to 20 pages per minute or 40 images per minute. Automatic document feeder holds up to 50 pages. Its max daily scanning volume is 1500 pages. You can scan receipts and send them to your cloud service.
Highlighted Points:
comes with a USB cable and installation guide
provides a fast versatile scanning
scans long documents, receipts, business cards
IRIS Pro software is compatible with Adobe PDF Reader
automatic document feeder with 50-page capacity
powerful software features
BEST AUTOMATIC RECEIPT SCANNER
Epson WorkForce ES-400 Scanner
Sheet-feed Scanner
Epson WorkForce ES-400 is a bigger sheet-feed scanner that will meet all your scanning needs. It measures 11.6" W x 12.6" D x 12.3" H. Compatible with both operating systems, Windows and Mac. You can easily scan a stack of 50 sheets with a robust auto document feeder. This high-speed scanner with an automatic feeder scans up to 35 pages per minute.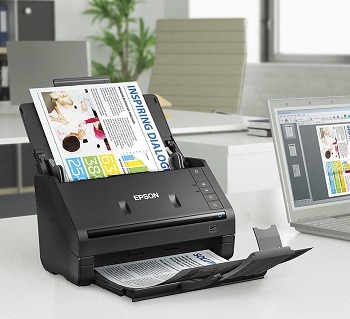 Powerful Software
Built-in Nuance Optical Character Recognition allows you to create searchable PDFs and editable Word and Excel files. The powerful software ensures easy scanning with intuitive Epson ScanSmart software. You can preview scans, send to email, upload and more. The bill scanner is compatible with most software including Twain drivers.
Highlighted Points:
space-saving, compact design
works with Mac and Windows
automatic document feeder holds up to 50 pages
built-in OCR software
preview, send to email, upload scans
compatible with Twain drivers
BEST DESKTOP RECEIPT SCANNER
Xerox XD-Combo Flatbed Scanner
Flatbed Scanner
This is a compact flatbed scanner that fits on any office or home office desk. Xerox XD-Combo comes with a USB cable, user manual, power plug adapters and technical support card. It features a user-friendly panel with a power button, duplex and simplex scanning. Duplex scanning increases productivity.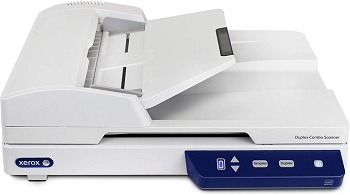 File Organization
Visioneer Acuity software automatically improves scan quality. This scanner for the home office scans plastic cards, checks, photos, books, magazines and receipts. It scans up to 25 pages per minute/50 images per minute. The automatic document feeder of this receipt scanning machine holds up to 50 pages. Improve your organization by converting documents into searchable PDFs.
Highlighted Points:
practical flatbed scanner
powered by USB
provides simplex and duplex scanning
user-friendly control panel
Visioneer Acuity software
scans 25 pages per minute
BEST PROFESSIONAL RECEIPT SCANNER
Fujitsu ScanSnap S1100i Scanner
Pro Scanner
Fujitsu ScanSnap is a professional and portable receipt scanner measuring 12.5 x 5.6 x 2.9 inches in size. It scans documents, receipts, plastic cards and even long paper of 34 inches in length. Powered by USB, so connect it to your computer. It is compatible with Mac and Windows OS.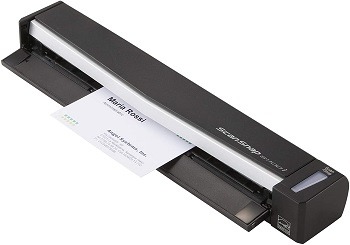 Automatic Stitch
There are many intelligent features, such as auto-color detection, crop, deskew and rotation for the best image quality. You can scan two receipts or business cards at the same time. If you want to scan documents larger than A4, fold it in half, scan both sides and Fujitsu will automatically stitch it back together.
Highlighted Points:
professional receipt scanner
powered by USB
scans paper, business cards, receipts
works with Mac and Windows
automatically stitch large documents
many intelligent features
BEST PERSONAL RECEIPT SCANNER
Brother ADS-1700W Scanner
Comapct Device
Brother ADS-1700W is a compact white scanner measuring 4.1 x 11.8 x 3.3 inches in size. You can use and place it anywhere, doesn't require much desk space. When not in use, place it in the drawer, tray or on the shelf. Brother bill scanner is compatible with Linux, Mac and Windows OS.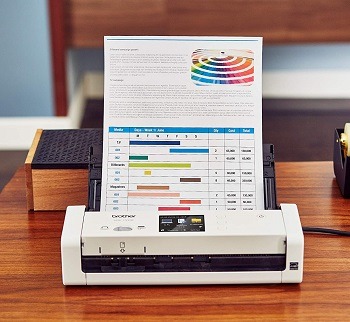 Color Touchscreen
This personal document scanner offers fast document and receipt digitization through wireless networking. It supports scanning to multiple destinations such as File, Image, OCR, Email, Network, cloud services mobile devices and more. Brother is equipped with a 2.8" color touchscreen and 20-page ADF.
Highlighted Points:
small and compact device
works with Linux, Mac and Windows
wirelessly scan to mobile devices
2.8" touchscreen
scan to multiple destinations
20-page automatic document feeder
Things To know About Receipt Scanners
When it comes to receipt scanners, there are some factors you need to consider before buying. Keep reading this guide and you'll learn everything you need to know about scanning apps, scanner size, speed, capacity.
Scanner Size – There are various scanner types available in the market. You can choose between portable, mobile or scanner that sits on your office desk. Then, you should answer these questions  – what size documents do you plan to scan and how many of them. Portable receipt scanners aren't designed for large document sizes.
Receipt Scanning Apps – There are many apps for mobile devices that let you scan by taking a photo. These apps help you scan, track and manage your receipts. Some of the best apps are Expensify, Smart Receipts, Zoho, Abukai Expenses and more. The app should be easy to use, provides quality scans and has an OCR feature.
Scanning Speed – In general, the faster your scanner, the more you need to pay. So before buying, think about how much the speed matters to you. If you need to scan receipts occasionally, then you don't have to buy a fast scanner. If you need to scan daily, check PPM when comparing models.
Storage Capacity – Whether you prefer digital cloud storage or physical storage, you need to know your receipt scanner limit. Also, don't forget about the security of the storage you finally choose. Your stored receipts should be protected by more than one layer of security.
Exportability – Some models come with receipt management software included. It automatically extracts and categorizes key data from receipts. You can easily export data to third-party software such as QuickBooks, Quicken, TurboTax, Excel, CSV and more.
Final Verdict
Receipt scanners are the perfect tool for your business by converting your printed receipts into digital files. If you want to convert your printed papers, receipts or documents into digital files, read these two useful articles on the scanner with OCR and pdf document scanners. To see more models worth buying, check the post with the biggest list of document scanners.