Do you want to have a quiet paper shredder?
This review brings information about the models that offer you low-noise working environment. Read what is optimal noise level of these devices, how do they shred papers, and find the most suitable shredder for your home or workplace.
Our Top Picks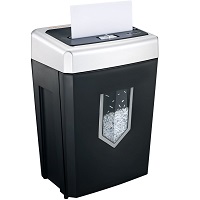 Bonsaii EverShred C169-B Paper Shredder
OVERALL RATING: ★★★★★
This heavy-duty machine is able to work 30 minutes with 10 minutes of cooling down period with minimal noise.
Jump To Review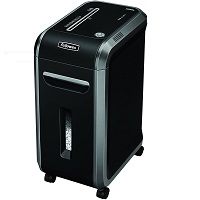 Fellowes Powershred 79Ci Paper Shredder
OVERALL RATING: ★★★★☆
Powershred is a compact cross-cut paper shredder which is the best for home office use, it's silent and fast.
Jump To Review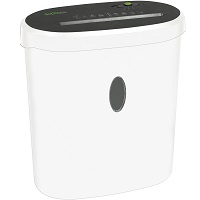 GoCEOlife GMW81B Paper Shredder
OVERALL RATING: ★★★★☆
This elegant paper shredder provides high security and low power consumption. It's ideal for personal use.
Jump To Review
What Makes A Paper Shredder Quiet?
These machines for shredding paper are usually loud and can give a headache. But how can you know that a shredder will be quiet? Read on to find out how loud these devices usually are and how to pick the right one for your needs.
Why Are They Loud?
The cutting mechanism inside the shredder is complicated and that is what makes the machine loud and noisy. The noise comes from the motor with an impeller loaded with teeth for cutting. When sucking the air in to pull the paper sheets, and then cutting and shredding paper, the machine produces even more noise.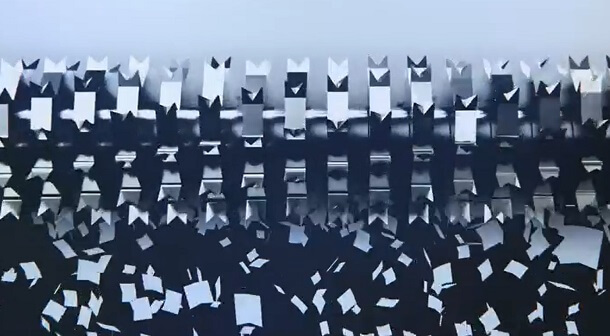 Are There Silent Shredders?
There is no such thing as a shredder that does not make any noise. However, some manufacturers offer specific models that are quieter compared to other shredders for paper.
How Loud Is A Shredder?
Different shredders have different noise levels which depends on their size, motor, capacity, speed, and more. Small home shredders can produce less noise at around 50 decibels (level of quiet conversation). Standard models are usually quieter than 85 decibels which is the danger level. Usually, large office shredders produce noise at around 60 decibels which is the noise level of a normal conversation.
How Loud Is Shredding Different Materials?
Depending on what material you shred, shredders will produce a different level of noise – CDs and DVDs make it sound louder (over 80 decibels, similar to the noise of a hairdryer). On the other hand, plastic credit cards make noise at around 70 decibels (dishwasher noise). Finally, shredding stacks of paper usually makes a noise of around 60 decibels (normal conversation).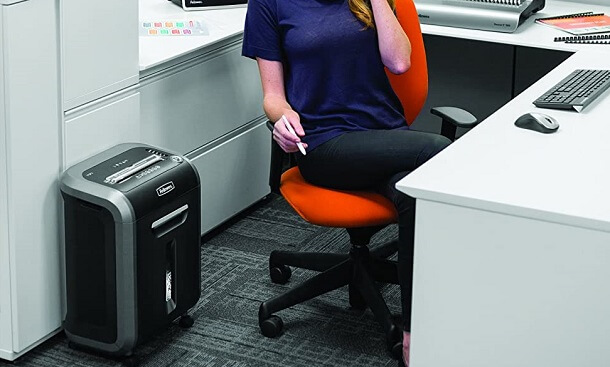 Can Heavy-Duty Models Be Quiet?
While the noise is mostly conditioned by the motor and its power, some manufacturers have found a way to stop larger models from being noisy. To make them less noisy, some shredders have mufflers. Also, the noise will depend on the material being shredded, such as paper, staples, paperclips, CDs, DVDs, credit cards, etc. However, industrial models are sometimes made durable with metal materials which can also produce more noise.
Why Do You Need A Quiet Model For Your Office And Home?
You would need a shredder to get rid of unnecessary and confidential documents. Usually, it converts sheets of paper into strips or small particles that will help you get rid of documents and confidential information securely. A silent model will spare you the headache and won't be a distraction in the workplace. If you still find it too loud, the solution would be to place it further away from the working desks.
What To Look For In a Silent Paper Shredder?
When choosing a shredder that is both silent and efficient, there are several things and features to keep in mind. From noise level, cutting types, the level of security, to run time, anti-jam features, and more.
Noise Level
The market is full of models that usually do not make the noise louder than 80 decibels. However, this is also quite noisy. Some models, on the other hand, offer a noise level of under 70 decibels, and some even work at a level of around 60 decibels. If you want to work in silent surrounding, choose the one below 70 decibels.
Different Types Of Paper Shredder
Different cutting types include strip-cut, cross-cut, micro-cut, and even nano-cut. Strip-cut types cut sheets of paper into long strips of different widths depending on the model. Cross-cut ones cut paper into strips and then into smaller particles, while micro-cut cuts paper into even smaller sizes. Finally, nano-cut models cut paper into extremely small particles. Strip-cut models are usually the quietest as they only shred paper into ribbons. Cross-cut models cut paper in more complicated ways so they produce more noise.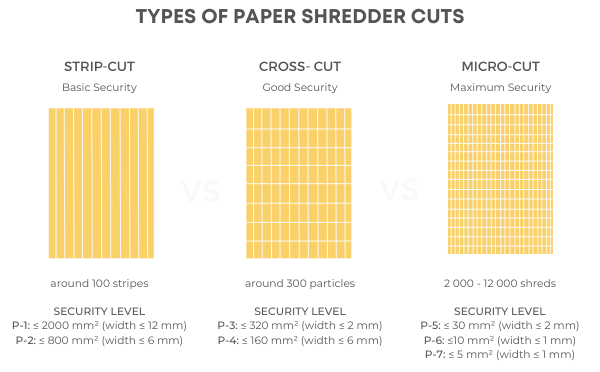 Security Level
Depending on how small the cuts of shredder paper are, they will be more or less readable. According to DIN 6639 standard, paper shredders can have a security level from P-1 to P-7, with P-7 being the highest level. The higher the level of security the smaller the particles that paper is being shredded into are.
Run Time
Run time or the duty cycle is the time shredder can work for before it needs to cool off. These machines are prone to overheating. Smaller models have a run time of around 10 minutes, while larger professional models have a run time of around 30 minutes or more.
Safety Features
A good anti-jam mechanism is needed so that you can get things back on track in no time in case it gets stuck. With the anti-jam system, your hands will also be safe as you won't have to pull the paper out yourself.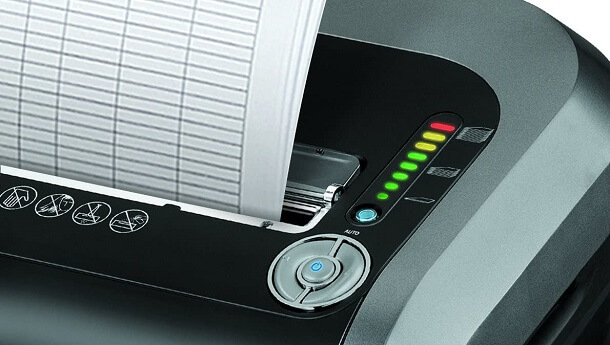 Sheet Capacity
Different models can take a different number of sheets in at the same time. Usually, the sheet capacity of a shredder is 15 sheets. The models with a higher sheet capacity also usually have stronger motors which can make a lot of noise.
Speed
Another important feature is the speed of the machine. To cut more paper more quickly, the model will need a faster speed which is usually measured in feet or meters per minute. Keep in mind that the faster the speed, the noisier your shredder might be.
Size
Depending how much space you have and how intense your shredding project is, you can choose between smaller home and heavy-duty shredders. They can have waste bins of around 3 gallons to even over 10 gallons and more. If you are looking for a silent shredder, go with small models for the home that you can keep under the desk since they are usually quieter, while larger models produce more noise.
Best 6 Quiet Paper Shredders
Bonsaii EverShred C169-B Paper Shredder
SPECIFICATION:
Security Level: P-3
Shred Type: Cross-cut
Dimensions: 12.5 x 9.5 x 19.88 inches

Weight: 16.8 Pounds
Bin Capacity: 4.8 Gallons
Sheet Capacity: 14 sheets
Heavy-duty Machine
Bonsaii EverShred C169-B is a heavy-duty machine able to work 30 minutes. It is an ideal choice for large offices. This paper uses a patented cooling system that allows long run time. Its dimensions are 19.9 x 12.6 x 9.5 inches.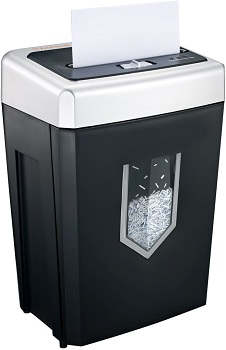 High Sheet- & Bin Capacity
The sheet capacity is 14 papers per single pass, but Bonsaii offers models with a lower capacity for home use. This particular model is able to destroy 3500 papers. The cooling down period is short, about 10 minutes. The pull-out bin can handle 4.8 gallons or 18 liters and on the front is a transparent window to see whether it is full.
Confetti-cut Method
Bonsaii is a cross-cut, it is known as a confetti-cut or diamond-cut device. You can use it for confidential documents because it provides a medium security level. Bonsaii will shred the papers, staples, small paper clips, CDs and DVDs.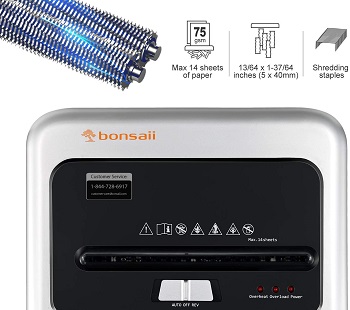 Ultra-low Noise Operation
It features a jam-proof system, auto-start, auto-off and manual reverse function, so if paper jams happen, you can easily clean it up. The LED indicators show if there is overheating or overloading. This is a model that produces 58dB, so it won't distract you while you working.
Overall:
Safety:
Power:
Size:
Weight:
Funcionality:
PRICE
approx: $115 – $130
determined by online offer (Amazon, Walmart, eBay) and seasonal sales
REASONS TO BUY:
Thermal protection and overload protection
67dB when shredding
30-minute continuous running time
REASONS TO AVOID:
Top plastic is prone to craking
Fellowes Powershred 79Ci Paper Shredder
SPECIFICATION:
Security Level: P-4
Shred Type: Cross-Cut
Dimensions: 20.25 x 16.25 x 11.63 inches

Weight: 28.22 lbs
Bin Capacity: 6 Gallon
Sheet Capacity: 16 sheets
Home Office Use
The Fellows Powershred 79Ci is a small and compact paper shredder with 21.4 inches in height and 15.4 inches in width. It will fit under every desk or in corner of your room. It weighs 33 pounds, but there are four casters, so you can easily move it around.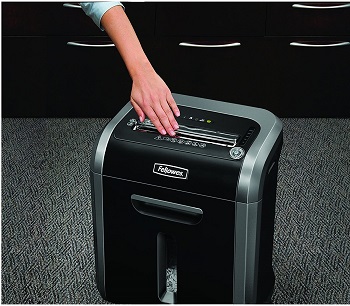 Red Light Signal
The sheet capacity is high, you can put 16 papers at once. The feed slot is 9 inches wide and the bin comes with maximal capacity of 6 gallons. You can't put too much paper at once, first, the yellow light will warn you, then the red light will turn on.
10 Feet Per Minute
The 79Ci shreds the paper with the speed of 10 feet per minute. It can continuously run for 20 minutes, then leave it approximately 30 minutes to cool down. You can feed it with confidential documents because the security level is high, P-4.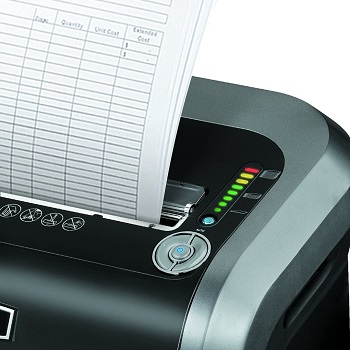 SilentShred Technology
The noise level is very low, the Powershred produces 54 decibels. This sound won't annoy you whatever you do. it also comes with has many useful features, like a jam-proof system, SafeSense technology, SilentShred technology and it uses an Energy-saving system.
Overall:
Safety:
Power:
Size:
Weight:
Funcionality:
PRICE
approx: $240 – $300
determined by online offer (Amazon, Walmart, eBay) and seasonal sales
REASONS TO BUY:
Noise level – 54 dB
Child safe/pet safe feature
Shredding up to 20 minutes
REASONS TO AVOID:
Cool down period is 30 minutes
GoCEOlife GMW81B Paper Shredder
SPECIFICATION:
Security Level: P-4
Shred Type: Micro-Cut
Dimensions: 14.25 x 7.7 x 14.9 inches

Weight: 10.60 lbs
Bin Capacity: 3.6 Gallon
Sheet Capacity: 8 sheets
Contemporary Design
The GoECOlife GMW81B belongs to a limited edition. It is available in white color with a grey top. It looks elegant and it will fit in any home or office. This model is carbon-free and meets the Carbon Free Product Certification protocol.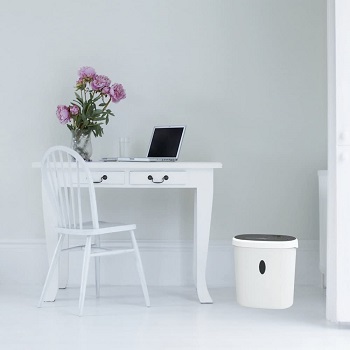 Unreadable Particles
This small micro-cut device provides high-security cutting with P-4 security level. It turns your sensitive documents into tiny pieces of 0.16" x 0.39", or 4 x 10mm. You don't have to worry that somebody could read it, both papers and credit cards.
Tolerable Noise Level
GoECOlife GMW81B produces a bit higher noise than other models on this list. There are 62 decibels, which isn't so high, but if it disturbs you, put the shredder in the hallway. The energy-saving technology prevents wasted power consumption in standby mode.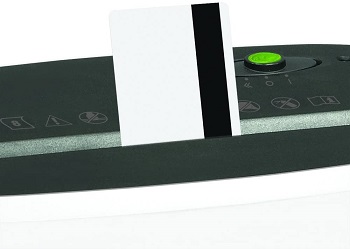 Short Run Time
It is designed for max 8 sheets per single pass. The bin capacity is 3.6 gallons, so it isn't necessary to empty it very often. The shredding speed is 9.8 feet per minute. But the continuous run time isn't long, it shreds 5 minutes only.
Overall:
Safety:
Power:
Size:
Weight:
Funcionality:
PRICE RANGE
from $120 to $150
determined by online offer (Amazon) and seasonal sales
REASONS TO BUY:
Comfortable noise of 62 dB
Micro-cut paper shredder
Sentinel FM121P-BLK Paper Shredder
SPECIFICATION:
Security Level: P-4
Shred Type: Micro-Cut
Dimensions: 12.8 x 8.5 x 16.9 inches

Weight: 17.36 pounds
Bin Capacity: 3.5 Gallons
Sheet Capacity: 12 sheets
Mobile Paper Shredder
The Sentinel FM121P-BLK is available in neutral black color. Its dimensions are 12.8 x 8.5 x 16.9 inches and it weighs 13.2 pounds. Sentinel isn't a heavy product, but it features four casters, so it is easy to move it.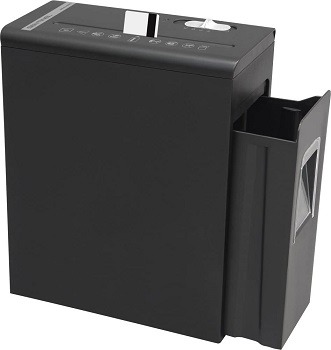 Auto Features
You don't have to turn it on every time you need to shred the sheets. The Sentinel features auto functions, it will start automatically when you feed it and when it shreds the paper, it will stop. That is very practical for use and saves energy consumption.
Personal Silent Device
The noise level is 70 decibels, but keep in mind that everything less than 80 decibels is tolerable. This model is the best for personal use at your home because of its run time. It is able to shreds 2 minutes, then it requires a cooling down period.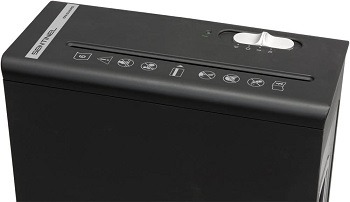 Reliable Quiet Shredder
The manual reverse function will help you with paper jams. Sentinel has 12-sheet capacity and the speed is 7 feet per minute. You can feed it with just one credit card at the time. It features a pull-out basket with 3.5 gallons.
Overall:
Safety:
Power:
Size:
Weight:
Funcionality:
PRICE
approx: $110 – $125
determined by online offer (Amazon, Walmart) and seasonal sales
REASONS TO BUY:
Auto star/stop for easier use
Reverse function helps with jams
REASONS TO AVOID:
2 minute run time
30 minute cool down period
Wolverine SD9113 Paper Shredder
SPECIFICATION:
Security Level: P-4
Shred Type: Cross-Cut
Dimensions: 13.4 x 10.4 x 22 inches

Weight: 26 Pounds
Bin Capacity: 6 Gallons
Sheet Capacity: 18 sheets
Price & Warranty
Wolverine SD9113 is available in two versions with different sheet capacity: 10-sheet or 15-sheet. The 10-sheet shredder comes in white color and the 15-sheet model is black. Here we talk about the white model. The price is high, it is ETL certified and the warranty lasts 1 year.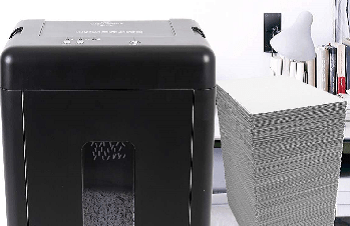 Powerful Machine
It provides a continuous operation time of up to 40 minutes. At that time, you can shred a large amount of sheets, but remember that the cooling down period requires 60 minutes. This device is very good choice for offices where few people work.
Superior Security
If you and your colleagues work with sensitive documents, you can rely on SD9113. It is micro-cut type with very high-security level: P-5. When it cuts the papers, it is impossible that anybody assembles these pieces and use them.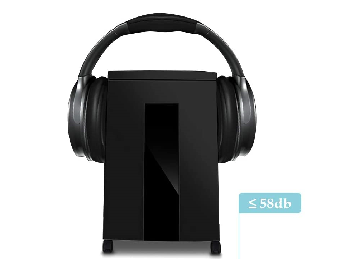 Speedy Paper Shredder
The Wolverine shredding speed is 6.6 feet per minute, which is pretty fast. That means it could shred 200 papers per minute. Also, it provides a quiet and smooth shredding experience with 54 decibels only. The bin capacity isn't so high, there are 6 gallons.
Overall:
Safety:
Power:
Size:
Weight:
Funcionality:
PRICE
approx: $230 – $340
determined by online offer (Amazon, Walmart, eBay) and seasonal sales
REASONS TO BUY:
Runs 40 minutes without stop
Produces 54dB
5 users can use it
REASONS TO AVOID:
Small paper bin
Slow when shreds full sheet capacity
Aurora AU1200XD Compact Shredder
SPECIFICATION:
Security Level: P-4
Shred Type: Cross-Cut
Dimensions: 13.19 x 9.92 x 11.77 inches

Weight: 17.2 Pounds
Bin Capacity: 1.8 Gallons
Sheet Capacity: 12 sheets
Desktop-style Device
Aurora AU1200XD is very compact, its height is 11.8 inches, width is 13.2 inches and the length is 9.9 inches. Because of its dimensions, it will fit anywhere. It's small, but it's able to shred junk mail, DVDs, CDs, credit cards and papers.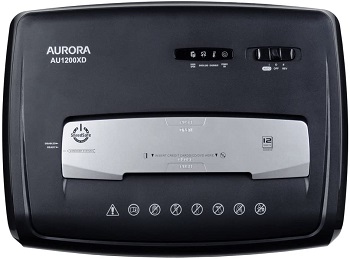 No Paper Jams
The sheet capacity isn't small, the Aurora can cut 12 sheets per single pass. The throat is 8.7 inches wide. Anti-jam technology prevents paper jams. Also, there is an auto-reverse function for easier cleanup.
Almost Noiseless
The AU1200XD ensures ultra-quiet performance, you won't even notice it works. This compact device runs continuously for 5 minutes. Use it in your home or office, it isn't intended for multi-users. This cross-cut paper shredder provides a P-4 of security level.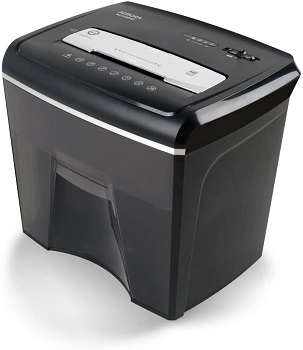 Advanced Safety Feature
The Aurora quiet paper shredder features advanced safety functions. There is an auto power-off if there is forced entry. That feature prevents accidents. The pull-out basket has low capacity, it's 1.8 gallons. You have to empty it often, but it isn't complicated.
Overall:
Safety:
Power:
Size:
Weight:
Funcionality:
PRICE
approx: $90 – $110
determined by online offer (Amazon, Walmart, eBay) and seasonal sales
REASONS TO BUY:
Translucent pullout bin
Anti-jam and auto-reverse functions
REASONS TO AVOID:
5 minutes run time
Very small shredder
My Paper Shredder Is Loud, What Can I Do?
It is usually easy to fix this problem by taking care of your paper shredder regularly. Here you can find out how to do that.
Easy Maintenance & No Noise By Lubricating Your Shredder
The shredder maintenance is straightforward. All you have to do is keep the blade oiled and lubricated so it does not get stuck and produce a lot of noise. It is recommended to do this after each intense shredding session or whenever you empty the waste bin. The better maintenance you provide, the quieter your paper shredder will be.
Lubrication Sheets
Lubrication sheets are envelopes oiled with a lubricant that you feed into the device. It transfers the oil onto the blades to keep them running smoothly. At the same time, it also removes dust and paper particles.
Do Shredders Need Special Lubricating Oil?
Another way to keep the shredder oiled is to use special lubricating oil. Buy the oil that is suitable for the model of a paper shredder you have. Home-made oils and other lubricating sprays are not recommended.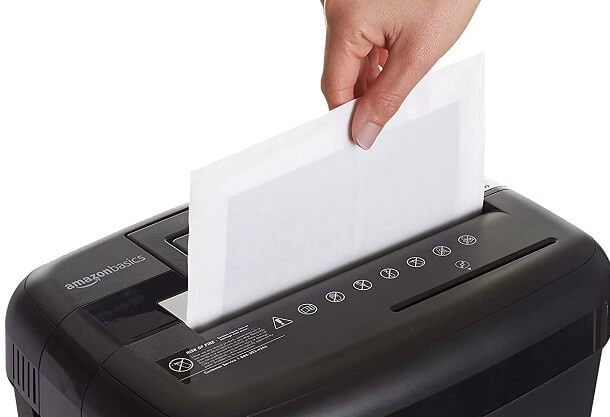 How To Oil Your Paper Shredder To Keep It Quiet?
If you have a lubrication sheet, simply feed it into the shredder like you would with paper. If you are using paper shredder oil, pour the oil directly into the paper input and run the machine for 30 seconds. Make sure not to squeeze out too much and make a mess.
Why Is Your Paper Shredder Squeaking?
If your shredder starts squeaking, the cause could be dust particles and small bits of paper stuck on the rotating cutting blades. To handle the problem, it is necessary to oil it frequently for smooth operation.