Do you need a compact paper shredder for your home or office?
First, you should know some desktop paper shredder characteristics, like sheet capacity, bin capacity, shredding speed and others So check out the buying guide. Then we review some of the best desktop shredders on the market.
Our Top Picks
Best 5 Desktop Paper Shredders
Best Of Best Desktop Paper Shredder
AmazonBasics Paper Shredder
Cross-cut Shredder
AmazonBasics is a very quality desktop shredder with great features. The device measures 13 inches of height, 11.77 inches of width and 9.9 inches of depth. It will fit on any desk. AmazonBasics weighs 17 pounds. It is a cross-cut office paper shredder which provides medium security level, P-4.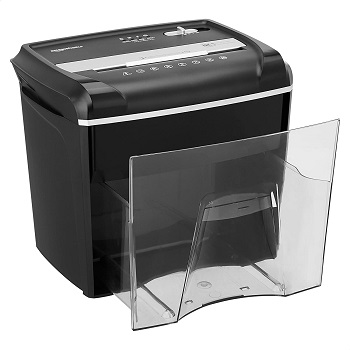 12-sheet Per Pass
This small, but powerful machine is able to shred paper, CDs/DVDs and credit cards. You don't have to remove small paper clips or staples from documents. Shred your junk mail easily. AmazonBasics shredder can shred 12 sheets of paper per single pass. The shredded particles have 5/32 x 1-7/32 inches.
See-through Bin
The paper feed is 8.7 inches wide. The pull-out bin has a capacity of 1.8 gallons. You can easily remove the bin and throw the shredded paper. The wastebasket is see-through, so you can easily see the filling level. Also, the LED indicator will turn on when it's time to empty the bin.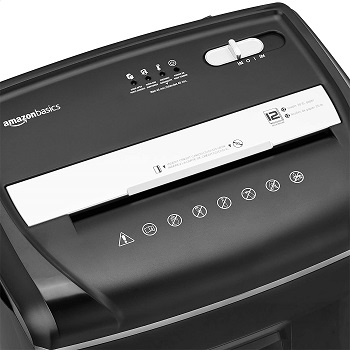 4-mode Switch
The LED lights indicate the standby, overload, overheat and door open status. On the control panel, you can find 4 buttons for auto, forward, reverse and off. The anti-jam auto-reverse function minimalizes paper jams. The continuous run period lasts 8 minutes. The cool-down time lasts 45 minutes.
Highlighted Points:
cross-cut paper shredder with P-4 security level
it takes CDs, DVDs, credit cards, paper clips and staples
auto-start and auto-reverse modes
runs continuously for up to 8 minutes
overheat, overload, standby, door open indicators
pull-out wastebasket can hold up to 1.8 gallons
Best Cross-cut Desktop Shredder
Aurora AS420C Desktop Shredder
Affordable Price
Aurora AS420C is a desktop-style paper shredder, it is available in bright grey color. Its dimensions are 9 x 7 x 10 inches. This machine is lightweight, there is 1 pound only. You can place it wherever you want, it will fit on the desk or shelf. Aurora comes with a cord, just plug it in. The price is low.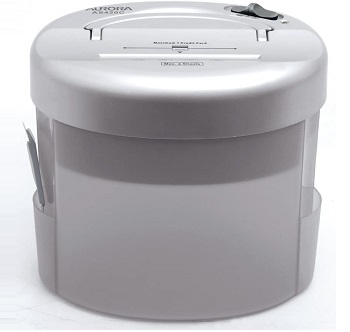 Confidential Documents
Its throat is 4.5 inches wide, so before you put the paper into the slot, you should fold it into 4 pieces. At the time, you can put 4 sheets of paper. It is able to shred credit cards, paper clips and staples. The cutters are made of steel, so they are durable. The convenient handle improves transport.
Manual Reverse Feature
This cross-cut portable shredder provides a medium security level, so you can shred your confidential documents. The shredded paper size has 1/5 x 1 17/20 inches. The wastebasket volume is 1.32 gallons. That is approximately 40 sheets of paper. Aurora features auto-start and manual reverse for paper jams.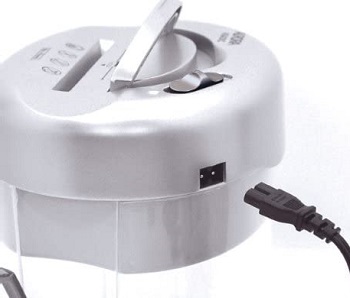 Operating Status Indicator
The three modes are auto/on, reverse and off. The indicator light shows operating status. This desktop paper shredder has thermal protection, if the motor starts to overheat, it will automatically shut off. The maximal run time lasts 2 minutes. Then leave the machine to cool down.
Highlighted Points:
budget-friendly cross-cut paper shredder
the max sheets per pass – 4 papers
it shreds credit ard, staples and clips
auto start and manual reverse features
thermal protection prolongs motor life
Best Micro-cut Desktop Paper Shredder
Ativa Paper Shredder
High-Security Level
Ativa OMM83H paper shredder has 10 inches of height, 8 inches of depth and 13 inches of width. It weighs 9 pounds. This compact device sits on any desk, it doesn't take too much space up. This is a micro-cut device, it is ideal for people who require the highest level of security. The price is low.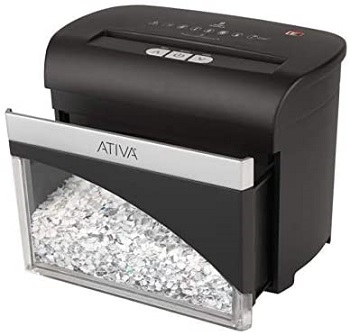 Safety Features
This desktop paper shredder comes with some safety features. The blades are covered, so your hands and fingers are safe. Moreover, there are sensors and safety lock which prevent the risk of injuries. Ativa runs continuously up to 2 minutes. Be careful not to exceed the limit.
Not For CDs
The Ativa is able to shred paper, small paper clips, staples and even credit cards. Put one credit card at the time. Don't put the CDs into the slot. The wastebasket can hold up to 1.32 gallons of shredded paper. It is easy to empty it, just pull it out. The bin is transparent so you can see if it's time to throw the trash.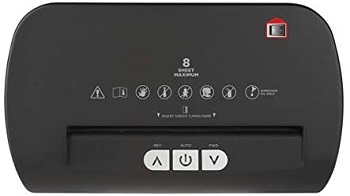 Fast Operating
This desktop compact shredder cuts the paper into 1/4 x 3/8" pieces. It is impossible to reassemble them and read sensitive information. Ativa provides fast operation. Its shredding speed is 6.23 feet per minute. The throat width is 8.5 inches. The overheat protection shuts off the device if the motor is too warm.
Highlighted Points:
compact but powerful paper shredder
provides a high-security level for sensitive documents
it shreds paper clips, staples and credit cards
the shredding speed is 6.2 ft/min
covered blades and safety lock for safer use
thermal protection for optimal performances
Best Cheap Desktop Shredder
Bonsaii C237-B Paper Shredder
Lightweight Item
The Bonsaii C237-B desktop shredder has larger dimensions than previous models on this list, but it is still compact. It measures 14 inches of height, 7 inches of depth and 11.8 inches of width. It weighs 6 pounds, so it is easy to carry it. Place it on the desk or under it.
Smaller Particles
It is a cross-cut shredder and it cuts the paper into particles of 13/64 x 1-37/64 inches. These particles are smaller than a standard cross-cut shredder does. The max sheet capacity is 6 sheets of paper. Also, you don't have to remove clips and staples. Bonsaii can destroy credit cards, too.
Portable Handle
Bonsaii features a portable handle on the top of the machine. You need to lift up the head of the device and then you can empty the bin. The bin has a large transparent window and a capacity of 3.4 gallons or 13 liters. Bonsaii runs 4 minutes before 40 minutes off.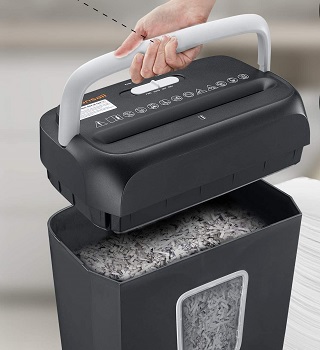 Automatic Shredding
If you leave the unit to run over its max time, the motor starts to overheat and the device will shut off immediately. Also, there is overload protection which prevents paper jams. Turn on the auto-mode, then the Bonsaii will start shredding when sensors detect paper. The motor produces 70 decibels, it is an optimal sound level.
Highlighted Points:
super cross-cut shredder with auto features
lift-up wastebasket with 3.4-gallon capacity
continuous run time lasts 4 minutes
overheat and overload protection
the jam-proof design prevents paper jams
Best Electric Desktop Paper Shredder
Royal DT4 Desktop Shredder
Light And Cheap
Royal DT4 desktop shredder is a really small device, which won't take too much space on your desk. There are its dimensions: 10.90 x 9.70 x 7.20 inches. It weighs 6.6 pounds. It is lightweight, you can easily move it from one desk to another. The price is affordable.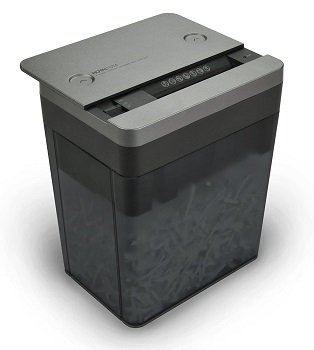 4-sheet Of Paper
It is a cross-cut electric paper shredder, so use it in your home or small office. It will shred all your confidential documents. The max sheet per time is 4 sheets of paper. Except for paper, it shreds credit cards and staples. Put only one credit card per single pass.
Translucent Waste Bin
You need to fold the paper in half before you put it into the feed slot. It is 4.5 inches wide. Royal will cut the paper into 5/32 x 1/8 inches. The shredded paper drops into a translucent wastebasket. Its capacity is 1.9 gallons. You won't overload it, because you can see when it is full.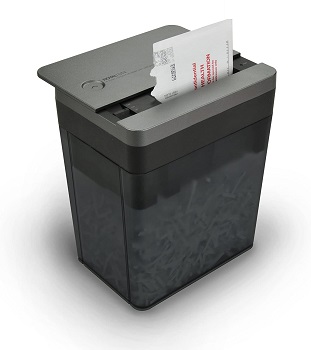 Charge Your Devices
When you put the paper near the feed slot, the Royal will start shredding. Also, when the shredding is finish, it will stop by itself. That is because of automatic features. Royal runs for up to 2 minutes before the required cool-down time of 25 minutes. It features a USB port, so you can charge other electronic devices.
Highlighted Points:
portable cross-cut shredder
it accepts credit cards, staples and paper
transparent bin with 1.9-gallon capacity
auto-start and auto-stop features
it runs up to 2 minutes
convenient USB slot for charging other devices
Things To Know About Desktop Paper Shredder
There are large paper shredders on the market, but you can find desktop paper shredders, too. They have some different features, except the size, they have specific sheet capacity, bin capacity, they can't shred every material… Find out more in the paragraph below.
Desktop Shredder Size – As its name said, the desktop shredder is a small and compact device. It features a small footprint, so it doesn't take much space. It fits under your desk, on your desk, on the shelf, anywhere. Desktop shredder is lightweight, so you can carry it easily.
Sheet Capacity – The desk paper shredders are recommended for light duty shredding. They aren't intended for 20 sheets of paper per single pass. Usually, they can take 8-12 sheets per time. Also, their run time last shorter, for example, it runs for up to 5-10 minutes. The cool-down period lasts twice longer than run time.
Bin Capacity – Because these personal paper shredders come in small dimensions, they don't have large bin capacity. They can have a capacity from 1 to 10 gallons. Some of the desktop paper shredders have LED indicators, so it will show you if the bin is full. If there is no LED indicator, consider shredder with the window.
Shredding Material – The desktop shredders have a weaker motor, so they usually can't shred CDs and DVDs. Also, check if they can shred small paper clips and staples. Moreover, they are designed for paper only. But before use, read the instruction, every shredder is different.
Shredder Purpose – The paper shredder is a convenient device, it shreds your confidential documents and protects you from an identity thief. Choose the cutting type depends on the required security level. A desktop shredder is intended for occasional shredding. Also, you can use as an unopened junk mail shredder.
Final Verdict
Choose the desktop paper shredder which suits you the best depends on your free space, budget and other features. We recommend AmazonBasics paper shredder. This desktop shredder is able to shred 12 sheets per pass, it shreds CDs, credit cards and junk mail. If you looking for the appropriate shredder for your small office, consider the review of the best shredders for small businesses. Also, check out the models in small paper shredders post.