Are you looking for a scanner able to scan large-size documents, artworks, blueprints?
We have an excellent selection of the best-rated large format scanners that are used by artists and professionals all around the world. Before buying, there are some things you need to consider, so we recommend reading our buying guide.
Our Top Picks
Best 14 Large Format Scanners
BEST OF BEST LARGE FORMAT SCANNER
Plustek Flatbed 1180 Scanner
Popular Model
Plustek A3 is a large scanner that becomes very popular on the market. This white scanner is powered by USB, so it's easy to connect it with your PC. The package includes a user manual, CD with drivers and software, AC adapter and USB cable. It supports Mac and Windows.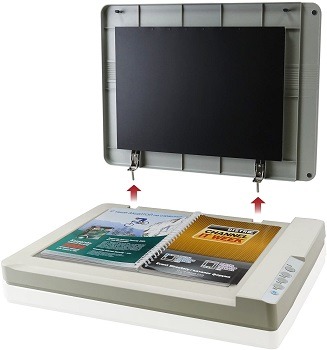 LED Light Source
This flatbed scanner is designed for large-format documents, it supports 11.69 x 17-inch documents. LED light source allows you to scan whenever you want, Plustek doesn't require warm-up time. It delivers a resolution of 1200 dpi and 48-bit color depth. There are four one-touch buttons for scan, OCR, PDF and email. It is great for book scanning.
Highlighted Points:
white flatbed scanner
powered by USB
supports Mac and Windows
scans large-format documents
resolution of 1200 dpi
LED light source
four one-touch buttons
BEST 11×17 LARGE FORMAT SCANNER
Xerox DocuMate 4700 Scanner
USB-powered Device
Xerox DocuMate 4700 is a USB-powered scanner, connect it with your PC via Hi-speed USB 2.0 cable. It supports Mac and Windows OS. Connect this scanner with Xerox automatic document feeder and use two scanners as one. It scans large documents and supports a paper size of 11 x 17, 8.5 x 14, 9 x 12 inches.
Fast Scanner
This flatbed scanner has a fast scanning speed of 2.5 seconds per page. The maximal optical resolution is 600 dots per inch. Its recommended daily duty cycle is 10,000 scans. On the front of the device, there are nine buttons for scan, scan to email, OCR, PDF. This wide format scanner is compatible with many apps that will make your work easier.
Highlighted Points:
USB-powered device
supports Mac and Windows
scans large-sized documents
fast scanning speed – 2.5 seconds
max optical resolution – 600 dpi
user-friendly control panel
BEST FLATBED LARGE FORMAT SCANNER
Doxie Flip Cordless Scanner
Cordless Scanner
Doxie Flip is a cordless flatbed scanner with these dimensions: 10.2 x 6.5 x 1.3 inches. It is a compact device, so place it on your desk, it dones' require much space. Doxie Flip big scanner is useful for photos, documents, polaroids, postcards, letters, stamps and notebook scanning. Uses batteries and a memory card to save scans.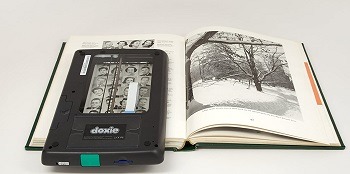 Included Software
A removable lid allows you to flip Doxie over and place it directly on your originals. See your scans with Doxie transparent scanning window. There is included Doxie software that lets you scan and save scans to your desktop or the cloud. Auto-stitch feature will merge multiple scans into one image.
Highlighted Points:
practical flatbed scanner
battery-powered device
removable lid
transparent scanning window
auto-stitch feature
included software
BEST DOCUMENT LARGE FORMAT SCANNER
IriScan 5 Pro Scanner
Portable Scanner
IriScan Desk 5 Pro is an overhead document scanner that measures 14.7 x 3.4 x 2.9 inches. This is a lightweight and portable wide format scanner made of high-quality plastic and steel. It is USB powered device, no AC adapter is required. Ideal for libraries, bookshops, print shops.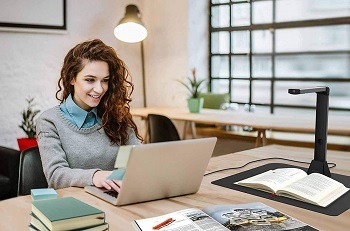 Intelligent Software
This large document scanner features Book Curve Flattening technology that ensures scanning accuracy and clarity. It's able to scan A3 books. The hand movement detection scans when you move hands from scanned material. IriScan takes 2 seconds only to scan two pages. Intelligent software scans when detecting new pages.
Highlighted Points:
portable overhead scanner
suitable for books, documents, cards
USB powered device
made of quality plastic and steel
Book Curve Flattening technology
hand movement detection
BEST ARTWORK LARGE-FORMAT SCANNER
Epson Expression 12000XL
Large Scan Area
Epson Expression 12000 XL is a professional flatbed scanner known as the best for artists. Its size makes it a great fit for scanning fine art, drawings and drafting. Epson wide scanner features a large scan area, it accommodates the artwork of 12" x 17" in size. That's like a tabloid-sized document.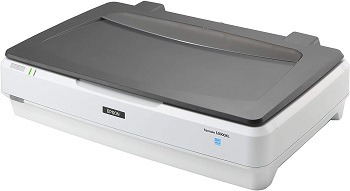 Matrix CCD Technology
The large scanner for artwork delivers an optical resolution of 2400 dots per inch. Connect it with your PC via Hi-speed USB 2.0 cable. Epson supports Twain driver, so it's compatible with almost any app. Import the scanned artwork into Adobe Illustrator. Matrix CCD technology ensures vibrant scans.
Highlighted Points:
professional flatbed scanner
ideal for artworks, drawings and drafting
optical resolution of up to 2400 dpi
Hi-speed USB 2.0 cable
Matrix CCD technology
large scan area
BEST NEGATIVE LARGE-FORMAT SCANNER
Epson Perfection V600 Scanner
LED Light Source
Epson Perfection V600 is a big flatbed scanner that uses an LED light source, meaning, it scans instantly and no warm-up period is needed. Its maximum scan area is 8.5 x 11.7 inches. Epson scans photos, slides, negatives and documents. There are four buttons for scan, copy, scan to mail and create PDFs.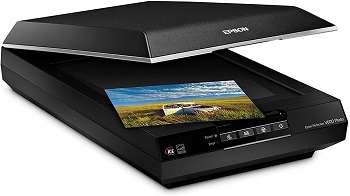 Built-in Transparency Unit
This large scanner comes with a built-in transparency unit for scanning slides, negatives and medium-format panoramic film. Epson is a large format negative scanner that scans everything – receipts, photos and 3D objects. Digital ICE technology automatically removes scratches and dust from film and photos. Provides high optical resolution of 6400 dpi.
Highlighted Points:
large and quality scanner
uses LED light source
scans photos, slides, negatives, paper
built-in transparency unit
Digital ICE technology
high optical resolution
BEST SCALE LARGE FORMAT SCANNER
Epson DS-5000 Document Scanner
Large Scan Area
Epson DS-5000 is a large bed scanner suitable for use in offices. Its maximum output color depth accounts for 24 bits for color scans and 8 bit for greyscale. The resolution of 600 dpi is enough for scanning paper prints and documents. It scans documents within four seconds at a resolution of 300 dpi.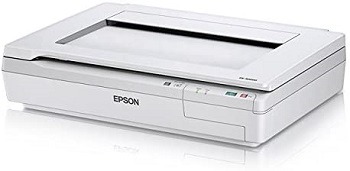 Three Scanning Modes
Connect the large scanner with the PC using a USB 2.0 cable. Epson DS-5000 uses an LED light source that allows instant use of the device. It offers three modes, standard, professional and office mode. The office mode is mainly suitable for document scanning. OCR software is integrated, it turns scans into editable files.
Highlighted Points:
large format flatbed scanner
ideal for use in offices
scans black and white, greyscale and color documents
resolution of up to 300 dpi
comes with a USB 2.0 cable
uses LED light source
Optical Character Recognition
BEST BOOK LARGE FORMAT SCANNER
Czur ET16 Plus Scanner
Versatile Scanner
Czur ET16 is an atypical scanner lacking a flatbed or document feeder. This is a versatile overhead scanner able to scan documents, books, business cards and some 3D objects. The main part of this large document scanner consists of a base, vertical pillar and scan unit (CMOS sensor of 16MP).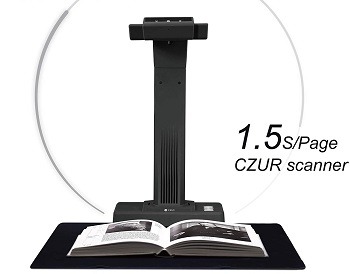 Smart Technologies
On the top is a small display that shows an image of the object being scanned. At the base of this oversized scanner, there are four silver-colored buttons. Its usable scanning area is about 11.5 x 16.5 inches. You can quickly scan books to e-book, there are flattening curves, fingerprint erasing and smart paging technologies. Scans quickly in less than 1.5 seconds.
Highlighted Points:
quality overhead scanner
quickly scan book to e-book
16MP CMOS sensor
small display for preview scans
Book curve flattening technology
smart paging technology
fast scanning speed
BEST OVERHEAD LARGE-FORMAT SCANNER
iCodis Document Camera Scanner
Foldable Design
iCodis document camera scanner is a budget-friendly scanner that is compatible with Windows only. CD with drivers should be in the package, but if isn't, scan the QR code and download the software. iCodis big scanner features a portable and foldable design, so you can easily store it in your briefcase.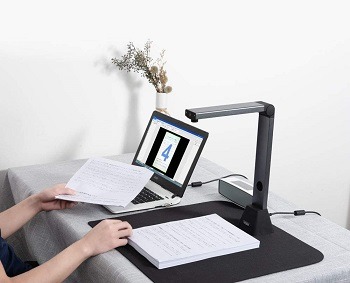 Intelligent Specifications
It is easy to install this overhead scanner and use it. The camera delivers 8 megapixels, which is 3264 x 2448 dots per inch. There are many useful features, such as intelligent continuous shooting, automatic image segmentation, generating PDF files, etc. iCodis scans newspapers, magazines, blueprints, catalogs.
Highlighted Points:
document camera scanner
affordable device
compatible with Windows only
foldable design
8-megapixel camera
many intelligent features
BEST PHOTO LARGE FORMAT SCANNER
Epson Perfection V850 Pro
High Resolution
Epson Perfection V850 Pro Scanner is a flatbed scanner that weighs 20 pounds. The package contains installation CD, scanner, AC adapter, power cable, USB 2.0 cable and film holders. This wide scanner is designed for professionals. Epson delivers an outstanding resolution of 4800 x 9600 dpi.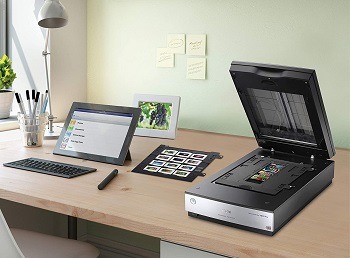 Digital ICE Technology
This professional photo scanner works with Mac and Windows OS. It features a 48-bit color depth and 4.0 Dmax for smooth gradations and fine shadow detail. Digital ICE technology automatically removes scratches and dust from scans. Dual Lens system and advanced optics provide an anti-reflective optical coating.
Highlighted Points:
high-quality flatbed scanner
comes with a USB 2.0 cable
resolution of 4800 x 9600 dpi
compatible with Mac and windows
Digital ICE technology
dual lens system
BEST NEWSPAPER LARGE FORMAT SCANNER
Eloam Portable Document Scanner
Meets Business Needs
Eloam is a quality and portable overhead scanner machine designed for books, documents, receipts, photos and business cards. It works with or without a computer. If you insert a MicroSD card and connect the power adapter, Eloam will scan anywhere. Suitable for personal and business needs.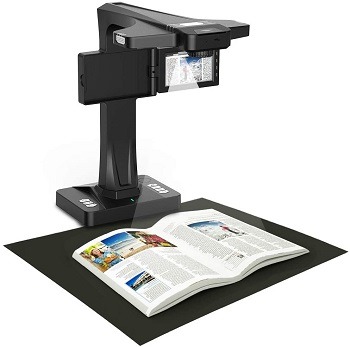 Advanced Features
This wide scanner features an 18-megapixel CMOS image sensor, so Eloam scans dual-page in under 2 seconds. It supports A3, B4, tabloid, legal, letter and executive document sizes. It is easy to build your own digital library with intuitive software. There are 5 color modes, 3 process modes and ABBYY OCR technology.
Highlighted Points:
portable overhead scanner
scans books, photos, documents, business cards
built-in 18-megapixel sensor
fast scanning speed
supports large document sizes
ABBYY OCR technology
BEST PORTABLE LARGE FORMAT SCANNER
HP ScanJet Pro 2500
High-qualtiy Scanner
HP ScanJet Pro 2500 is designed for professionally looking documents. Use it in the educational sector, financial sector, government sector, etc. It has an affordable price and measures 13.8 x 17.8 x 4.8 inches. Hp ScanJet scans up to 20 pages/40 impressions per minute. It is a 2-sided scanner.

Automatic Document Feeder
Load the automatic document feeder with a max of 50 pages. You can use this wide format scanner machine to scan documents and photos and send them to multiple destinations – email, cloud services. This portable flatbed scanner supports different paper sizes, from small business cards to A3 documents. Integrated software ensures many useful features.
Highlighted Points:
ideal for professional-looking scans
scans 20 pages per minute
duplex scanning
automatic document feeder with 50-sheet capacity
send scans to multiple destinations
integrated software
BEST AUTOMATIC LARGE FORMAT SCANNER
Fujitsu ScanSnap SV600 Scanner
Overhead Scanner
Fujitsu ScanSnap SV600 is a quality overhead scanner that measures 8.3 x 15 x 6.1 inches. The price is higher and the background pad isn't included in the package. Easily scan newspapers, magazines, documents and books without any damage. You can digitalize bound books with ease.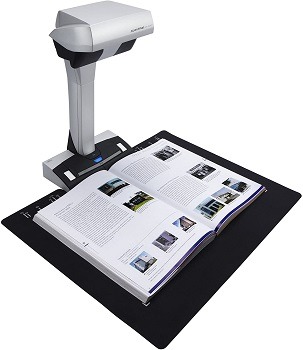 Page Turning Detection
This big scanning machine scans multiple items at the same time and saves them in separate files. This large document scanner has high-quality CCD optics and LED illumination to minimalize unevenness. Scan a page in under 3 seconds. When you turn the page, it scans the new page automatically. Equipped with image flattering technology.
Highlighted Points:
quality overhead scanner
scans newspaper, magazine, book and documents
high-quality optics and LED illumination
scanning speed – 3 seconds
page-turning detection
image flattering technology
BEST PROFESSIONAL LARGE FORMAT SCANNER
Fujitsu ScanSnap Scanner
User-friendly Design
Fujitsu ScanSnap S1300i is a portable large bed scanner that measures 11.1 x 3.9 x 3 inches in size. It is easy to carry it with you in a backpack or briefcase. Use the USB cable for connection. It is compatible with Mac, Linux and Windows OS. There is a user-friendly design with a single scan button.

Intelligent Scan Correction
It scans different-sized documents, from business cards to legal-sized papers (8.5 x 14 inches). Fujitsu wide format scanner delivers an optical resolution of up to 600 dpi, which is enough for documents. You can insert 10 pages into the automatic document feeder and press the scan button. Intelligent Scan Correction improves scan quality.
Highlighted Points:
portable flatbed scanner
works with Mac, Linux and Windows
user-friendly design
scans legal-size documents
automatic document feeder
resolution of 600 dpi
intelligent scan correction
Things To Know About Large Format Scanners
When it comes to a good large format scanner, you need to take some factors into account. Learn more about scanner resolution, scan area, overhead, flatbed scanners and more.
Scanning Resolution – Resolution is the most important factor of a scanner. The quality of your scanned documents and artwork is directly proportional to its resolution. An optical resolution of 600 dpi is pretty enough for document scanning. If scan photos, look for higher resolution.
Flatbed Scanner – There are three scanner types – flatbed, overhead and sheet-feed scanners. Sheet-feed scanners aren't designed for large documents. Flatbed scanners are suitable for photos, images, documents, slides, negatives and delicate items.
Overhead Scanner – Overhead scanners are designed to scan books and other types of documents including those with odd shapes and even 3D objects. These scanners produce good scan quality and have high scanning speed. Also, they are usually equipped with OCR technology.
Software Tools – Software is key for any scanner, a bunch of other features like OCR can be incorporated using the software. The software ensures automatic correction, image enhancement, cloud support and many other useful things. it takes your productivity to the next level.
Scanner's Price – Of course, price depends on scanner type and included features. The overhead scanners are the most expensive. If you need a scanner that meets your basic features, find some budget-friendly scanners with good optical resolution.