Are you looking for the best high-security paper shredder for your sensitive documents?
If you do, this review contains useful information for you. You'll learn something about security levels and which features good paper shredder should have. Then compare those models and choose the best high-security shredder for your home/office.
Our Top Picks
Best 6 High-security Paper Shredders
Best Of Best High Security Shredder
Ideal Paper Shredder
Convenient & Powerful
Ideal 2445 is a powerful paper shredder device. The dimensions of this white paper shredder are 25 inches in height, 11.7 inches in depth, and 15.5 inches in width. The feed opening is 9.5 inches. The Ideal has 0.5 horsepower, so it is a really powerful paper shredder.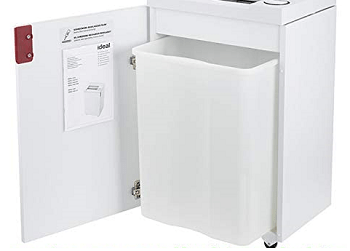 Highest Security Level
The Ideal 2445 model is a super micro-cut paper shredder. You can't feed it with paper clips, staples, credit cards or CDs, it is intended for paper only. When it shred the paper the particle size is 1/32 x 3/16 inches. You can be sure that nobody could read that.
Eco-friendly Bin
This high-security shredder uses eco-friendly wastebasket. The bin is durable and lightweight, so it is easy to empty it. Also, you don't have to use paper shredder bags for garbage. Use the bin only. So you don't have to buy and throw the plastic bags and produce more plastics.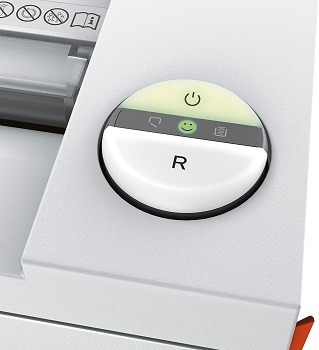 Rapid Paper Shredding
This paper shredder has a P7 security level, which is the highest level. The sheet capacity is from 5 to 7 sheets per single pass. It isn't so slow, the Ideal is able to shred 107 sheets per minute. Also, there are manual reverse, automatic reverse, and stop if you overload the device. It runs continuously and quietly.
Highlighted Points:
powerful paper shredder with 0.5 horsepower
it runs continuously with minimal pause
it uses the highest security level
micro-cut paper shredding
jam prevention technology
Best Micro-cut Security Paper Shredder
Aurora Au1210MA Paper Shredder
Unreadable Particles
The Aurora AU1210 is a professional-grade paper shredder. It isn't just for paper shredding but for small paper clips, credit cards, CDs, and DVDs. It is a micro-cut device that shreds the papers into particles of 5/32 x 15/32 inches. That is unreadable, because of the P-4 security level.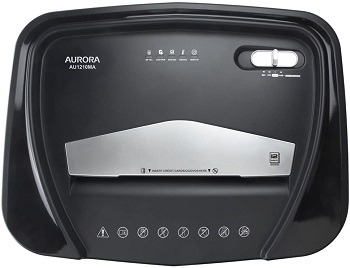 Pull-out Wastebin
The sheet capacity is 12 papers, so this paper shredder is good for the small to medium office. The wastebasket pull-out type, which is easy to empty. Also, there is a transparent window, so you can see if the bin is full. The bin capacity is 5 gallons.
Anti-jam Feature
If you put too much paper into the paper opening, the paper will be stuck into the shredder. But Aurora high-security shredder uses an anti-jam feature which automatically reverses the blades and releases the paper. Also, there is overload protection which prevents paper jams.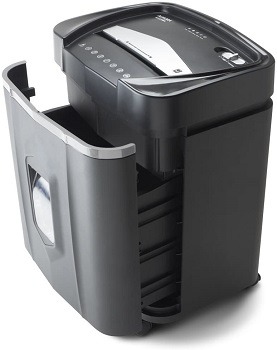 Long Run Time
The Aurora paper shredder has a long continuous run time, it is able to work 60 minutes without stopping. Then, it requires a short cooling down period. On top of the device are LED lights. They indicate the bin full, door open, overload, overheat and power status.
Highlighted Points:
it shreds CDs, DVDs, credit cards and paper clips
LED indicator for overload, overheat, door, bin and power status
60 minutes of continuous run time
ideal for small and medium-sized offices
auto-reverse function for paper jams
Best Big High Security Shredder
Dahle Paper 41434 Shredder
Heavy, But Mobile
The Dahle CleanTEC 41434 paper shredder is one of the best on the market. Its dimensions are 18.25 x 21.5 x 36.75 inches. Dahle weighs 102 pounds, but you can easily move it where you need, it features four casters. The casters are lockable. The security level is P-7, which is the highest level.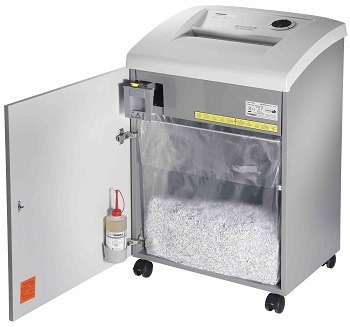 2-in-1 Device
This high-security shredder has one interesting feature. The Dahle features a CleanTEC air filter which is able to trap approximately 98% of fine dust in the air. So, it isn't good just for shredding, but for air cleaning. You don't have to buy an air purifier.
EvenFlow Lubricator
It is simple to maintain this large paper shredder, just don't put too much paper into the slot and it will work for a long time. Also, you don't have to buy oil/lubricant for blades. There is an automatic EvenFlow lubricator that ensures continuous oiling for optimal performances.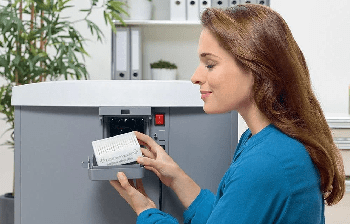 Convenience Features
Smart Power energy management automatically reduces power consumption. The sheet capacity is from 8 to 10 sheets and the bin capacity is 30 gallons. This paper shredder is fast, it shreds 22 feet per minute and the motor works quietly. Dahle will automatically shut off/on and saves the energy.
Highlighted Points:
four lockable casters for transport
high bin and sheet capacity
smart power consumption
it features automatic lubrication
the air filter traps fine dust
automatic on/off features
Best Office Security Paper Shredder
Destroyit 2600 Paper Shredder
Pricey Item
The Destroyit 2600/2 SCM paper shredder has a really high price. It is NSA evaluated and meet NSA specification for P-6 security level. Unlike the previous paper shredders, it uses a cross-cut method for paper shredding. The shred size is 0.8mm x 5.0 mm or 1/32 x 7/32 inches.
Continuous-duty Motor
The Destroyit is a big device, it has 25 x 28 x 13 inches and it weighs 126 pounds. It is really heavy, but there are wheels, so it is easy to move it around. You can put 6 sheets of paper at the time. The powerful motor is able to run continuously with short pauses.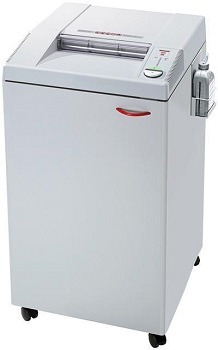 Safety Features
The throat width is 10.25 inches, so the A4 paper fits perfectly. The wastebasket has a large capacity of 28 gallons. The motor is powerful because it delivers 1 horsepower. The safety protection system provides a transparent safety shield in slot opening.
Energy Efficient Item
After 1 hour of continuous work, the energy-saving feature puts the NSA-approved paper shredder into sleep mode. The indicator of capacity control prevents paper jams. Also, the Destroyit shredder features an automatic start and stop. The thermal protection prolongs motor life.
Highlighted Points:
it provides the highest security, P-6 level
powerful motor delivers 1 horsepower
continuous duty motor
thermal protection prevents overheating
transparent safety shield in the paper slot
Best Cross-cut High Security Shredder
Ativa C187-H Paper Shredder
Mobile Paper Shredder
The Ativa C187-H paper shredder is an affordable machine. It is available in black color, in the front is a transparent window, so you can see if the wastebasket is full. That window is useful to prevent paper jams. Also, the Ativa high-security shredder has four casters for total mobility.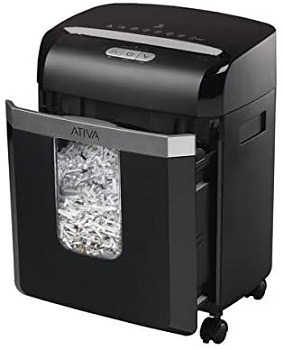 High Sheet Capacity
This paper shredder shreds paper, credit cards, staples, and paper clips. At the time, you can put 10 sheets of paper. That is pretty enough and you can quickly destroy a large number of papers. This paper shredder is one of the best on the market, but it doesn't provide the highest security.
3.4 Bin Capacity
Ativa features a pull-out bin that has an easy-open lid, so it's easy to empty the wastebasket. The bin capacity is 3.4 gallons or 12.9 liters. That is enough for home use or small office use. It is able to run continuously for 5 minutes, then it requires cooling down period.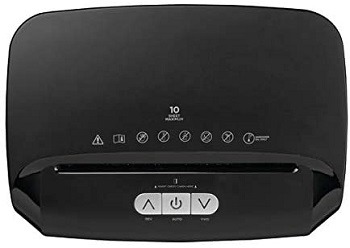 Protective Features
This paper shredder has covered blades, sensors and safety locks that prevent injuries. Also, there is overheat protection if you leave the device to run above its limit. Overload protection prevents paper jams. Auto start and auto stop saves energy and prolongs motor life.
Highlighted Points:
one of the most secure cross-cut paper shredder
it has a low price
ideal for small offices or home use
overload and overheats protection
continuous run time last 5 minutes
Best Cheap Security Paper Shredder
Sentinel FM60P Shredder
Budget-friendly Item
The Sentinel FM60P paper shredder is a light device, designed for personal use. Its dimensions are 13.58 x 14.57 x 6.50 inches and it weighs 9.6 pounds. It has an affordable price. The Sentinel requires 110 volts. It's UL tested for safety and the warranty last 1 year.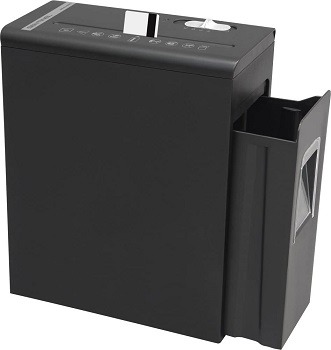 Micro-cut Shredder
Sentinel personal shredder is able to shred six or ten sheets per single pass. Also, you can feed it with credit cards, but the limit is one credit card at the time. This is a micro-cut paper shredder with a higher level of security, so you can put your sensitive documents into this machine.
Long Cooling Down Period
The pull-out wastebasket has a small capacity of 1.9 gallons. But if you don't have to destroy a big amount of paper, that is enough. Its continuous run time is 2 minutes, then the cooling period lasts 45 minutes. After these 2 minutes, you can't turn on the device because of overheat protection.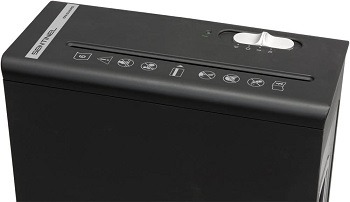 Safety Device
Each Sentinel high-security shredder is tested, so if you find any paper particles into the device, that is completely normal. The package includes a sample of ShredCare lubricant sheets and Shredcare brand waste liners for easier disposal. For any question, ask the Sentinel support team.
Highlighted Points:
low price micro-cut paper shredder
small wastebasket capacity
it shreds paper and credit cards
short continuous run time
the sheet capacity is 6-10 sheets
Things To Know About High-Security Paper Shredder
The high-security shredders have some features you need to consider. Read this short buying guide with the most important things to know and you'll find the best security paper shredder for you.
Shredder Security Level – On the market, you can find seven shredder security levels, known as P1 to P7. The letter P stands for paper-based material and each level means different paper shred sizes. The paper shredder with level 7 provides the most secure paper shredder type.
Shredding Speed – Some paper shredders can shred the paper quickly, for example, some models are really fast with 30 feet per minute. But if you want to buy a P7 paper shredder, you need to know that this paper shredder runs very slowly.
Micro-Cut Type – The cross-cut and micro-cut paper shredders provide higher security than strip-cut paper shredders. But for the most secure paper shredder, choose the micro-cut device, that shredder is the best for confidential papers, it shreds the paper into unreadable particles.
Versatile Shredding – Some paper shredders are designed just for paper, but there are many models that are able to cut other materials. For example, some paper shredders can cut credit cards, paper clips, staples, CDs and DVDs. That is very practical because you can save your sensitive information on CD or DVD.
Overload Protection – If you accidentally put too much paper into the electric paper shredder slot, the paper will be stuck into the machine. Then you need to clean the paper jam manually. But some models have LED light which indicates when the bin is full. With the reverse function, you don't have to clean the device manually.
Final Verdict
Did you find the best high-security paper shredder for your office/home? If you still not sure, we recommend the Ideal paper shredder. It has the highest security level, good shredding speed and useful safety features. For more secure paper shredders, read the level 6 shredders review. If you want to check other models for office or home, check out the best home office paper shredders post.