Do you want to find the best shredder for your CDs and DVDs?
If you do, keep reading this review. Not every paper shredder is able to shred CDs and DVDs. After reading our review, you'll know how CD and DVD shredder works and which features are the most important. Choose one of the models from our top 5 list.
Our Top Picks
Best 5 CD And DVD Paper Shredders
Best Of Best CD Shredder
Bonsaii DocShred Machine
Affordable Price
The Bonsaii DocShred C156-C paper shredder is large machine, it has 17.4 inches of height and 13.8 inches of width. But it isn't heavy, there are 10 pounds. This paper shredder is a great choice for your home or office use. It has an affordable price.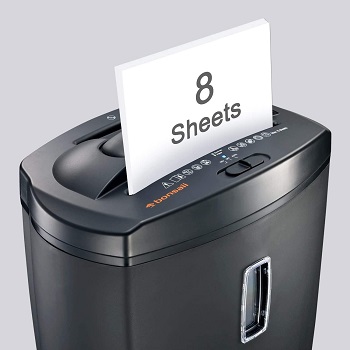 Reliable Machine
It is a micro-cut shredder type. If you work with sensitive documents, rely on this machine. The security level is high, P-4. It cut the paper into the particles of 5/32 x 25/64 inches. That small particle is unreadable. Put maximally 8 sheets in the feed slot at the time.
Separate Slot
Besides the paper, Bonsaii is able to shred credit cards, paper clips, staples, CDs and DVDs. Next to the paper slot, you can find a separate CD shredding slot. It doesn't shred the CDs and DVDs into microparticles, but it cut them into three large pieces.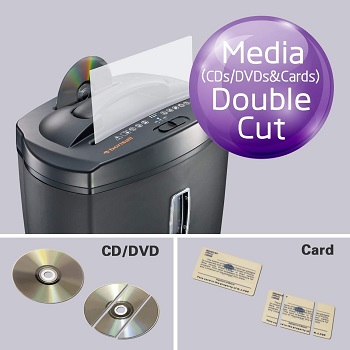 5.5.-gallon Bin
Bonsaii has a large wastebasket of 5.5 gallons. You don't need to empty it so frequently. Through a transparent window, it's easy to see if the bin is full. It is a lift-up bin, there is a convenient handle for easy emptying. Bonsaii runs for up to 4 minutes and features auto-start and manual reverse function.
Highlighted Points:
micro-cut paper shredder for home office use
separate CD/DVD slot meets ECO standards
automatic start for ensures easy control
manual reverse cleans paper jams
large lift-up waste bin with a 5.5.-gallon capacity
Best Electric CD Shredder
GBC EX12-05 Paper Shredder
Sleek Design
The GBC small paper shredder, model number EX12-05, is a compact electric machine. Item dimensions are 16 inches of height, 19 inches of width and 17 inches of depth. It weighs 16 pounds. This paper shredder easily fits under your work desk or in your home. The warranty for this product lasts 2 years.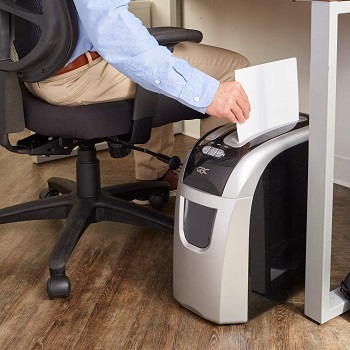 Personal Use
This DVD shredder is designed for one user. It is a super cross-cut shredder that provides a high P-4 security level. So, it meets everyday security needs. The max sheet per single pass is 12 sheets of paper. GBC runs 20 minutes continuously, then it is 15 minutes off.
Separate Cutters
It is intended for paper, but this shredder shreds credit cards, CDs and DVDs. Also, you don't have to remove small paper clips or staples from the paper. GBC shredder features separate cutters for CDs and DVDs. That prevents wear and tear of paper cutters.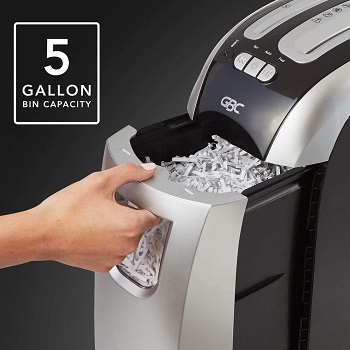 Easy-to-maintain
The pull-out wastebasket has a capacity of 5 gallons. On the control panel is an indicator that shows you if the bin is full and you need to empty it. Also, there are forward, auto and reverse buttons. It is simple to maintain this DVD shredder. Use lubricant or lubricated sheets.
Highlighted Points:
compact cross-cut shredder for personal use
auto, forward and reverse features
LED indicator shows the bin capacity
separate cutters for CDs and DVDs
runs continuously for 20 minutes
Best Small DVD Shredder
Aurora AU1200XD Shredder
Desktop-style Shredder
Aurora AU1200XD is a perfect choice if you looking for a compact but powerful paper shredder. It measures 11.8 inches of height, 13.2 inches of width and 9.9 inches of depth. It is ideal for small and home offices. The price is affordable and the warranty lasts 1 year.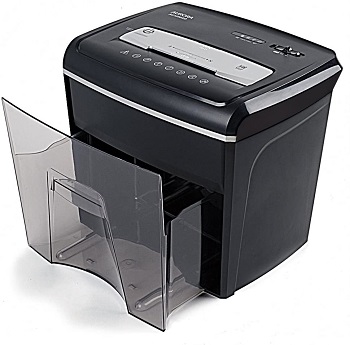 Security Shredding
This cross-cut shredder is able to destroy CDs, DVDs, credit cards, junk mail, paper clips and staples. Aurora turns these materials into small particles of 5/32 x 1-7/32 inches. These pieces are too small for an identity thief. The security level is high, it's P-4.
Nonstop 5 Minutes
You can put 12 sheets of paper maximally. But put only one credit card and CD/DVD at the time. Otherwise, you'll damage the machine. It runs 5 minutes continuously, then the motor requires a cool-down time. The shredded material drops into a transparent pull-out bin with a 1.8-gallon capacity.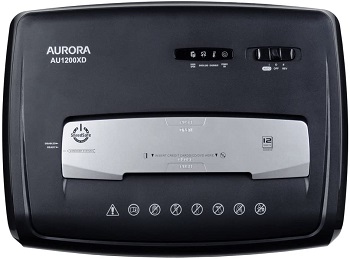 ShredSafe Feature
The auto-reverse function prevents overload and paper jams. The motor will reverse the blades and shred the paper again. If you try to put the paper or CDs with force, this machine will automatically stop shredding. The LED lights indicate standby, overheat, overload and door open status.
Highlighted Points:
desktop-sized cross-cut shredder
it accepts CDs, DVDs, credit cards, staples and clips
ShredSafe technology prevents accidents
LED indicators provide easy control
transparent waste bin with 1.8-gallon
anti-jam auto-reverse function for paper jams
Best Office CD Shredder
Fellowes Powershred 79Ci Shredder
Small But Powerful
Fellowes Powershred 79Ci shredder is a small but powerful machine. It is available in black and silver color. The hight is 21.4 inches and the width is 15.4 inches. It shreds paper into cross-cut pieces of 5/32 x 1-1/2 inches. Use this machine for confidential documents.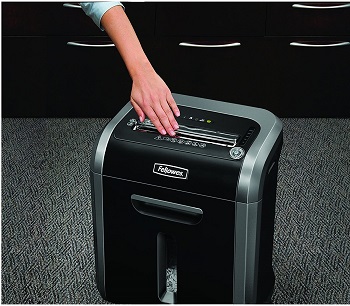 Safe For Use
This machine is a good paper shredder for small office. Powershred shreds documents, CDs, DVDs, credit cards, staples and clipped paper. If you use this shredder at home, you should know that it's child and pet safe, the SafeSense technology shut down the device if sensors detect hands.
100% Jam Proof
The Powershred 79Ci shreds up to 16 sheets of paper per single pass. it runs for up to 20 minutes, then it is 30 minutes off. The pull-out bin is easy to empty. It has a capacity of 6 gallons or 22 liters. Fellowes uses an advanced jam-proof system that delivers three levels.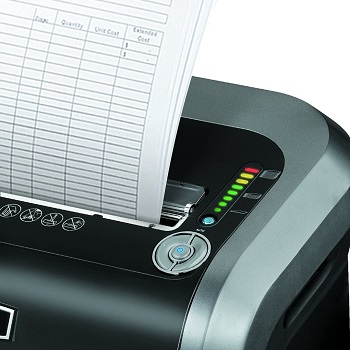 Library-quiet Device
Because of SilentShred technology, this CD shredder doesn't produce a loud noise. Its sound level is 54 decibels. That level is equivalent to people's conversation. The energy-saving system ensures optimal energy efficiency when the device is in use or in standby mode.
Highlighted Points:
cross-cut shredder takes up 16 sheets per pass
ideal machine for shared workspaces
SafeSense technology stops shredder when it's necessary
optimal sound level for a comfortable environment
energy saving system conserves power
Best Cheap DVD Shredder
AmazonBasics Cross-cut Shredder
Micro-cut Style
AmazonBasics is a cross-cut office paper shredder which meets the P-4 security level. That is a high-security level, so you can throw your sensitive documents into this machine. The AmazonBascis turns the paper into particles of 5/32 x 15/32 inches. It has an affordable price.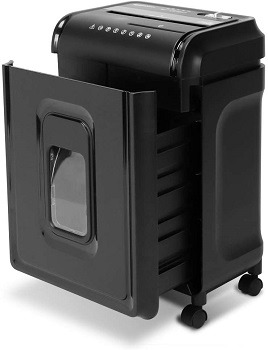 8 Sheets Per Pass
You can put maximally 8 sheets of paper at the time. AmazonBasics accepts paper with staples and small clips, so you don't have to remove them. It also destroys credit cards, junk mail, CDs and DVDs. There are two separate slots, one is intended for paper and another for CDs and DVDs.
Automatic Stop
You can put one CD or DVD at the time. This DVD shredder runs 5 minutes continuously, before the needed cool-down period of 30 minutes. If you forget to shut off the device after its max time, it will automatically stop shredding. That protects the motor from overheating.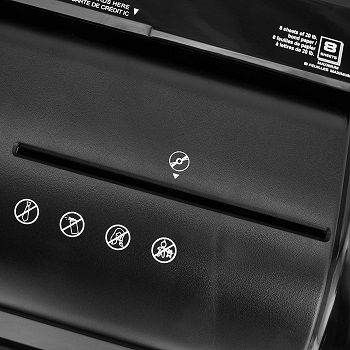 User-friendly Design
There are some buttons on the top of the device. You can find 4 switches intended for auto, forward, reverse and off. The paper entry is 8.7 inches wide. There are LED indicators for power, bin-full status, overheat, overload and door open. The pull out bin has a capacity of 4 gallons.
Highlighted Points:
affordable micro-cut paper shredder
reverse function clear and prevent paper jams
separate slot for CDs and DVDs
overheating protection with auto shut off
the automatic start and stop features
8 sheets of paper per single pass
Things To Know About CD And DVD Shredders
The CD and DVD paper shredders have a more powerful motor. What you need to look for before purchase, find out in this short buying guide.
CD/DVD Shredder Purpose – The CD and DVD shredder is useful for people who save their sensitive documents on these discs. Like paper, you don't want that somebody stole your personal information. Some paper shredders destroy CDs and DVDs into small pieces, but mostly they cut them into 2 or 3 pieces.
Separate Slot – Before buying, check out how paper shredder collects shredded CDs and DVDs. Some paper shredders have a separate container for CDs/DVDs. That is useful if you want to recycle the shredded material. But mostly, shredders have only one wastebasket for all shredded material.
Shredder Capacity – The shredders for paper have 1 to 20 sheets paper shredder capacity. But if you want to destroy a high amount of these digital media discs, you can't put two or three discs per single pass. Almost all paper shredders can take one disc per pass.
Shredding Material – Don't buy the shredder for paper and CDs/DVDs only. Many shredders have a possibility to shred paper clips, staples and credit cards. That is very useful, especially if you work in an office or in administration. You can easily shred everything you need with this device.
CD Shredder Price – You can find the CD shredder at an affordable price. The price depends on other shredder characteristics, like automatic feed paper shredder features, anti-jam protection, sensors and more. Usually, the CD shredders with separate slots cost more than those with one waste bin.