Are you looking for a confetti cut or particle cut paper shredder for your confidential documents?
Then keep reading this article on the best cross-cut paper shredders!
These paper shredders are secure yet affordable, used for confidential document shredding. Check out these reviews and learn how to pick the best model by reading our buying guide and reviews of most popular models.
Our Top Picks
Is Cross-Cut Shredding Enough?
Yes, this cutting type is enough for destroying the documents of a regular person, containing no secret or top-secret information. It is a more affordable option than a micro-cut cutting type and the best choice for medium security.
What Does Cross-Cut Mean?
This mechanism destroys paper with the help of blades both vertically and horizontally. It is good enough for destroying most of your confidential documents. Cross-cut creates paper shreds in the two different below-mentioned shapes.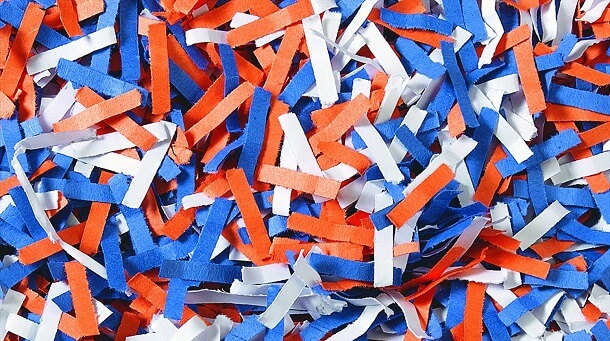 Other Names This Shredding Type
Confetti-cut and diamond-cut are other names for cross-cut shredding machines. The first one creates short confetti-like (rectangular) strips out of paper, while the second type creates diamond paper shapes.
Cross-Cut Or Strip-Cut?
Generally, it is better to shred your documents with a cross-cut than a strip-cut mechanism if you are worried about security. However, if your biggest concern is shredding fast, a strip-cut destroying paper into long strips will be a better option. It only cuts paper vertically, which is faster than cutting both vertically and horizontally.
Difference Between Cross-Cut & Micro-Cut
Essentially, cross and micro-cut work on the same principle. They both cut paper vertically and horizontally. However, micro-cut destroys paper into smaller particles than cross-cut. Thus, the level of security is higher with a micro-cut cutting type.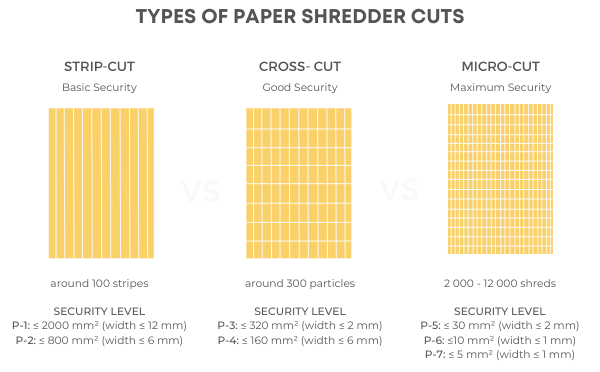 Which Security Levels Are They?
The DIN 66399 standard for paper cutting categorizes cross-cut shredders as P-4 and P-5 levels of security. The P-4 level shreds paper into particles equal to or less than 160 millimeters squared and equal to or less than 6 millimeters wide. The P-5 level is higher security than P-4, shredding paper into particles equal to or less than 30 millimeters squared and up to 2 millimeters wide. After this destruction, it is really hard to put the shreds back together into the original document. Some even say P-3 shredders are in this category too, but it is debatable.
Differences Between Home & Office Cross-Cut
In your home, cross-cut will mostly deal with your personal documents, junk mail, and other papers found in your household that you might want to destroy before disposing of. On the other hand, in the office, it will be used to destroy business information, sometimes even confidential documents and other sensitive paperwork, usually in bigger piles than at home.
Why Do You Need This Shredding Type?
A shredder with a cross-cut mechanism has many functional uses in an office and other spaces. Below we have listed the most beneficial ones:
For common confidential office and other documents – shredding paper into small particles, it destroys confidential and sensitive information found in business documents in offices
Faster than micro-cut models – As the cuts they produce are not as small as micro-cut models, they are faster for cutting more paper in less time
More condensed particles – it will take a longer time to fill up the bin than with a ribbon-cut model as the particles are more condensed than strips
Saves time and space – by shredding paper, you save space in your office's cabinets with files, in your home, etc, and you also save time that you would spend trying to destroy paper manually
How To Decide On Model For Your Office Or Home?
They come in different sizes. Some can shred more and some fewer sheets at once, be slower or faster, have a longer or a shorter run time. Depending on your personal needs or the needs of your office, here is how to pick the right shredder.
10- To 20-Sheet Capacity
Depending on the model and manufacturer, you can pick between shredders with 10 to 20 sheets per pass for your office. Combined with a faster speed, higher sheet capacity will mean that you can shred more paper in the same amount of time. For more occasional use, up to a 12-sheet capacity will be enough.
Bin Capacity Suitable For Your Office Needs
Measured in gallons, bin capacity for this type of shredders usually ranges between 2 and even 20 gallons. The bigger model you choose, the more space it will take up, but it will also be able to hold more particles before it needs emptying.
Longer Run Time Needed For Offices
If your office needs to shred high volumes of paper in a short time, pick a model that has a 30-minute to 1-hour run time or more. However, if you do not have a large amount of paper to shred, a model of up to 10-minute of run time will suffice.
Number Of Users In Your Office
For offices, it is important to go for a model that is multi-user. For example, some models offer to shred for up to 3, 4, 5, or more users. Choose accordingly to the size of your office staff.
Heavy-Duty Shredder For The Office
A commercial paper shredder for your office with cross-cutting mechanisms is durably built and ideal for high volumes of paper shredding. If your office constantly has papers for shredding, such a model will be useful.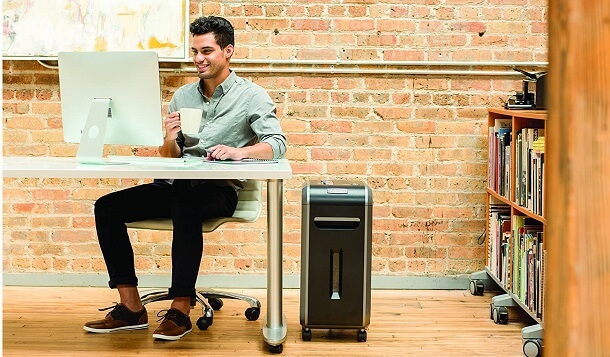 Move It Around The Office With Wheels
If you want to be able to move the shredder around the office or your home easily, go for a model with wheels. That way, you can easily transport it next to the cabinet or desk full of papers ready for shredding.
Level Of Noise
Look for models that are not loud and that do not produce noise over 65 decibels (level of normal conversation). This is important for offices as you do not want to distract your office staff with loud shredding. However, low noise is also recommended for your home so it does not disturb your house members.
What Do You Want To Shred?
You can choose between models that cut only paper and ones that can also destroy other materials. For example, some can even cut through CDs, DVDs, credit cards, paper clips, or staples. Before shredding materials other than paperm check if it is recommended.
Best 20 Cross-cut Paper Shredders
Bonsaii C169-B EverShred Paper Shredder
Patented Cooling System
Bonsaii C-169-B is a heavy-duty device equipped with four casters. Two front wheels feature brakes that provide stable placement. The powerful motor provides continuous duty operation. This cross paper shredder uses a patented cooling system that prolongs motor lifespan.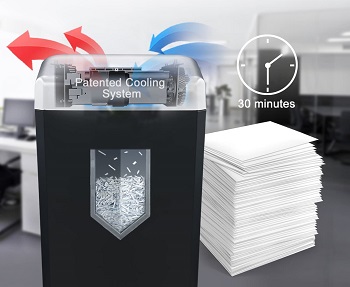 High-capacity Device
It can shred 14 sheets of paper per single pass and reach a P-3 high-security level. Moreover, Bonsaii shreds credit cards and staples. Its pull-out wastebasket comes with a large transparent window that makes it easy to see when the bin is full. Automatic features improve the shredding process making this model one of the best business paper shredders.
GBC 230X Paper Shredder
High Sheet Capacity
GBC isn't a large device, it has 22.8 x 18.2 x 23.2 inches in size. It weighs 41 pounds and comes equipped with four swivel casters. The warranty lasts 2 years while the warranty for the cutters lasts 10 years. Put a stack of up to 230 sheets into the auto-feed chamber.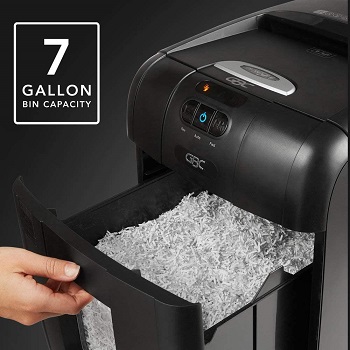 Power-save Feature
This auto-feed paper shredder conserves energy, the convenient Power Save feature will turn off the device when the shredding is complete. User-friendly Intelligent Auto+ Jam Clearance automatically reverse and re-shred paper. Integrated LED indicators will light up when the bin is full.
HSM B32c Securio Paper Shredder
Solid Steel Cutters
HSM Securio B32c is made in Germany from high-quality materials, the cutters are made of solid steel. This black and white model measures 15.7 x 19.6 x 31.2 inches and weighs 60 pounds. Equipped with four casters for easy mobility. It can shred paper with clips, credit cards, CDs and DVDs.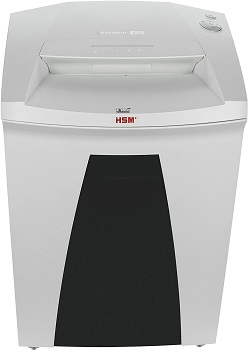 Optimal Noise Level
The maximum sheet capacity is 19 sheets of paper and the maximum number of paper it destroys in a minute is 247. HSM Securio has a high-capacity wastebasket, it holds 21 gallons of shredded paper. This is the perfect office shredder with an optimal noise level.
Ativa C187-H Paper Shredder
Designed For Paper & Credit Cards
Ativa C-187-H is designed for paper and credit cards only, not for CDs and DVDs. It provides a medium level of security. You can use it for confidential and sensitive documents. This 10-sheet paper shredder turns the paper into 3/16 x 1-9/16 inches.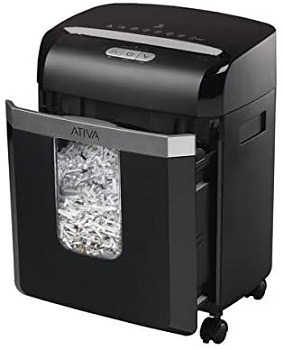 Overheating Protection
This shredder comes with four casters for easy mobility. Its cool-down period lasts 30 minutes while the run time lasts up to 5 minutes. Ativa can shred 10 sheets of paper per single pass. The auto-start and auto-stop features make the shredding process easier. Ativa is equipped with overheating protection.
Royal 112MX Paper Shredder
Two Separate Slots
Royal 112MX doesn't require much space, it fits in any small office or home office. It is easy to operate and maintain. Royal is mounted on the wheels, so you can move it easily wherever you need. It shreds paper with clips, staples, credit cards, CDs and DVDs. There are separate slots for paper and optical discs.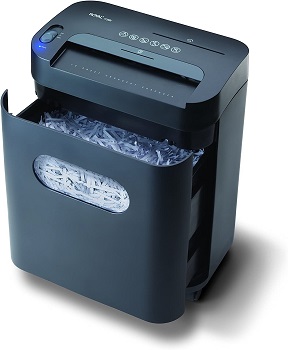 Auto-start/stop
The bin capacity is 3.25 gallons, check bin status through a small transparent window. The powerful motor of 1/2 HP can shred 12 sheets of paper per single pass. This 12-sheet shredder features auto-start/stop, it's easy to use it. Royal doesn't require maintenance, don't use oiled sheets or spray.
EZBasics Paper Shredder
Compact & Stylish
EZBasic is a black and white paper shredder that fits in any home office decor. It measures 13.4 x 7.4 x 14.9 inches in size. Insert ATM receipts, credit cards, bills, bank statements and other unwanted information in the shredder and destroy them. It provides a high-security level.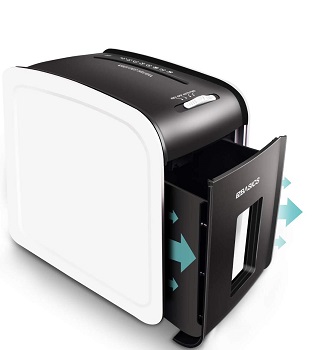 Quiet Shredder
This home office paper shredder doesn't require maintenance, it isn't necessary to oil it. It is a silent unit that produces a low noise level of 58 decibels. It allows you to insert five papers at a time and one credit card. EZBasic runs 5 minutes continuously before the cooling down period is needed.
Bonsaii C220-A Paper Shredder
Lockable Casters
Bonsaii C220-A is a mobile device, comes equipped with four removable casters. Two front casters are lockable, providing stable placement. It is a great choice for home or the office, it's easy to use and empty. The maximum shredding capacity is 12 sheets of paper per single pass.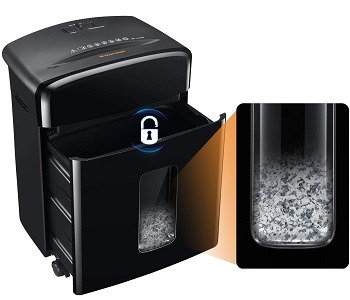 Solid Steel Cutters
This machine shreds paper into small particles measuring 5/32 x 1-37/64 inches. This cutting machine under $100 can be used to destroy credit cards, ATM receipts, paper with clips and staples. Bonsaii shredder is built with solid steel cutters and its motor works automatically when detects paper or credit cards.
Fellowes Powershred 99Ci
Max Three People
The Fellowes Powershred 99Ci is a great item for small offices or workgroups. It measures 25.2 inches of height, 11.4 inches of width and 17.3 inches of depth and weighing 36.3 pounds. It is intended for multiple users, the maximum is three people.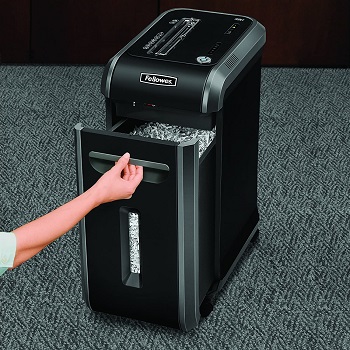 User-friendly Design
The pull-out wastebasket is able to hold 9 gallons of shreds. Through the small transparent window, you can detect when it's time to empty the bin. The Powershred machine is simple to use. There are Back, Forward and Enter buttons. The enter button is for automatic mode.
Amazon Basic 24-sheet Office Shredder
Tested Device
Amazon Basic is quality and tested device that meets many safety and quality needs. This item features a 24-sheet capacity and a 7-gallon bin capacity. It is great for small and medium-sized offices and multiple users. It shreds paper into small pieces which look like confetti.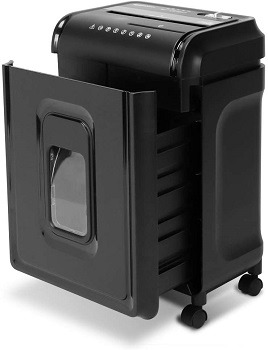 User-friendly Panel
This industrial shredder meets high-security needs. Except for the paper, feed it with CDs and DVDs. Its powerful motor can run for 40 minutes continuously, then requires a cool-down period. Overheating protection prolongs motor lifespan. The user-friendly design comes with four modes – auto, reverse, forward and off.
Aurora AS420C Desktop-style Paper Shredder
Fits Anywhere
Aurora AS420C is a desktop-style shredding machine that fits on your office desk or table. The item dimensions are 9 x 7 x 10 inches. It is a lightweight device, weighing 1 pound only. Aurora comes with a power cord, just plug it in. Its slot is 4.5 inches wide, so fold the paper before shredding.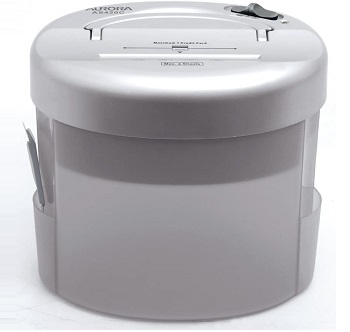 Auto Start Feature
Aurora accepts four sheets of paper at a time, also it shreds credit cards. Its cutters are made of solid steel, so they are very durable. On the top of the shredder is a handle for convenient transport. Aurora features auto start and manual reverse. There are three modes on the control panel – auto, reverse and off.
Rexel Auto+ Paper Shredder
Compact Machine
Rexel is a compact but powerful shredder that measures 16.9 x 11.6 x 13.7 inches in size. You can place it wherever you want, it even fits on the office desk. Its price is high, but the manufacturer provides a 2-year warranty. Rexel can shred paper and credit cards.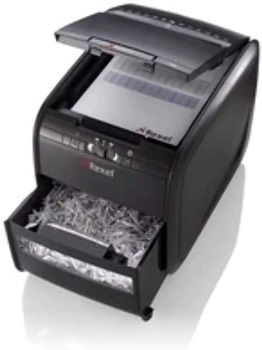 60 Sheets Per Pass
This heavy-duty office machine provides a medium security level, it isn't ideal for top-secret documents. Rexel shreds 60 sheets of paper per single pass. Put the stack of paper into the tray and it will start shred automatically. In a manual paper slot, you can place 5 sheets. The sound level is acceptable for the office.
Ideal 2604 High-security Paper Shredder
Robust Design
Ideal 2604 is a big and robust device built with a powerful motor and size 36.5" in height, 18.5" in depth and 19.5" in width. It weighs 105 pounds, so it comes with four swivel casters. It is good for confidential document shredding, provides a high-security level.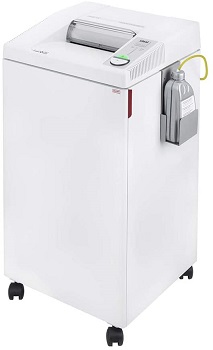 High-capacity Shredder
This large shredding device is designed for 8-10 users. It is equipped with solid steel cutters able to shred paper with clips and staples, plastic cards and optical discs. Feed it with 23-25 sheets of paper at a time. The removable bin holds 26 gallons of garbage. Ideal comes with an oil bottle for maintenance.
Amazon Basic AS662C Paper Shredder
Small Shredder
Amazon Basic measures 12.1 x 7.7 x 15 inches in size and weighs 8 pounds. It is easy to lift it and move wherever you need. You can even put it on your office desk. Amazon Basic shreds up to 6 sheets of paper per pass. Also, it can cut credit cards, CDs and DVDs.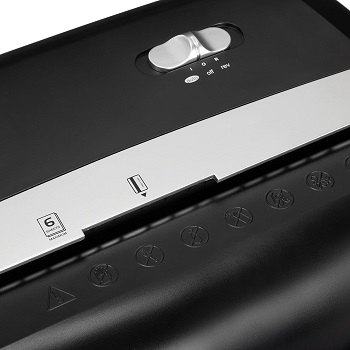 Automatic Start
You can switch auto mode, then it will start/stop shredding automatically. This mini paper shredder comes with a manual reverse function. If paper gets stuck, switch the reverse button and clean the shredder from jammed paper. Integrated thermal protection prolongs motor lifespan.
Rexel Style Cross Cut Shredder
Stylish Design
The Rexel Style unit has an elegant design and it will fit in any office. It measures 15.04 x 9.29 x 15.20 inches. It weighs 8.6 pounds. You can put the Rexel on your office desk or under it. It isn't intended for a large office, but small ones.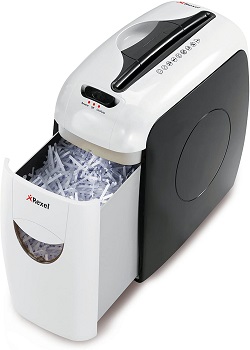 5-sheet Capacity
This cutter can take 5 sheets of paper per single pass. it is able to shred A4 paper into 400 particles of 4 x 35mm. So you can feed it with confidential and personal documents. The security level is P-4, which is a medium-security level.
Ativa OMX203P Paper Shredder
Swivel Casters
Ativa OMX203P is a large shredding machine that gives a medium security level, not ideal for highly sensitive documents. It is perfect for home offices, small or medium offices. Durable and swivel casters making transport easier. Ativa is backed with a 1-year warranty.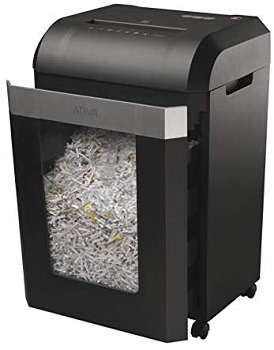 Overload Protection
This 20-sheet paper shredder destroys CDs, DVDs, staples, clips, credit cards and paper. It cuts paper into tiny pieces of 3/16 x 11/16 inches. Its shredding speed is 6.03 feet per minute. The bin capacity is 7.7 gallons, Ativa will stop shredding if the bin is full. This feature prevents paper jams.
Bonsaii C243-A Paper Shredder
Shredder Size
Bonsaii C243-A is designed for home office or small office use with a convenient handle for easy emptying. The paper destroying machine dimensions are 18.5 x 7.9 x 12.6 inches. Through the large transparent window, you can check bin status.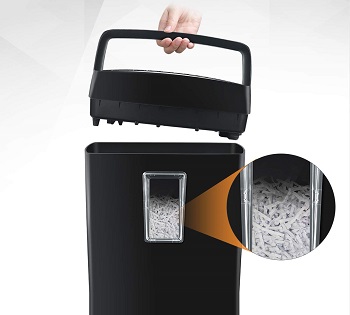 One Credit Card Per Pass
This credit card cutter provides a medium level of security, so you can insert confidential documents in the slot. It destroys paper with clips and staples too. Put one credit card per pass. The manual reverse function will release the jammed paper. Also, overhead and overload protection prolongs motor lifespan.
AmazonBasics Office Shredder
Desktop Shredder
AmazonBasics office shredder is a desktop-sized item. Its dimensions are 9.92 x 13.19 x 11.77 inches and it weighs 17.2 pounds. This small but powerful office unit is able to destroy paper, junk mail, CDs, DVDs, credit cards, staples and small paper clips.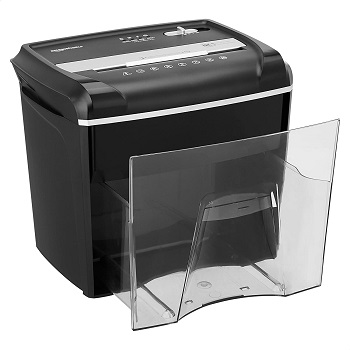 8-minutes Of Run Time
The security level is P-4, so don't feed it with secret documents. Put 12 sheets of paper at once. AmazonBasics shreds paper into strips of 5/32 by 1-7/32 inches or 4 x 31 mm. It runs continuously for up to 8 minutes. Then leave it for 45 minutes to cool down. This shredder has an affordable price.
GBC 1757394 Paper Shredder
For Junk Mail
GBC is a compact personal paper shredder that measures 19 x 10.8 x 18.6 inches in size. This machine destroys paper, CDs, DVDs, junk mail and credit cards. If you need to throw the junk mail, it isn't necessary to open it, just insert it in the feed slot. This mail shredder is available in three colors.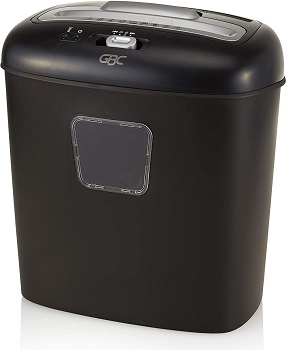 LED Indicators
It shreds 12 sheets of paper per single pass. This machine provides a P-4 security level. It is suitable for confidential and sensitive documents. Its run time lasts 4 minutes and the cool-down period lasts 45 minutes. Built-in LED indicators light up when the bin is full.
Aurora AU2030XA Paper Shredder
High-capacity Shredder
Aurora AU2030XA model is designed for small businesses. This device measures 14.6 x 19.1 x 28.2 inches and weighs 36 pounds. It is mounted on durable casters, making transport easier. The shredding machine gives a high-security level, ideal for private and sensitive documents. Aurora shreds 20 sheets per pass.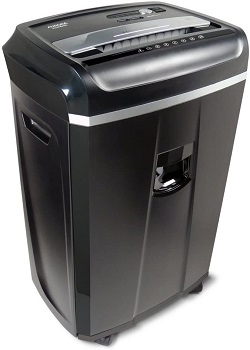 Touch Guard Feature
This item is made for small businesses and it shreds paper with clips and staples, credit cards, CDs and DVDs. The powerful motor runs for 60 minutes continuously. The pull-out wastebasket holds 7 gallons of shredded paper. Aurora is equipped with sensors that detect hands and disable shredder immediately.
Fellowes Powershred 79Ci Shredder
Mobile Paper Shredder
Fellowes Powershred 79Ci is a small electric device with the size of 21.3 x 15 x 10 inches. Because it weighs 28 pounds, comes equipped with four durable casters. It features a high-security level, suitable for confidential and sensitive documents.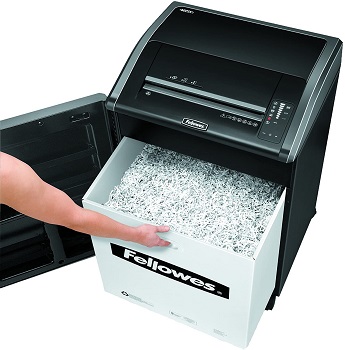 SafeSense Technology
Fellowes shreds paper with clips and staples, credit cards, CDs and DVDs. You can insert 16 sheets of paper per pass and it will shred them quickly. Integrated SafeSense technology disables the blades if detects hands or paws. A jam-proof system eliminates paper jams. Runs for up to 20 minutes.
Maintenance Of Cross-Cut Devices
This type of machine demands more maintenance than strip-cut models. It is necessary to oil the blades after every intense shredding session, whenever you empty the bin, and after every 30 minutes of use. This means that the blades will stay optimally clean and sharp for the best performance. Likewise, run it in reverse from time to time to free up accumulated paper particles and dust. This is great for preventing paper jams.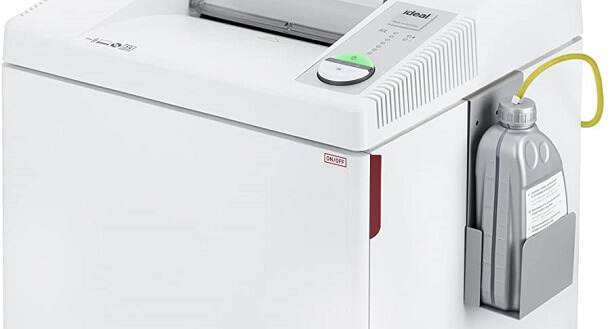 DIY Options: How You Can Destroy Paper Without A Shredder
If you are more of a Do-It-Yourself person and want to destroy your papers and office documents without buying this device, you have a few options available. You can burn your documents by putting them in a firepit and lighting them. Likewise, you can even use a bucket filled with water and bleach to soak your papers. Leave it overnight, and your documents should become unreadable. The slowest and most tiring option would be to shred all your documents by hand.