Have you been thinking about buying a home shredder for your home office?
Are you interested in learning more about this device?
If you are, keep on reading because in this post I'll list the top 10 best models from the market. You'll learn about their design, paper capacity, shredder types, speed, and other useful features. I'll advise you on buying the best shredder for your needs, just follow our guidelines at the end of the article.
Our Top Picks
10 Best Home Shredders
BEST OF BEST HOME SHREDDER
Fellowes Powershred Paper Shredder
High-security Level
This practical paper shredder will meet all your home office needs. With 17.7 inches in height and 13.6 inches in width, it fits under the home office desk and doesn't require much space. Fellowes destroys credit cards, documents, and paper with staples and clips. Its security level is high, P-4.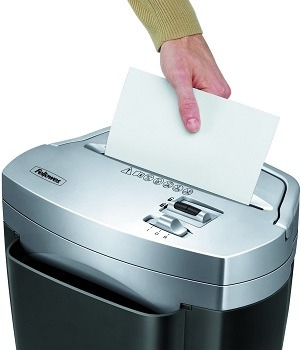 Safety Lock Feature
Fellowes cross-cut home paper shredder has a continuous run time of five minutes, and the cool-down period lasts 20 minutes. Its lift-off bin comes with a convenient handle for easy use. Insert 12 sheets per once and it'll shred them quickly. Safety Lock disables the shredder when detecting paws or fingers. If you want to check more similar models for your personal office, check out this post on best home office paper shredders.
Highlighted Points:
cross-cut paper shredder
shreds credit cards, documents, clips, and staples
run time of 5 minutes
lift-off bin with handle
12 sheets per single pass
Safety Lock prevents accidents
BEST HEAVY DUTY HOME SHREDDER
Rexel Heavy-duty Shredder
2-year Warranty
Rexel is a compact yet powerful paper shredder that measures 16.9 x 11.6 x 13.7 inches in size. You can place it on your home office desk, under the desk, it fits anywhere. A 2-year warranty is provided by the manufacturer. It's able to shred credit cards and papers with staples and paper clips.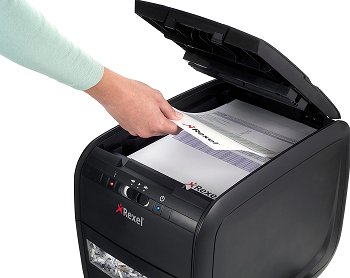 Medium Security Level
This cross-cut heavy-duty shredder for the home ensures a medium security level, P-3, not designed for secret and highly confidential documents. Simply add a stack of paper into the magazine on the top of the shredder and it will shred it automatically. Rexel will shred 60 sheets of paper at once. If you want to check other similar models, check out an article on heavy-duty paper shredders.
Highlighted Points:
compact paper shredder for home
backed by a 2-year warranty
shreds papers and credit cards
medium security level
shreds 60 sheets at once
equipped with auto-feed features
BEST SMALL HOME SHREDDER
GBC Shredmaster Home Shredder
Fits Anywhere
The GBC paper shredder is one of the smallest you can find on the market. It's perfect for limited space home offices. The dimensions are 11.3 x 6.1 x 12.6 inches and it weighs 5 pounds. Place it on your desk, it won't take up too much space. This is a strip-cut paper shredder, it shreds documents into long strips.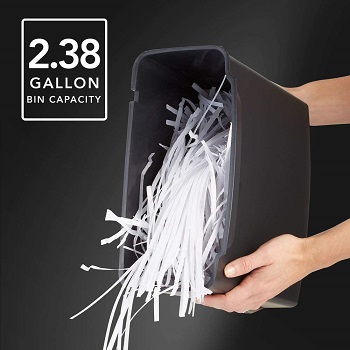 Manual Reverse Function
This small paper shredder for home use isn't designed for secured and confidential documents. Its maximum sheet capacity per pass is six papers. GBC shredder can run for up to 2 minutes continuously. Use the manual reverse function if a paper jam occurs. Not for CDs and DVDs. If you're interested in this kind of shredder, check out the small paper shredders article.
Highlighted Points:
small and compact paper shredder
low sheet capacity and bin capacity
runs 2 minutes continuously
strip cut paper shredder type
low-security level
equipped with manual reverse function
BEST CROSS CUT HOME SHREDDER
Aurora AU740XA Cross-cut Shredder
7 Sheets Per Pass
Aurora is an electric cross-cut shredder for home use, it is suitable for confidential documents and papers. This compact shredder shreds the paper into 3/16 x 1-26/27-inch particles. It is impossible to read these tiny pieces of documents. Accepts 7 sheets per single pass.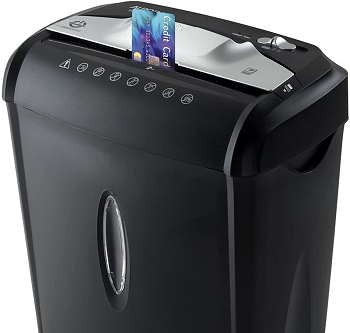 ShredSafe Feature
Put papers, documents, staples, paper clips, and credit cards into this device. Its wastebasket has a capacity of 3.7 gallons. The ShredSafe features will automatically stop shredding if you try to push the paper with force. Moreover, the Jam Remover cleans the cutters from paper jams. If you find this model useful for your home office, then check other best cross cut shredders.
Highlighted Points:
shreds 7 sheets per pass
suitable for secure and confidential papers
shreds paper clips, staples, and credit cards
SredSafe features protect the devices
Jam Romover cleans the shredder's cutters
BEST DOCUMENT HOME SHREDDER
AmazonBasics Paper Shredder
Compact Design
This AmazonBasic paper shredder features a 6-sheet capacity, making it suitable for home use. It measures 12.1 x 7.7 x 15 inches in size and weighs 8 pounds. It's ideal for small home offices, place it under your desk and it won't take up much space.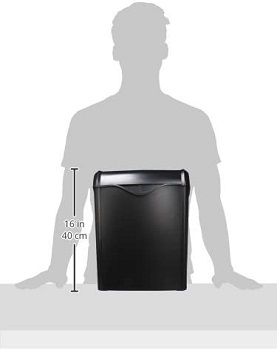 Cross-cut Shredder
It shreds documents into 3/16 x 1-27/32-inch small particles. This home paper shredder meets a medium-security level, so not designed for highly confidential documents. It isn't necessary to remove paper clips and staples from documents, AmazonBasic will shred them. Overheating protection prolongs the shredder's lifespan. If you like this model and want to check more items with similar features, check the post on electric document shredders.
Highlighted Points:
ideal for small home offices
thermal protection prevents overheating
cross-cut shredder type
it shreds up to 6 sheets per pass
shreds paper with staples and clips
BEST MICRO CUT HOME SHREDDER
GoEcolife High Security Paper Shredder
Limited Edition
GoEcolife paper shredder is available in white color with grey top. It is carbon-free and meets the Carbon-free Product Certification Protocol. This home micro-cut shredder is designed for highly secured documents, it shreds papers into unreadable particles. Insert paper and credit cards into the slot.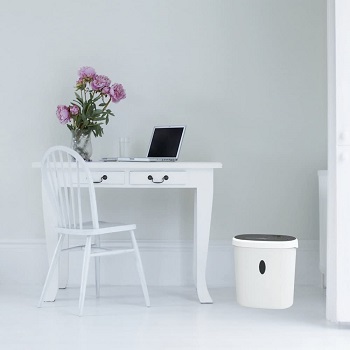 Low Noise Level
It is an energy-saving paper shredder that consumes less power when the standby mode is on. It produces a low noise level of 62 decibels which won't disturb you during work.GoEcolife can shred 8 sheets per single pass and its shredding speed is 9.8 feet per minute. If you want to be able to shred confidential documents, then consider the review on micro-cut shredders.
Highlighted Points:
eco-friendly paper shredder
arrives in white color with grey top
meets carbon-free standards
shreds paper and credit cards
produce low-noise level
shreds 8 sheets per single pass
BEST UNDER $100 HOME SHREDDER
GBC Super Cross-Cut Paper Shredder
1-year Warranty
This small and compact GBC Personal Duo paper shredder fits on your desk, under it, or in the corner of your home office. It's available in two colors – light blue and black. Shredder's dimensions are 19 x 10.8 x 18.6 inches. A 1-year warranty is provided by the manufacturer.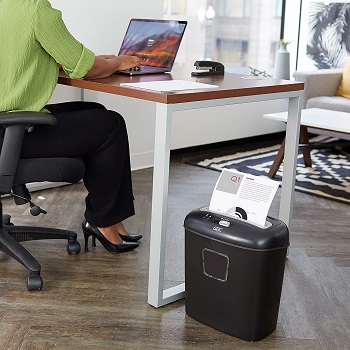 High-Security Level
GBC is a home paper shredder with a high-security level, P-4. It can shred papers with staples and clips, documents, credit cards, CDs, and DVDs. It runs 4 minutes continuously, then requires a cool-down time of 45 minutes. A small transparent window helps you to see when the bin is full. If you want to check other affordable best paper shredders under $100, check the linked article.
Highlighted Points:
affordable and compact paper shredder
backed by a 1-year warranty
available in two colors
shreds paper, CDs and DVDs
running time – 4 minutes
transparent window for checking bin capacity
BEST LARGE HOME SHREDDER
Swingline Micro-cut Paper Shredder
Micro-cut Shredder
Swingline DM11-13 is a big home paper shredder model with dimensions of 30.4 x 19 x 24.3 inches. It weighs 71 pounds. But this device is equipped with four durable casters that provide easy mobility. Swingline cuts paper into tiny particles, this is micro-cut shredder type.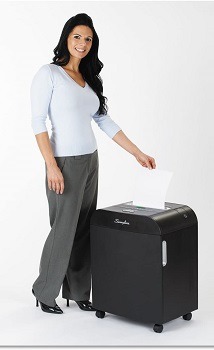 13-gallon Capacity
It accepts 11 sheets per single pass, which falls into a large wastebasket with a 13-gallon capacity. Swingline features two indicators – red light means there is too much paper in the basket, while green means the bin isn't full yet. The intelligent self-cleaning cutters clean the shredder automatically. For those who work with a high amount of paper, there are more high-quality large shredders you can use at home.
Highlighted Points:
micro-cut shredder type
ideal for confidential documents
accepts 11 sheets per pass
wastebasket with a 13-gallon capacity
Jam-free indicators
intelligent self-cleaning cutters
BEST POWERFUL HOME SHREDDER
Bonsaii C220-A Paper Shredder
12-sheet Capacity
Bonsaii C220-A paper shredder is available in few variants, but this model features a 12-sheet capacity. It can shred paper with paper clips and staples. It isn't necessary to remove them when inserting the paper. This cross-cut paper shredder cuts paper into 5/32 x 1-37/64 inches.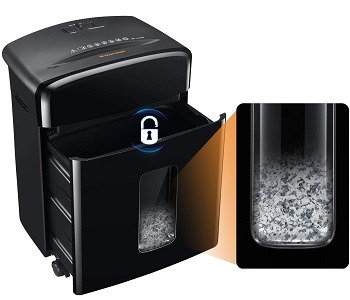 Four Wheels
Featuring a high-security level, this shredder for home use is ideal for private and confidential documents. Through the large transparent window on the front, you can see when the bin is full. Its capacity is 3.5 gallons. The four universal wheels allowing you to move the shredder when needed. If you looking for a bit stronger paper shredders, then you should check our powerful shredder home use review.
Highlighted Points:
available in several variants
large transparent window
high-security level, P-4
four removable wheels
shreds papers, credit cards, clips, and staples
12 sheets of paper at a single pass
BEST MAIL HOME SHREDDER
Aurora Desktop-style Shredder
Efficient Paper Shredder
Aurora paper shredder, model number AU1200XD is a compact mail shredder with desktop-style size. Ideal for occasional use when you need an efficient device. Aurora's dimensions are 13.2 x 9.9 x 11.8 inches and it weighs 17 pounds. It shreds CDs, DVDs, documents, credit cards, junk, and unopened mails.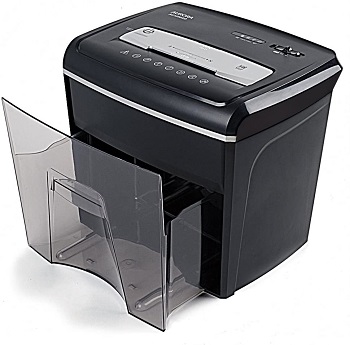 Auto-reverse Function
This home paper shredder features a high-security level, it's P-4. Its maximum sheet capacity per single pass is 12 papers. Aurora shredder runs 5 minutes continuously while the cool-down period lasts 45 minutes. Integrated auto-jam and auto-reverse functions will automatically reverse the jammed paper. You should check more best mail shredders that are compact and efficient.
Highlighted Points:
desktop-style paper shredder
shreds CDs, DVDs, credit cards, and documents
it features a high-security level
max sheet per single pass – 12 papers
auto-jam and auto-reverse functions
continuous run time – 5 minutes
the cool-down period lasts 45 minutes
Things To Know About Home Shredders
In the section below, you'll learn everything you need to know about the best home office paper shredder. There are some important factors you need to take into account before buying. For example, sheet capacity, safety features, shredder's size, run time, and more.
Shredder Size – This paper shredder type is smaller than office or commercial paper shredders. Also, they weigh less than office shredders. You can choose between bigger shredders that fit under your desk and small, a desktop paper shredder that you can place anywhere.
Sheet Capacity – Each paper shredder has its limit, so it's necessary to check it before buying. The home shredders aren't designed for a large number of documents. Standard home office shredder can shred from 5 to 10 sheets per single pass. Don't exceed the recommended capacity.
Safety Features – If your children or pets have access to your home office, you should consider some safety features. It is a good idea to buy a shredder with a safety lock function. When the device starts to shred, you can't open it. Some models have sensors that detect hands or paws and automatically stop shredding.
Jam Reverse Feature – This is a very useful feature every paper shredder should have. This function prolongs the shredder's life and making it easy to use. If the paper is stuck into the device, this feature automatically revers the paper and cleans the cutters.
Run Time – Shredders designed for home use have a shorter run time than commercial or office shredders have. So shredders for home use usually have a continuous run time of 5-10 minutes. Then, they require a cool-down period, that could last for up to 45 minutes.