Do you want to find the best personal paper shredder?
If you do, but not sure which features are really important, we describe them in this review. When you read the guide, check out these models and pick the favorite one.
Our Top Picks
Best 5 Personal Paper Shredders
Best Of Best Personal Paper Shredder
Wolverine SD9610 Paper Shredder
Quality Build Device
The Wolverine SD9610 paper shredder dimensions are 13.9 x 10.4 x 22.9 inches. it weighs 29 pounds, but you can easily move it wherever you want, it has casters. There are sharp blade cutter and steel grade gear wheels inside of the machine. It is a wear-resistance device.
The Highest Security Level
With this personal shredder machine, you can shred paper, paper clips, staples and credit cards. You don't have to worry about your confidential documents, this micro-cut paper shredder has a high P-5 security level. This is one of the highest security levels, so you can rely on it.
Transparent Window
The maximal sheet capacity is 6 papers per single pass. That is enough for home use. The maintenance of this paper shredder is simple, you don't have to lubricate it. Just take care about bin capacity, there is a transparent window so you can see when it's full. The maximal bin capacity is 5 gallons.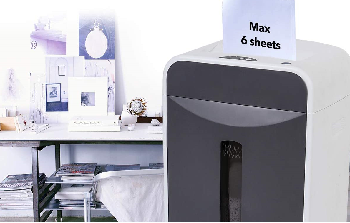 Fast & Smooth
The Wolverine shreds the papers quickly, its speed is 11.5 feet per minute. The jam reverse technology automatically detects if there is paper overload. With manual reverse, the jams aren't an issue. The smooth shredding experience is enhanced because the shredder produces 54dB only.
Highlighted Points:
ultra-low noise shredder won't distract you
jam reverse technology for overload issues
easy to maintain this paper shredder
micro-cut shredder provides a high-security level
it shreds the papers quickly
four casters for easy mobility
Best Cross-cut Personal Shredder
Bonsaii C220-A Shredder
Multifunctional Shredder
This product is available in a few versions, here we talk about the model with 12-sheet capacity. If that is too much for you, go with 6-sheet capacity. The Bonsaii shreds the paper, paper clips and staples. It is very practical, you don't have to remove each paper clip before shredding.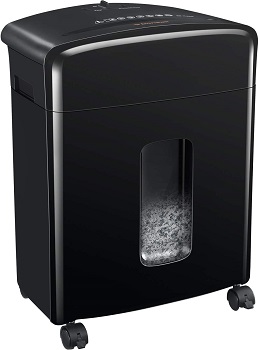 Cross-cut Device
It is a cross-cut paper shredder that shreds the paper into small pieces of 4 x 40mm or 5/32 x 1-37/64 inches. The security level is P-4, which is pretty high. You can throw away your sensitive documents without worrying. This personal paper shredder comes with a year of warranty.
Bin Window
On the front of the shredder is a large transparent window. It is very useful because you can see if the bin is full. The bin capacity is 3.5 gallons. This is a good capacity because when the machine shreds the paper, there are very tiny particles, you don't have to empty it so often.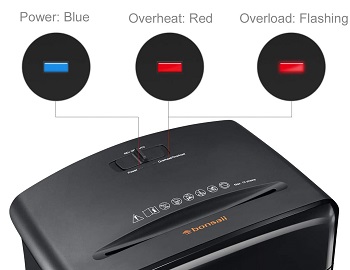 Move It & Park It
The Bonsaii dimensions are 13.20 x 8.70 x 17.80 inches and it weighs 13.9 pounds. If you need to transport it from one room to another, there are four universal wheels. The two front wheels have a lock system, so the shredder is stable in one position. Also, you can remove them.
Highlighted Points:
cross-cut paper shredder with medium security level
great sheet capacity for personal use
it shreds paper, paper clips and staples
large transparent window for bin capacity control
universal removable 4 wheels
Best Micro-cut Personal Paper Shredder
Aurora AU870MA Shredder
Compact And Lightweight
Aurora AU870MA paper shredder is an affordable micro-cut device for personal use. Also, the manufacturer offers a year of warranty. It is a compact device with 7.13 x 11.81 x 16.10 inches. It is a lightweight item with 11 pounds. There are no casters, but it's easy to move it.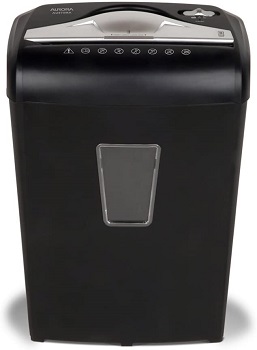 Three Functions
On top of the paper shredder, you can find some functions. There are auto, off and reverse functions. Aurora's personal paper shredder has auto-start, so when you put the paper into the slot, it will start working. The reverse function solves paper jams.
Sensitive Papers & Credit Cards
The sheet capacity is 8 sheets per single pass. Also, this household paper shredder can cut credit cards, too. It is safe to put the confidential papers into this shredder. It is a micro-cut device that provides the highest level of security. Officially, it is a P-4 security level.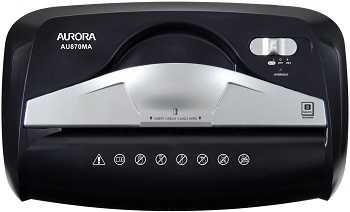 Auto-Off Feature
The wastebasket has a high capacity, you can put approximately 230 sheets into the paper shredder. The Aurora is able to work 5 minutes and then it needs to cool down. You need to take care of the time, but there is an LED indicator that will turn on if the motor is overheated. Then the shredder will auto shut off.
Highlighted Points:
this micro-cut shredder ensures high security
short continuous run time
LED indicator prevents overheating
auto, off and reverse functions
affordable household paper shredder
1-year warranty after purchase
Best Cheap Personal Shredder
GBC Black Paper Shredder
Three Colors
The GBC paper shredder, model number 1757394, has a 19 x 10.8 x 18.6 inches. It is available in black, blue and silver colors and has a low price. This personal paper machine is ideal for a single user. It is made of quality materials, so you can use it for a long time.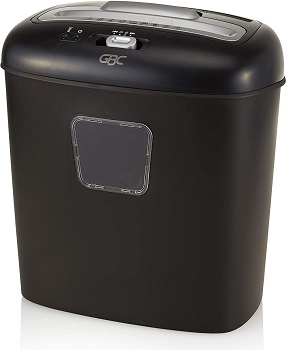 Super Cross-cut Shredder
This paper shredder is able to cut paper, small paper clips, staples, CDs, DVDs. Also, it can shred unopened junk mail. The GBC shredder cuts the paper into two directions, so it is impossible to read the shredded sheets. The security level is P-4.
Quickly Shredding
The GBC personal paper shredder shreds the papers quickly. You can put 12 sheets per one pass, which is a high capacity for a personal paper shredder. This personal paper shredder machine continuously runs for 4 minutes, then it needs to cool down.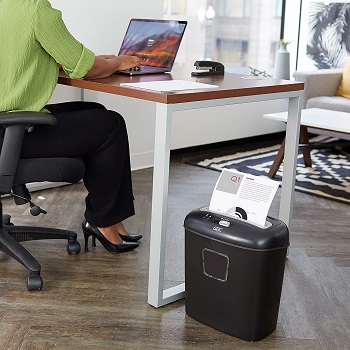 Lift-off Waste Bin
Through the transparent window, you can see if the bin is full. You need to remove the shredder's head and then empty the bin. It is a lift-off waste bin with maximal 5 gallons of capacity. The LED indicators detect when the bin is full, this feature prevents paper jams.
Highlighted Points:
low price for very quality paper shredder
black, blue and silver colors available
super cross-cut for top security
it works quickly and has a 12-sheet capacity
transparent window for easier emptying
Best Big Personal Paper Shredder
Ezbasic E01C Paper Shredder
Compact & Stylish
The Ezbasic E01C paper shredder is a bit large, but compact personal device, it fits under a desk or workstation. There are 14.93 x 7.45 x 13.46 inches. It is perfect for light use at your home or in a small office. You can feed it with paper, credit cards, staples and small paper clips.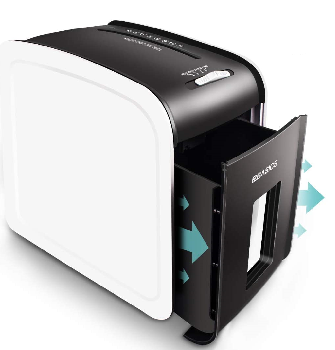 5-Sheet Capacity
You can put 5 sheets into this paper shredder at the time and one credit card. Ezbasic runs continuously for 5 minutes. Then you need to leave it for 30 minutes to cool down. The bin capacity is 3.1 gallons, it is easy to empty is, this is pullout bin type.
Not For Sealed Envelopes
There is no worry about sensitive documents, this personal paper shredder meets high P-4 standard. So feed the shredder with your bills, bank statements, ATM receipts and other sheets with private information. But, don't put sealed envelopes into the shredder.
Ultra-low Noise Design
When the Ezbasic paper shredder runs, it doesn't produce a loud noise. The noise level is 58 decibels. This is the sound of normal people's conversation. It won't distract you during your work. The special cutter design prevents paper jams. Also, you don't have to lubricate this shredder.
Highlighted Points:
ideal for personal and home use
the pullout bin makes emptying easier
use it for confidential documents
it maintains a quiet work environment
the required maintenance is minimal
Things To Know About Personal Paper Shredders
The personal paper shredder offers a bit different features than office or commercial paper shredders. They have different sheet capacity, size, bin capacity and run time.
Run Time – Before purchase, always check the run time. Every paper shredder requires a cool-down period. The shredders for home use or personal shredders are able to run a few minutes. They shred for 2 minutes, 5 minutes or even 10 minutes.
Sheet Capacity – If you need to shred papers rarely, you don't need to buy a high-capacity paper shredder. The best sheet capacity for personal paper shredders is from 10 to 20 sheets at the time. That is enough for any home or personal use.
Bin Capacity – Just like the sheet capacity, you don't have to look for high bin capacity. When the paper is shredded, it takes a lower volume in the bin. Many household shredders have lift-off head, you need to remove it and then empty the bin. The 10-gallon bin or below is enough for personal use.
Personal Paper Shredder Size – The personal or household paper shredders appearance is smaller than office or industrial paper shredders. Also, they aren't so heavy. But some personal paper shredders have casters, if you need to move the shredder often, consider that feature.
Jam Reverse Feature – Sometimes, your paper shredder will stop working because of paper jams. That means the paper stuck into the shredder. Many paper shredders have a jam-proof feature, so the device automatically reverses the motor and clear the jams. Some shredders have a manual reverse function, which means you need to clean the jams by pushing the button.
Final Verdict
These household/personal paper shredders have quality features, but we recommend the Wolverine paper shredder. It is a micro-cut paper shredder with a high-security level, 6-sheet capacity and ultra-quiet performance. If you require silence during your work, read the post about the best quiet paper shredder on the market. The most quality shredders are the professional paper shredders, they feature advanced characteristics.