Are you looking for elegant paper shredders?
If you are, then you should consider the white paper shredders. They will fit into modern offices and homes. Here we choose the best six white paper shredders with quality features. Learn more about them in a buying guide, then you'll be able to choose the best one for you.
Our Top Picks
Best 6 White Paper Shredders
BEST OF BEST WHITE PAPER SHREDDER
Aurora Professional Grade
Micro-cut Paper Shredder Type
Aurora AU1060 Professional paper shredder is one of the top-rated paper shredders on the market. Aurora is 20 inches high and 11 inches wide. It weighs 24 pounds. The shredding type is micro-cut, so it cuts the paper into very small pieces, 5/64 by 15/32 inches.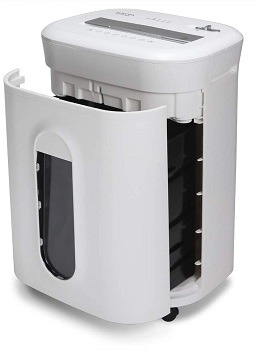 High-Security Level
The micro-cut paper shredder cuts the documents diagonally from both corners, so it is almost impossible to read the shredded paper. The Aurora white paper shredder has a high-security level, it is P-5. Use this device for highly confidential documents.
Home & Office Use
This white paper shredder is able to cut credit cards, small paper clips and paper, of course. The run time is long, the Aurora has a continuous run time of 60 minutes. It has 10 sheet capacity and the bin capacity is 6 gallons. Because of these features, it is best for home and office use.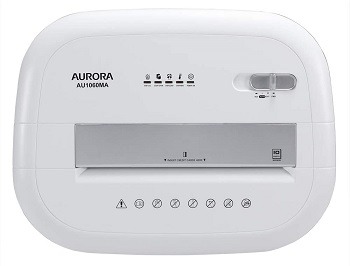 Useful LED Indicator
On top of this white paper shredder is an interface with LED indicators. They show the bin capacity, power on/off, if the door is open, overheating and overloading. You can react on time if the device is overheating. The reverse function prevents paper jams. The warranty lasts 1 year.
Highlighted Points:
micro-cut shredder offers high data security
LED indicators will turn on if there is overheating/overloading
the continuous run time is 60 minutes
useful for home and office use
shreds paper, credit cards and paper clips
BEST CROSS CUT WHITE SHREDDER
Ezbasic 5 Shredder
Medium Security Level
The Ezbasic paper shredder is a cross-cut paper shredder. The security level is P-4, so when this device shreds the papers, it is very difficult to assemble it and read. You can feed the Ezbasic with credit cards, bills, bank statements and other papers with sensitive information. The price is affordable.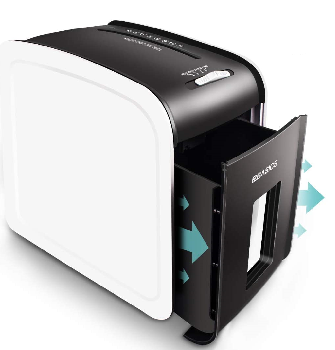 Ideal For Home Use
The shredding speed is 5 feet per minute. This white paper shredder is a great choice for your home, the continuous run time is 5 minutes and the cooling down period lasts 30 minutes. The dimensions are 14.93 x 7.45 x 13.46 inches- It is compact and it will fit under your work desk.
Easy To Maintain
It is easy to maintain Ezbasic cross-cut shredder. The bin capacity is 3.1 gallons, so you just need to empty it when the bin is full of shredded papers. You don't have to oil this white paper shredder. But you can wipe it with a dry cloth and remove the dust from it.
Safety Features
Turn on the auto mode, then the shredder will automatically start working when you put the paper next to the opening. If there is a jammed paper, you can clean it with manual reverse. If the Ezbasic working and start to overheat, the shredder will automatically shut off. It is very safe to use.
Highlighted Points:
good for home and small office
medium security level with cross-cut shredding
auto-start and auto-off features
small bin capacity
shreds papers and credit cards
affordable price
BEST MICRO CUT WHITE SHREDDER
GoECOlife Micro-cut Shredder
GoECOlife Paper Shredder Design
The GoECOlife GMA120P micro-cut paper shredder is available in two versions: the model with 10-sheet capacity and 12-sheet capacity. There are two colors, a white body and on the top is a grey color. The dimensions are 13.1 x 9.3 x 16.9 inches. The four casters make mobility much easier.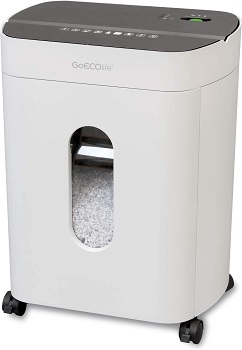 Good Sheet Capacity
This white paper shredder has an average 12-sheet capacity. The DIN security level is P-4. The shredded paper is very small and it is impossible to read it. If you need to shred sensitive documents, the GoECOlife white micro-cut paper shredder will help you with that task.
Low-noise Operation
The bin capacity is 4 gallons, so you don't have to empty it so often. GoECOlife runs quietly and because of that, it won't disturb you while you working. If you use it in the office, it isn't annoying for your co-workers. This white paper shredder is able to shred paper, credit cards and staples.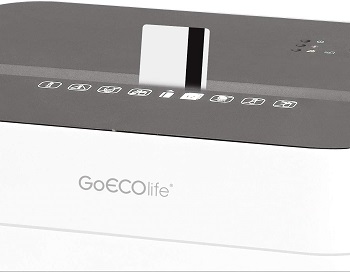 Self-protect Features
This GoECOlife micro-cut paper shredder has overload and overheat indicator. If the bin is full, it will turn on. If the motor start to overheat, the indicator will detect that and the device will automatically shut down. That feature is very useful and prolongs motor life. The price is higher.
Highlighted Points:
micro-cut paper shredder
it doesn't produce high noise
overload and overheat indicator
higher security level
small casters for easier transport
BEST FOR OFFICE WHITE SHREDDER
HSM Pure Shredder
Very Expensive Item
The HSM Pure 530 paper shredder has is a pricey item. It is a strip-cut shredder type. Depends on your needs, you can choose the model with higher sheet capacity and bin capacity. This model has a high 30-sheet capacity and the bin capacity is 21 gallons. With these capacities, it will fit perfectly in a larger office.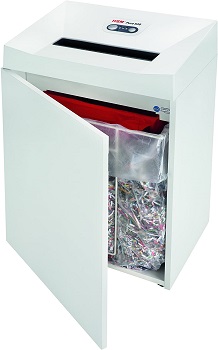 Not Just For One User
The security level isn't high, it is P-2, which is the basic level. It can be used by 1 to 6 users. The cutting blades are made of quality steel and the manufacturer gives the lifetime warranty for them. In the standby mode, it produces low power consumption.
Anti-jam Technology
This useful feature has overload protection and auto-reverse function. These features prevent jams when the wastebasket is overloaded. That doesn't mean that this white paper shredder will work faster, it saves the device from issue. When HSM works, the noise level is optimal.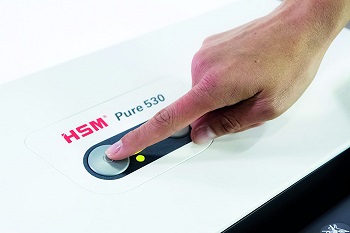 Energy Control System
The HSM Pure white paper shredder features the Energy Management Control System. This feature automatically turn off the device, if it isn't used for 3 seconds. This paper shredder has larger dimensions: 14.25 x 19.50 x 28 inches. It isn't light, there are 60 pounds and the HSM doesn't have casters.
Highlighted Points:
quality white strip-cut paper shredder
large sheet capacity (30 sheets)
basic security level
automatic reverse and overload function
Energy-efficient paper shredder
BEST COMMERCIAL WHITE PAPER SHREDDER
Bonsaii EverShred Pro Shredder
Top-security Paper Shredder
The Bonsaii Evershred pro paper shredder has an elegant design. It is a high-security micro-cut paper shredder, it has a P-5 level. It is able to shreds 6 sheets at once. Use it for confidential documents, because it will shred it into very small pieces. After that, they are unreadable.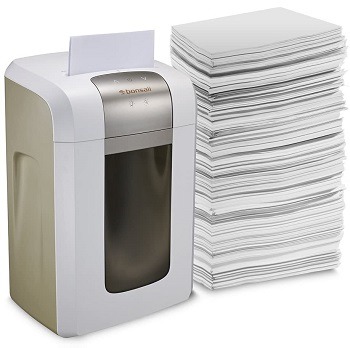 Long Continuous Run Time
It can shred the paper, staples, clips, CDs and DVDs. Bonsaii produces ultra-low noise up to 58 decibels. The shredding speed is 6.5 feet per minute. This heavy-duty device has a continuous run time of up to 60 minutes. The patented cooling system provides that long work time.
Good Bin Capacity
The Bonsaii features a bin of 4.2 gallons and there is a large transparent window. So, you can see when it is time to empty the bin. When you pull out the bin, the paper shredder will stop working. This white commercial paper shredder requires 10 minutes only to cool down.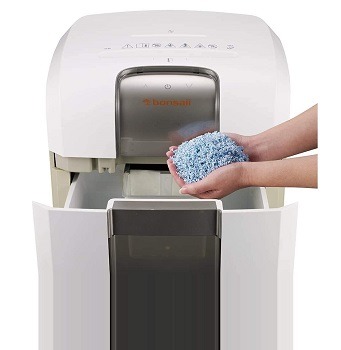 Paper Jam Proof Technology
Bonsaii features auto start features and a manual reverse function. So, if you put too many papers into the machine, it will stop working until you move some papers. The LED light indicator will alert you if there is overheating or overloading. Move it easily, there are sturdy castors.
Highlighted Points:
designed for heavy-duty tasks
long continuous run time – 1 hour
transparent bin window
thermal protection feature
no jams with manual reverse function
ultra-low noise operation
BEST LARGE WHITE PAPER SHREDDER
Formax FD Paper Shredder
Large Dimensions
The Formax paper shredder is a big product, its dimensions are 26 inches in height, 16 inches in width and 14 inches in depth. It is very heavy, there are 88 pounds. It has castors, so it is easy to move it from one place to another. The price is high.
Not For Sensitive Documents
Formax has a wide feed opening, it is 10.6 inches. At once, you can put 21 to 23 sheets in this white paper shredder. The cutting method is strip cut. The security level is P-2 which isn't so high. Don't feed it with paper that contains sensitive and private information.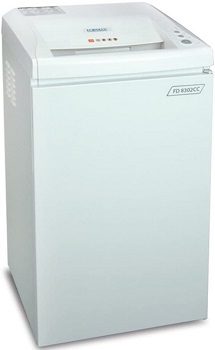 21 Feet Per Minute
This large paper shredder is good for paper, staples, clips, credit cards, CDs and DVDs. It has a powerful motor. The shredding speed is 21 feet per minute, which is really fast. The bin capacity is 9.2 gallons. if you forget to close the door and turn on the device, it won't work.
Many Useful Features
The continuous run time is more than 30 minutes. If you looking for a powerful office paper shredder, consider this model. The auto-reverse option clears the paper jams. The AC motor produces minimal noise, you can work in silence. The auto sensor will stop the motor if the bin is full.
Highlighted Points:
large and expensive paper shredder
strip cut paper shredder
fast paper shredder
long run time – more than 30 minutes
powerful and efficient AC motor
Things To Know About White Paper Shredders
Before you buy a paper shredder, you need to know some terms, so you can find the best paper shredder for your requirements. This buying guide contains some basic information, which is useful to know.
Different Cutting Ways – So, there are some features that good paper shredder should have. The paper shredders have different cutting ways, like micro-cut, strip-cut and cross-cut. The strip cut is good for non-sensitive documents, while the micro-cut is ideal for confidential papers.
Jammed Paper – Because of a few reasons, the paper can stuck into the shredder. Some models feature anti-jam technology, so there is the reverse mode which will reverse the paper and shred it again. It isn't necessary to disassemble the shredder by yourself.
Size & Capacity– The shredder size depends on amount of paper you need to shred. For home, choose the smaller sized paper shredder with lower capacity. If you work in a large office with ten or more people, the ideal is office/commercial paper shredder with higher sheet and bin capacity.
Auto Features – If you buy a paper shredder with automatic start and stop, this feature will save power consumption. Also, it is very practical, especially if you put the papers and forget to turn the device off. The paper shredders with auto features are more energy-efficient products.
Not Just For The Paper – You don't have to use a paper shredder for paper only. These machines are able to shred the staples, paper clips, credit cards, CDs and DVDs. But, before use, read the instruction, some models aren't designed to shred all these things.
Final Verdict
After many hours of research, the best white paper shredder is Formax FD paper shredder. It features a strong AC motor, high sheet capacity, long continuous run time and it is very fast. If you are interested in the strip-cut method, check out these models in the post about the best cheap paper shredder. If the noise is an important factor for you, read the review of the best silent paper shredders.