Do you want to buy a handheld paper shredder?
In this review, find out more about these small devices. Our buying guide explains why should you go with them, how to use them and more about their specifications. We picked models we think are one of the best on the market and described them so you can see how they work and what makes them good.
Our Top Picks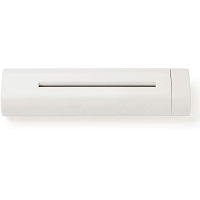 Muji Handheld Shredder
OVERALL RATING: ★★★★★
Muji shredding machine is made of quality material and manual use provides you optimal control over cutting.
Jump To Review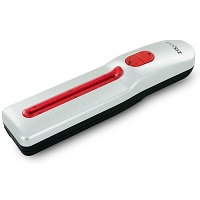 Ziszor Handheld Shredder
OVERALL RATING: ★★★★☆
This is a lightweight deivce capable of shredding two sheets per single pass and you can carry it anywhere.
Jump To Review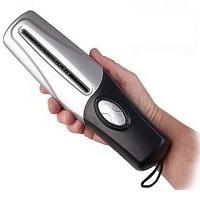 Kikar Handheld Paper Shredder
OVERALL RATING: ★★★★☆
Kikar is a USB or battery operated shredder you can carry around with reverse and forward buttons.
Jump To Review
What Do We Mean By The Term "Handheld"?
They aretypes of shredders for cutting paper into small pieces, small enough to fit in your hand. Furthermore, they are also very easy to use. There are a few different types devices that can fit in your hands available on the market.
Electric Devices
You can use electric versions only in spaces with easy access to electricity. It usually features a long device with a handle, buttons for operation and an opening slot for feeding the paper. The paper then goes through blades ad falls out on the other side. You have to hold this machne above a bin to prevent a mess because most of them don't have their own bin.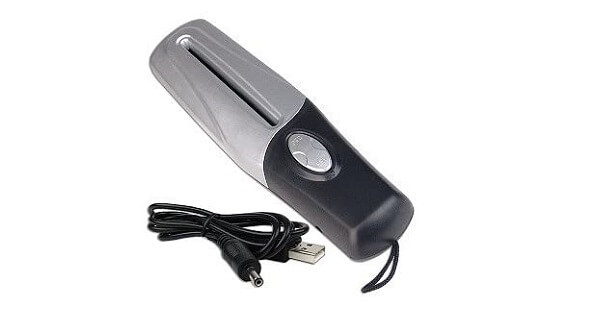 USB & Battery-Powered Devices
Another type is battery-powered one that can also be plugged in by a USB cable. It is otherwise similar to a simple electric model, featuring a handle, a throat for feeding paper, and blades, without a bin.
Manual device
The last type is also very small and features knobs you have to turn for it to shred paper. This mini version also has a shredding head with blades and an opening for feeding the paper. Under the shredder head, there is usually a transparent plastic bin that catches the particles.
Why Would You Need A Device That Fits In Your Hands?
There are many benefits to having this device which makes it a great shredding option to have in your home, RV, small apartment, car, etc.
Protect Your Identity – By shredding paper into smaller pieces and particles, all your personal information stored on bills, mail, bank statements, etc will be destroyed so that no one can use your personal data and identity against you.
Protect Sensitive Business Data – Likewise, it can also shred sensitive business data into small pieces, protecting any confidential information before you can safely dispose of it.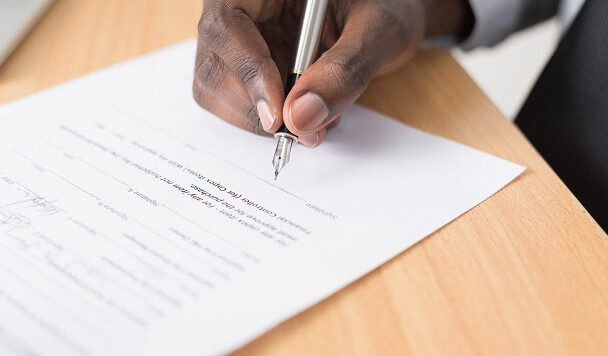 Portable – Its mini and small size is perfect for portability. It does not take up much space and is lightweight, sometimes even powered by batteries so that you can use it wherever you are.
Save Time And Space – It will save you both time and space by shredding paper you no longer need faster than you could do by shredding it by hand.
Small Size For Storage – Apart from being small for portability, it is also great for storing when not in use. It fits into cabinets, wardrobes, suitcases, under the desk, inside a drawer, and anywhere else.
How To Choose The Best Model For You
A shredding machine you can hold in your hand has different features you have to consider before deciding on the model for yourself.
Comfortable Size
Check out the measurements of the model to ensure you have enough space and that it is comfortable for holding. Most of them are going to be under 10 inches long or just slightly above.
Cutting Materials
They are not strong enough to cut through materials other than paper. Do not use them for shredding plastic credit cards, CDs, DVDs, staples, paper clips, etc.
Type Of Cut
While there are usually three cutting types available on the market, thoese models can only cut paper into strips. The strip-cut cuts paper into long strips with different widths, depending on the model and manufacturer. This is enough for shredding documents that don't contain sensitive, confidential information.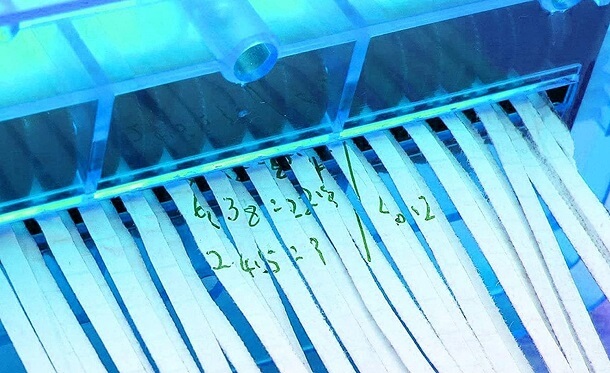 Sheet Capacity
Handheld shredders are much weaker than others, that is why they can only shred up to two or five sheets of paper per pass.
Bin Capacity
Models with bin are usually big enough to fit on your desktop, measuring around 1 gallon. Also, some models come with a small transparent plastic bag attached to catch the shredded paper, also called a disposable catch bag.
Run Time
Handheld shredders can only fit a small weak motor which means that their run time is extremely low, up to a few minutes. Do not run it for longer than recommended as it might overheat and break down.
Noise Level
Some low-noise models can shred paper as quietly as 60 decibels which is the same volume as normal conversation. Also, as the run time is short, you won't have to be exposed to the shredding noise for too long.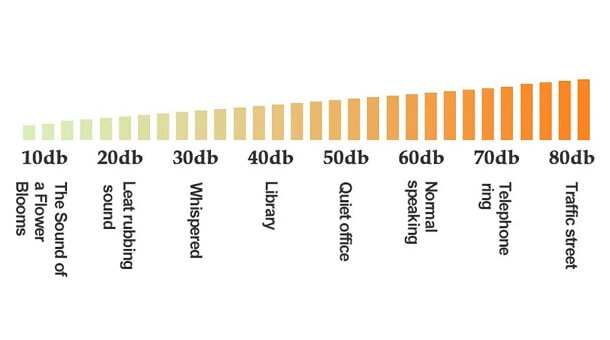 Reverse & Forward Functions
Electric models meant for holding in your hand usually have buttons for operation. These buttons are for reverse and forward functions. The forward function shreds paper while the reverse setting is of great help when a paper jam occurs.
Which Version To Go For?
If you are plan to use this device in the same place in your home, close to the plug, an electric model will suffice. If you want the luxury of portability, pick the one powered by batteries. If you want a model that has a bin, choose the manual option.
Best 4 Handheld Paper Shredders
Muji Handheld Shredder
SPECIFICATION:
Security Level: P-1
Shred Type: Strip-Cut
Dimensions: 7 x 1.9 x 1.4 inches

Weight: 122 Grams
Bin Capacity: None
Sheet Capacity: 2 sheets
Authentic Product
The Muji is available in white color. It is pretty small, there are 7 x 1.9 x 1.4 inches. Also, Muji is lightweight, its body is made of quality plastic and the blades are made of steel.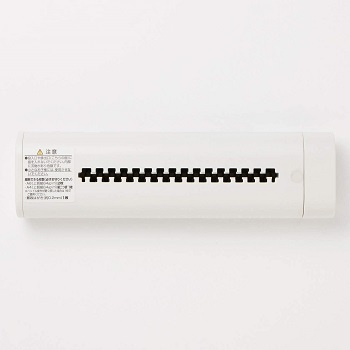 No Battery
This model doesn't require a power source, like a battery or USB. You control it manually by turning the knob on the side. That's how this white shredding machine works. It is able to shred two papers at the time, but you need to fold them.
Thin Paper Only
The Muji isn't intended for thicker material, which includes letter paper, printer paper, credit cards, cardboard and other, so you can only shred thin paper, like receipts.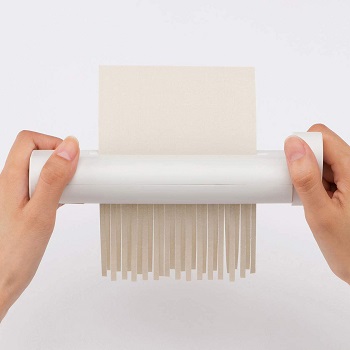 Strip-cut Shredder
Muji shreds paper into long strips with the width of each strip around 1/8 inches. That means it doesn't provide a high-security level. Don't shred sensitive documents with your personal information with it.
Overall:
Safety:
Power:
Size:
Weight:
Funcionality:
PRICE
approx: $20 – $40
determined by online offer (Amazon, Walmart, eBay) and seasonal sales
Highlighted Points:
made of quality materials – plastics and steel
intended for a thin and small paper like receipts
it provides a low-security level
small enough to store it in the drawer
Ziszor Handheld Shredder
SPECIFICATION:
Security Level: P-1
Shred Type: Strip-Cut
Dimensions: 12.4 x 4.5 x 2.4 inches

Weight: 1.5 pounds
Bin Capacity: None
Sheet Capacity: 2 sheets
Compact Item
The Ziszor 33050 is a practical device, it has 12.4 inches of length, 4.5 inches of width and 2.4 inches of height and 1.5 pounds of weight. Therefore it is portable and easy to carry around. You can put it in your bag, backpack or suitcase.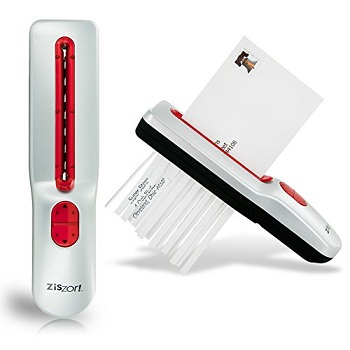 Cordless Shredder
The feed slot is 4 inches wide, so you need to fold the paper before shredding. The max load is 2 sheets at the time. It doesn't have a cord, but it is anelectric machine that requires four AA batteriess, which are included in the package.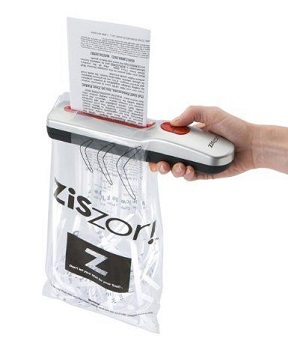 Low-Security Level
Ziszor is ideal for travelers and people who need to shred junk mail. It isn't designed for heavy material like credit cards or other thick material. It is best for collected receipts. This is a strip cutter that shreds paper into strips of 1/4". The security level is low, so be careful with your sensitive documents.
Overall:
Safety:
Power:
Size:
Weight:
Funcionality:
PRICE
approx: $15 – $30
determined by online offer (Amazon, Sears) and seasonal sales
Highlighted Points:
battery operated machine
a light-duty device intended for thin paper
the batteries are included in the package
Kikar Handheld Paper Shredder
SPECIFICATION:
Security Level: P-1
Shred Type: Strip-Cut
Dimensions: 11.3 x 3.9 x 2.5 inches

Weight: 15.2 ounces
Bin Capacity: None
Sheet Capacity: 2 sheets
USB/Battery Item
The Kikar is a mini cutting machine tha measures 2 inches of height, 4 inches of width and 11 inches of length. The package includes instruction, the device and USB to DC power cable. You can use USB port or you can put four AA batteries in it.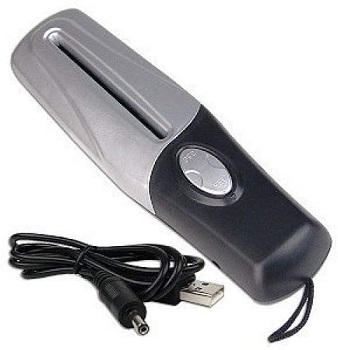 Carrying Strap
On the end of this small device is a carrying strap. You can put it around your wrist, so if it accidentally falls from your hand, it won't fall on the floor. Kikar shreds paper into long strips, so it isn't secure for sensitive documents.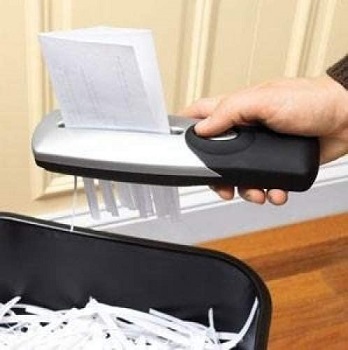 Reverse Button
The feed slot is 4.5 inches wide so you need to fold the paper before shredding. There are two buttons on the personal shredding machine, forward and reverse button. If the paper jams, use the reverse button and release the paper easily. Untile the model aboce, here batteries aren't included in the package.
Overall:
Safety:
Power:
Size:
Weight:
Funcionality:
PRICE
approx: $20 – $60
determined by online offer (Amazon, eBay) and seasonal sales
Highlighted Points:
USB or battery operated device
two buttons – forward and reverse
put the carrying strap around your wrist
affordable price
Senreal Handheld Shredder
SPECIFICATION:
Security Level: P-1
Shred Type: Strip-Cut
Dimensions: 7.3 x 4.2 x 6.1 inches

Weight: 1.06 Pounds
Bin Capacity: 1.5 liters
Sheet Capacity: 2 sheets
Personal Use
Senreal is available in multiple colors, you can choose between orange, red, blue and black. This device is 6.7 inches long, 4.1 inches wide and 5.9 inches high. It is easy to carry it with you or store it, it doesn't take much space.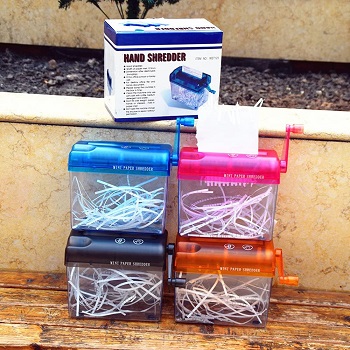 Quality ABS
The desktop paper cutter comes with a 4.8 inches wide feed slot. If you want to shred A4 format, you need to fold it. Senereal is designed for paper, bills, receipts, PP plastic and other light and thin material. This shredder is made of durable ABS material and metal.
Long Strips
You can shred max 2 sheets of paper per single pass. Don't put the credit cards, paper card or thick paper into it. Like previous models, Senreal shreds paper into long strips, so don't shred confidential documents with it if you want to keep your privacy.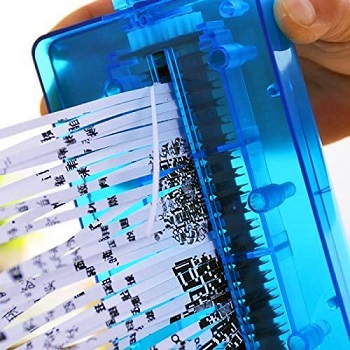 Small Handle
On the side, there is a small handle. You need to turn it and shred the paper. This device doesn't use a power source, you have to turn the blades by hand. It is ideal for home use and the people who don't have a big amount of paper to shred.
Overall:
Safety:
Power:
Size:
Weight:
Funcionality:
PRICE
approx: $20 – $60
determined by online offer (Amazon, eBay) and seasonal sales
Highlighted Points:
made for home or office use
it is made of durable and quality materials
available in multiple colors
shred the paper manually
What Can You Use Instead?
Besides shredding paper with the help of these small devices, there are some alternative approaches popular all over the Internet. Among the creative approaches, here are the ones that are mentioned most frequently:
Burning your documents – setting all your papers on fire will help you get rid of data on it but you will have to deal with ashes afterward
Turning paper into pulp – to do this, soak the paper in water and bleach, but be careful with dangerous chemicals and be careful when getting rid of it due to leaks
Using shredding scissors – this is a great alternative that includes a small tool with multiple blades allowing you to cut paper containing sensitive and confidential information
Hire a professional shredding service – this is great if you have a larger amount of paper to get rid of at once without having to do the shredding yourself
How To Maintain It Properly?
While these models (which are usually strip-cut models) do not require as much maintenance as micro-cut and strip-cut models, you should still take care of them to prolong their life. For electric models with a reverse setting, run it from time to time to release any paper and dust particles stuck between the blades. To keep the blades clean and smooth, you should oil them from time to time. For instance, every time you empty the bin or discard the disposable plastic bag full of shredded pieces.
Final Verdict
There aren't many models like these on the market. The best one from this list is the Muji shredder. It is simple to use, intended for thin papers and it doesn't require a power source. If you are interested in small and convenient versions, consider the best portable shredders post. Also, there are more similar models in the review of mini paper shredders.