Are you an avid reader who can bring the book to life with your magic voice?
Did you consider making money from that?
It's time to turn your hobby into a job and get paid to read audiobooks.
Here is a complete guide on how to make money reading audiobooks, what skills and equipment you should have and other useful advice.
How Do I Get Paid To Read Books Aloud?
Reading aloud is a skill.
Today, it is a highly sought skill that can be well paid for. You should have a clear speaking voice and some basic equipment.
Then you can provide your services to major audiobook platforms and publishers and independent authors.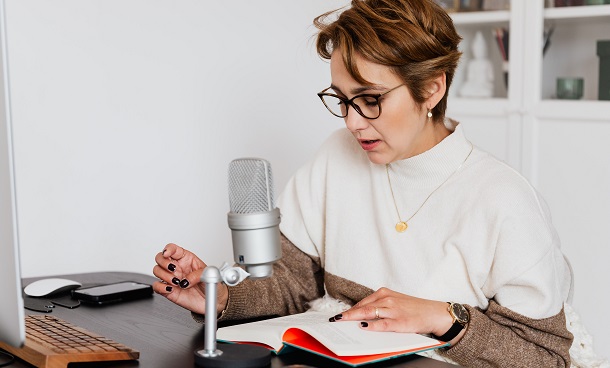 The audiobook industry has increased its growth in recent years. Listening to audiobooks become a preferred way of consuming books.
Did you know that there are 2700 books published each day? So, here's your chance.
What Skills Do You Need?
It isn't just reading the words on the page, you must be able to bring a book to life for the listener. Just like for any other job, you should possess some skills.
Ability to differentiate voices, accents and dialects – You should be able to find a way to make character voices all sound distinct. Knowing how to pronounce each word or phrase correctly and clearly.

Background in acting – If you have some experience in acting, it will make a huge difference since the narration is an acting gig. You'll embody different characters, so you should be able to tell their stories.
Stamina – It may seem simple – you're sitting down for a few hours and reading a book. But these hours will exhaust you. Many audiobook readers record about six hours a day. You should physically be able to do that, here comes breath control, voice volume, etc.
Editing – Basic editing skills are required. You should be able to record and edit each finished chapter.

Research skills – It is important when you aren't familiar with the country name, character's name or just some strange word. Doing your research will make you a better narrator.

Also, many book readers work as freelancers, so you need to be organized, and professional, keep track of invoices and contracts, meet deadlines, etc. It is very important to manage your time wisely, so you'll be more efficient.

Prior experience isn't strictly necessary, however, it will help you to find more clients. Don't get discouraged if you just starting. Many platforms require you to submit audition pieces, so your actual skills are more important.

Improve Your Skills

There are two simple ways how to improve your reading skills.

First is practice, practice, practice. A lot of practice will make you master. As you get more experience and more confidence, you'll become a better reader. Also, there is a good tip – go to the library and pick a book randomly. If you can read about topics you don't like, then you are a good candidate for this job.

Secondly, learn from the pros. It is just like in any other field. There are professionals you can learn from. So listen to your favorite narrator and see where you can get better.

What Equipment Do You Need?

Here is some equipment you need to have to create quality audio.

You should have:

Laptop or PC
Good USB microphone – the mic is the most important part of your home studio equipment so you should check the best microphones and not limit your budget for it

Pop filter (it reduces hiss, pops and makes your sound cleaner)
Audio editing software (for example Audacity is free)
Microphone stands
Soundproofing materials (if you have a home studio)

How To Record Yourself Reading Book?

We already mention the skills and equipment you need to have, so let's check how to record your first book reading.

Create a good recording environment – You'll need to set up a recording studio to provide quiet audio. When you start recording from one place, the entire book should be recorded from that place. Because if you decide to change the room, that will change the quality of the record. Eliminate everything that can make noise. Once you set up the perfect environment, test it again and again.
Set the microphone – Keep your microphone about 6-8 inches from your face. Come closer when you have to whisper and pull back when you have to shout or scream. You can sit upright or stand, whatever is comfortable for you. Find more useful advice in the video.
Read the entire piece before recording – It is best to read the entire book to understand the characters. You may find information on how to read certain scenes. You should know your project perfectly.
Practice each section  – Not only you should emphasize certain words, and get the right tempo, but you need to provide each character sounds right.
Edit your sound the best you could – As mentioned, there is plenty of free audio editing software out there, so learn how to edit your sound. You should get rid of unwanted sounds.
Export lossless audio – Export your audio to Free Lossless Audio Codec (FLAC) which will help you to maintain quality as you export.

Sites to Get Paid To Read Books

First, you need to research the platforms looking for readers. When you select the site, you should create an account, write a portfolio and audition for projects.

Each platform has its requirements, so get all information you need before choosing the site. Here are some of them:

How Much Do Book Readers Get Paid?

The amount of money you can earn as an audiobook narrator will depend on several factors such as your experience, the publisher you work for, your working hours, etc.

Of course, if you just starting with this job, you'll earn less than pro audiobook readers. As you gain more experience, you'll start to earn more.

Many beginners start at $10 per hour (that's a minimal price). In beginning, start with minimal price and build up your portfolio. When you become more experienced in this job, you can get $100. Of course, professionals earn up to $250 (and more) per finished hour.

What Is A PFH Rate?

Per finished hour or PFH is a common payment term that is used in the audiobook industry. That means audiobook readers are compensated for each hour of finished recording. "Finished" means recorded and edited.

There we come to this tricky part of this job. You will get, for example, $100 per hour but that hour includes your preparation for recording, recording process and after that, editing. If you need two hours to record one hour of the audiobook, you'll be paid for one hour. So you will be paid per hour but you'll actually spend much more time than an hour.

After recording, you'll need to edit a record which includes cutting parts where you did a mistake in your narrating, every of your breaths, unneccessary break off and other fails. You might need to record some parts again.

Meaning, that you'll be paid depending on the length of the text you're narrating, not for editing.

How To Apply On The Site?

We mentioned the most popular sites for audiobook recording. Basically, they all work on the same principle. Choose the site you want, sign up with your email and start applying for audiobooks you want to read.

Create a Profile

After signing in, you should create a profile that details your acting and audiobook experience. A complete, professional-looking profile includes an image. You can choose a picture of yourself in the studio, make sure it's a quality picture. However, many people avoid uploading their pictures because that can set expectations. if you are like that, a picture of your studio will be enough.

Provide a detailed description of your acting credits, achievements, social media, contacts, skills and knowledge, vocal range, etc.

Upload various samples, based on accents, genre and style. The more samples, the better. Make sure you deliver high-quality samples.

Audition

If the client chooses you, they will send you an invitation and that's it, you're ready for an audition. Record, edit and upload the sample they need and wait for feedback. If your sample is approved, then you can record the remainder of the project.

Final Verdict

Whether you are looking for a low-cost side hustle or a new career, you can get paid to read audiobooks. The audiobook business is thriving, so if you want to jump into that world, follow our tips and always see how you can improve your skills.