Are you interested in small paper shredders?
In this review, you will learn about small paper shredder benefits. We find the best small paper shredders, divide them into six categories, so there are compact shredders, small office shredders, small cross-cut/micro-cut and other paper shredders. In our buying guide, you'll find all the necessary information before purchase.
Our Top Picks
Best 6 Small Paper Shredders
Best Of Best Mini Paper Shredder
Fellowes P-35C Paper Shredder
Personal Use
The Fellowes P-35C paper shredder is 12.6 inches high, 13.8 inches wide and has a depth of 7.9 inches. It weighs 7.9 pounds, so it is easy to move it wherever you need it – under your desk, on the desk, in the corner of the room. It is small and fits everywhere.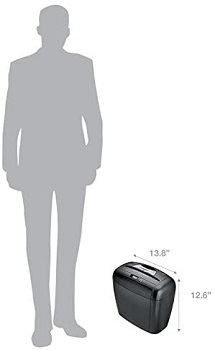 P-4 Security Level
This model shred the papers with the cross-cut method. The security level is P-4. It is also known as confetti cut or diamond cut paper shredder type. It is good for sensitive documents because it provides a medium level of security. it can shred credit cards, staples and paper clips.
Lift-Off Wastebasket
You can feed the Fellowes with five sheets of paper per single pass. The wastebasket capacity is 3 gallons. The bin has a lift-off head, so you need to remove the head and throw the shredded papers. Fellowes runs continuously for up to 2 minutes, then it requires a cooling down period of 20 minutes.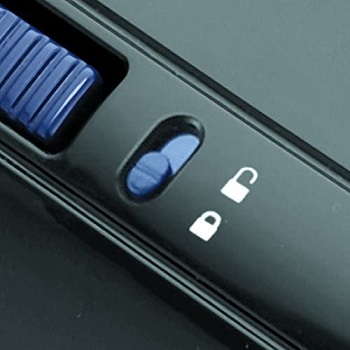 Safety Lock Feature
On top of the paper shredder head, you can find the safety lock button. When you lock the shredder, it won't work, that is safety features if you have kids or pets. The button will disable the shredder until you move it in unlock position. The price of this small paper shredder is affordable and the warranty lasts a year.
Highlighted Points:
it runs for up to 2 minutes before a cool-down period of 20 minutes
shreds the plastic credit cards, staples and paper clips
shreds five sheets of paper per pass with the cross-cut method
The safety Lock button locks the shredder for use
lift-off wastebasket with a 3-gallon capacity
Best Cross-cut Small Paper Shredder
AmazonBasics Paper Shredder
Low Price
The Amazon produces this AmazonBasic paper shredder. It has 12.10 x 7.70 x 15 inches. It is simple to move it wherever you need the shredder because it has 8 pounds. If you have a space on your desk, this mini paper shredder will fit. The price is really affordable.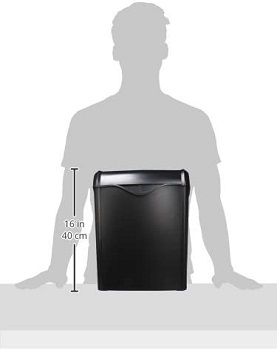 Auto Mode
This small paper shredder shreds up to 6 sheets of paper per single pass. Also, it destroys credit cards, CDs, DVDs. Before you feed the paper shredder, you don't have to remove paper clips or staples. If you switch the auto mode, the shredder will start and stop automatically.
Thermal Protection
If there is unshredded or partially shredded paper, use the reverse function. That function prevents paper jams and makes cleaning stuck paper easier. There is thermal protection if the AmazonBasics small paper shredder works too long. The device will immediately shut off.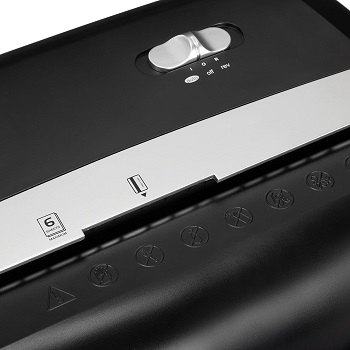 Easy To Maintain
It is easy to maintain this small paper shredder. You can buy lubricate sheets or lubricant. You don't have to do that more than once a month. AmaznBasics runs for up to 2 minutes and then it is 30 minutes off. The bin capacity is 3.8 gallons. It is not for sensitive documents, it meets the P-3 security level only.
Highlighted Points:
cross-cut paper shredder with low-security level
it shreds up to 6 sheets of paper per single pass
thee control-switch modes – on, off and reverse
short run time of up to 2 minutes
thermal protection prevents motor overheating
not designed for confidential documents
Best Home Mini Paper Shredder
GBC PS06-02 Paper Shredder
Strip-cut Type
The GBC paper shredder, number PS06-02, is the smaller paper shredder on this list. It has 11.3 x 6.1 x 12.6 inches and it weighs 5 pounds. You can put it on your desk, it will fit in any desk size. The GBC paper shredder is strip cut type, so it shreds paper into long strips.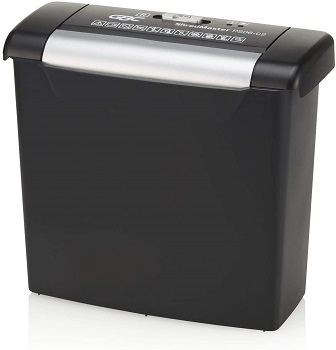 Low Sheet Capacity
Because of the strip-cut method, don't use this mini paper shredder for secure and confidential documents. It is designed for a small amount of paper. The maximum is 6 sheets of paper per single pass, but it is better to put 5 or fewer papers at the time.
Basic Security Level
The official security level is P-2, it is a basic security level. You can shred small paper clips and staples, but don't use it for CDs and DVDs. GBC mini paper shredder runs for up to 2 minutes continuously. The wastebasket has a small capacity of 2.38 gallons. The bin has a lift-off head.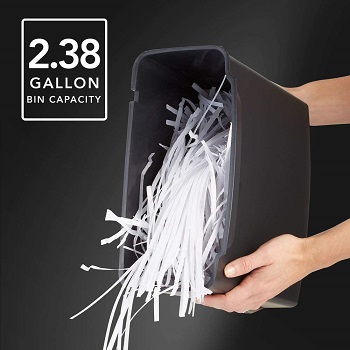 Manual Reverse Function
The GBC paper shredder has a manual reverse feature. If you put too much paper into the machine, paper jams occur. When that happens, use the manual reverse feature, it will reverse the blades and shred the stuck paper again. Also, the blades are covered, so you can't harm your fingers or hand.
Highlighted Points:
mini paper shredder for an affordable price
manual reverse function for paper jams
strip cut type for non-confidential documents
it shreds paper clips, paper and staples
low sheet capacity and bin capacity
Best Office Mini Paper Shredder
Bonsaii 237-B Paper Shredder
Portable Handle
Bonsaii 237-B paper shredder has 14.1 inches of height, 11.8 inches of width and 7 inches of depth. It is lightweight, there are 6 pounds. On top of the device, there is a portable handle, so it's easy to lift it and empty the bin. Through transparent window, you can see if the bin is full.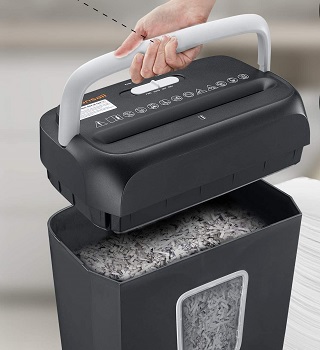 P-3 Security Level
The wastebasket has a higher capacity, 3.4 gallons or 13 liters. This cross-cut paper shredder shreds papers into tiny particles of 13/64 x 1-37//64 inches. The security level is P-3, so it's not for sensitive documents. It is able to shreds up to 6 sheets per single pass.
Credit Cards, Paper, Staples,…
When you feed this small shredder machine, you don't have to remove staples and paper clips. Also, you can shred credit cards, but just one at the time. Bonsaii runs continuously for 4 minutes before it needs to cool down for 40 minutes. It is good for small offices.
Overheating Protection
If the shredder runs over its limit, the motor will start to overheat and the device will stop working. Don't try to pull out the paper, just shut off the machine. Put it in auto mode, then Bonsaii will automatically turn on/off, which saves energy. Use manual reverse mode to clean up the jammed paper.
Highlighted Points:
it's a small home office cross-cut paper shredder
shred up to 6 sheets of paper per single pass
convenient small handle for easy bin emptying
the wastebasket has a capacity of 3.4 gallons
auto-start mode improves using the shredder
the reverse mode will clean up the paper jams
Best Desktop Small Paper Shredder
Aurora Paper Shredder
Cross-cut Shredder
Aurora AS420C paper shredder is a small desktop shredder machine. It measures 9 x 7 x 10 inches and weighs 1 pound only. It is available in grey color. This cross-cut paper shredder is able to shred paper and credit cards. But put only one credit card per single pass.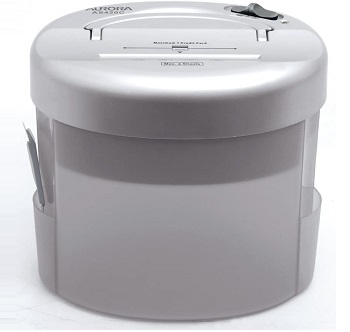 Quality Cutters
Inside the machine, there are cutters made of quality and durable steel. Before you put the paper into the feed slot, you need to fold it four times. The throat width is 45 inches. Aurora desktop paper shredder has a handle, so you can lift the head of the machine and empty the bin.
Three Modes
This mini shredder is able to shred 4 papers at the time. The wastebasket volume is 1.32 gallons or approximately 40 sheets of paper. You can choose between three modes – auto/on, off and reverse. When the device is on or in the standby position, the LED indicator is on.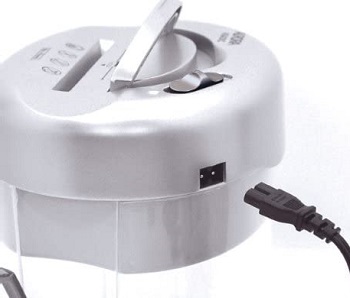 Detachable Power Cord
Aurora features manual reverse mode, so you can easily clean up if the paper is jammed. This mini paper shredder machine has thermal protection, so if the device starts to overheat, it will shut off immediately. The run time lasts for up to 2 minutes, then the cool-down time is required. Aurora comes with a detachable power cord.
Highlighted Points:
small and compact desktop paper shredder
it shreds paper and credit cards
three modes – auto/on, off and reverse
overheating protection prolongs motor life
the detachable power cord is included in the package
Best USB Mini Paper Shredder
Kikar Paper Shredder
Handheld Shredder
The Kikar is a small paper shredder, it is a handheld machine. You can take it and use it wherever you go, it is compact and fits in every bag. Its dimensions are 11.30 x 3.90 x 2.50 inches and this device weighs less than 1 pound. Also, the price is low.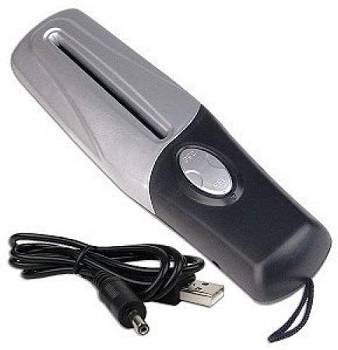 Strip-cut Type
The package contains Kikar portable paper shredder, USB to DC power cable and user manual. This mini shredder is great for people who travel a lot and for those who don't have much space. Kikar shreds the paper into thin strips, so it's not for sensitive documents.
Batteries Or USB
Kikar portable small paper machine is able to run on four AA batteries or a USB port. The feed slot is 4 inches wide. For easy control, there are two buttons: forward and reverse button. If paper stuck into the machine, switch the reverse button and shred the paper again.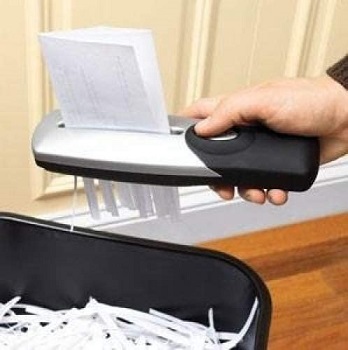 Fold The Paper
This portable small paper shredder has carrying strap. You can put it around your hand during shredding. it doesn't produce a loud noise, so if you use it in the office, it won't disturb your colleagues. You need to fold the paper before shredding and the Kikar can handle two papers at the time.
Highlighted Points:
USB or battery powered paper shredder
small and lightweight handheld shredder
it uses a strip-cut method for shredding
Kikar runs on 4 AA batteries if there isn't a USB port
quiet operation for a comfortable workplace
Things To Know About Small Paper Shredder
The main difference between this paper shredder type and other types is size. The small paper shredders have small sheet capacity, low bin capacity, lower price and other features. Check out if the small paper shredder is suitable for your needs.
Shredder Dimensions – These types of paper shredders are very compact and practical. They have small dimensions, so you can put that small paper shredder on your desk, under the desk, in your small office, home. It won't take much space if you don't have one. Also, small paper shredders are light and easy to move around.
Sheet Capacity – Small or mini paper shredder usually don't have large sheet capacity. You can find paper shredder with only two sheets per single pass. If that is too low sheet capacity for you, the small paper shredders can have from 1 to 10 sheets at the time. That is pretty enough.
Wastebasket Capacity – Because they are small, these paper shredders can't have large wastebasket capacity. It goes from 1 to 10 gallons. Also, if you buy a micro-cut paper shredder, it shreds paper into tiny particles, so you don't have to empty it often.
Small Shredder Purpose – The small paper shredder is designed for personal use, home office use or small office use. They are intended for people who don't have to shred papers regularly but occasionally. The small paper shredder is for a single user only.
Paper Shredder Price – The small paper shredder can have advanced features, that include silent technology, jam-proof feature, LED indicators and other. But usually, they have lower prices because of their dimensions. If you are tight with the budget, consider a small paper shredder.