Since people are nowadays moving a lot – for a new job, better rent price, new family, and more – moving companies are more than wanted.
However, there are still some companies that are not so successful in finding new clients. Why? Because today, the market is all about online impressions. If you don't have a business site, you only can stay in shadow.
But even businesses with official sites can't always attract customers because they are not easily found in search engines such as Google or Bing.
So how to get your moving company to appear in search engines? The point is in keywords for moving company. What keywords are we talking about? And how can it help your business to grow? You will get all the needed information so let's start!
Make A List Of Moving Company Keywords
After you make the base of your business website, it's time to fulfill it with quality content. What does quality mean? Content your potential clients are searching for. So what do they search for? This is where the keywords are coming into focus.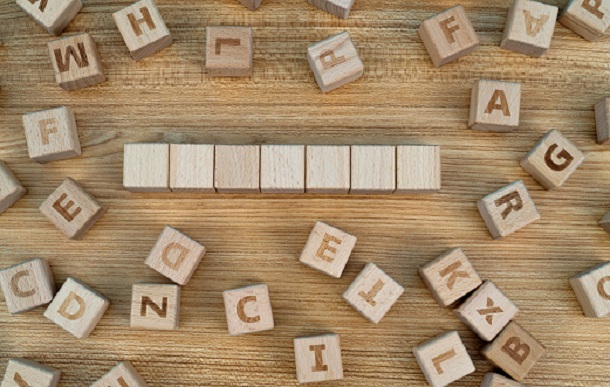 Simply to be said, keywords are the words people are googling.  And now your first task is to find out what words people are typing in Google or any other search engine when they want to rent a moving company.
How Can You Find These Keywords?
Using tools for exploring keywords such as Google Keyword Planner, which is always free so it's the best solution for both business and personal needs.
If you visit Keyword Planner, set up your language and location, and enter "moving company" in the search, you will get a list of many keywords related to the moving company term. It's what people enter in Google.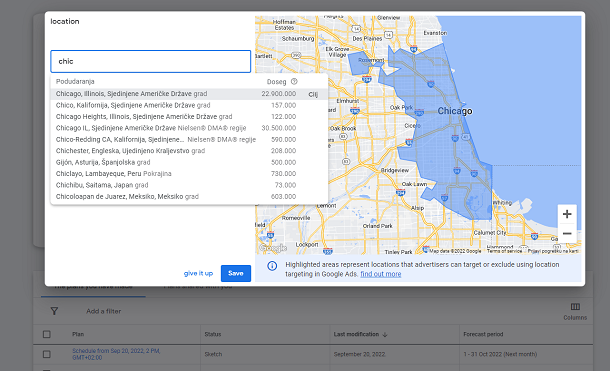 Note that the location signifies the area you want to target. If you want to attract customers from the whole country, you will set "USA" in the Planner. If your truck is ready to move people located in a few cities nearby, you will enter each of them. Then you will get what people in your area are searching for.
Now your task is to create content and insert these keywords. This way you help Google to find your site and offer it to people who are searching for a certain moving service.
What Keywords To Choose?
There will be a lot of keywords so you need to select those that you will use while creating pages. You need keywords for each page name and for the text body.
Your moving company site should include:
home page
service page
blog page
location page – if your business has multiple locations
Home Page
The homepage should include general keywords such as "moving company" and "movers". You should also consider keywords with local intent such as "local moving company", and "moving company near me" but it's not so necessary since when someone is googling "moving company", Google shows the businesses that are the nearest to their location.
Service Pages
When it comes to service pages, it's good to single out the keywords that describe the services. This way you will know which pages your site needs. For example:
piano moving service,
office moving company,
senior moving service and more.
Blog Pages
A blog on a business site is a great way to attract visitors. They will come to your site, read a useful post on something they have been searching for and, delighted with the content they just read, they will visit your other pages, and in the best circumstances, contact you to arrange your service. To make this happen, you need to write articles on topics related to keywords such as:
how to pack for a move
how to move cheap
how to move a piano
Location Page
Location pages are recommended when your business is working on multiple locations. To prevent Google gets confused by multiple locations mentioned on the same page, you should create multiple landing pages, each dedicated to each of your business locations.
Then you can use local keywords on each landing page, for example:
moving company in Chicago
Brooklyn movers
moving company Miami
What is Search Volume & Why It Matters?
Search volume is a value that signifies how often people search for a certain keyword. It's expressed by numbers. In Google Keyword Planner, you will see the numbers in the column "Avg. monthly searches". Some keywords have inquiries of 5000 while some of the others have 500 or less.
What does it mean? Which volume to consider?
It depends. The thing is that a higher volume means a lot of people are googling it. And then, your content has a better chance to be found by someone. However, since a high volume means this keyword is so sought-after, everybody will include it in their site content.
That means the competition is big so it's hard for you to stand out.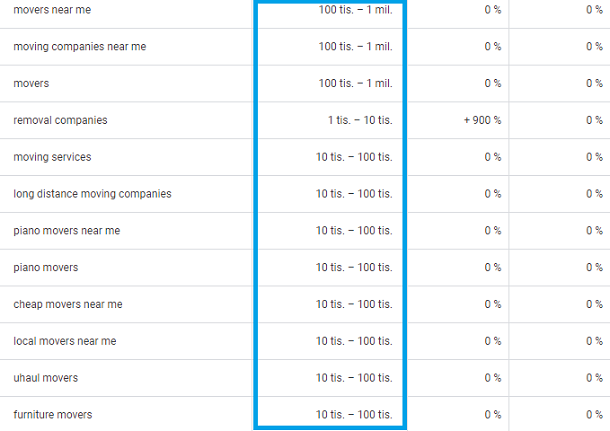 Therefore, if you are a beginner, it's better to choose low-volume keywords to rank well. With only high-volume keywords, you could get to about 20th place in the search results while with lower-volume ones, you could win the top 10 places.
Make Keyword Competition Analysis
After you complete your moving company keyword list, you should also make a competition analysis. What does it include?
It includes factors such as:
ranking position
load speed
SSL certificate
headlines
keyword density
user intent
backlinks
domain authority
When You Can Expect Results?
It depends on the keyword difficulty which means keyword volume and competition. As we said, in the beginning, it's better to focus on low-volume keywords with the small competition. Then your site might come in the top 10 within minimally 4 months and maximally a year.
If you want to rank for a high-competition keyword, you will probably need up to 4 years to notice your page rank position jump. But as your authority will increase and your business reputation will grow, you will get a better chance to rank for big-competition keywords, too.
As more quality content you make and as many SEO requirements your site/page meets, as sooner your site will achieve a good ranking position. So yes, there's not everything about keywords but you should consider on-page and off-page optimization tactics, too. Let's introduce these techniques.
On-Page & Off-Page SEO
On-page SEO refers to actions you do on a page of your site. Off-page SEO is what you do outside your site to make it rank well, achieve more visits, and overall success (popularity). Both on and off page actions have the same goal – to make your moving business gain more profit and become successful.
On-page SEO
What can you do on your site to make it popular so people can find your moving company online? Keywords are the first step.
As we've seen, choosing the right keywords for pages is the key. But here we go even wider – not only on pages but you should use the right keywords also for:
URL /permalink
meta description
title tag
URL
URL consists of the domain and permalink and what you can edit is the permalink. It's the same important part of a page just like the title. Use the same keyword in the title and permalink. For example, if the title is "How To Pack For A Move", the permalink will be how-to-pack-for-a-move. If the keyword includes "a" or "the", you should include it in the permalink but if there are no such words, there's no need for them in the permalink.
Meta Description
It's the part of about 150 characters you add to your article to be shown under the title in the search result. Actually, it's not sure if Google will show your meta description but it's worth trying. You should add the keyword at the beginning of the meta description. It increases the chances your page will rank well.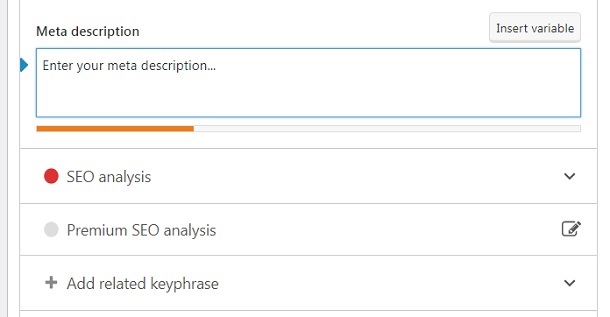 Title Tag
The title tag refers to the title of the page/article as well as subheadings titles. The title is in the h1 tag and the subheadings should be in h2 and h3 tags.
User Intent
Not only the right volume and the right placement of the keywords but the right user intent is also important. What is user intent? It's what users want to find out when they enter a keyword in the search engine. Your task is to match their intent.
If they enter "office movers", what do they want to learn? How to move the office or what are the best office movers near them? Or are they searching for the best company because and want to make the choice right now? All of these are possible user intents so you need to include the information that will answer all of these questions so to meet the queries of all users.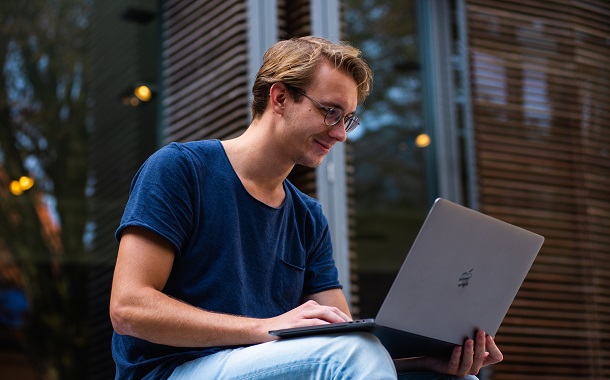 How to know what intent users have when googling a certain keyword? One of the ways to check it is to see the first results on this keyword. Google tracks what people click on and which pages they leave quickly and then it concludes what is more and what is less relevant for people.
That means the pages at the top of the Google results are probably the most clickable so they match the user intent. Check their pages to figure out what user intent you need to meet, too, but add also your ideas, as many intents are matched as better.
In-depth Content
According to user intent, create content that covers the topic fully. You don't have to care much about the length but the content – the length is not the measurement for content quality. The content is valuable if you cover all the aspects of your business while presenting your services.
For example, your "Office moving service" page should include information such as:
What location/area does this service cover?
What office stuff you move?
How do you make the office stuff secure?
How long does the office moving last?
How much does it cost?
What is special about you that your competitors don't offer?
Add your customers' reviews if you have them
Don't forget to include call to action button to contact you or to describe how they can get in touch with you for any questions or queries
Linking
There are two types of links you should include in your page content – external and internal.
External are links from other sites with a topic similar to the topic of your article. Internal are links from your site. Don't neglect internal links, they are necessary to help Google to explore all of your pages. It's a good practice to link your service pages in blog articles when you are writing about some related topics.
Create Page People Will Want To Stay On
Last but not least, the visual appearance of your site/page should be optimized to be easy to read and organized. To achieve it, consider these factors:
text font – optimal is around 14px
use headings
make short paragraphs – up to 100 words
highlight some words/sentences to attract readers' attention
insert interesting images – spread them equally through the text
use buttons with call to action
Off-Page SEO
Except for actions on the page, actions we will do to promote our site and business take the same important place. What does off-page SEO include?
Backlinks – links of your site placed on other sites; like when others insert our link as external on their site
Directories – sites with info data of many moving companies within a certain area; it helps people to find the right service business for their moving needs
Google Business Profile – for local moving companies
How To Gain Backlinks?
There are a lot of backlink strategies you can try. Every SEO expert will tell you that it's not easy to get backlinks but they are necessary to build the authority of your site so it's worth investing your time in gathering backlinks.
How To Get Your Moving Company Appears In Directories?
It's much easier to achieve than backlinking. Everything you need to do is to find the quality directories, for your location as preferred, and submit your business information. These information must be the same as on your website and other directories, as well as on all online places. Google finds it very important so take care of this.
How To Make Google Business Profile?
Since most moving companies are local businesses, it's important to explain what Google Business Profile is and how to create it. It's the listing you can see in Google results when you are searching for businesses. For example, when you enter "moving company Chicago", you will get this: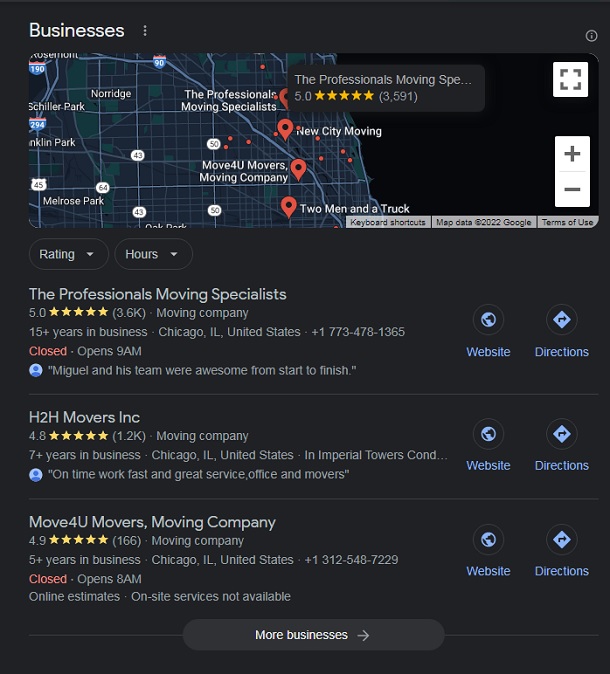 To make your company appear on a listing like this, you need to create the account and fulfill it with all possible information. Your profile will go higher and higher as you will gain reviews and ratings so remind your customers to leave reviews.
Finally, don't forget to synchronize the information in GBP with the information on your site and directories.
How To Track The Success Of Your Site?
There are many tools to use such as Semrush, Soovle, Jaaxy, Ahrefs, and more, but the best one you can use for free is Google Search Console.
It can help you to get a view into your customers'/visitors' activity – what are they interested in the most, how often they visit your site, how long do they stay, and so on. It also shows the errors on your site so that you can fix them quickly.
Final Verdict
As you could see, the keywords are crucial to make your potential customers discover your moving company services. Besides, you should consider working on on-page and off-page optimization or hire a professional who will do it for you. All these steps can increase your business traffic a lot, but it takes some time. Be patient, keep working on the quality of your moving company site, and one day, hopefully, you will see it in the first place in Google results!