Are you looking for a reliable, space-saving way to destory paper?
Then you need to read reviews of compact paper shredders. You will learn more about shredder's capacities, run time, security level, design, size, safety characteristics and more. These are relevant features that you need to consider when picking one.
Our Top Picks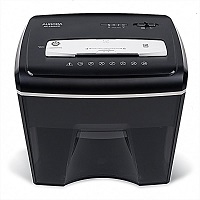 Aurora AU1200XD Shredder
OVERALL RATING: ★★★★★
Desktop-size machine with max 12 sheets of paper, 1.8-gallon bin and ShredSafe feature.
Jump To Review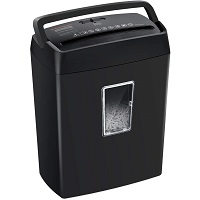 Bonsaii C204-C Paper Shredder
OVERALL RATING: ★★★★☆
It provides a medium security level, can take up to 6 sheets per pass, ensures 4 minutes of run time and has a low price.
Jump To Review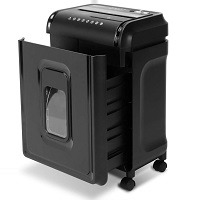 AmazonBasics Micro-cut Shredder
OVERALL RATING: ★★★★☆
This micro-cut shredder is a great choice for high-security documents, it takes 8-sheet of paper and has an auto feature.
Jump To Review
What Makes One Device Compact?
For it to be compact, it needs to come in a small size. The dimensions should be somewhere around 13 x 10 x 12 inches. There are many different types you can choose that come in smalelr size. With them, you can shred through the paper in smaller volumes. Feed the paper into the opening slot and it will come out in strips or smaller particles (depending on the featured cutting mechanism).
What Is The Difference Between Cross-Cut And Micro-Cut?
There are strip-cut, cross-cut, and micro-cut mechanisms. Cross-cut offers a medium level of security, shredding paper both vertically and horizontally. The shreds end up looking like confetti or come in a diamond shape. Micro-cut uses the same mechanism for cutting but the shredded particles are even smaller in size. Due to that, this options acutally offers the highest level of security.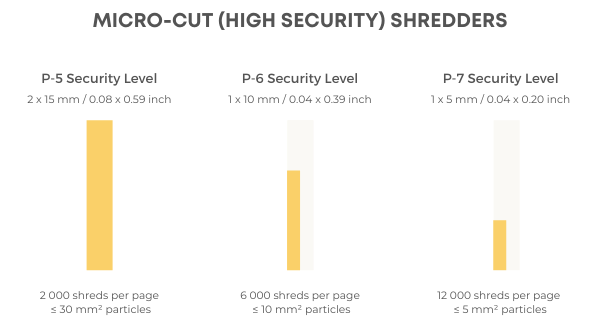 Which Cutting Mechanisms Are Common For These Devices?
Most usually, compact models usually come wtih a strip-cut (P-1 and P-2 security levels) or a cross-cut (P-3 and P-4 security levels) mechanism. While some advertise their products as micro-cuts, most of them are only P-4 security level, which is more of a cross-cut than a micro-cut (P-5, P-6, P-7 security level). Choose cross-cut if you want to destroy paper with confidential and personal documents. Otherwise, a strip-cut shredder will be okay.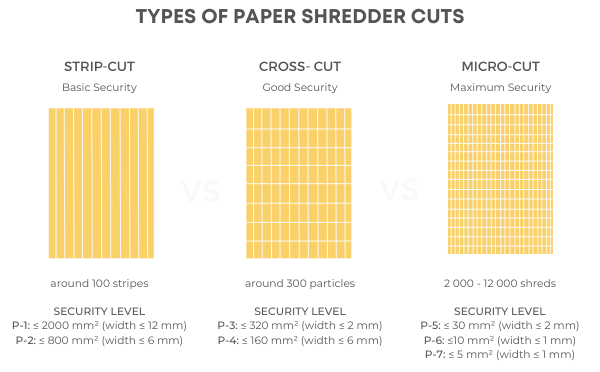 Types You Can Choose Between
There is more than one type of shredder that comes in these dimensions and features. Find out more about them to see which one fits your needs the best.
Machine Without Wastebasket
The first type is the one that features a shredding head only. Without a wastebasket, it will take up less space but will still be functional. With an extendable arm, you can fit it on top of a bin of any size. They usually come with strip-cut mechanisms and cut only a few sheets of paper per pass, but you can store them away when not in use.
Small-Sized For House And Office
Some shredders on the market come in sizes which makes them suitable for personal use in your home or office. They are not meant for shredding high volumes so they will be good for you if you have to shred paper from time to time. The small size makes them easily fit just about anywhere.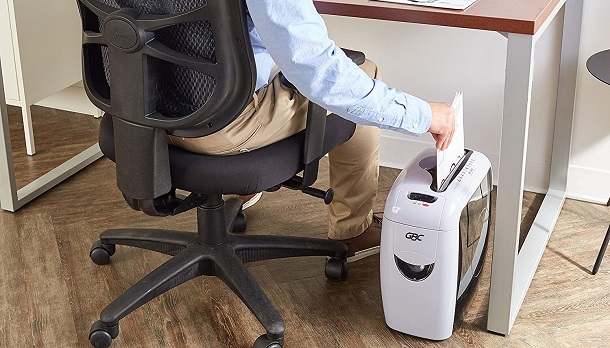 Handheld Options For Easy Storage
For even easier storage, you can pick a shredder without a basket that works in your hand. Here, you can either pick a one that works manually, by hand-cranking, or an electric version. Some are operated by batteries or USB.
Do You Want A Portable Option?
If you want a compact option you can take with you on trips, use in different parts of the house or office easily, choose one in such a small size that it can even be used even in small apartments and RVs. Mini and handheld versions are good options here.
Pros & Cons: Using A Compact Machine For Shredding
There are both positive and negative sides to having and using these devices.
PROS:
Small footprint to fit small spaces
Portable model you can take with you
For light-duty shredding
Less expensive than bigger shredders
Lightweight and easy to carry around
Good for homes and small offices
CONS:
Not as powerful as big models
Only a short duty cycle
Small baskets need to be emptied frequently
Low sheet capacity, only shredsna couple of sheets at onces
Cannot shred other media (CDs, DVDs, credit cards, staples, paper clips)
Susceptible to paper jams
Keep An Eye On These Features
When picking a machine in a compact size, here are some of the features and things you should keep in mind.
Dimensions
For a cutting machine to easy fit into small spaces, choose those with dimensions of around 10 inches. Then, you can store it away, carry it easily, hide it under the desk, in a wardrobe, etc, until you need it again.
Low Sheet Capacity
They usually have a low sheet capacity, meaning they will cut up to 6 sheets per pass. But, some office machines suitable for desktop use will be able to cut through 10+ sheets at a time. A small sheet capacity (up to 6) is a good choice for you if you shred occasionally. For more frequent office use, choose at least up to a 10-sheet.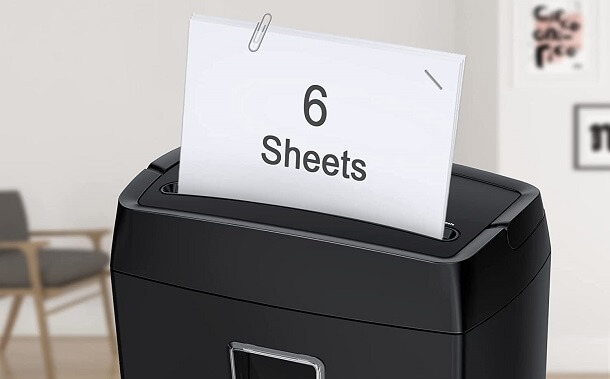 Bin Capacity
If you want the product with a bin, you can choose between 3 to 5 gallons. This is a good size for light-duty shredding and for small spaces. If you are going to shred more often and want a bigger bin, you will need to buy a bigger device.
Short Duty Cycle
This type of machines can't run for a long time before they need to turn off and cool down. Usually, they run for about 10 minutes, but some run for only 2 minutes. Choose the latter if you have minimum paperwork to go through. If you want to shred more, go with those that can run for at least 10 minutes.
Cooldown Period
They run for a short time, and, unfortunatelly, they need a long time to cool down. On average, the cooling down period is at least 30 minutes, sometimes it can be 40 or even 50 minutes. If you want to shred more paper, choose those that don't have a cooldown period of longer than half an hour.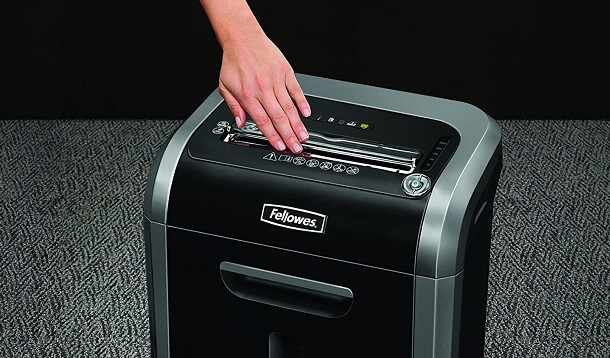 Safety Features
To keep the operator safe, look for shredders with safety features such as safety locks, auto stop, auto-shutoff, and ones that won't overheat the motor.
Jam Proof Feature
Small machines can't shred through many sheets of paper per pass. This means they have a higher chance of paper jams. This is why you should look for shredders with a reverse setting that will help you free the jammed paper.
Noise Level
Sredding machines shouldn't produce noise louder than 60 decibels, so look for those that say they produce low noise levels. This is great to keep your house and office quiet, free of loud noises and distractions.
Best 5 Compact Paper Shredders
Aurora AU1200XD Shredder
SPECIFICATION:
Security Level: P-4
Shred Type: Cross-Cut
Dimensions: 13.2 x 9.9 x 11.8 inches

Weight: 17.2 Pounds
Bin Capacity: 1.8 gallons
Sheet Capacity: 12 sheets
Desktop-size Shredder
Aurora Au1200XD comes with a desktop-style design. It has 13.2 inches of length, 9.9 inches of depth and 11.8 inches of height. It is pretty small, so you can put this device on your work desk, under the desk, on some shelf, Aurora fits anywhere.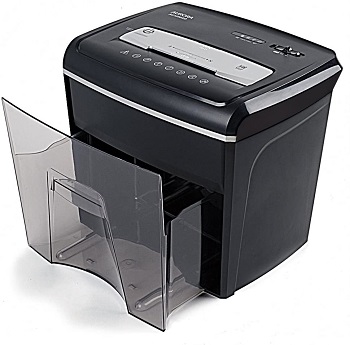 Confidential Documents
Aurora is a powerful small machine. In addition to paper, it also shreds CDs, DVDs, credit cards, junk mail, staples and small paper clips. This cross-cut is also known as a diamond-cut model with high P-4 secuity level so you can destroy all your confidential documents. The max capacity is 12 sheets of paper.
Personal Use
The pull-out wastebasket is transparent so you can see if it's time to empty its 1.8-gallon bin. Aurora is able to run 5 minutes continuously, but then you need to leave it to cool down. It is an ideal device for personal use, home, or small office.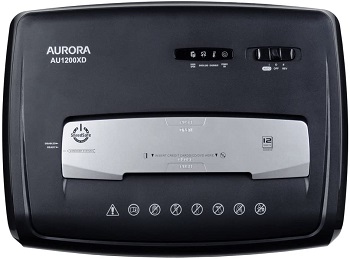 ShredSafe Feature
Aurora uses some safety features, like ShredSafe technology. If you try to put some paper with force into the machine, the Aurora will stop shredding. The anti-jam feature will stop the blades instantly if the sensors detect too much paper.
Overall:
Safety:
Power:
Size:
Weight:
Funcionality:
PRICE
approx: $105 – $120
determined by online offer (Amazon, Walmart, eBay) and seasonal sales
Highlighted Points:
desktop size cross-cut machine
ideal for personal and home use
12 sheets of paper per single pass
shreds credit cards, CDs, DVDs, staples, clips
automatic reverse function prevents paper jams
Bonsaii C204-C Paper Shredder
SPECIFICATION:
Security Level: P-3
Shred Type: Cross-Cut
Dimensions: 11.9 x 7.4 x 15.2 inches

Weight: 8.65 Pounds
Bin Capacity: 3.4 gallons
Sheet Capacity: 6 sheets
Low Price
Bonsaii C204-C is available in two colors, black and black-silver color. This device has 15.24 inches of height, 11.9 inches of width and 7.36 inches of depth. It is lightweight, there is 8 pounds only. You can place it under your desk. Its cheap shedding machine
.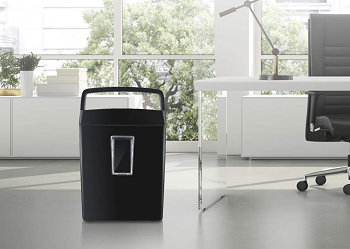 Medium Security Level
This cross-cut model cuts the paper diagonally from both corners, so the particles are small and bearly readable. The shredded pieces measure 13/64 x 1-49/64 inches. The security level is P-3, so don't use it for highly secure documents.
Portable Handle
You can maximally put 6 sheets of paper per pass. The wastebasket is able to hold 3.4 gallons of shredded paper so you can destroy 100 sheets of A4 paper. There is a small transparent windo for you to see if you need to empty the bin. This is a lift-up bin with a convenient handle for easy emptying.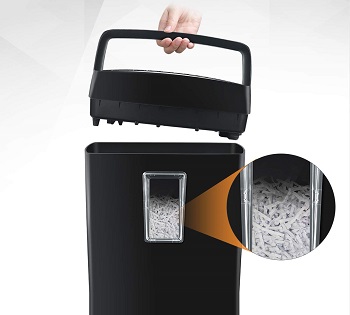 Manual Reverse Button
The continuous running time lasts 4 minutes before the 40-minute of the cool-down period. Turn on the auto mode and the Bonsaii will start shredding when you put the paper into the slot. The manual reverse function clears the paper jams. There is no overheating with thermal protection, the motor will work optimally for years.
Overall:
Safety:
Power:
Size:
Weight:
Funcionality:
PRICE
approx: $35 – $60
determined by online offer (Amazon, Walmart, eBay) and seasonal sales
Highlighted Points:
affordable cross-cut paper shredder
medium security level, P-3
it shreds up to 6 sheets per pass
overheat feature protects the motor
it runs 4 minutes continuously
reverse function for paper jams cleaning
AmazonBasics Micro-cut Shredder
SPECIFICATION:
Security Level: P-4
Shred Type: Micro-Cut
Dimensions: 9 x 13 x 19.5 inches

Weight: 17.24 Pounds
Bin Capacity: 4 gallons
Sheet Capacity: 8 sheets
Mobile Device
Choose the AmazonBasics model with the sheet capacity you need. There are 6, 8, 12 and 15-sheet options. We'll focus on the model that can take 8 sheets at the time. Its dimensions are 8.90 x 12.95 x 19.49 inches and it weighs 17 pounds. This model features four casters, so it is easy to move it around.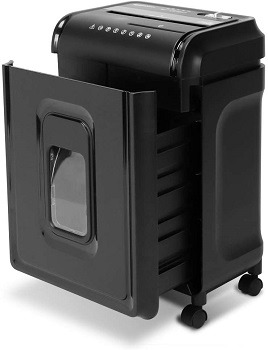 Tiny Particles
AmazonBasics provides the highest security level with a micro-cut shredding type. The particles are small and impossible to read with dimensions of 5/32 x 15/32 inches. It shreds up to 8 sheets of paper per single pass, alongside paper clips, staples and credit cards.
Separate Slot
This machine can destroy CDs and DVDs, but you need to put them into a separate slot. You can put one CD/DVD at the time. It shreds 5 minutes continuously and then it's 30 minutes off. If you leave it to shred beyond its max time, the device will automatically shut off.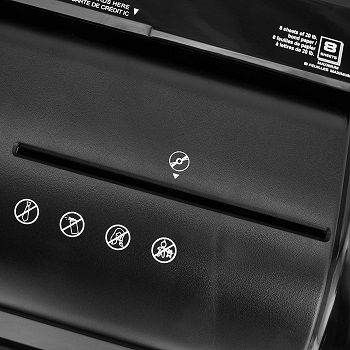 User-friendly Design
On the top of the device, there are four buttons – auto, forward, reverse and off. There are LED indicators for bin full, door open, overload, overheat and power status. You can see the operating status in every minute. The pull-out waste bin has a capacity of 4 gallons. The warranty lasts 1 year.
Overall:
Safety:
Power:
Size:
Weight:
Funcionality:
PRICE
approx: $70 – $100
determined by online offer (Amazon, Walmart ) and seasonal sales
Highlighted Points:
high-security level micro-cut
4 modes – auto, reverse, forward and off
thermal protection prolongs the motor's life
sheet capacity – 8 sheets per pass
continuous run time lasts 5 minutes
Fellowes Powershred 79Ci Shredder
SPECIFICATION:
Security Level: P-4
Shred Type: Cross-Cut
Dimensions: 20.3 x 16.3 x 11.6 inches

Weight: 28 Pounds
Bin Capacity: 6 gallons
Sheet Capacity: 16 sheets
Small Office
Fellowes Powershred 79Ci is a perfect option for small offices, thanks to its size and mobility. There are four casters, so it's easy to move from one office to the other. Powershred is 21.31 inches high, 15.38 inches wide and 10.44 inches deep. It weighs 28 pounds.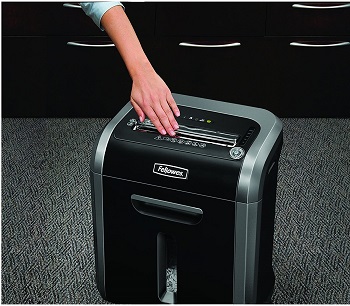 Criss-cross Particles
It destroys the paper into criss-cross particles. One-piece has a 5/32 x 1-1/2 inches so you can shred all your confidential documents. You can be sure that no one can read them. The Fellowes can cut 16 sheets of paper per pass.
Run Time – 20 Minutes
It is not only for paper, but also credit cards, junk mail, CDs, DVDs, paper with clips and staples. Its motor is able to run 20 minutes continuously, then you should leave it to cool down for up to 30 minutes. The pull-out bin has a capacity of 6 gallons.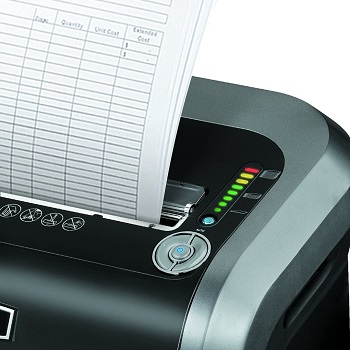 Safe For Use
You don't have to worry about your, your colleagues' or children's safety. The SafeSense technology will immediately disable the mail destorying machine if sensors detect the hand near the paper entry. This model uses an energy-saving system and anti-jam feature.
Overall:
Safety:
Power:
Size:
Weight:
Funcionality:
PRICE
approx: $250 – $290
determined by online offer (Amazon, Walmart, Sam's Club) and seasonal sales
Highlighted Points:
powerful paper cutting machine
shreds DVDs, CDs, credit cards, staples and clips
20 minutes of continuous run time
SafeSense technology prevent injuries
jam-proof feature minimalizes paper jams
it is energy efficient product
GBC 1758581 Paper Shredder
SPECIFICATION:
Security Level: P-4
Shred Type: Cross-Cut
Dimensions: 10.25 x 14.5 x 14.75 inches

Weight: 13 Pounds
Bin Capacity: 3.3 gallons
Sheet Capacity: 7 sheets
Single User
The GBC 1758581 is available in white and black color. It is great personal shredding device, so if you don't have a lot of paper to shred, this is a product you need to consider. It measures 10.25 x 14.50 x 14.75 inches and weighs 13 pounds so you can easily put it on or under your desk.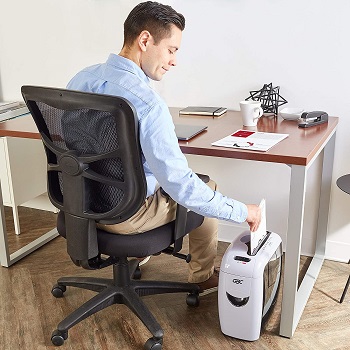 Not For CDs/DVDs
It comes with P-4 security level, enough for everyday security needs. Also, it has added security for sensitive documents. GBC is able to shred 7 sheets of paper per single pass. But besides the paper, it shreds credit cards, staples and clips.
6 Minutes Run Time
Be careful with credit cards, they are made of tough material, so you need to shred it individually. This machine runs continuously for up to 6 minutes. The cooling-down period lasts 30 minutes. The shredded paper falls into a small bin with a capacity of 3.3 gallons.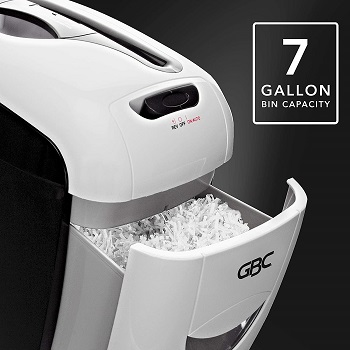 Shredder Maintenance
If you want the best performances, you need to maintain it. The manufacturer recommends the oil specially intended for this product. The oiling depends on use, if you use it often, lubricate it once per week. For occasionally use, you can use the oil twice or once per month.
Overall:
Safety:
Power:
Size:
Weight:
Funcionality:
PRICE
approx: $110 – $145
determined by online offer (Amazon, Walmart, Lowe's) and seasonal sales
Highlighted Points:
fits in every room
shreds credit cards, small clips and staples
the bin capacity is 3.3 gallons
shreds up to 7 sheets per pass
P-4 security level for confidential documents
What Can I Use Instead?
If you want to shred paper without having to use big items in small spaces, you should go for scissors for shredding paper. They take up minimal space but will help you destroy paper with sensitive information. After use, they fit into your drawer or even your bag pocket for easy portability.
Does The Size Impact The Lifespan?
The size doesn't necessarily mean that your device will have a short or a long lifespan. The lifespan of the shredder will, however, depends on the maintenance of the machine and how often you use it. If you maintain it regularly, it should last a long time. The size also shouldn't have an impact on the shredder's lifespan.
How To Take Care Of The Device?
To keep your shredding machine working properly, you will have to maintain it regularly. The maintenance will include regular lubrication. You can do that with oil or lubricant sheets. Oil the shredder every time you empty the bin and after each intense shredding session.
Final Verdict
Every model on the list is great for people who shred occasionally and don't have too much free space. But, we recommend the Aurora Au1200XD. It is a desktop-sized model with max 12 sheets per pass and ShredSafe technology. If you find this article interested, read the post about the best small business options. The smaller models are also described in reviews of desktop shredding machines.