Are you looking for a reliable, space-saving paper shredder?
Then you need to read this review of compact paper shredders. You will learn more about shredder's capacities, run time, security level, design, size, safety characteristics and more. These are relevant features that you need to consider.
Our Top Picks
Best 5 Compact Paper Shredders
Best Of Best Compact Paper Shredder
Aurora AU1200XD Shredder
Desktop-size Shredder
Aurora Au1200XD paper shredder has a compact desktop-style. It has 13.2 inches of length, 9.9 inches of depth and 11.8 inches of height. It is pretty small, so you can put this device on your work desk, under the desk, on some shelf. Aurora fits anywhere. The price is affordable.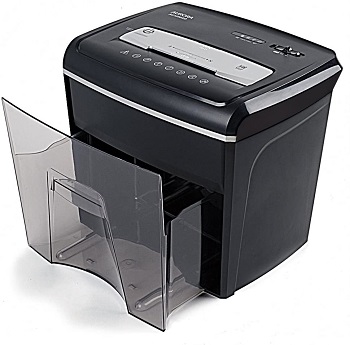 Confidential Documents
Aurora is a powerful small machine, in addition to paper, also, shreds CDs, DVDs, credit cards, junk mail, staples and small paper clips. This is a diamond-cut shredder, the security level is high, P-4, so you can destroy all your confidential documents. The max capacity is 12 sheets of paper.
Personal Use
The pull-out wastebasket is transparent, so you can see if it's time to empty it. The capacity of this paper shredder is 1.8 gallons. Aurora is able to run 5 minutes continuously. Then you need to leave it to cool down. It is an ideal device for personal use, home, or small office.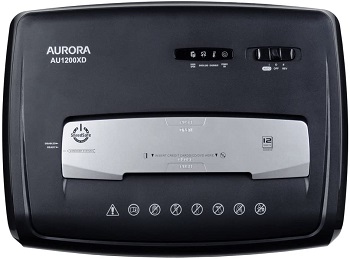 ShredSafe Feature
Aurora uses some safety features, like ShredSafe technology. If you try to put some paper with force into the machine, the Aurora will stop shredding. The anti-jam feature will stop the shredder automatically if the sensors detect too much paper.
Highlighted Points:
desktop size cross-cut shredder
ideal for personal and home use
12 sheets of paper per single pass
shreds credit cards, CDs, DVDs, staples, clips
automatic reverse function prevents paper jams
Best Cross-cut Compact Shredder
Bonsaii C204-C Paper Shredder
Low Price
Bonsaii C204-C paper shredder is available in two colors, black and black silver color. This device has 15.24 inches of height, 11.9 inches of width and 7.36 inches of depth. It is lightweight, there is 8 pounds only. You can place it under your desk. Its price is low.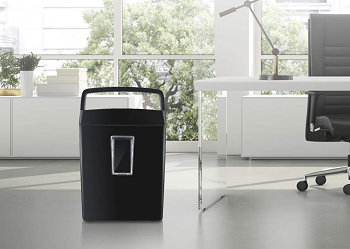 Medium Security Level
This cross-cut paper shredder cut the paper diagonally from both corners, so the particles are small and bearly readable. The shredded piece measures 13/64 x 1-49/64 inches. The security level is P-3, so don't use this compact shredder for highly secure documents.
Portable Handle
You can maximally put 6 sheets of paper per pass. The wastebasket is able to hold 3.4 gallons of shredded paper. You can destroy 100 sheets of A4 paper. There is a small transparent window, so you can see if you need to empty the bin. This is a lift-up bin with a convenient handle for easy emptying.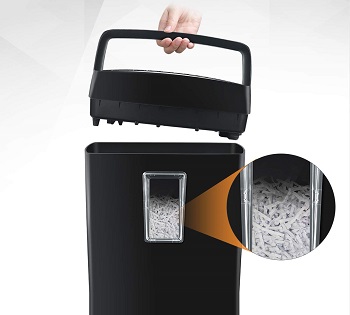 Manual Reverse Button
The continuous running time lasts 4 minutes before the 40-minute of the cool-down period. Turn on the auto mode and the Bonsaii will start shredding when you put the paper into the slot. The manual reverse function clears the paper jams. There is no overheating with thermal protection, the motor will work optimally for years.
Highlighted Points:
affordable cross-cut paper shredder
medium security level, P-3
it shreds up to 6 sheets per pass
overheat feature protects the motor
it runs 4 minutes continuously
reverse function for paper jams cleaning
Best Micro-cut Compact Paper Shredder
AmazonBasics Micro-cut Shredder
Mobile Device
Choose the AmazonBasics model with the sheet capacity you need. There are 6, 8, 12 and 15o options. We'll focus on the model which can take 8 sheets at the time. Its dimensions are 8.90 x 12.95 x 19.49 inches and it weighs 17 pounds. This model features four casters, it is easy to move it around.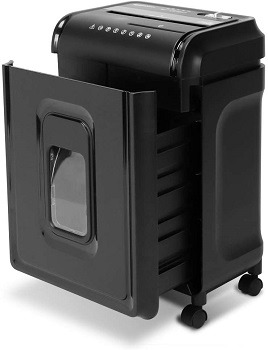 Tiny Particles
AmazonBasics provides the highest security level with a micro-cut shredding type. The particles are small and impossible to read. They have 5/32 x 15/32 inches. This shredder shreds up to 8 sheets of paper per single pass. Put the paper, paper clips, staples and credit cards into paper shredder.
Separate Slot
This compact paper shredder can destroy CDs and DVDs, but you need to put them into a separate slot. You can put one CD/DVD at the time. It shreds 5 minutes continuously and then it's 30 minutes off. If you leave it to shred beyond its max time, the device will automatically shut off.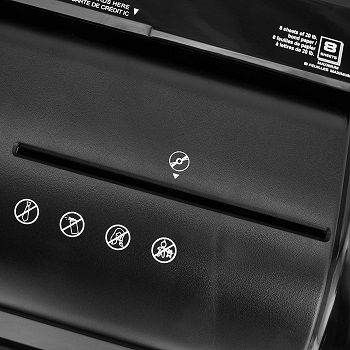 User-friendly Design
Ont eh top of the device, there are four buttons – auto, forward, reverse and off. There are LED indicators for bin full, door open, overload, overheat and power status. You can see the operating status in every minute. The pull-out waste bin has a capacity of 4 gallons. The warranty lasts 1 year.
Highlighted Points:
micro-cut shredder with high-security level
4 modes – auto, reverse, forward and off
thermal protection prolongs the motor's life
sheet capacity – 8 sheets per pass
continuous run time lasts 5 minutes
Best Office Compact Shredder
Fellowes Powershred 79Ci Shredder
Small Office
Fellowes Powershred 79Ci shredder is a perfect paper shredder for small offices, it is compact and mobile. There are four casters, so it's easy to move from one office to another. Powershred is 21.31 inches high, 15.38 inches wide and 10.44 inches deep. It weighs 28 pounds.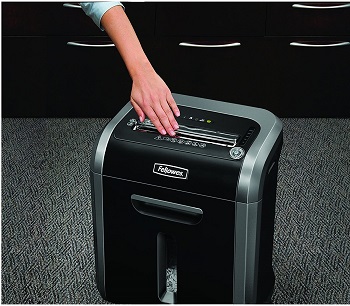 Criss-cross Particles
This compact paper shredder destroys the paper into criss-cross particles. One-piece has a 5/32 x 1-1/2 inches. So you can shred all your confidential documents. You can be sure that no one can read them. The Fellowes can cut 16 sheets of paper per pass.
Run Time – 20 Minutes
It is not only for paper, but also credit cards, junk mail, CDs, DVDs, paper with clips and staples. Its motor is able to run 20 minutes continuously, then you should leave it to cool down for up to 30 minutes. The pull-out bin has a capacity of 6 gallons.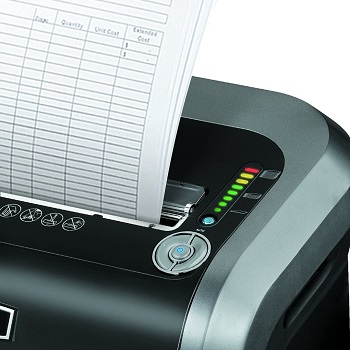 Safe For Use
You don't have to worry about your safety or your colleagues' or children's safety. The SafeSense technology will immediately disable the mail paper shredder if sensors detect the hand near the paper entry. This compact shredder uses an energy-saving system and anti-jam feature.
Highlighted Points:
powerful compact paper shredder
it shreds DVDs, CDs, credit cards, staples and clips
20 minutes of continuous run time
SafeSense technology prevent injuries
jam-proof feature minimalizes paper jams
it is energy efficient product
Best Home Compact Paper Shredder
GBC Paper Shredder
Single User
The GBC paper shredder, model number 1758581, is available in white and black color. It is great personal paper shredder, so if you don't have a lot of paper to shred, this machine is a product you need to consider. It measures 10.25 x 14.50 x 14.75 inches and weighs 13 pounds. Put it on or under your desk.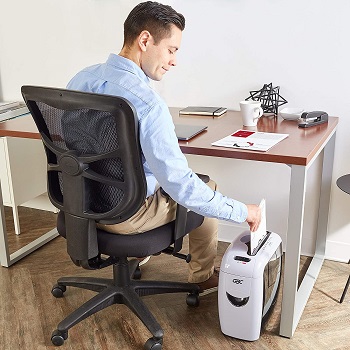 Not For CDs/DVDs
This compact shredder has a P-4 security level, which is enough for everyday security needs. Also, it has added security for sensitive documents. GBC is able to shred 7 sheets of paper per single pass. But besides the paper, it shreds credit cards, staples and clips.
6 Minutes Run Time
Be careful with credit cards, they are made of tough material, so you need to shred it individually. This machine runs continuously for up to 6 minutes. The cooling-down period lasts 30 minutes. The shredded paper falls into a small bin with a capacity of 3.3 gallons.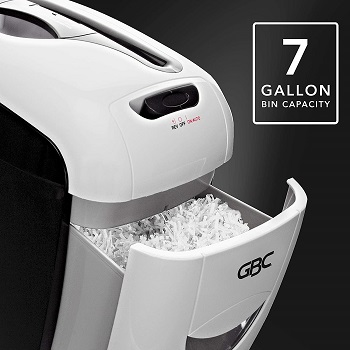 Shredder Maintenance
If you want the best performances from this paper shredder, you need to maintain it. The manufacturer recommends the oil which is specially intended for this shredder. The oiling depends on use. If you use it often, lubricate it once per week. For occasionally use, you can use the oil twice or once per month.
Highlighted Points:
compact so it fits in every room
it shreds credit cards, small clips and staples
the bin capacity is 3.3 gallons
shreds up to 7 sheets per pass
P-4 security level for confidential documents
Things To Know About Compact Paper Shredder
These paper shredder types have different dimensions than other paper shredders. Also, their run time, sheet and bin capacities. Learn if this shredder type suits your needs.
Shredder Dimensions – These paper shredders don't require a lot of space, you can place it on your desk or under it, this machine fits everywhere. They are small and compact. They could be intended for home or small office use. Some models feature casters for easy mobility.
Bin Capacity – Because of its dimensions, the compact paper shredder has a waste bin with lower capacity. The smaller bin can hold fewer papers. You need to empty it more often. The average waste bin volume is from 3 to 5 gallons. The micro-cut shredder can hold more paper because of paper particles.
Sheet Capacity – The compact shredder shreds up to few papers only. It features a weaker motor. Mostly small paper shredders have a capacity of 3 to 7-8 sheets per single pass. Also, not all shredders can destroy credit cards and CDs, DVDs, so read the specifications before purchase.
Run Time – This feature means how maximally paper shredder can shred. Each shredder has a different run time, but compact shredder usually shred for up to 10 minutes. The min run time is 2 minutes. Also, each shredder has a cool-down period. Then you need to leave the machine to cool down.
Security Level – Do you work with secure documents? There are three choices, strip-cut, cross-cut or micro-cut shredders. For low secure paper, use a strip-cut shredder. The cross-cut provides a medium level of security. The micro-cut is intended for secure and sensitive documents. The shredded particles are unreadable.