Are you searching for a laminator that you can get for an affordable price?
In this post, you can find the models that suit anyone's budgets. The post includes the best model reviews and the main information about the cheap laminators. Find the model for you and see where you can purchase it.
Our Top Picks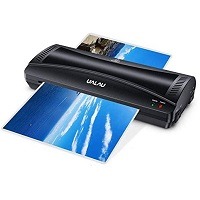 Ualau Laminator Machine
OVERALL RATING: ★★★★★
This laminating machine offers all the functions you need for a small amount of money.
Jump To Review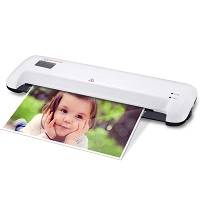 Bonsaii Store Thermal Laminator
OVERALL RATING: ★★★★☆
After a short time of preheating, this machine can laminate A3 paper with high speed and with minimal possibility for the jam.
Jump To Review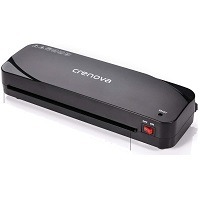 Crenova A4 Laminator
OVERALL RATING: ★★★★☆
The Crenova laminator has a simple design but all the functions that can help you to laminate A4 paper.
Jump To Review
What Can You Get For Low Price?
If you spend under $50 for a machine that laminates, you will get a lightweight model that works with pouches, an inlet opening of up to 13 inches, and suitability with 3 to 5-mil thick pouches, and a slow speed (up to 10 inches/min). However, do not expect models in big size, equipped with rolls, and with many additional features. They usually have basic functions like a switch on/off button, the hot and cold system options, 3 mil or 5 mil pouch options, and a release or ABS button. The thermal laminators include the indicator lights as well.
What Can They Laminate?
These cheap models will let you laminate documents, photos, and any papers up to 13 inches in width. However, they will not be suitable for laminating large posters, working fast, or laminating thicker materials with thick pouches.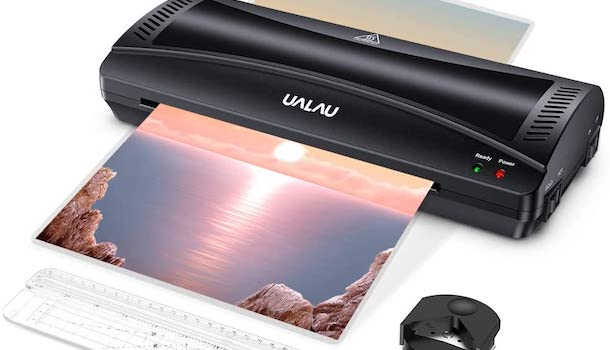 How Much Do Usually Laminators Cost?
Of course, there are different types available on the market, so their price varies. Those that work with pouches will usually cost you under $100. On the other hand, more professional models are selling on the market even for over $1,000.
What Is The Lowest Price?
You won't be able to find a model that is cheaper than $20. Compared to models that cost hundreds of dollars, $20 to $50 is definitely cheap.
Types You Can Get For Cheap
Pouch laminator – the type of machine that works by feeding pouches into the inlet for lamination, similar to business card models
A4 machine – great if none of your laminating projects will be wider than 9 inches and you will usually laminate A4 formats
12-inch laminator – great for laminating formats A3 and smaller
ID card laminator – usually features an inlet size of around 5 inches, great for those who only want to laminate badges, business cards, etc
Portable model – for little money, you will get a model with smaller dimensions, weighing a couple of pounds, perfect for portability
Pouches Cost Money, Too
One thing you should be aware of is that, even if you spend less money on a laminator, you will still have to keep investing in pouches. Without pouches, you won't be able to laminate. Depending on their thickness and how many come in a pack, you will have to pay around $20 for them.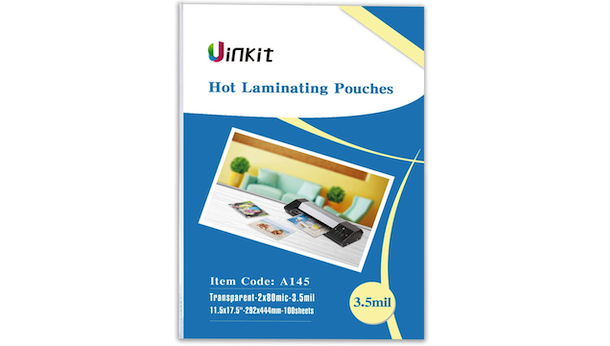 Why Do You Need A Cheap Laminator?
A low-price laminator is good in situations such as:
Saving money – they will cost you under $50
Personal use – if you are the only one that will use it for your small projects, you won't need to spend more money on it
Occasional use – these small models are a great choice for laminating from time to time (not the best for frequent use)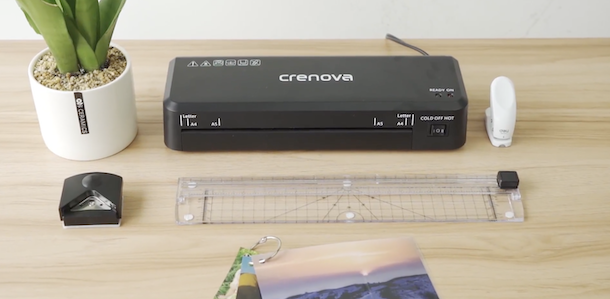 How Do You Choose A Laminator?
If you are buying a laminator on a tight budget, you will have to be careful with the specifications and features you are choosing. We will explain all the features you can expect for the price tag below.
Speed
As laminators are known to be slow machines, it comes as no surprise that cheap models will work at only around 10 inches/min. Do not expect more than that. This speed is good for occasional use. However, if you need to use it constantly and for bigger projects, then you might need one with a speed of at least 20 to 30 inches/min.
Size
When it comes to size, you can choose between models with an inlet that is up to 13 inches wide. The 13-inch model will be a good option if you want to laminate papers and documents of different sizes. If you will not be laminating documents larger than the A4 format, then 9-inch will be enough.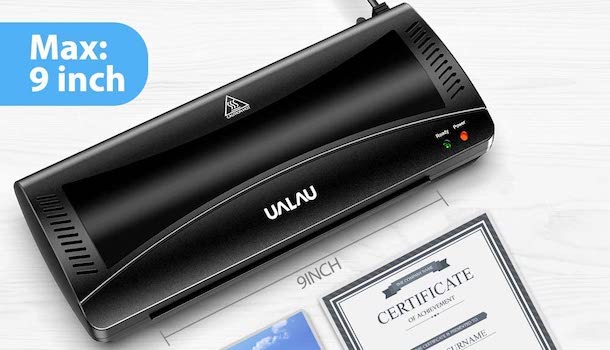 Hot Or Cold?
Laminating machines can work with two modes – hot and cold. While some models only allow hot laminating, others also let you laminate without hot temperatures. For a small price, you can get a model that offers both hot and cold lamination. This is a good choice because it will let you even laminate things that are sensitive to hot temperatures, such as photos.
Pouch Thickness
Most of these affordable models are suitable for 3 to 5 mil pouch thickness. This means that the lamination will not be very hard, but bendy. If you want to create thick lamination, then you will have to spend more money and get those suitable for 10 mils, at least.
How Long It Takes To Warm Up?
Warm-up time can be as quick as 1 minute and is good for those who will be using the machine frequently. You can get a machine with a quick warm-up time like this even for cheap money, but it is less often. However, for occasional use, even up to 5 or 10 minutes of warm-up time will be okay.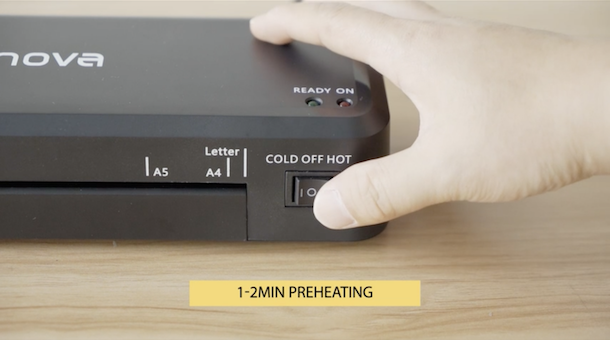 Run Time
Every laminator has a recommended run time, as they work with heat, and need to turn off after some time to cool down. A run time of 20 to 30 minutes will be okay for everyone but those who want to be laminating fast and for long. In that case, more money will have to be spent on bigger, heavy-duty models that can run for hours.
Jam Release
While laminating, jams happen often. That is why it is important to look for a model that features a quick jam release. Once a jam occurs, you simply have to press the button to help the issue.
Best 6 Cheap Laminators
Ualau Laminator Machine
SPECIFICATION:
Thickness: 3 – 5 mil
Dimensions: 16.3 x 6.3 x 3.5 inches
Weight: 3.21 pounds

Temperature: Hot/Cold
Speed: 10 inch/min
Warm-Up Time: 3 – 5 min
Black And Transparent Design
The Ualau laminator has a black neutral exterior while the trimmer that comes in the package is transparent. You will get also the black corner rounder that can improve the look of the laminated documents. The maximal size of the document you can laminate is A4 format.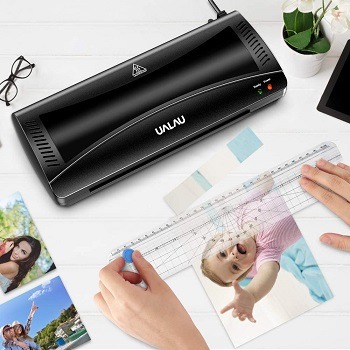 From A4-A6 Formats
The package includes not only the rounder and trimmer but also the pouches of various sizes. The pouches are adjusted for the A6-A4 format. The size of this black cheap laminator machine is 9 inches. The compact size makes it easy to transport from one place to another.
Half Of Hour Maximally
You can use the pouches of 3-5 mils of the thickness. The temperature is adjusted for various pouches. The laminator usually works with a speed of 250 mm per minute. With this speed, the laminator runs for up to 30 minutes in continuity.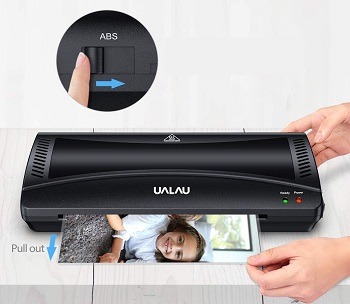 ABS Button Built-In
The ABS button is placed on the black surface. The button is purposed for the case the paper sticks during the laminating process. You need to push the button and the machine will release the paper and pouch. Pressing this button, you can save the documents.
Overall:
Safety:
Power:
Size:
Weight:
Funcionality:
PRICE
approx:$40 – $48
determined by online offer (Amazon) and seasonal sales
Highlighted Points:
20 pouches of different size included
250 mm per minute of the laminating speed
30 minutes of maximal run time in continuity
ABS button placed on the black surface
suitable for 3-5 mil pouch thickness
Bonsaii Store Thermal Laminator
SPECIFICATION:
Thickness: 3 – 5 mil
Dimensions: 20 x 8 x 4 inches
Weight: 4.7 pounds

Temperature: Hot/Cold
Speed: 12 inch/min
Warm-Up Time: 3 min
Green And Red Lights
The Bonsaii Store laminator comes in white color. The light indicators are visible on the white exterior. There are red and green lights that suggest the condition of this laminator. While the red light shows the preheating time, the green light appears when it's ready to laminate after preheating.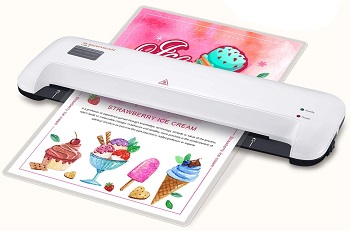 After 3 Minutes
This laminating machine has a length of 13 inches. You can protect the papers of A3, A4, A5, and A6 formats. The machine needs to heat up before laminating. After you turn on the laminator, you have to wait for 3 minutes approximately.
High Speed In Both Systems
After warming up, the laminating process will be smooth and the possibility for the jam is less possible. The laminating speed is 300 mm per minute on average. The speed is high no matter if you use hot or cold laminating methods. You can use the pouches of 3-5 mils.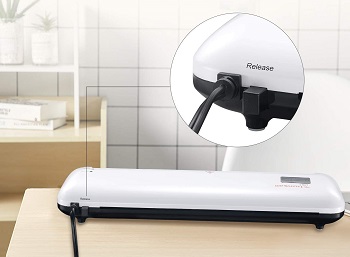 Prevents Damages Of Documents
If the jam occurs, press the ABS button to prevent the damage of your document. The release button is placed on the back part next to the cord. You need to plug in this machine and its best place is on the desk in your office or room.
Overall:
Safety:
Power:
Size:
Weight:
Funcionality:
PRICE
approx:$20 – $26
determined by online offer (Amazon) and seasonal sales
Highlighted Points:
inlet suitable for the documents of A3 size maximally
it's possible to use 3 mils or 5 mils pouch
the laminating speed is up to 300 mm/min
the release button is placed next to the cord
3 minutes enough for the machine to be preheated
ideal for a desktop in the office or at home
Crenova A4 Laminator
SPECIFICATION:
Thickness: 3 – 5 mil
Dimensions: 13.2 x 5.4 x 4 inches
Weight: 2.88 pounds

Temperature: Hot/Cold
Speed: NL
Warm-Up Time: 90 sec
All Format Pouches Included
The Crenova laminator machine has a size of 9 inches which means it's made for the papers of A4 format and smaller. You need to purchase appropriate pouches. The package includes 20 pouches that you can use as a reserve. There are 5 pieces of A4 formats, 5 A5 pouches, and 10 A6 size pouches.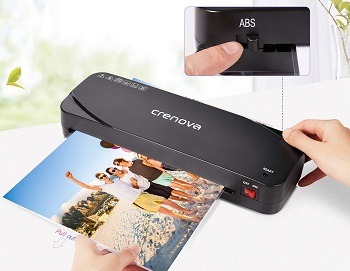 Heat Melts Plastic
This laminating machine uses the thermal system to laminate the small size documents. The optimal heat that comes from the socket melts the plastic pouch and sticks it to the paper. Using this electric machine, you can use the pouches of minimally 2,5 mil thick and 4 mils maximally.
Damage Prevention Function
To prevent damages of the papers, photos, and other documents you laminate, you need to supervise the laminator during the lamination process. Then you will see if something gets wrong and press the ABS button on time. The paper will come out undamaged.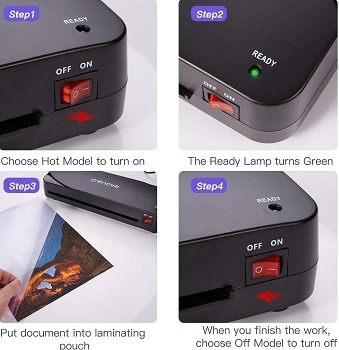 Effective Laminating Process
With the speed of 250 mm per minute, you can make up to 50 laminated papers per hour. It's possible to a lot for a short time. The effective lamination can save you time when you're busy in the office. You need to place it on the desk near the socket of 110 or 120 V.
Overall:
Safety:
Power:
Size:
Weight:
Funcionality:
PRICE
approx:$35 – $39
determined by online offer (Amazon) and seasonal sales
Highlighted Points:
the black designed 9-inch laminating machine
10 pieces of A6 pouches and 10 pouches of other sizes
supports the pouches of 2,5 to 4 mil of the thickness
the speed of the 250 mm/min ensured
ABS button for the case of errors
compatible with the socket of 110-220 V
Swingline Inspire Plus Thermal Laminator
SPECIFICATION:
Thickness: 3, 5 mil
Dimensions: 11 x 12 x 13 inches
Weight: 2.6 pounds

Temperature: Hot/Cold
Speed: 9 inch/min
Warm-Up Time: 4 min
Small Size And Price
This white laminator has a minimal price and quality functions which makes this model a good investment. Just like most cheap laminating machines, this one has a size of 9 inches. If you need a bigger size, you can choose a 12-inch version of this model that is also effective.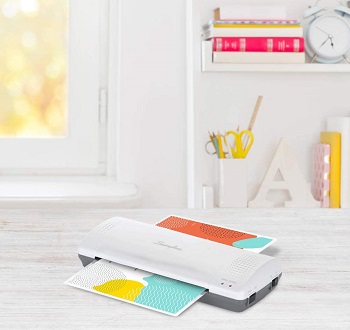 From Home To School
You can use it at home to make personal and school projects. Thanks to a small size, you can carry the machine easily. The teenagers can carry it from home to school to achieve their tasks. You need to purchase the pouches that are 3-5 mil thick.
Limited Heat-Up Time
This machine uses a hot system that requires some space for preheating. It takes up to 4 minutes for this laminating machine to be warmed up. The preheating time is needed for quality machine work. To know when the laminator is hot enough, you have to watch the indicator lights.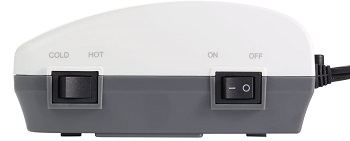 Sensitive Adhesive Pouches
Not only the hot method but you can use also the cold laminating system. Instead of heat, the machine uses the roller pressure to stick the pouch to the paper. When you use the cold method, you need to use the sensitive adhesive pouches instead of standard ones.
Overall:
Safety:
Power:
Size:
Weight:
Funcionality:
PRICE
approx:$32 – $40
determined by online offer (Amazon) and seasonal sales
Highlighted Points:
warming up time lasts 4 minutes
the cold mode also available to use
works with 3-5 mil thick pouches
the compact size makes it practical for carrying
9-inch and 12-inch versions of the model
standard and sensitive adhesive pouches suitable
Scotch Thermal Laminator
SPECIFICATION:
Thickness: Up to 5 mil
Dimensions: 15.5 x 7 x 4 inches
Weight: 1 pound

Temperature: Automatic
Speed: NL
Warm-Up Time: NL
Unique Grey Surface
This Scotch cheap laminating machine has a grey simple design that makes it unique. You can see the programmable buttons on the grey surface and use them easily. The inlet has a length of 9 inches while the overall length of the laminator is about 12 inches.
System With 2 Rollers
The inlet of 9 inches allows you to laminate the documents of A4 formats and smaller. With 2 roller system, the machine can press the pouches and stick them to the materials firmly. This lamiantor can support the pouches of up to 5 mm thick which is enough for protection.
Save Old Photos
You can use the laminate not only for the papers but also for photos. All these documents need to have a small size. It's practical to laminate old photos in order to protect them and save you memories. The lamination is also useful for some important documents.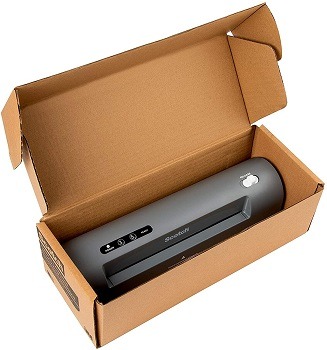 Three Buttons And Light
The cheap laminating machine surface includes three buttons and one indicator light. There are buttons for 3 mils thick pouch, for a pouch of 5 mils and the third button has release function. There is a green indicator light that has the function to notify you when the machine is hot enough.
Overall:
Safety:
Power:
Size:
Weight:
Funcionality:
PRICE
approx:$29 – $35
determined by online offer (Amazon, Walmart, Target) and seasonal sales
Highlighted Points:
compact design and 9-inch length
holds up to 5 mils thick pouch
purposed for small papers and photos
release button placed on the top
buttons that determine the pouch thickness
heat system with 2 high-press rollers
AmazonBasics Laminator Machine
SPECIFICATION:
Thickness: 3 – 5 mil
Dimensions: 17 x 5 x 3 inches
Weight: 3.2 pounds

Temperature: Automatic
Speed: 10.6 inch/min
Warm-Up Time: 4 min
Up To 12 Inches
The AmazonBasics model uses the pouches that are 11 inches wide and 17 inches long. The length of the laminator is 12 inches. You can use it to laminate the letters, the business cards, the photos, and more.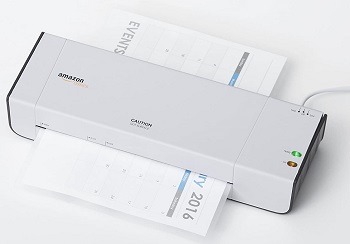 For Two Size Pouches
This laminator uses the heating system that includes double heat settings. The settings depend on the thickness of the pouches you use. If you use a 3 mil pouch, you need to set the first option. The second option is purposed for 5 mils pouches. The 5 mil pouch is made for thinner materials.
About 4 Minutes
The pouches for laminating are included in the package. There are 20 pieces in the box. If you need more pouches, you can purchase them separately. The laminating machine needs about 4 minutes for warming up. You can see when the machine is ready for laminating when you see the indicator light.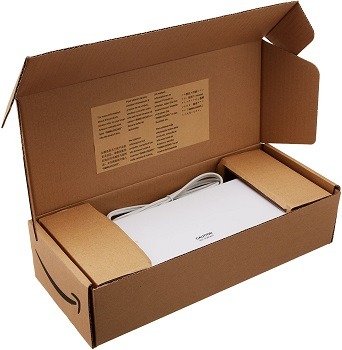 Precise Position Marks
The AmazonBasics laminator has a white design so the black marks on the inlet are easily noticeable. The marks signify the positions of each type of material you laminate. There are marks for letters, cards, and papers. You will know how to position the materials to laminate them optimally.
Overall:
Safety:
Power:
Size:
Weight:
Funcionality:
PRICE
approx:$33 – $43
determined by online offer (Amazon) and seasonal sales
Highlighted Points:
white design with black marks for material positions
the inlet has the length of 12 inches
purposed for letters, papers, business cards, and more
heat-up time lasts 4 minutes on average
20 pieces of laminating pouches included
options for 3 mil and 5 mil pouches
uses a thermal double setting system
Alternative: How Can I Laminate Cheaply?
If you want to spend as little money as possible, but still have a laminated document, you can do so even without the use of a machine. Here is what you will need:
Wide packing tape
Scissors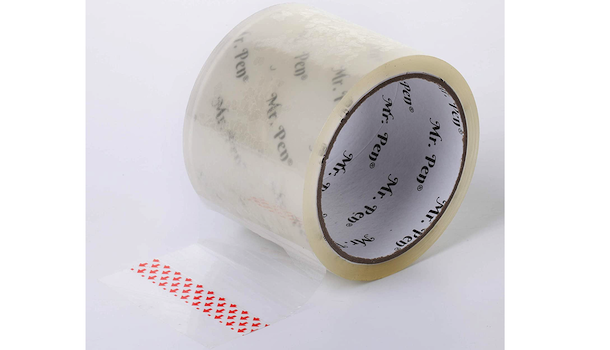 Then follow these steps:
Lay out the paper/document you want to laminate.
Cut the packing tape into strips.
Carefully place the strips of tape over the document.
Another way to do it is by using clear contact paper. It can be bought in stores for as little as $3 for 18 x 108 inches. Here is how to do it:
Put the document on top of the clear contact paper. Take scissors and cut enough contact paper to cover the whole document. Then cut out one more so you can laminate on both sides.
Lay the document you want to laminate on a flat surface.
Peel off the protective paper. Lay the material on top of the document directly.
Press down on it to remove all bubbles.
Then do the exact same on the other side of the document to seal on both sides.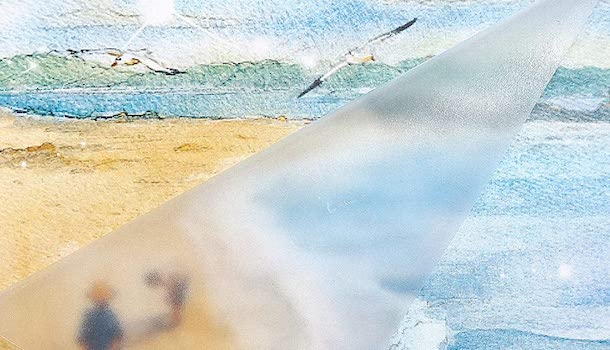 What Can I Use Instead Of Laminating Pouches?
If you want to have a finished product that is more durable, but without lamination, then you should consider some of the following options:
Printing on cardstock or some kind of thicker paper.
Put documents into reusable plastic pockets.
What Else Should You Know?
When laminating, there are a few things you have to keep in mind. Learn about them here.
What Is The Best Temperature For Laminating?
When laminating, some machines have automatic temperature settings for each pouch thickness, while some have a turning knob that you have to adjust according to the pouch thickness you will be using. Let's see which temperature is suitable for which pouch thickness:
5 mil – 225 to 240°F
7 mil – 240-250°F
10 mil – 250-260°F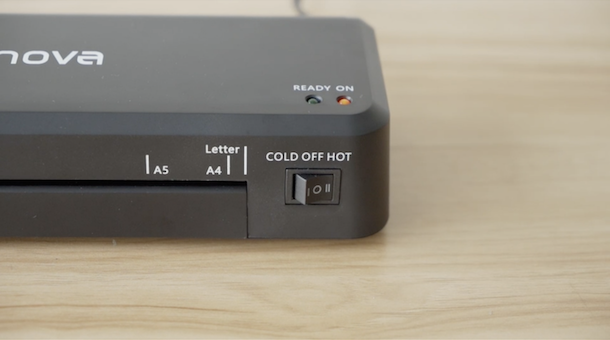 How Do I Choose Pouch Thickness?
If you want bendy laminated paper, choose 3 to 5 mils. However, this will not be as durable. On the other hand, choose 7 to 10 mils for harder and tougher laminate. That way, the product will last longer.
Final Verdict
In sum, you will have to look for 9-inch and 13-inch laminators with basic functions (hot and cold lamination), and up to 5-mil thickness if you want to save money. Considering all the features of the affordable laminators, the Bonsaii A3 thermal laminator seems like the best option for buying. Other models have almost the same feautes and price range so any of them can meet your needs.