Are you looking for a shredder able to destroy a large number of materials?
To solve this problem, you will need to get yourself a commercial paper shredder!
In this article, you'll find the best-rated shredder machines currently available on the market. Keep reading because here is what to consider when shopping for one along with the top models we reviewed.
Our Top Picks
Best 15 Commercial Paper Shredders
BEST OF BEST COMMERCIAL PAPER SHREDDER
Intimus 16.50 Cross-cut Shredder
Large Shredder
Intimus 16.50 is a heavy-duty industrial paper shredder that measures 50 x 47 x 70 inches in size and weighs 1600 pounds. This machine is suited for large companies that use heavy-duty equipment. It's a cross-cut shredder type that cuts paper into 0.24 x 1.97-inch particles.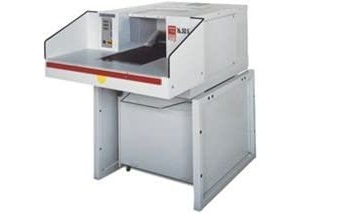 High Sheet Capacity
A conveyor belt making the shredding process even faster. Intimus shredder achieves a shredding speed of 47.2 feet per minute. Also, it's able to shred 330 sheets per single pass, this machine has a high sheet capacity. Thermal and overload protection prolongs the shredder's lifespan. Shreds paper, CDs/DVDs and credit cards.
Highlighted Points:
large and heavy paper shredder
cross-cutting technology
fast shredding speed of 47.2 FPM
shreds 330 sheets at a single pass
thermal and overload protection
shreds paper, credit cards, CDs and DVDs
BEST HEAVY DUTY COMMERCIAL SHREDDER
Ideal 2604 Micro-cut Paper Shredder
Micro-cut Shredder
Ideal 2604 is a centralized office shredder designed for medium-size offices with 4-5 users. It shreds paper, credit cards, CDs, DVDs, paper clips and staples. This is a micro-cut paper shredder that provides the highest security level. Solid steel cutter shafts are covered by a 1-year warranty.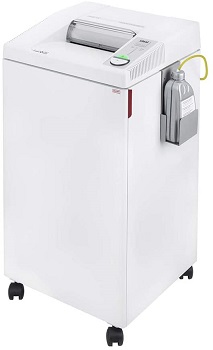 Automatic Oiler System
This heavy-duty industrial shredder features a revolutionary electronic capacity system that monitors several sheets and prevents paper jams. It cuts 6-8 sheets at once and 244 sheets per minute. The automatic oiler lubricates the cutting heads and provides optimal performance.
Highlighted Points:
powerful and compact office shredder
perfect for shredding top-secret documents
equipped with an automatic oiler
shreds 244 sheets per minute
patented electronic capacity system
cuts paper, credit cards, CDs and DVDs
BEST CARDBOARD INDUSTRIAL PAPER SHREDDER
HSM ProfitPack Multi-layer Shredder
Hardened Cutting Rollers
HSM ProfitPack 425 is a powerful industrial cardboard shredder measuring 38-inch in height, 28-inch in width and 19-inch in depth. It weighs 390 pounds but comes equipped with wheels for easy transport. HSM shredder features hardened cutting rollers can rip through 23 layers of cardboard.
Continuous-duty Cycle
HSM is a commercial shredding machine that provides continuous duty operation, meaning, this device doesn't require a cool-down period. Equipped with a thermal fuse that protects shredder against overheating. The control panel offers three buttons – on, off and reverse. Suitable for offices, it doesn't produce a loud noise.
Highlighted Points:
big and heavy paper shredder
rips through multiple layers of cardboard
equipped with swivel wheels
provides continuous duty operation
the thermal fuse prevents overheating
BEST SMALL INDUSTRIAL SHREDDER
Fellowes Powershred 79Ci Shredder
Jam-Proof System
Fellowes Powershred 79Ci shredder for commercial needs is a compact device fitting in any office or home office. Its dimensions are 21.4 x 15.4 x 10.4 inches. Designed for daily use and 1-2 users. It shreds paper, credit cards, staples, paper clips, CDs, DVDs and junk mail. The integrated jam-proof system prevents paper jams and keeps the device clean.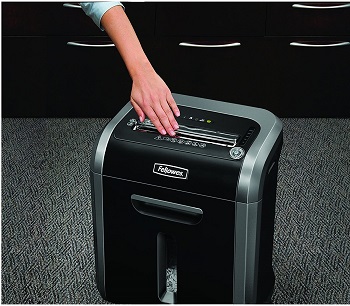 SafeSense Technology
It's a cross-cut paper shredder that ensures a high-security level, making it suitable for sensitive and confidential documents. When hands touch the paper slot, the SafeSense technology automatically stops the shredder. It shreds 16 sheets per pass and runs 20 minutes continuously. Ideal as a paper shredder for small offices, Fellowes produce low noise.
Highlighted Points:
small and compact device
100% jam proof system
SafeSense technology protect your hands
suitable for sensitive and top-secret documents
runs 20 minutes continuously
shreds 16 sheets per pass
BEST OFFICE COMMERCIAL PAPER SHREDDER
GBC SmarTech Paper Shredder
Mobile Shredder
GBC paper shredder has a high price, but it's a very quality and durable office device with many advanced features. Its dimensions are 19 x 13.9 x 25.4 inches and it weighs 45 pounds. There are four swivel casters, so it is a mobile device. Commercial cross-cut shredder provides a high P-4 security level, suitable for confidential documents.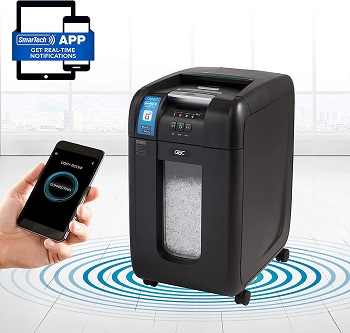 Auto-feed Chamber
It is compatible with the SmarTech app, you need to install it on your smartphone and it will alert you when the shredding process is finished. Put 300 sheets of paper in the auto-feed chamber and it will shred it automatically. This business paper shredder runs 30 minutes before the cooling down period.
Highlighted Points:
small office paper shredder
four swivel casters
cross-cut shredder machine
compatible with SmarTech app
high sheet capacity – 300 papers
auto-feed chamber
BEST DOCUMENT COMMERCIAL SHREDDER
Aurora Anti-Jam Cross-cut Shredder
Cross-cut Machine
Aurora is a big device ideal for medium-sized offices, it measures 16.3" W x 11.8" L x 26.2" H. This commercial shredding machine is heavy, therefore equipped with four casters for easy transport. Aurora uses cross-cutting technology to shred paper, paper clips, staples, credit cards, CDs and DVDs.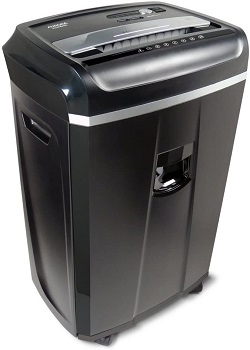 Auto-reverse Function
The security level is high, so shred sensitive documents without worry. On the front of the 20-sheet paper shredder, there is a small transparent window, it's easy to check if the bin is full. Moreover, the LED indicator will turn on if the bin is full. The anti-jam auto-reverse function keeps the shredder clean.
Highlighted Points:
big cross-cut paper shredder
shreds CDs, DVDs, credit cards and paper
accepts 20 sheets per pass
high-security level
anti-jam auto-reverse function
useful LED indicators
BEST PLASTIC INDUSTRIAL PAPER SHREDDER
Sentinel 10-sheet Paper Shredder
Affordable Price
Sentinel FM102P shredder has 12.8 x 8.5 x16.9 inches in size and it weighs 16 pounds. Four swivel casters provide easy mobility.  The industrial shredding machine is made of quality plastic and metal. This model is available in few attractive colors – red, grey, blue and grey. Its price is affordable.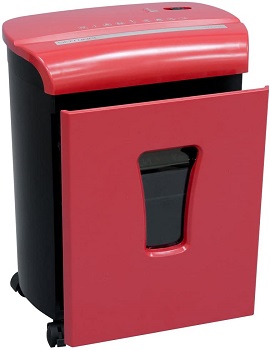 High-security Level
This credit card paper shredder provides a high-security level for confidential document shredding. Sentinel is a micro-cut paper shredder able to shred 10 sheets of paper per single pass. But you can insert one credit time per pass. Shreds 60 sheets of paper per minute.
Highlighted Points:
affordable price
made of plastic and metal
available in few colors
high-security level
micro-cut paper shredder
BEST CROSS CUT INDUSTRIAL SHREDDER
HSM Securio B32 Paper Shredder Paper Shredder
Four Casters
HSM Securio is a commercial white paper shredder that weighs 60 pounds and has 15.7 x 19.6 x 31.2 inches. The integrated four casters make mobility easy. This office cross-cut shredder destroys paper, paper clips, staples, credit cards, CDs and DVDs. Its maximum sheet capacity is 17-19 papers per pass.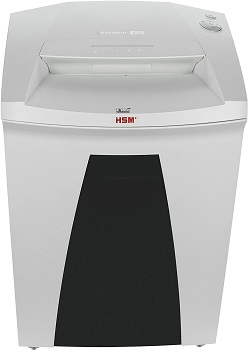 Fast Shredding Speed
HSM Securio can shred 247 sheets per minute, it's very fast and efficient. Also, the wastebasket has a large capacity, it's 21.7 gallons. Anti-jam technology prevents jams when the shredder is overloaded. Its motor runs continuously without a cool-down period needed. It's a UL-approved device.
Highlighted Points:
large white paper shredder
four casters provide mobility
maximum sheet per pass – 17-19 papers
shreds paper, clips, staples, credit cards, CDs/DVDs
large wastebasket with 21-7-gallon capacity
anti-jam technology
BEST HOME COMMERCIAL PAPER SHREDDER
Fellowes Powershred Paper Shredder
For Confidential Documents
Fellowes Powershred W11C machine features a practical design, it fits under any office or home office desk. This industrial shredder machine measures 17.7 inches in height and 13.6 inches in width. It shreds credit cards, paper, staples and clips. Also, it's good for confidential documents, providing a high-security level.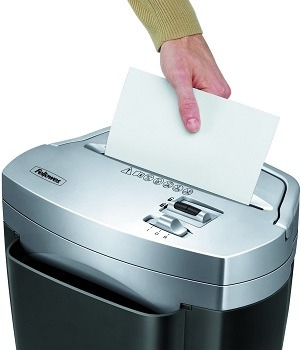 Security Features
The shredded particles are tiny and have 5/32 x 1-3/8 inches in size. Fellowes is a home office paper shredder that has a short run time, it lasts 5 minutes. Then leave it for 20 minutes to cool down. The lift-off bin comes with a convenient handle, its capacity is 4.7 gallons. Safe Lock disables shredder when detects hands or paws, it's safe for home use.
Highlighted Points:
the practical design fits anywhere
provides high-security level
shreds paper, staples, clips, credit cards
cross-cut shredder machine
runs 5 minutes continuously
lif-off bin with handle
BEST LARGE COMMERCIAL SHREDDER
HSM 450.2 Industrial Shredder
Powerful Motor
HSM 450.2c paper shredder equipped with a powerful continuous-duty motor. The motor uses the chain drive power the shred the materials. HSM is a large paper shredder available in white color and equipped with four durable casters for mobility.  With cross-cut technology, the shredded particles are unreadable.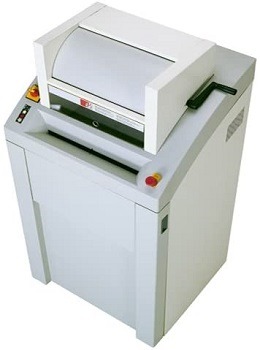 Automatic Operation
Insert paper, paper with clips and staples, CDs, DVDs, credit cards and USB sticks into the feed slot. Within the device, there are sturdy and durable cutting rollers. HSM shreds automatically when detecting materials. The industrial shredder machine accepts 85 sheets of paper per pass. The Control panel is equipped with a keypad and LED display for easy operation.
Highlighted Points:
powerful continuous-duty motor
shreds CDs/DVDs, paper, USB sticks
sturdy steel cutting rollers
max sheet capacity – 85 papers
control panel with keypad and LED display
cross-cutting technology
BEST CHEAP INDUSTRIAL PAPER SHREDDER
Amazon Basic Cross-cut Shredder
Affordable Price
Amazon Basic is a small and affordable paper shredder designed for occasional use. This device has a low sheet capacity, making it ideal for home office use. It can shred 6 sheets or paper per single pass. Amazon Basic measures 12.1 x 7.7 x 15 inches in size and weighs 8 pounds.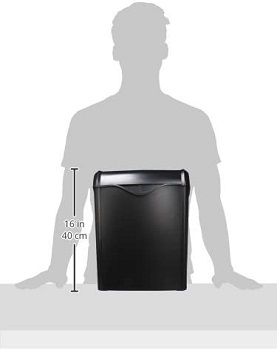 Reverse Function
This confetti paper shredder or cross-cut shredder can destroy credit cards, paper, paper with clips and staples, CDs and DVDs. The reverse function will release paper when a paper jam occurs. Auto mode turns the shredder on/off when detecting materials and when the shredding process is finished.
Highlighted Points:
budget-friendly paper shredder
shreds 6 sheets per pass
suitable for paper, clips, staples, credit cards, CDs/DVDs
reverse function
auto mode for convenient use
BEST ELECTRIC INDUSTRIAL SHREDDER
Bonsaii Anti Jam Paper Shredder
18-sheet Capacity
Bonsaii C149-C model is a heavy-duty electric paper shredder equipped with four casters. It is easy to move it from one place to another. It measures 14.2 x 11.2 x 21.5 inches and weighs 23 pounds. Use it for paper, credit cards, CDs/DVDs shredding. The max number of papers per single load is 18 sheets.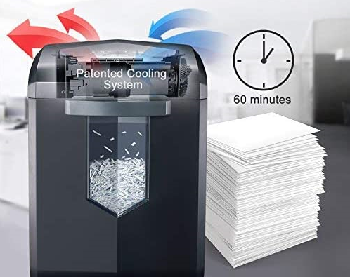 Auto-jam System
This commercial model runs continuously for one hour and the cool-down period lasts 10 minutes. Bonsaii uses a patented cool-down system and its motor produces 62 decibels, ideal for office use. The paper jams will be cleaned up automatically by an auto jam system. The overload and overheat protection prolong the shredder's lifespan.
Highlighted Points:
equipped with four casters
shreds paper, CDs/DVDs, credit cards
runs 60 minutes continuously
max 18 sheets per pass
patented cool down period
produce low noise
auto-jam feature
BEST MICRO CUT COMMERCIAL PAPER SHREDDER
Aurora AU1540MB Paper Shredder
Professional Shredder
Aurora AU1540MB is a reliable professional paper shredder with a high price. This micro-cut industrial shredding type is ideal for people who need to shred highly sensitive and confidential documents. It meets P-5 security standards. Aurora shreds letter-size paper into 2592 pieces.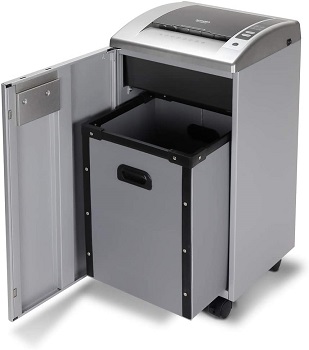 Auto-reverse Feature
This is high capacity paper shredder able to shred credit cards, paper with clips and staples, CDs and DVDs. Insert max 15 sheets per single pass. It provides a non-stop 60-minute continuous run time. If paper sticks, the auto-reverse function will reverse the cutters and clean the jam.
Highlighted Points:
quality professional paper shredder
micro-cut shredder type
provides a very high level of security
shreds credit cards, CDs/DVDs and paper
max 15 sheets per single load
auto-reverse function
BEST FABRIC COMMERCIAL SHREDDER
Royal 10-sheet Paper Shredder
Quality Material
Royal 29171Y is a big paper shredder that meets any office needs. Its dimensions are 15 x 12.2 x 7.7 inches and its entry slot is 8.75 inches wide. It is made of quality plastic and is wear-resistant. This model is tested and meets many safety and quality standards.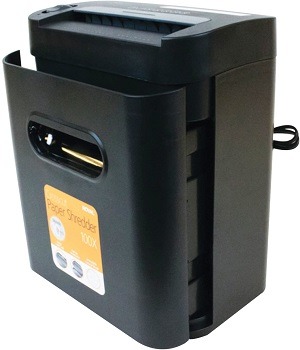 Credit Card Shredder
The commercial shredding machine can shred paper and credit cards and is not designed for CDs and DVDs. There is a separate slot for credit cards. This 10-sheet paper shredder has a powerful motor of 1/2 horsepower. The switch features three options – auto, off and reverse. A 1-year warranty is provided by the manufacturer.
Highlighted Points:
made of durable plastic
auto, off and reverse features
1/2 horsepower motor
separate slot for credit cards
backed by a 1-year warranty
meets quality standards
BEST 12-SHEET INDUSTRIAL PAPER SHREDDER
Ativa Micro-cut Shredder
Micro-cut Device
Ativa is a 12-sheet paper shredder, designed for industrial office use. This micro-cut device shreds confidential and top-secret documents into tiny and unreadable particles. It destroys paper with clips and staples and credit cards. Backed by a 1-year warranty. Its wastebasket has a capacity of 6 gallons.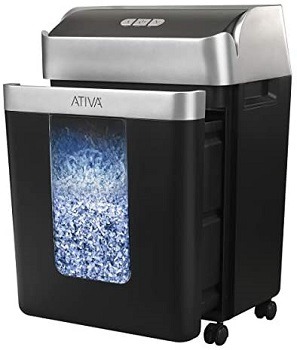 Fast Shredding Speed
This 12-sheet paper shredder features a good shredding speed, so you can destroy a large amount of paper quickly. Able to shred 20 minutes continuously. The integrated sensors detect if the device is overloaded and start to reverse blades. The shredder dimensions are 22 x 11 x 15 inches.
Highlighted Points:
provides high-security level
four durable casters
LED indicators for status
shred continuously for 20 minutes
fast shredding speed
Things To Know About Commercial Paper Shredder
Before you equip your office or home with a commercial paper shredder, consider some factors such as shredder size, power, sheet capacity, safety features and other things.
Shredder Dimensions – Because of the large bin and high-sheet capacity, these industrial paper shredders are large and require more space than small office or home paper shredders. They feature a strong motor of 05 or 1 horsepower making them powerful.
Level Of Security – There are three paper shredder types – strip-cut shredder, cross-cut shredder and micro-cut shredder. All providing different levels of security. If you need to shred highly sensitive documents, choose a micro-cut paper shredder that turns paper into unreadable particles.
Safety Features – These powerful paper shredders should have some safety features. Some paper shredders come with a safety shield above the feed slot. It protects your hands. Also, models with sensors can detect your hands and automatically turn off the device.
Sheet Capacity – Commercial or industrial paper shredders are designed for shredding a high amount of paper, CDs, DVDs and credit cards. You can find 20-sheet paper shredders with high shredding speed, ideal for large offices and companies.
Price & Where To Buy – Paper shredder models are available at various prices. That depends on the shredder's features and size. You can buy it on the official website, or sites like Amazon, where you can find a wide range of different models.
Final Verdict
All the listed models are worth buying so it's your decision which one is most suitable for your business. There are many different paper shredders on the market, so if you looking for powerful models, check heavy-duty paper shredders. They provide high sheet capacity and fast shredding speed.