Are you looking for a good professional paper shredder?
Be careful with purchase, because every professional paper shredder should have a few important features. Keep reading and you'll learn more about these features in our buying guide. Also, there are reviews of quality professional shredders, so you'll definitely find the most suitable model for your needs.
Our Top Picks
Best 6 Professional Paper Shredders
Best Of Best Professional Paper Shredder
Fellowes Powershred 325Ci Pro Paper Shredder
Big Machine
The Fellowes Powershred 325i is a professional paper shredder that has 27.56 x 38.75 x 24.88 inches. It is a big machine which weighs 88 pounds. But you don't have to worry about that, it features casters for easy mobility. The price is high and the warranty lasts 2 years.
Medium Security Level
The Powershred uses a cross-cut way to shreds the sheets. It provides a high-security level, P-4. This paper shredder type shreds sheet diagonally from both corners, so it is almost impossible to read it. If you put the A4 paper into this device, it will cut it into 400 particles and more.
High Bin And Sheet Capacities
This one of the best pro paper shredders is able to shred credit cards, DVDs, CDs, staples, paper clips and junk mail. The sheet capacity is 22 sheets per pass and the bin capacity is 22 gallons. It is a high volume bin, so you don't have to empty it very often. It is great for 6 to 10 users.
Safety Features
The run time is 45 minutes. The Jam Proof feature eliminates paper jams and increases productivity. The SafeSense technology automatically shuts off the shredder if your hands touch the paper opening. SilentShred technology provides low noise operation. Energy Saving System saves power when the device is in standby.
Highlighted Points:
powerful cross-cut paper shredder
good item for sensitive documents
advanced patented Jam Proof System
SafeSense technology enhances safety for your hands
long continuous run time
Best Micro-cut Professional Shredder
Aurora AU121oMA Professional Shredder
Professional-grade Shredder
Aurora AU1210MA uses a micro-cut way to shreds the papers. This professional-grade paper shredder cuts the CDs, DVDs, credit cards and paper clips. You can shred documents with private information because this machine has a high P-4 security level.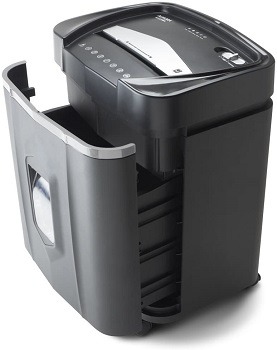 Efficient Jams Function
If paper jams happen, the Aurora has anti-jam technology and auto-reverse function. You can run this professional paper shredder for 60 minutes without pause. The cooling-down period lasts 45 minutes. It shreds up 12 sheets per pass which fall into a 5-gallon bin.
Portable Paper Shredder
The paper shredder slot is wide, it's 8.7 inches and that is pretty enough for almost all paper sizes. The castors are attachable, you can remove them when you put the shredder into its place. Aurora professional paper shredder works quietly, it produces below 60 decibels.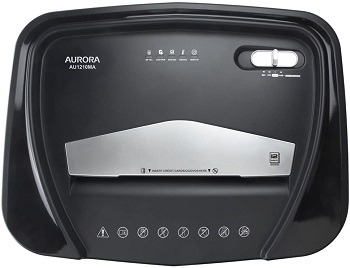 Useful LED Indicators
On top of the device, you can find a few LED indicators. They are very useful because you can see if the device is overheated, overloaded, bin capacity and door status. In the front is a transparent window, so you can see if the bin is full. This item has a high price.
Highlighted Points:
60 minutes of continuous run time
it shreds paper, paper clips, staples, DVDs and CDs
the pullout bin is large and convenient
micro-cut shredder for top security
LED indicators for overheat/overload/bin capacity
expensive professional shredder machine
Best Cross-cut Professional Shredder
AmazonBasic Paper Shredder
Choose The Suitable Model
This professional paper shredder is available in six models that offer different sheet capacity. Choose between 6, 8, 12, 15, 18 and 24 sheets per pass. Here we talk about the 24-sheet capacity model which features a 7-gallon bin capacity. It is great for large offices and multiple users. The price is high.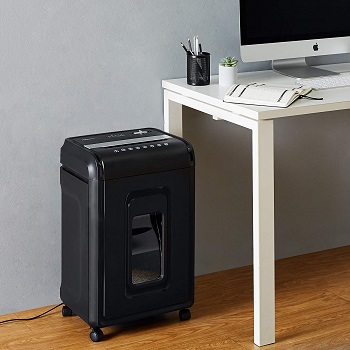 Security Cross-cut Paper Shredder
This cross-cut paper shredder shreds the papers into very small pieces, they look like confetti. AmazonBasic meets a high P-4 security level. When you put the paper into the machine, you don't have to remove paper clips or staples. Also, you can feed it with CDs and DVDs.
Safety Auto-off Feature
AmazonBasic professional paper shredder runs 40 minutes continuously. Then you need to leave it to cool down for 50 minutes. If it works longer than max time, it will automatically shut off to protect the motor from overheating. Before using, read the instruction.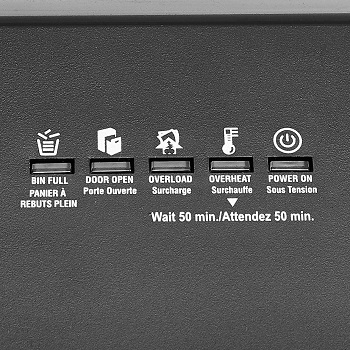 4-mode Power Switch
The user-friendly design allows you to choose between four power modes – auto, reverse, forward and off. If you choose auto-option, it will automatically turn on when you put paper and it will stop working after shredding. This feature saves power consumption.
Highlighted Points:
works continuously for 40 minutes
choose between 4 operation settings
high sheet capacity suitable for large offices
put the confidential documents in it without worry
reverse function for paper jams
Best Strip-cut Professional Paper Shredder
HSM Shredstar S25
Two Separate Bins
The HSM Shredstar S25 shreds the papers with the strip-cut method. It is able to shred up to 25 sheets at once. The throat opening is 9 inches wide. The 6.9-gallon bin has two parts – one is CD cutting unit with separate bin and another is for paper.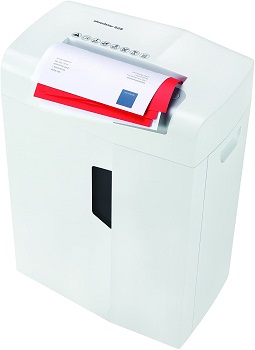 Ideal For 1-5 Users
This strip-cut paper shredder is good for medium-sized offices, it can be used by 1 to 5 users. It is suitable for the office because it features an automatic start and stop. So when one person puts the papers in it, the shredder will start working. After shredding it will stop working.
Quiet And Compact
HSM professional paper shredder has 11 x 15.60 x 21.70 inches and it weighs 26.5 pounds. But it is easy to move it from one office to another, HSM features casters for better mobility. You can find it in white and black colors. The quiet operation ensures a comfortable environment.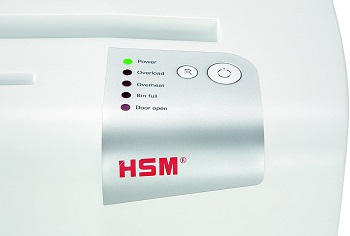 Paper Shredder's Operating Status
This strip cut paper shredder is equipped with LED indicators that show you the status of power, overload, overheat, bin capacity and door position. There are safety light sensors that automatically shut off the machine if your hand or fingers touch the paper slot.
Highlighted Points:
light sensors for auto-start and auto-stop
independent CD cutting unit with its own bin
power, overheat, overload, bin and door indicators
strip cut method for non-sensitive documents
portable professional paper shredder
it is available in two different colors
Best Office Professional Shredder
Bonsai C169-B Paper Shredder
Convenient Design
Bonsaii EverShred professional paper shredder is a heavy-duty machine that is suitable for a large office or home use. It has superb quality and affordable price. The four removable casters improve mobility. You can park it wherever you want, Bonsaii features lockable front wheels.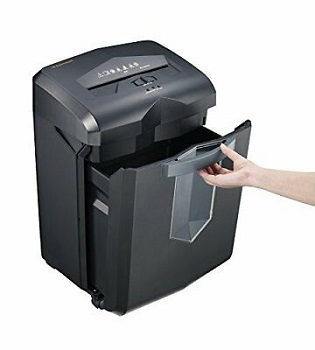 Whisper Quiet Device
This professional shredder features a medium-duty motor with a shredding speed of 5.3 feet per minute. The Bonsaii motor runs quietly, it produces the noise of 62 decibels. So, it won't distract you with the noise, you and your colleagues can focus on the work.
Patented Run Technology
The Bonsaii is a micro-cut paper shredder, it will cut the paper into very small pieces. The patented technology prolongs the run time, so this device is able to work 60 minutes before the cooling down period. It requires 10 min only for cooling. It will shred the 12 sheets at a single pass.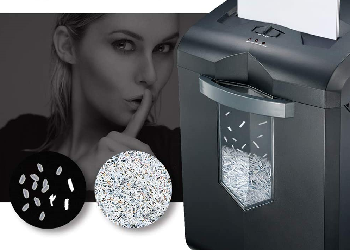 Auto Work Machine
The bin has a capacity of 6 gallons. You can easily see if the bin is full through the transparent window. If you put too much paper in the slot, the Bonsaii will automatically reverse. You don't have to struggle with paper jams. This professional paper shredder features auto start and auto stop options.
Highlighted Points:
high-security micro-cut professional shredder
easy to use because of automatic features
continuously runs for 60 minutes
very short cooling down period
it doesn't produce a loud noise
Best Cheap Professional Shredder
Ragu Paper Shredder
Budget-friendly Paper Shredder
This affordable paper shredder is a very good choice for home use. It is a cross-cut machine that is able to shred 6 paper at a single pass. You can put papers and credit cards into the feed opening. But be careful, you can't put two or more credit cards into it, only one at a time.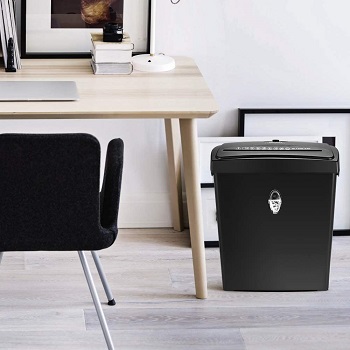 Short Operation Time
Ragu features a small transparent window, but you can see if the bin is full. The bin capacity is 2.9 gallons. The continuous run time is 2 minutes. After that time, you need to leave the paper shredder about 20 to 30 minutes to cool down.
Manual Reverse Design
The Ragu paper shredder features an automatic start when you put the paper into the slot. There is no paper jams issues because of the manual reverse design. Because of these features, the operation is smooth and easy. If the motor starts to overheat, it'll automatically shut down.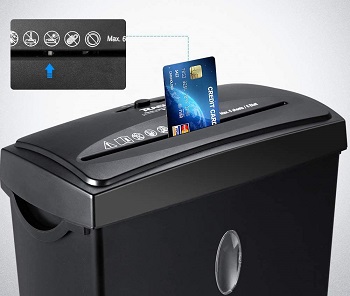 Durable And Quality
This cross-cut professional machine is made of quality ABS plastics, so the construction will stay stable and sturdy for a long period of use. Also, the device is loud, it produces approximately 72 decibels. Ragu is a small product, there are 11.37 x 5.98 x 13.07 inches and it weighs 6.9 pounds.
Highlighted Points:
quality product for an affordable price
compact for every home and small office
short run time, a long cooling down period
it is made of quality materials
manual reverse feature for paper jams
Things To Know About Professional Paper Shredder
The large offices work with huge amounts of paper and they need a powerful paper shredder. Pro paper shredders feature better speed, larger sheet and bin capacity, longer run time and others.
High Sheet Capacity – The professional paper shredders have a higher sheet capacity, the range goes from 15 to 20 sheets and more at once. The manufacturer tells you which is the maximum, but always put fewer papers into the machine, because of paper jams.
Run Time – The run time or duty-cycle last very long on professional shredders. Unlike the home paper shredders, these pro shredders are able to shreds about an hour. Also, they have a shorter cooling down period. Because of that, they are very efficient.
Shredding Speed – Professional paper shredders are able to shred the huge amount of papers at once. So, before buying, always check out the speed. Some paper shredder can shred with a speed of 30 feet per minute. You can calculate the shredder score if you multiply sheet capacity x run time x speed.
Safety Features – The professional paper machine with some safety features is always a good idea. The safety lock locks the shredder even if it's plugged in. Safety sensors detect the hands and fingers if you put them around the paper opening and they automatically shut down the shredder.
Designed For Multiple Users – This type of paper shredder is designed for multiple people to use. The professional shredders are suitable for 5 users and more. They have big and sharp blades and a big bin capacity of 30 gallons, so it isn't necessary to empty it so often.