Do you need a quality laminator to make a laminated name tag for events, employee cards, and other cards for badges?
Then you are in the right place where you can find just what you need. You can find various badge laminators so choose the one that you find the most practical for you.
Our Top Picks
Best 5 Badge Laminators
BEST OF BEST BADGE LAMINATOR
USI HD400 Heavy Duty Laminator
 Small Size For Cards
This Usi laminator is made of durable materials that ensure stability and long-lasting life. It has a small size because it's purposed for laminating card-size materials. You can make a laminated name tag for your employees if you organize a professional event and so on.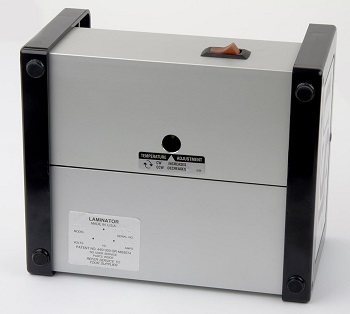 Supports Thick Material
The cards and pouches can be up to 4 inches. It can laminate small materials but thick. The maximal supported thickness is 15 mils. Since it can support ultra-thick material, that means the machine is strong. The cleaning using the carrier increases the laminator's life.
Practical For Transporting
This laminating machine works quietly which means it's not disturbing for your ears. You can make an ID card badge for a quick time. You can use it in various places. Its compact design makes it practical for holding. It weighs about 8 lbs so it depends on the users' power if they find it comfortable for carrying.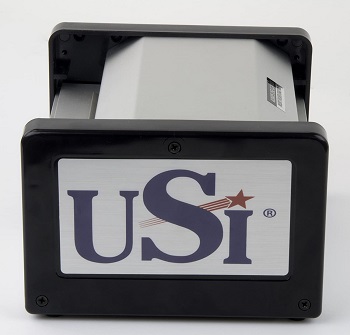 Temperature Control Function
Before you start laminating, the machine needs some time for preheating. About 10 minutes are enough for the machine to be ready. The lamiantor reaches the optimal temperature and adjust it depending on the material you laminate. After laminating, make sure you switched out the machine because it doesn't have an automatic shut-off function.
Highlighted Points:
heavy-duty long-lasting construction
preheats for 10 minutes approximately
made for the pouches of up to 15 mils of the thickness
maximal 4 inch wide materials supported
quiet-working laminating machine
includes the carrier cleaning system
BEST EVENT LAMINATED NAME TAG
EasyIDea ML450T ID Card Laminator
ID Card Sized Materials
The easyIDea laminator comes in a small size which makes it practical for transporting. The bigger size is not needed since you laminate ID card-sized materials. Using this badge laminator, you can make a name tag badges for a short time.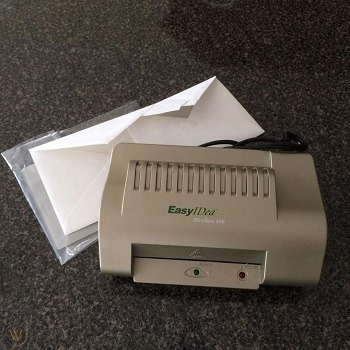 Big Material Thickness
The laminator offers a temperature control function. The laminating machine adjusts the heat settings depending on the material thickness. There are two settings purposed for thinner and thicker cards. The maximal thickness of the cards can be 30 mils. That means you can laminate plastic credit cards as well as the Teslin paper.
About 2 Hours
The machine can work for 2 hours in continuity. This time is enough to make a big number of badges for events and conferences. You can also make employee cards in your office. You can use the pouches that have a thickness of 10 mils maximally.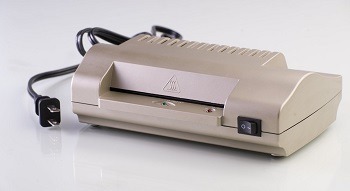 Two Or Three Times
To make your badges for conferences more stable, you should run the material through the laminator for 2 or 3 times. The machine is simple to use because there is one button you need to press to start laminating. The laminating machine takes a small space.
Highlighted Points:
designed for standard paper, Teslin paper, and plastic card
maximal card thickness is 30 mils
continuous run time of 2 hours maximally
two heat settings of temperature control function
simple one-button operation system
BEST ID BADGE LAMINATOR
Brainstorm ID ID-Lam 45 Laminator
Up To 4 Inches
To make laminated id badges using the Teslin paper, it's best to use this Brainstorm laminator. With the size of about 4 inches, this laminating machine is ideal to make ID cards for your employees, for events, and more. You can use it anywhere since this small laminator requires a little place.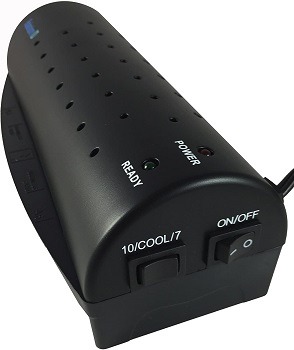 Two Settings For Two Types
The optimal pouch type for using if you laminate with this badge laminator is butterfly 7 mil or 10 mil pouch.  Depending on these two pouch thicknesses, there are two temperature settings. The heating system adjusts the temperature which makes it harmless for name tag materials you laminate.
Indicator Light Signs
The heat that is needed for laminating is reached for about 5 minutes after you switch on the machine. After the preheating time, you can start laminating. The indicator lights will show you when the machine is hot enough. Don't forget to set the appropriate option for heat laminating by pressing the button.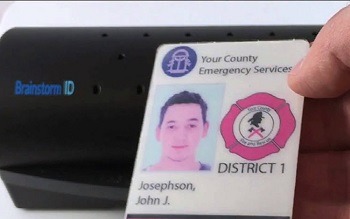 Double Pressure Rollers
If you don't use the hot pouch ready for heat lamination, you can set the cold lamination option. You need to purchase the adhesive type of pouches. In the cold mode, instead of the heat, the machine uses the high pressure of two rollers.
Highlighted Points:
makes laminated name tags from Teslin paper
holds up to 4 inch wide cards
heat and cold modes with adjustable settings
options for 7 and 10 mil butterfly pouches
indicator lights placed on the top
needs about 5 minutes for heating up
BEST HOME LAMINATED NAME TAG
>Efficentline YE381 Laminating Machine
Wider Inlet Built-In
Unlike the previous models I reviewed, this one has a larger size but still doesn't take a lot of space. The length of this model is about 12 inches. The machine holds the papers with A3 format and smaller. If you want to make budges, you can laminate multiple pieces at once.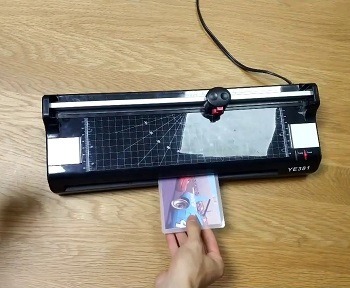 For School Or Home
This laminating machine is practical to use at school if you have to make student cards for some events. It's also appropriate for home use or for office. The package comes with 50 pieces of pouches but for cards. You need to purchase small card format pouches separately. Thanks to the speed of 250 mm/min, you will finish your job quickly.
Cold Or Hot?
You can choose between two laminating options. There is a hot mode that makes badges by sticking the melt pouch to the paper or cardstock. If you find the heat too dangerous for your material, you can choose the cold laminating method. The double roller system makes high pressure needed to stick the pouch and material.

Tools For Better Look
You will get additional accessories in the package. The equipment set includes the paper trimmer and corner rounder. You can use these tools to improve the appearance of the laminated name tag. To prevent the jam, you need to press the ABS button placed next to the indicator lights.
Highlighted Points:
designed also for papers of A3 format and less
the trimmer, rounder, and pouches included
2 roller hot and cold laminating systems
inlet length of about 12 inches
ABS button prevents error and jam
laminating speed is 250 inches per minute
BEST COMMERCIAL BADGE LAMINATOR
Akiles Prolam Plus 330 Laminator
Heavy-Duty Inside And Outside
The Akiles badge laminator has a metal construction which makes it durable and ideal for commercial purposes. It has a heavy-duty look and a strong laminating system. Not only the rollers but the machine uses also the heat plate to make quality laminated name tags.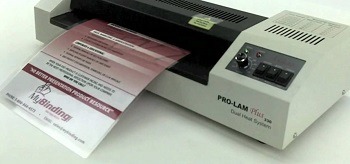 From 3 To 10 Mils
The inlet size of 13 inches supports the materials of A3 format and smaller. It's strong enough to support the lamination of multiple ID cards at the same time. You can use the pouches of various thicknesses. The temperature is ideal for 3-10 mil thick pouches.
Precise Laminating Settings
The laminator includes the control panel with a rotatable button for temperature, indicator lights, and more. You can choose the hot or cold laminating method. Each mode has double functions. The laminating system of this machine has precisely adjustable settings. You can use it to laminate materials with various thicknesses.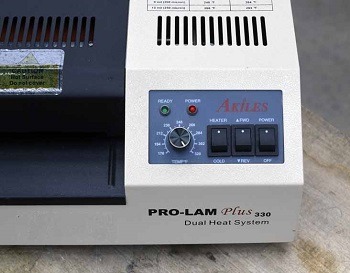 The Highest Speed
The biggest thickness of the material you laminate is 1 mm. This powerful laminator can work with a speed of 23 inches per minute which is 580 mm per minute. You need to place this machine on a desktop but it's not so portable since it weighs about 20 lbs.
Highlighted Points:
laminates the material of 13 inches maximally
the highest speed of 580 mm per minute
supports pouches 3-10 mils of the thickness
double hot and double cold laminating options
heavy-duty construction with a weight of 20 lbs
maximal material thickness of 1 mm
Things To Know About Badge Laminators
The laminators that are purposed for making laminated name tag badges have small inlets for ID card-sized materials. These models support thick materials and pouches. The average size makes these laminating machines affordable for most users. The biggest offer is available on popular webshops.
Card Sized Inlet – The laminators for name tags have a small size which is enough for ID card-sized materials. The inlet size is 4-9 inches while the width of the employee card, event name tag, and other appropriate materials is usually 2-4 inches.
Big Pouch Thickness –  To make laminated name badges, the lamiantor inlet needs to be suitable for pouches of up to 15 mils of the thickness. The minimal recommended pouch thickness is 3 mils. These laminators support the pouch with a size for usual name tags with dimensions of about 2×3 inches.
Suitable For Various Materials – You can make badges from standard paper, Teslin paper, cardstock, or plastic card. That means the materials with the thickness from 0,2 to 1 mm are suitable for this type of lamiantor. Using the thick pouch, you can make a stable laminated name tag from a standard paper.
Price Of 50 Dollars – The average price of the badge laminators is 50 dollars, except for the commercial models that have the price higher than 100 dollars. The price of 50 dollars is small in comparison with powerful commercial models of 500-1000 dollars. These laminators have a smaller price thanks to a smaller size.
Available On Webshops – Most laminators for name tags are available on webshops such as Amazon, Alibaba, Walmart, e-Bay, and so on. The offer of webshops is available online and provides a lot of information. Amazon, for example, includes information about the laminator specifications, photos, and customers' reviews.