Do you require the best commercial laminator machine for your small or big business?
Then this post is just for you. Here you can find the laminators of various sizes and types so you can see which one suits your business. See also the info about it which may help you while buying a laminator.
Our Top Picks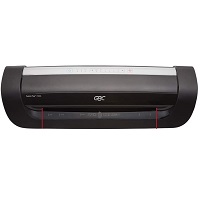 GBC Thermal Laminator Machine
OVERALL RATING: ★★★★★
Thanks to high speed and short preheating time, you can serve a lot of customers quickly which is very user-friendly feature.
Jump To Review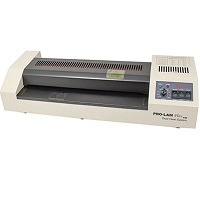 Akiles Prolam Plus Laminator
OVERALL RATING: ★★★★☆
Using double heat laminating system, the Akiles model enables you to adjust the options according to all the material types.
Jump To Review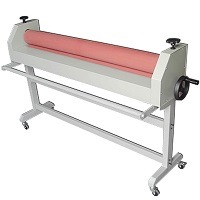 CLM 1600MM Laminator
OVERALL RATING: ★★★★☆
No electricity needed, no desktop needed. This is a manual roll machine that uses high pressure to make quality laminated materials.
Jump To Review
What Makes A Laminator Suitable For Commercial Use?
For a laminating machine to be considered commercial, it will need to be equipped with rolls, have a high speed, a robust construction, adjustable temperature settings, and a wide inlet to tackle any size project.
Rolls
They work with the help of heat and pressure. A laminator equipped with rolls creates a protection film over papers, documents, photos, etc. How? The heat on the rolls melts the glue on the lamination film. The pressure of the roll then applies this adhesive film to the document you want to protect.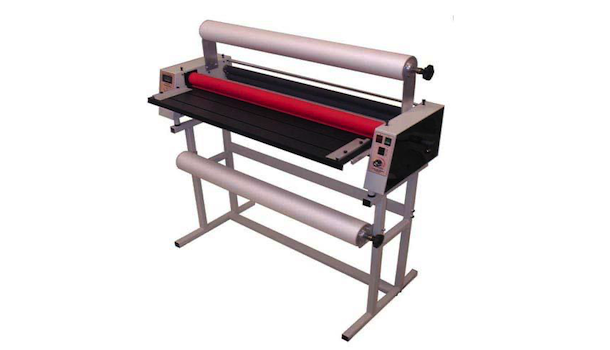 High Speed
The speed of standard laminators is quite slow, between 10 and 20 inches/min. However, a commercial model works much faster, laminating 10 to 50 feet/minute (120 to 600 inches/min).
Wide Inlet
To be able to laminate big and small projects, the inlet size on the laminator should be wide. It is usually at least over 13 inches wide and can be even up to 60 inches wide.
How Does It Work?
A roll laminator can laminate one large poster or several smaller items. It runs plastic film continuously so that it can laminate larger quantities of paper, documents, etc. When it comes to heat rollers, they work to seal the protective film over the document by heating it up to melt the glue. The film passes over heated rolls to melt and then rollers that apply pressure to seal. When it comes to cold rollers, they work with pressure to apply the adhesive from the film to the document for sealing. They are more expensive to use but needed for heat-sensitive items (such as photos).
Roll Laminating Film
The film for roll lamination usually has a core size of 1, 2.25, or 3 inches cores.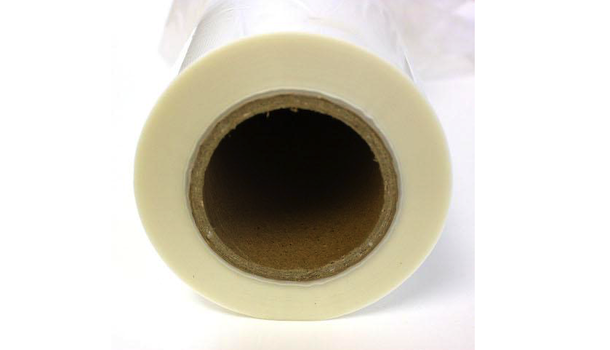 Film Thickness
With commercial models, you can laminate with a thickness of at least up to 15 mils. This is a good choice if you want really tough and hard laminated product. Otherwise, for more bendy, choose 3 to 5 mil film.
Make Production More Automatic
If you need to make lamination as quick as possible, you should also invest in an automatic feeder to feed the documents into the laminator. Besides that, an automatic cutter can optimize production even further.
Where Are They Used?
A commercial machine for lamination is usually used in environments that earn you money. For instance:
Copy or print shops
Sign shops
Corporations that produce high-quality laminated products
Offices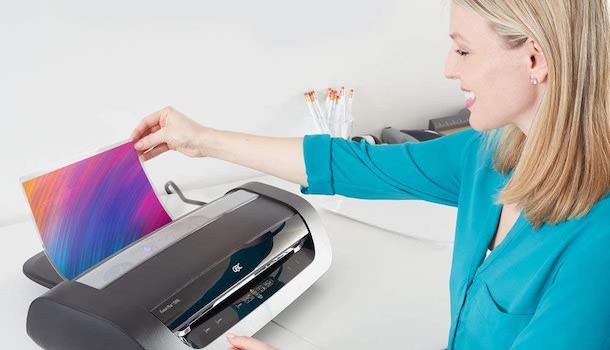 Do They Have Any Benefits?
Having a good laminator for your commercial needs will:
Earn you money
Laminate quickly
Laminate both bigger and smaller documents
Produce lamination of different thickness
Make professional lamination projects
Create long-lasting lamination
How To Pick The Best One?
Picking the right laminator for your commercial needs does not have to be hard if you know which features and specifications to avoid and which to look for. You can find out more below.
Which Speed Do You Need?
If you want to be truly fast with lamination, you should pick among the highest speeds available. For instance, some heavy-duty machines can laminate up to 50 feet per minute. However, if your laminating needs are smaller, then even 10 feet per minute will still be very good.
Warm-Up Time
For heat lamination, the machine will have to warm up before you can start using it. Most usually, warm-up time will be somewhere between 1 and 10 minutes. If you have a lot of laminating to do, choose closer to 1 minute. If you do not mind waiting, then even around 5 minutes of warm-up time will be fine.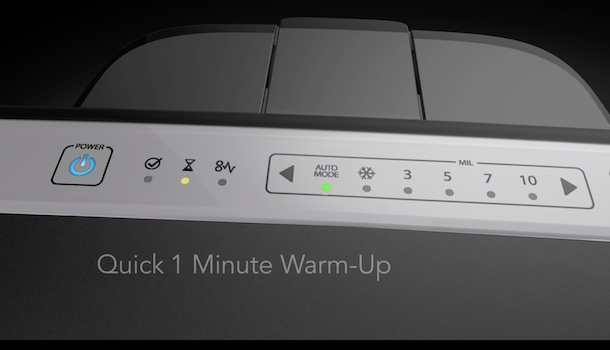 Should You Choose Both Hot & Cold Modes?
We suggest that you pick a model that can do both. Why? Because then you can do just about any lamination. Some items will be sensitive to heat, so they should be laminated with cold. On the other hand, heat lamination is very common and will be used for a variety of projects, too.
Run Time
For commercial needs, you need a model that can run continuously or for several hours before it needs to turn off and cool down. Standard models that can run for 20 to 30 minutes will not be enough.
Stop Button
In case of emergency, the machine should have an easily accessible and visible stop button. It will momentarily stop the lamination production for safety or other reasons.
Adjustable Thickness
Not every project will require the same thickness so you should always pick a model that allows you to easily adjust the thickness by turning a knob.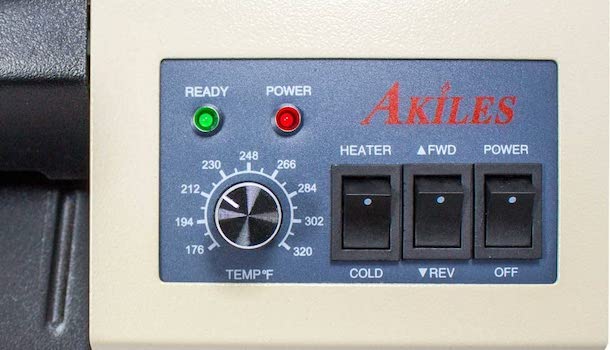 Adjustable Temperature
Models that work with different thicknesses, also need to allow you to adjust the temperature of the lamination. To tackle a wide variety of projects, you should choose a model that has a big range of temperatures. For instance, up to around 350°F.
Slitters For Cutting
If you want the machine to cut as it laminates, choose a model that comes with one, two, or even three slitters.
Warranty
A manufacturer's warranty is always a good thing to have with any product. Some of these machines will have between 1 to 5 years of warranty which is a good promise if anything happens to it.
Cooling Fans
For the best lamination results, it is good to invest in a model that features cooling fans. They help to bring the laminated project back to room temperature. At the same time, this also means that there will be fewer bubbles for a flat finish.
Wheels For Moving & Storage
Wheels are also important as commercial models are usually big in size. With the wheels, you can easily move the machine around. However, for storage, the wheels should allow locking, as well.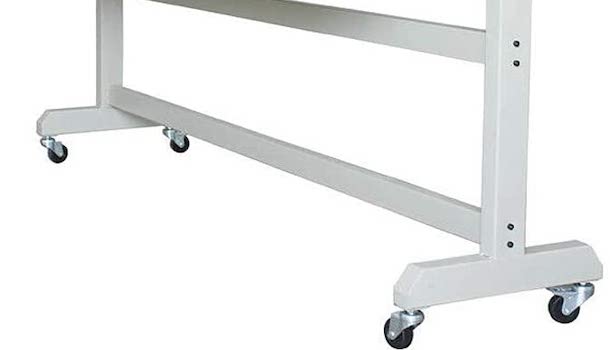 Foot Switch
A foot pedal is another thing to look for. If the laminator has a foot pedal, the operation will be hands-free, which can be easier and safer.
Sheet Feeder
A sheet feeder sometimes comes integrated into a laminator. It can be very helpful, feeding between 30 and hundreds of paper into the machine to make the operation easier.
Best 6 Commercial Laminator Machines
GBC Thermal Laminator Machine
SPECIFICATION:
Thickness: 3, 5, 7, 10 mil
Dimensions: 26 x 12.6 x 8.7 inches
Weight: 22 pounds

Temperature: Hot/Cold
Speed: 55 inch/min
Warm-Up Time: 1 min
Laminator And Pouches
The laminator has a black color and it's a type of laminator that suits a desk or any other straight surface. The laminator doesn't require a lot of space so you can use it for small businesses. The package includes not only the laminator but also 50 pouches of letter size.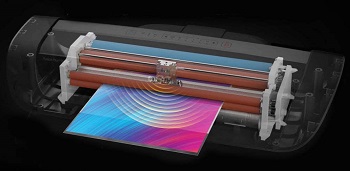 Fast Preheating Time
The GBC laminator offers a heat laminating option. It takes about a minute for the machine to be preheated and ready to laminate. You can use it for materials that are 12 inches wide maximally. The pouches for use can be the least 3 mils thick and  10 mils thick maximally.
Multiple Roller Design
Inside the laminator, there are 6 rollers. The multiple roller design makes the laminating better and provides quality results. It's less possible the wrinkles and bubbles will happen. If the jam happens, you need to press the release button to save the document you're laminating.

About 300 Documents
The laminating speed is 55 inches in a minute. That means you can laminate 40-50 documents in 10 minutes which is around 300 documents per hour. The time depends on the length of the documents of your customers. The machine is suitable for A3 papers and smaller formats.
Overall:
Safety:
Power:
Size:
Weight:
Funcionality:
PRICE
approx:$263 – $399
determined by online offer (Amazon, Walmart, eBay) and seasonal sales
Highlighted Points:
uses the thermal laminating system
warm-up time lasts for a minute on average
laminates with a speed of 55 inches per minute
supports the pouches 3-10 mil thick
comes in the package with 50 letter pouches
inlet compatible with 12 inch wide papers and smaller
Akiles Prolam Plus Laminator
SPECIFICATION:
Thickness: Up to 10 mil
Dimensions: 21 x 8.5 x 4.5 inches
Weight: 20 pounds

Temperature: Hot/Cold
Speed: 23 inch/min
Warm-Up Time: 5 min
Requires Firm Surface
The Akiles laminator includes a metal cover that makes it look heavy-duty. The machine requires a firm surface where you can place it on. It has a length of 13 inches so you don't have to ensure a big space for it. A desk or table of average size should be a good solution.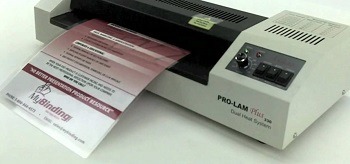 Double Heat And Cold
The machine includes the control panel on the right side. The control panel includes the indicator light that shows the users when they can start to laminate. You can choose a hot or cold laminating system. Each system has adjustable functions so almost all the types of material are suitable to the machine.
Ultra-Fast Service
This laminating machine works with a speed of 23 inches per minute which makes it ultra-fast and effective. You can laminate the materials using the pouches of up to 10 mils thick. You can laminate the documents that have A3 format maximally and are thick up to 1 mm.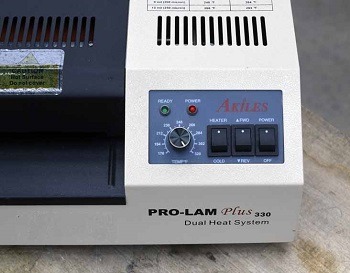 Heat Rollers And Hot Plate
When you use the heat laminating method, the machine adjusts the temperature according to your needs. The heating system includes both heat rollers and a plate. You can change the options quickly and the laminator adjusts the temperature automatically depending on the pouch thickness and material type.
Overall:
Safety:
Power:
Size:
Weight:
Funcionality:
PRICE
approx:$320 – $358
determined by online offer (Amazon) and seasonal sales
Highlighted Points:
throat length of 13 inches suitable for A3 paper
laminating speed of 23 inches per minute
double hot and double cold laminating systems
temperature adjustments depending on the pouch thickness
supports up to 10 mil thick pouches
maximal laminating material thickness is 1 mm
heavy-duty metal cover construction
CLM 1600MM Laminator
SPECIFICATION:
Thickness: NL
Dimensions: 65 x 15 x 17 inches
Weight: 158.4 pounds

Temperature: Cold
Speed: NL
Warm-Up Time: N/A
Self-Standing Machine
This model has a different design that other laminators in this post. Unlike other desktop models, this one is a self-standing machine. It comes with the stand so you don't have to purchase the appropriate table where you can position it. The stand is made of metal which provides the stability.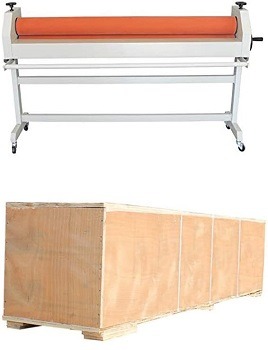 Castors On The Bottom
The machine has a large size so it supports the materials that are up to 63 inches long. Although it's a large model, you can relocate it easily thanks to the castors placed on the bottom. This laminator has the mount for pouch roll which makes the laminating process easier.
Pressure And Adhesive
The roller with a diameter of about 5 inches provides high pressure that is needed for laminating. Since it's a cold laminating machine, it doesn't use the heat but pressure in combination with an adhesive pouch. The machine doesn't need an electric power but you need to rotate the handwheel to activate the roller.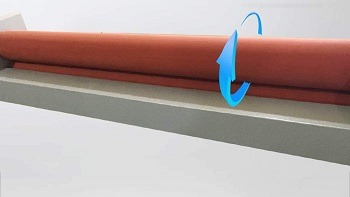 One Inch Thick
While the maximal width of the suitable materials is 63 inches, the maximal thickness is 1 inch. You can laminate posters or press graphics and paintings. The machine is big enough to support all the materials. The laminator is foldable and you can store it in a wooden case.
Overall:
Safety:
Power:
Size:
Weight:
Funcionality:
PRICE
approx:$989 – $1,250
determined by online offer (Amazon, Walmart, eBay) and seasonal sales
Highlighted Points:
includes the cold roller with 5-inch diameter
for up to 63 inches wide and 1-inch thick material
self-standing and foldable design
no electric power needed for laminating
works on a rotatable handwheel that makes it manual
castors built-in to provide the portability
TLC Pouch Laminator
SPECIFICATION:
Thickness: 3, 5, 7, 10 mil
Dimensions: 17 x 9 x 5 inches
Weight: 14.32 pounds

Temperature: Hot/Cold
Speed: 33 inch/min
Warm-Up Time: NL
Heat And Run Switches
The TLC laminator is a desktop model that has a size of 16 inches. It has a black design and stands on the legs that make it stable. The machine includes the control panel with the heat and the run switch buttons that makes the operating system easy to use.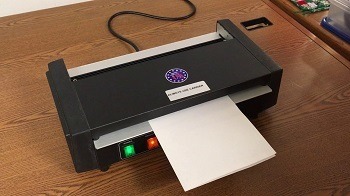 Quick Service Enabled
This machine runs with a speed of 33 inches per minute approximately. The high speed allows you to finish your work quickly and to serve a lot of customers. You can adjust the lamenting mode according to the type of material you laminate. There are cold and hot systems in the offer.
Double Mode Offered
If the material is sensitive, it's safer to use a cold laminating system. Then you need to change the pouch. Instead of a hot pouch, you need to use the cold adhesive pouch. If you're not sure which system to use, you won't get wrong if you use the hot system because the machine adjusts the temperature.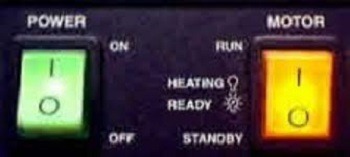 Thermometer Inserted Inside
This laminating machine includes the thermometer that makes the heat adjustment precise. The temperature adjusts in accordance with the pouch thickness. You can use the pouches that are 10 mils thick maximally. When you use the hot laminating method, you need to wait until the green indicator light gives the sign for start.
Overall:
Safety:
Power:
Size:
Weight:
Funcionality:
PRICE
approx:$342 – $445
determined by online offer (Amazon, Walmart, Sears) and seasonal sales
Highlighted Points:
temperature adjustment using the thermometer
light indicator signal for start appears after some time
possibility to use the cold or hot laminating system
material length of 16 inches maximally
accepts the pouches of up to 10 mils thick
heat and run switch buttons on the control panel
stands on the non-slip legs
USI HD1200 Heavy-Duty Laminator
SPECIFICATION:
Thickness: Up to 15 mil
Dimensions: 17.5 x 9 x 7 inches
Weight: 7.98 pounds

Temperature: Up to 370°F
Speed: 10 inch/min
Warm-Up Time: 3 – 5 min
Small But Not The Smallest
This laminator has the smallest size between the reviewed models but it's not the smallest. The length of the inlet is 12 inches so you can use it to documents of A3-A4 format maximally. You can use the pouches that are 15 mils thick maximally.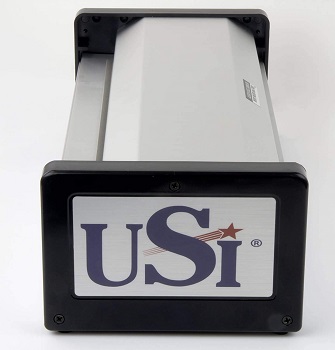 No Disturbing Sound
This model is more compact than others which makes it practical for use and also for storing. It has a simple one-button design so you can finish laminating for a short time. The motor works quietly so it's not disturbing for people around you.
More Practical Than Printer
Thanks to its smaller size, this laminator is practical to protect business cards or credit cards as well as the photos and letters. It's a cheaper and more practical way to make ID cards than using the card printer. You can make also the employee cards easily.
Carriers Included In Machine
The machine includes the laminating carriers. These tools are purposed to keep the laminator clean all the time. The carriers remove the rest of the adhesive and other things that might make the laminator work worse. It's practical to have carriers because good maintenance increases the life of the machine.
Overall:
Safety:
Power:
Size:
Weight:
Funcionality:
PRICE
approx:$289 – $454
determined by online offer (Amazon, Walmart, Sears) and seasonal sales
Highlighted Points:
for pouches that are up to 15 mils thick
purposed for materials of 12-inch thickness max.
ideal for ID cards, letters, and business cards
silent-working not disturbing machine
included carrier makes the laminator clean
Royal Sovereign Laminator
SPECIFICATION:
Thickness: 3 – 7 mil
Dimensions: 22 x 10 x 6.5 inches
Weight: 15.4 pounds

Temperature: Hot/Cold
Speed: 1.7 feet/min
Warm-Up Time: 2 – 4 min
A Few Buttons Offered
The Royal Sovereign laminator is a black machine that suits any desk or table. It has a simple operating system. Tat means there are a few buttons with marks. You need to press the right button to adjust the laminating method to the pouch you use.

From 3 To 7
There are four buttons for different thicknesses. The smallest pouch thickness is 3 mils while the biggest measure is 7 mils. The fifth button is purposed for cold laminating. You can press it to laminate without the heat. On the other side, there is the reverse button for the case the pouch gets stuck inside.
Quick Ending Guaranteed
You can finish laminating quickly since the machine has a fast speed. With the laminating speed of 1,7 feet per minute, the laminated paper comes out for less than a minute. You can laminate also photos. The laminating quality is the same no matter which type of material you want to protect with pouch.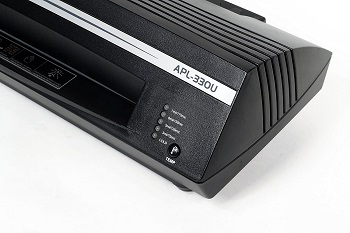 Appropriate Temperature
Next to the button for the cold system, there is the button for temperature control. You can press it to choose the right temperature for the material you laminate. It's important to choose the right heat settings to prevent wrinkles and make laminated materials with no bubbles.
Overall:
Safety:
Power:
Size:
Weight:
Funcionality:
PRICE
approx:$49 – $199
determined by online offer (Amazon, Best Buy, eBay) and seasonal sales
Highlighted Points:
the speed of up to 1,7 feet per minute
temperature control settings for no bubble results
reverse function button releases the stuck pouch
4 buttons for 4 thickness options
the simple and fast operation ensured
Where To Position A Commercial Laminator?
There are two different ways you can use it. The first one would be to place it on a desktop. The second one is to buy a stand for it (unless it comes with one) and have a free-standing laminator.
Desktop
Those that are smaller in dimensions work great on top of any desktop. They can be placed in any office and they are even good for working from home.
Free-Standing
Those that can be mounted on a stand sometimes come with the stand included upon purchase. They are great for industrial environments and open spaces where you need to access the machine from every side.
Laminator Workstation
Besides stands, some manufacturers even offer workstations that look like desks made for use with laminators. They usually have wheels and even metal racks that hold the lamination film. Also, they are usually made of heavy-duty materials such as stainless steel.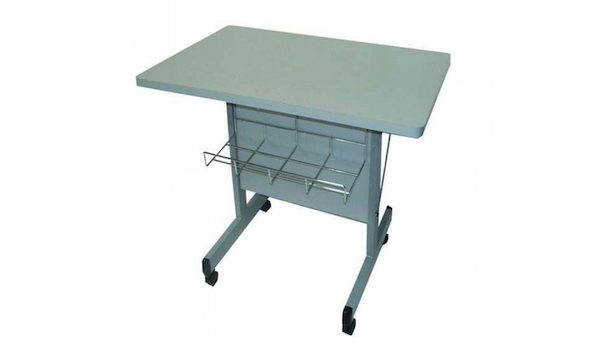 Roll Vs. Pouch Laminator
While a roll laminator is the one used in demanding environments, such as a commercial one, the laminator that works with pouches will be a good choice for some other users.
For instance, a pouch machine is great for:
Laminating at home – great for frequent and less frequent use in your home (DIY projects, kids' school projects, etc)
For teachers and schools – to preserve the work of students and prepare material for studying, teachers will often need a laminator
For businesses and offices – creating name tags, badges, business cards, and other small lamination documents is easy if you have a pouch machine

Final Verdict
To sum everything up, high speed, wide inlet, hot and cold lamination modes, an automatic feeder and cutter, as well as a short warm-up time will help you create great lamination projects in a commercial environment. Since it has a high speed, short warm-up time, and supports thick materials, the GBC commercial laminator is the best pick.