Are you looking for a scanner that will turn your important documents into digital format such as PDF?
Then you should read this document scanner to PDF review!
Having your important documents in digital format presents you with versatility and convenience, takes up less space and makes it easier to look for specific information. Here you can check our selection of the best scanner models and learn which factors you should take into account before buying.
Our Top Picks
Best 10 Document Scanner To PDF
BEST OF BEST DOCUMENT SCANNER TO PDF
Raven Pro Document Scanner
Top-grade Scanner
Raven Pro is a high-quality document scanner designed for receipt, document, paper and business card scanning. This sheet-feed scanner uses wireless, Ethernet or USB connections. It scans up to 60 pages per minute directly into cloud services (Dropbox, Google Drive, OneDrive, SharePoint), email, USB.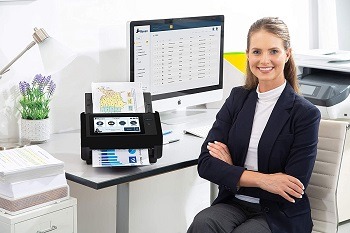 Touchscreen Display
The Optical Character recognition software detects printed and handwritten text and produces searchable PDFs. Raven is a great scanner for photos and documents equipped with a large 8" LED screen. This paper to pdf scanner provides easy navigation and document editing without the need for a computer. ADF accepts up to 100 pages.
Highlighted Points:
automatic document feeder with a 100-page capacity
OCR detects printed and handwritten text
large 8-inch touchscreen
sheet-feed scanner for documents and photos
scans 60 pages per mintue
sends scans to multiple destinations
BEST MULTI-PAGE DOCUMENT SCANNER TO PDF
Xerox DocuMate 3125 Scanner
Duplex Scanning
Xerox DocuMate 3125 is a compact scanner that fits on any office or home office desk. This sheet-feed scanner has Mac and Windows OS compatibility. Scans color, black/white and greyscale documents. Its scanning speed is 40 pages per minute or 70 impressions per minute. This is a duplex paper to pdf scanner.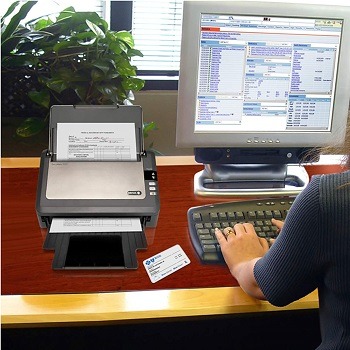 Intelligent Features
This multi-page document scanner comes with an automatic document feeder that holds up to 50 pages. The recommended daily duty cycle is 3000 pages. OCR software creates searchable PDFs and editable documents. Visioneer Acuity software instantly improves the visual clarity of scans by using advanced algorithms.
Highlighted Points:
compact sheet-feed scanner
scanning speed – up to 40 pages per minute
single and double-sided scanning
automatic document feeder with 50-page capacity
OCR software
Visioneer Acuity software
daily duty cycle – 3000 pages
BEST CUTE PDF SCANNER
Brother Compact ADS-1200
Easy-to-use Scanner
For those who looking for an easy-to-use and compact scanner, the Brother ADS-1200 is the best solution. It is suitable for home offices and on-the-go professionals. Brother scans single and double-sided documents per single pass. Also, it scans plastic and business cards. Its ADF accepts 20 pages.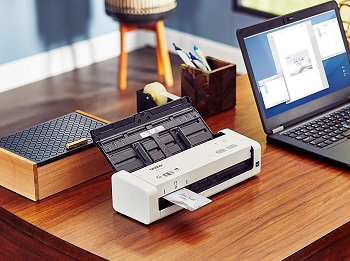 Bundled Software
This file scanner to pdf supports Mac, Linux and Windows OS along with TWAIN, WIA and ICA drivers. Connect it via USB and scan to multiple destinations. The Optical Character Recognition software converts scans into searchable digital files. Image optimization enhances scans quality. Brother home document scanner scans monochrome and color documents.
Highlighted Points:
easy to use the scanner
compact and portable
works with Mac and Windows
comes with a USB 3.0 cable
OCR included
automatic document feeder holds up to 20 pages
BEST OCR PDF SCANNER
Canon imageFormula R40
Easy Setup
Canon imageFormula R40 is a compact sheet-feed scanner suitable for Mac and Windows users. It scans receipts, photos, documents, business cards. Scans both sides of the document per single pass. Use the USB cable and connect this high-speed scanner with your computer. The scanning speed is 40 pages per minute.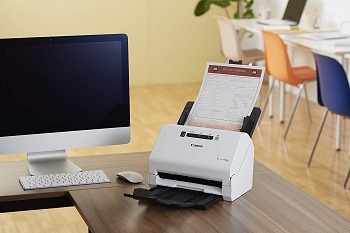 Digital Files
Insert max 60 pages into the automatic document feeder. After scanning, send your documents to email, cloud service, or other destinations. Integrated Optical Character Recognition converts scans into searchable and editable digital files. Energy Star certificate proves the low power consumption of this pdf document scanner.
Highlighted Points:
simple to set it up
quickly converts paper into PDFs
creates editable files
60-page automatic document feeder
scans 40 pages per minute
OCR software
Energy Star Certificate
BEST GOOGLE DOCUMENT SCANNER TO PDF
Brother ImageCenter ADS-2800W
Wireless Scanner
BrotherImageCenter ADS-2800W model is a wireless document scanner suitable for home offices and offices. The item dimensions are 10.2" x 12.1" x 9.8". It features Mac and Windows compatibility. Scans documents, photos, receipts, business and plastic cards. This pdf document scanner is covered with a 1-year warranty.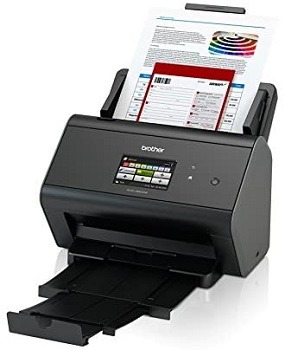 Valuable Software
Scans at up to 40 pages per minute and enable scanning to a wide variety of destinations, such as popular could-based applications like Google Drive Evernote, Dropbox and Microsoft OneNote and OneDrive. Brother high capacity scanner is bundled with a software suite that includes PDF edition, OCR, management programs and more.
Highlighted Points:
office scanner with quick scanning capacity
scan single and double-sided documents
bundled with valuable software
scans 40 pages per minute
works with Mac and Windows
backed by a 1-year warranty
BEST PC DOCUMENT SCANNER TO PDF
Xerox DocuMate 3220 Scanner
Flatbed Scanner
Xerox DocuMate 3220 is very popular among flatbed scanners. It's compatible with Mac and Windows with included TWAIN, ICA and WIA drivers. Xerox measures 17.9 inches by 13 inches by 5.5 inches. This document to pdf scanner scans up to 23 black and white pages per minute and 13 colored pages per minute. Features duplex scanning.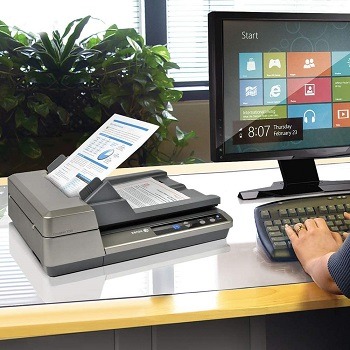 Visioneer OneTouch Technology
The automatic document feeder has a capacity of 50 pages. With the Visioneer OneTouch button, you can turn scanned documents into editable texts and create searchable PDFs. This legal size paper scanner provides a simple one-touch operation. It is backed by a 3-year warranty.
Highlighted Points:
backed by a 3-year warranty
flatbed scanner
works with Mac and Windows
scans 23 pages per minute
50-page automatic document feeder
turns scans into searchable PDFs
simple one-touch operation
BEST BOOK DOCUMENT SCANNER TO PDF
Czur Aura-B Book Scanner
Overhead Scanner
Czur Aura is a bit different scanner designed for book scanning. This is an overhead scanner type measuring 17.4 inches in height, 5.1 inches in width and 7.1 inches in length. It is suitable for Mac and Windows OS users. This document to pdf scanner features a built-in smart lamp that automatically dims or lights up according to the environment.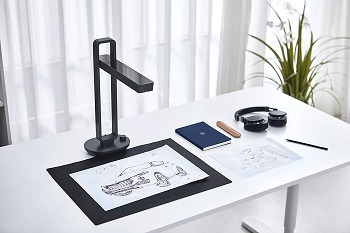 Compatible with Zoom
Curve flattening technology use three precise lasers for scanning accuracy and image quality. This automatic book scanner uses a USB connection, it's compatible with the Zoom app and supports Video recording, SnapShot, OCR software, professional photo editing and other features.
Highlighted Points:
the elegant and compact book scanner
USB connection
compatible with Zoom, Video recording, Snapshot
Optical Character Recognition
curve flattening technology
works with Mac and Windows
BEST FAST PDF SCANNER
Brother ADS-2200 Scanner
High-Speed Scanner
Brother ADS-2200 is one of the fastest scanners currently available in the market. It scans single or double-sided documents in a single pass at up 35 pages per minute. Use it for receipts, ID cards, postcards, thin and thick paper, photos, business cards, inkjet paper, etc.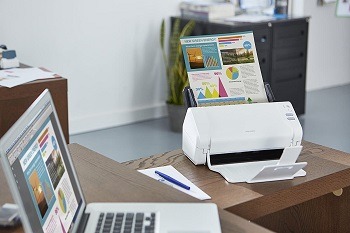 Multiple-driver Support
The automatic document feeder holds up to 50 pages, it scans quickly and submits to multiple destinations. That includes email, OCR, file, image and USB flash memory drive. Also, this fastest document scanner supports Mac, Windows and Linux along with TWAIN, WIA, ICA and SANE drivers.
Highlighted Points:
one of the fastest scanner
single and double-sided scanner
scans up to 35 pages per minute
ADF with 50-page capacity
supports Mac, Windows and Linux
scan and save scans in multiple destinations
BEST IMAGE PDF SCANNER
Epson FastFoto FF-680
Fast Scanner
Epson FastFoto FF-680 is the world's fastest personal photo scanner. It scans 1 photo per second at 300 dots per inch, or batch-scan up to 36 photos at a time. The package includes a scanner, user manual, USB 3.0 cable, AC adapter with power cable, carrier sheet and a cleaning cloth.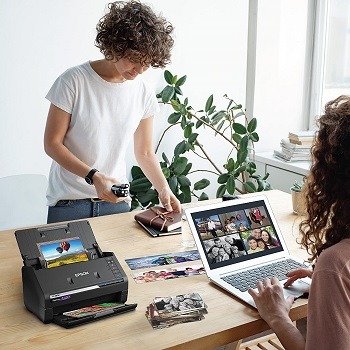 ScanSmart Software
This high-speed photo scanner comes with included ScanSmart software with Optical Character Recognition. It converts scanned images into readable and editable texts. Share your scans via cloud services such as Google Drive, OneDrive or Dropbox. Perfect Picture Imaging System enhances image quality.
Highlighted Points:
the fastest photo scanner
scans 1 photo per second
batch-scan up to 36 photos
carrier sheet for old and delicate photos
ScanSmart software with OCR
save scans on cloud service
BEST MOBILE PDF SCANNER
Doxie Wireless Rechargeable Scanner
Micro USB Port
Doxie Q is a compact and portable document scanner measuring 11.6 x 3.1 x 1.6 inches and weighing 1.8 pounds. It features versatile connectivity – WiFi or USB. It requires 1 lithium-ion battery and it is included in the package. It features a micro USB port, connects it with your PC, iPhone, iPad and iOS app.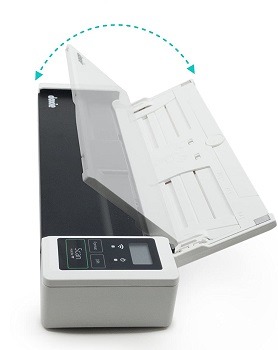 Multiple-page PDFs
This personal document scanner scans up to 8 pages at once and requires 7.5 seconds per single page. Doxie Q provides a resolution of 600 dpi, which is enough for both documents and images. It is easy to organize, save,  edit and create searchable multi-page PDFs. Backed by a 1-year warranty.
Highlighted Points:
small and compact scanner
ideal for home office use
versatile connectivity
use rechargeable battery
connect it with PC, iPhone, iPad, apps
scans 8 pages at once
Things To Know About Document Scanner To PDF
Before you decide which one document scanner to PDF is the best for your home office or office, go through these features and terms below. They will help you to understand these scanners better and see which features you want to have.
Free Scan To PDF – Scan to PDF Free is one of the most popular free apps for scanning physical documents into PDF. This app has a number of features that make it possible to modify scanned documents in more than one way. It is a practical and easy-to-use PDF scanner app.
iPhone PDF Scanner – If you use iPhone, you can scan and convert documents easily. There are many options, you can download the app and connect it with your scanner. Convert scans into PDF with a scanner and send them on your iPhone, email or cloud service.
PDF Scanner App – There are many scanners apps on the market, but if you already have a scanner or want to buy one, they usually come with integrated software, so you need to connect your mobile phone, tablet or laptop with a scanner and access PDF files.
Auto-document Feeder – All high-capacity document scanners come with an automatic document feeder or shortly ADF. It is convenient and easy to use. You should insert a stack of paper into the feeder and leave the device to scan it without your assistance.
Where To Buy/Price – These scanners use advanced features, so they have a higher price than those with basic features. But these models offer many useful features that make your work easier. Order your scanner directly from the manufacturer or visit large popular sites like Amazon that have wide offerings.