Do you need a scanner for a large volume of documents?
If you are interested in a high capacity scanner, automatic document feeder, advanced features and fast scanning, keep reading. These scanners provide many benefits, check out which are the basic ones in our guide, then choose the suitable model from our list.
Our Top Picks
Best 6 High Capacity Scanners
Best Of Best High Capacity Scanner
Canon High Volume Scanner
Office Scanner
The Canon imageFormula R40 is an office document scanner that is compatible with Mac And Windows operating systems. This scanner comes in white color and has 11.14 inches in length, 9.9 inches in width and 9.6 inches in height. It weighs 11 pounds.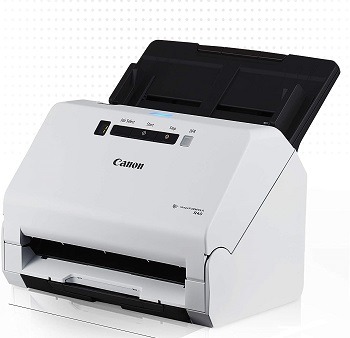 Many Document Types
This scanner accepts reports and contracts, receipts, business cards, long documents, thin or thick documents, and photos. It is easy to set the scanner up, connect it with your PC through a USB cable. You can scan simplex and duplex, which means both sides of the document at the same time.
40 Pages Per Minute
The high-volume desktop scanner scans color, white and black, and greyscale documents. The scanning speed is 40 pages per minute. You can insert a stack of paper into the automatic document feeder, so you don't have to insert one-by-one paper. The capacity is 60 sheets.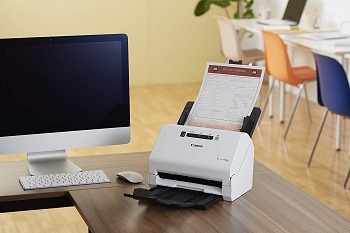 Optical Character Recognition
This high capacity scanner allows you to convert your documents into different formats like PDF r JPG. You can scan your papers directly to the cloud services like Google Drive, Dropbox, OneDrive, or others. Optical Character Recognition helps you to create searchable and editable documents.
Highlighted Points:
perfect for desktop use in the office
connect it to your PC via USB cable
it scans up to 40 pages per minute
the automatic document feeder has a 60-page capacity
simplex and duplex scanning
Optical Character Recognition feature
Best Professional High Capacity Scanner
Raven Pro High Volume Scanner
Connection Options
The Raven is a professional high volume document scanner. The dimensions of this professional photo scanner are 12.44 inches in length, 8.15 inches in width and 7.01 inches in height. You can use it if you own a Mac and Windows system. For connection, you can use Ethernet, USB or as a wireless device.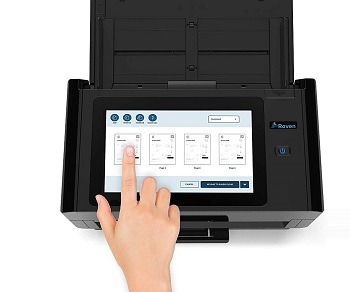 Speedy Scanner
This is intended for business cards, receipts, legal documents, handwritten notes, ID cards, and heavyweight paper up to 110 lbs. The scan speed is 60 pages per minute, also there is an automatic document feeder that holds up to 100 sheets. Control the device on a large 8-inch LCD screen.
Duplex Scanning
With this high volume scanner, you can scan the document of both sides at the same time. That is practical and improves productivity. Moreover, there are multiple modes that support 200 dpi, 300 dpi, 400 dpi and 600 dpi of resolution. Scan your document directly to your cloud service.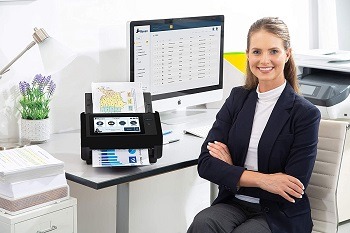 Optimize Scanning
You can improve your scans with automatic deskewing, automatic orientation, automatic blank page removal and ultrasonic page detection. The documents are searchable because of integrated Optical Character Recognition. The maximal paper size you can insert is 8.5 x 35 inches.
Highlighted Points:
professional high volume document scanner
the automatic document feeder holds up to 100 pages
the scan speed is 60 pages per minute
Optical Character Recognition for searchable files
optimize your document with automatic features
Best Multi-page High Capacity Scanner
Brother ImageCenter ADS-2800W
Robust Design
The Brother image Center ADS-2800W is a wireless document scanner. It is a robust scanner designed for mid and large-sized workgroups. It measures 10.2 x 12.1 x 9.8 inches and weighs 10 pounds. This multi-page document scanner features Mac and Windows compatibility.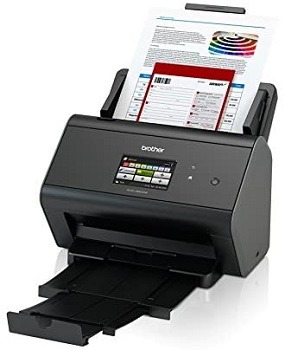 Document Types
This large volume device can accept paper documents, receipts, photos, business, embossed and plastic cards. The maximal paper size is 8.5 x 196 inches. The max simplex scan speed at 300 dpi is 40 pages per minute. The duplex scan speed is 100 images per minute.
Direct Scanning
You can scan directly to your Google Drive, OneDrice or another cloud service. For scanning, you can use both, wireless and wired connections. The ADS-2800W includes a variety of optimization features, so you can improve your scan quality. There are edge cleanup, background removal, etc.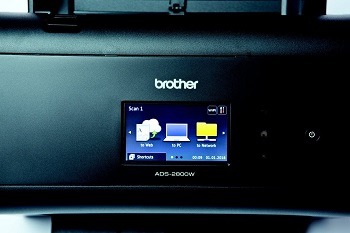 Easy-To-Use Interface
The touchscreen display has 3.7 inches. It is simple to use. The software is integrated into this device and this scanner support TWAIN, WIA, ICA and SANE drivers. Furthermore, the ADS-2800W has multiple security features, like Secure Function Lock, SSL, network user authentification.
Highlighted Points:
wireless and wired high capacity scanner
the automatic document feeder has a 50-sheet capacity
it scans 40 documents per minute
send scans to multiple destinations
compatible with multiple drivers
good for Mac, Windows, Linux
Best 2-sided High Volume Document Scanner
Epson WorkForce ES-400 Scanner
USB-powered Item
The Epson WorkForce ES-400 home document scanner is a quality duplex scanning. It scans both sides of the document at the same time. You can insert photos, receipts, business cards and papers. This is a USB powered device, so plug it into the PC or laptop, scan and transfer documents.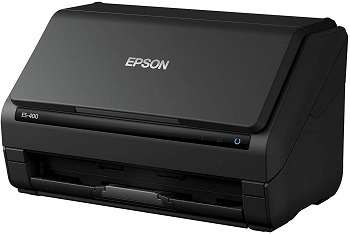 ADF Feature
Use it for your home or office, it's simple to set it up and use. The scanning speed is up to 35 pages per minute or 70 images per minute. Insert the stack of paper into the automatic document feeder and the device will scan the documents without your help. The capacity is 50 pages.
Ultrasonic Double Feed Detection
You can scan the documents and send them directly to your cloud service. Create searchable PDF files and editable Word or Excel files. The Epson ScanSmart software allows you to preview, email, upload, etc. Ultrasonic double-feed detection prevents missing papers.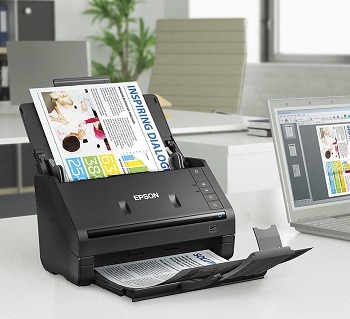 Twain Driver
The TWAIN driver is included, so you can connect with most document management software. You can improve your document quality with image adjustment, which includes automatic crop, blank page removal, background removal and more.
Highlighted Points:
USB-powered duplex scanner
high capacity scanner accepts 50 pages
it scans 35 pages per minute
scan to email, Google Drive, OneDrive,…
built-in optical character recognition
intelligent colors and image optimization
Best Automatic High Volume Scanner
Plustek PS186 Document Scanner
Lightweight Item
The Plustek PS186 is a powerful high capacity scanner, so use it for quick and easy organization. It is good for home and office needs. This device supports Windows 7 / 8 / 10 and the dimensions are 10.36 x 5.02 x 5.83 inches. This is a lightweight scanner, there are 3.6 pounds only.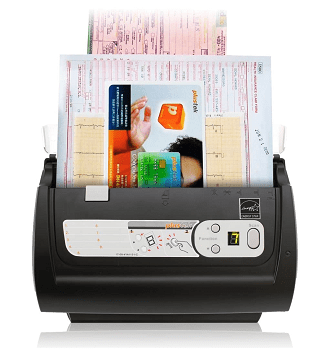 Download Software
The resolution is 600 dots per inch. You can scan postcards, receipts, shipping documents, personal and business bills, business cards, long papers. Also, this is a document and photo scanner. It is able to scan a single side or both sides of the paper. Download software from the Plustek website. The sheet capacity is 50 pages.
Barcode File Reader
You can create files to become a searchable PDF, then you can search it by keyword or sentence. The Barcode file reader is a system that is able to scan the image and read the barcode data. The advanced features allow you to auto-rotate, auto-crop, auto-deskew, blank page remove, etc.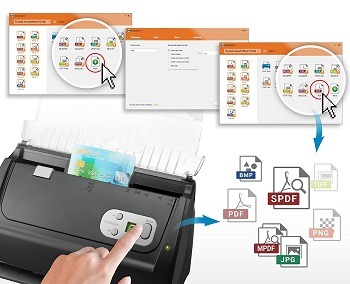 2.4 Seconds Per Page
This high volume document scanner allows you to create up to 255 scan profiles, each profile can set a different format, resolution, and destination. You can see the image in JPG, TIFF, PDF and BMP formats. You can export the text content to files. To scan a page it takes 2.4 seconds.
Highlighted Points:
fast high capacity document scanner
it scans 25 pages per minute
the automatic page capacity is 50 papers
integrated Barcode file reader system
auto-rotate, auto-crop, auto-deskew features
Best Flatbed High Volume Scanner
Xerox High Capacity Scanner
Home Office Use
The Xerox DocuMate 3200 is a flatbed scanner type. It measures 17.9 inches in length, 13 inches in width and 5.5 inches in height. It weighs 8 pounds. This scanner is good for a home office or small office use. On the front panel, there is a single-button for scanning.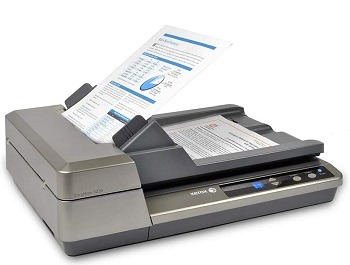 Duplex Scanning
This USB powered large format flatbed scanner is intended for A4 paper sizes. It delivers 200 dpi resolution and 24-bit color depth. The input sheet capacity is 50 pages. Insert the stack of the paper into the tray and let the device finish scanning. The Xerox is compatible with Mac and Windows systems.
Hi-speed USB Cable
It supports TWAIN, ICA and WIA drivers. This high volume document scanner scans up to 23 pages per minute and 46 images per minute. The box contains a scanner, Hi-speed USB 2.0 cable, installation card, support card and driver installation disk.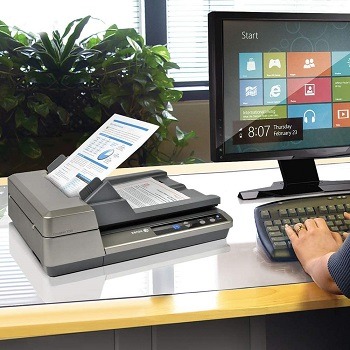 3-year Warranty
Xerox is able to scan receipts, documents, photos, checks, credit cards and others. With software, you can create searchable PDF files. Also, you can turn scanned documents into editable files. It is an affordable flatbed scanner with three years of warranty.
Highlighted Points:
ideal for home office or small offices
flatbed high capacity scanner with automatic paper feeder
the max capacity is 50 pages
convert your data into searchable and editable files
it supports multiple drivers
designed for A4 paper size
Things To Know About High Capacity Scanner
The high capacity scanners have larger dimensions, higher speed and many other advanced features. Check out the basic features that every high capacity scanner should have.
Scanner's Capacity – The high capacity scanners have automatic document feeders. That means you can insert a stack of paper into the tray and leave the device to scan it. Some automatic document feeder can accept stacks of business cards, too. Choose the capacity depends on the average paper amount you need to scan.
Scanned Material – All scanners are able to scan documents, but you can buy a scanner for different materials. For example, some models can scan photos, business cards, bound books, slides and negatives, magazines, newspapers, stamps and even 3D objects.
Speed – This feature is important for all who work with a large amount of documents. Each scanner has a different scanning speed. Some models can scan up to 40 pages per minute. That is pretty fast. The scanner with a speed of 35 pages per minute is also a high-speed scanner.
Duplex Scanning – Not all scanners have the possibility to scan both sides of the document at the same time. You should look for this feature because it increases productivity and speed. You don't have to flip the document manually and wait for scanning.
Flatbed Type – There are different scanner types on the market. The flatbed scanners are good if you need to scan bound books, delicate or old photos and other easily damaged material. The flatbed scanners have the ability to scan 3D objects, like sculptures.
Final Verdict
What do you think about all these models, did you find your favorite model? If you still can't decide, we're convinced that the Canon imageFormula R40 scanner won't disappoint you. It features easy set-up, duplex scanning, speed of up to 40 pages per minute and bundled software. If you work with a high volume of documents, consider the post about a multi-page scanner printer copier. For those who look for high speed, the review of high-speed document scanners will be useful.