Do you want to buy a scanner that allows you to make editable and searchable files?
Then you should look for a scanner with OCR!
We will introduce you to the best-rated scanners currently available in the market. Read those reviews, so you can select the model that suits your needs. We outlined the most important factors you need to take into account before buying.
Our Top Picks
Best 10 Scanners With OCR
BEST OF BEST SCANNER WITH OCR
Epson WorkForce ES-400
Sheet-fed Scanner
Epson WorkForce ES-400 is a sheet-fed scanner powered by USB. It is designed for photos, documents, receipts, business card scanning. This is one of the best affordable office scanners measuring 12.3 x 12.6 x 11.6 inches in size. It works with Windows 7/8/8.1 and Mac OS.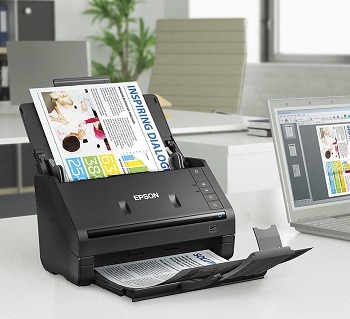 Nuance Optical Character Recognition
Insert the stack of paper into the automatic document feeder that has a capacity of 50 pages. Epson WorkForce OCR document scanner scans 35 pages per minute and 70 images per minute. The Single Step technology allows duplex scanning. There is built-in Nuance Optical Character Recognition that allows making editable and searchable PDF files.
Highlighted Points:
sheetfed scanner
powered by USB
suitable for photos, documents, books, cards
works with Mac and Windows
automatic document feeder
Single Step technology
Nuance Optical Character Recognition
BEST BOOK SCANNER WITH OCR
Plustek Flatbed Scanner
Large Document Format
Plustek OS 1180 flatbed scanner supports both operating systems, Mac and Windows. It measures 23.18 x 16 x 2.6 inches in size. The box contains a scanner, user manual, AC adapter, USB cable, CD with software. Plustek is designed for large format documents such as books, magazines, newspapers. It uses the technology of the automatic book scanners you can read about here.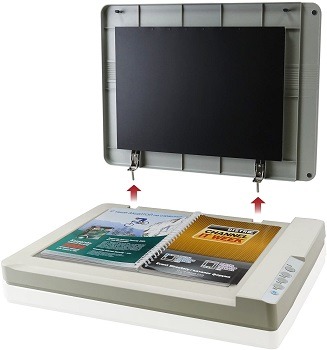 LED Light Source
This OCR text scanner uses an LED light source, so doesn't require warm-up time. The maximum optical resolution is 1200 dots per inch. Plustek scans quickly, for A3 greyscale documents, it takes 9 seconds. There are four touch buttons for scan, OCR, PDF and email, making the scanning process easier and faster.
Highlighted Points:
large scanning area
flatbed scanner
supports Mac and Windows OS
uses LED light source
optical resolution of up to 1200 dpi
four touch buttons
BEST HANDHELD SCANNER WITH OCR
Brother DS-740D Scanner
Lightweight Scanner
Brother DS-740D scanner is a compact handheld photo scanner measuring 11.9" in length, 2.5" in width and 1.8" in height. It is a small and lightweight scanner, so it's easy to carry it with you when travel. Also, when not in use, store it in your drawer or tray. This scanner scans single or double-sided documents in a single pass.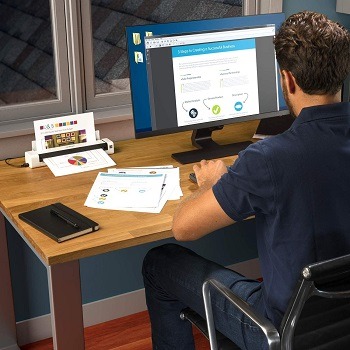 Convert Your Scans
This OCR document scanner is a USB-powered device that comes with a micro-USB 3.0 cable. Plug it into your laptop or PC. Brother is compatible with Mac, Linux and Windows. Use it for papers, documents, photos, business and ID cards. Optical Character Recognition converts your scans into editable and searchable PDF files.
Highlighted Points:
scan single and double-sided papers
the small and lightweight scanner
compatible with Linux, Mac and Windows
comes with a micro USB cable
converts scanned items into editable PDF files
easy to store and carry
BEST PHOTO SCANNER WITH OCR
Fujitsu ScanSnap iX500
User-friendly Design
Fujitsu ScanSnap iX500 is a pricey scanner powered by USB. It is lightweight and measures 15.5 x 10.9 x 9.8 inches. If you need to move it and transport you can do it easily. A 1-year warranty is provided by the manufacturer. There is a user-friendly design that guides you through the scanning process.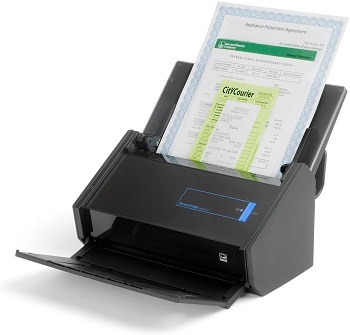 Auto-document Feeder
Scan and save your photos and you'll have access to them anytime and anywhere. Fujitsu high-speed photo scanner scans A4 and even A3 documents, business cards and photos. This OCR document scanning machine scans 25 photos per minute. There is an automatic document feeder with a 50-paper capacity.
Highlighted Points:
lightweight scanner
powered by USB
backed by a 1-year warranty
user-friendly design
scans standard and non-standard papers
automatic document feeder
scan 25 photos per minute
BEST PC SCANNER WITH OCR
Canon imageFormula Scanner
Powered By USB
Canon imageFormula R40 is a compact office document scanner measuring 9.6" in height, 9.9" in depth and 11.4" in length. This is USB powered device, so connect it to your PC before scanning. It works with PC and Mac. This scanner for home office scans reports, contracts, business cards, photos, etc.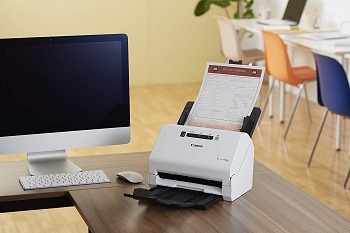 40 Pages/Minute
It scans both sides of a document at the same time which saves time and increases productivity. You can use this OCR computer scanner to scan color, greyscale and black and white documents. Canon imageFormula features a scan speed of 40 pages per minute. Also, it is equipped with an automatic document feeder, it holds up to 60 pages.
Highlighted Points:
home office document scanner
suitable for color, greyscale and black and white papers
scans 40 pages per minute
automatic document feeder
duplex scanning
compatible with Windows and Mac
BEST FOR MAC SCANNER WITH OCR
Epson Perfection V600 Scanner
USB-powered Item
Epson Perfection V600 is a fantastic photo OCR scanner compatible with Mac. It is great for both, amateurs and professionals. The dimensions of this flatbed scanner are 19 x 11 x 4.6 inches. It is USB powered device, so it's easy to connect it with your PC and transfer photos and documents.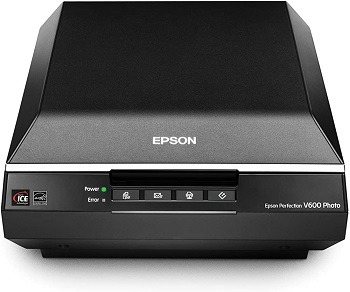 High Resolution
This photo scanner for Mac offers an outstanding resolution of 6400 dots per inch. Epson is also suitable for negatives, it is equipped with a built-in transparency unit for 35mm negative films. This scanner uses few image enhancements like Digital ICE for film and prints.
Highlighted Points:
great scanner for photos
high resolution of 6400 dots per inch
scans film and negatives
built-in transparency unit for 35mm films
equipped with image enhancements
large scanning area
BEST PASSPORT SCANNER WITH OCR
Desko FP500e Passport Scanner
600 Dots Per Inch
Desko FP500e is a small and efficient passport scanner and document reader. It measures 7 x 6.5 x 4.5 inches in size. The scan window has 100 x 130mm. Its resolution range from 250 to 600 dots per inch. The 600 dpi resolution is suitable for documents, but not for photos.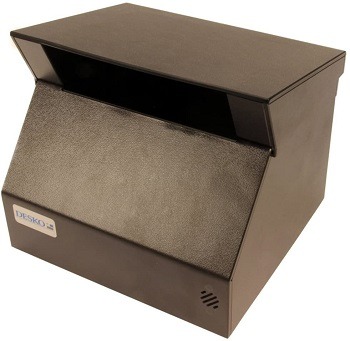 LED Technology
This OCR scanner reads passports, visas and other national ID cards. It uses quad optic technology which is great for security and travel services. Desko scanner doesn't have moving parts, it uses LED technology. Also, this device has the ability to decode 1D or 2D barcodes of documents. It provides OCR MRZ recognition.
Highlighted Points:
small passport scanner and verifier
based on LED technology
decodes 1D and 2D barcodes
OCR MRZ recognition
reads passports, visas and other IDs
quad optic technology
BEST PORTABLE SCANNER WITH OCR
Epson WorkForce DS-30 Scanner
Easy To Store
Epson WorkForce DS-30 is a small and convenient scanner with a user-friendly design. Its dimensions are 10.8 x 1.9 x 1.4 inches. It is one of the best-rated portable scanners suitable for business people who are often on travel. Store it in a drawer, tray or on the shelf, it doesn't require much space.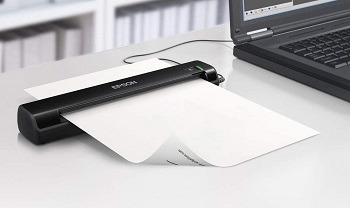 Editable Documents
The OCR scanner is compatible with both operating systems – Mac and Windows. Epson WorkForce scans business cards, plastic cards, documents and photos. The maximum document size is 8.5 x 14 inches. Compatible with popular could services, scan documents and send them to Google Drive. Optical Character Recognition ensures editable files.
Highlighted Points:
small and convenient scanner
works with Windows and Mac
scans business and plastic cards, photos and papers
max paper size – 8.5 x 14 inches
compatible with cloud services
allows creating editable papers
BEST FLATBED SCANNER WITH OCR
Xerox DocuMate Flatbed Scanner
Simplex Scanner
Xerox DocuMate 4700 is a simplex scanner, it scans in color, greyscale and black/white. It measures 22.8 x 19.5 x 4.5 inches in size and weighs 15 pounds. Xerox OCR scanning machine comes with a USB, so you can connect it with Windows and Mac via Hi-speed USB 2.0 cable. Also, you can connect it with Xerox automatic scanner and use two items at the same time.
High Daily Duty Cycle
This flatbed scanner scans large documents, it supports paper of 11 x 17, 8.5 x 14, 11 x 14 and 9 x 12 inches in size. Xerox is a fast scanner, with a speed of 2.5 seconds per page at 300 dpi. The manufacturer recommends a daily duty cycle of 10,00 pages. On the front are nine control buttons for scan, PDF, OCR, scan to mail, etc.
Highlighted Points:
compact flatbed scanner
supports large document sizes
scans at a speed of 2.5 sec per page
daily duty cycle  – 10,000 pages
nine control buttons
compatible with an automatic scanner
BEST PROFESSIONAL SCANNER WITH OCR
Epson FastFoto FF-680
Scanner Size
Epson FastFoto FF-680 is one of the greatest scanners on the market. This device measures 11 inches in height, 6.7 inches in depth and 11.7 inches in width. Epson is compatible with Mac and Windows operating systems. This is one of the fastest professional photo scanners.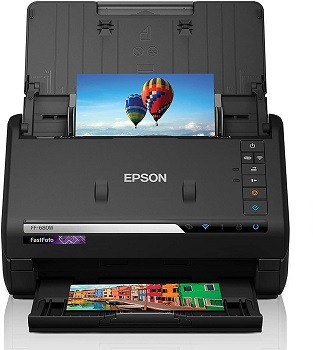 Fast Scanner
Epson OCR document scanner scans one photo per second, meaning, it scans 60 photos per minute. The package includes a carrier sheet, cleaning cloth, power cable and AC adapter, USB 3.0 cable and instructions. With the auto enhancement, it brings new life to old photos. It achieves a resolution of 1200 dpi. Epson's software includes Optical Character Recognition.
Highlighted Points:
world's fastest photo scanner
scans a photo per second
software with Optical Character Recognition
AC adapter included in the package
auto-enhancement for old photos
compatible with Mac and Windows
Things To Know About Scanner with OCR
There are many various scanners with OCR on the list above. But before buying, you should learn something about this device type, duplex and simplex scanning, document sizes and more.
Optical Character Recognition – Or shortly OCR, is software that offers you the ability to use document scanning of text and other files into digital formats – especially PDF – in order to make it easier to manage all paperwork. It converts printed characters into digital text, so you can search and edit your documents.
Flatbed Scanners – Flatbed scanners are suitable for large formats because they featuring large scanning areas. Meaning you can scan artwork, drawings, magazines, newspapers and even bound books. Usually, they have a user-friendly design with control buttons.
Duplex Scanning – If you need to scan a huge amount of documents, consider a scanner with a duplex scanning feature. This kind of device scans both documents sizes at the same time, you don't have to turn the paper on the other side and scan again.
Scanning Speed – The scanning speed is measured in pages per minute or impressions per minute. If you need to scan a stack of paper or photos on daily basis, buy a scanner with 35+ sheets per minute. Also, scanners with automatic document feeders provide faster and easier scanning.
Where To Buy/Price – The scanner price depends on many factors,s such as brand name, advanced features and more. Scanners for basic scanning needs are affordable. Those reviewed models are available on Amazon but you can check the product official sites.
Final Verdict
All of these scanners with OCR are quality and provide great performances, so choose the model that suits your needs. Moreover, you can check more pdf scanners models if you read the linked review. If you need to scan a large number of documents, consider a multi-page scanner article. To learn all about scanners and see the full list of the best document scanners on the market, click here.