Do you have a large amount of paper to scan?
Did you consider a high-speed document scanner?
If you didn't, we have an interesting offer for you. This review talks about how fast document scanner machine works and what speed different scanners can reach. Furthermore, we'll explain how to pick the best model depends on your requirements and present a list of the best scanners on the market.
Our Top Picks
6 Best High-Speed Document Scanners
Best Of Best High-Speed Document Scanner
Brother ADS 2200 Scanner
Lightweight Item
The Brother ADS-2200 is one of the fastest document scanners available. This scanner measures 5.8 inches in length, 11.8 inches in width and 7 inches in height. This is a lightweight item, there are 5.5 pounds. Use this scanner for receipts, ID cards, postcards, thin and thick papers, etc.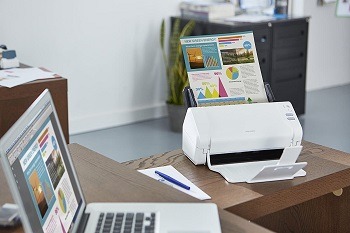 2-sided Scanning
To increase speed and productivity, this high-speed scanner features duplex scanning. It scans single or 2-sided documents at up 35 pages per minute. The automatic document feeder is able to hold up to 50 pages. ADS-2200 has page-continuous scanning.
Multiple Destinations
When you scan your documents, you can send them to different locations, like email, OCR, USB flash memory drive, cloud service. It is important to note that the ADS-2200 is compatible with Windows, Mac and Linux. Also, it supports TWAIN, SANE, WIA and ICA drivers.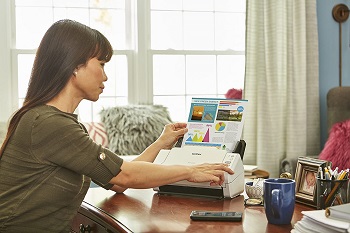 Auto-size Detection
Auto-size document detection recognizes the document size and automatically adjusts the settings. If you want to edit your documents, use the image optimization feature. You can remove background, remove blank pages, detect multi-feed, create searchable PDFs and more.
Highlighted Points:
USB powered document scanner
built-in automatic document feeder with 50-page capacity
it supports Windows, Mac and Linux
scan speed is 35 pages per minute
use image optimization feature to adjust documents
it scans both sides of the paper at the same time
Best Automatic High-Speed Document Scanner
Epson FastFoto 680W Scanner
World's Fastest
The Epson FastFoto 680W is the world's fastest personal document scanner. It is able to scan continuously. For a single page, it takes one second only. The dimensions of this scanner are 6.7 x 11.7 x 6.9 inches (L x W x H). It weighs 8 pounds, so it is transport it easily.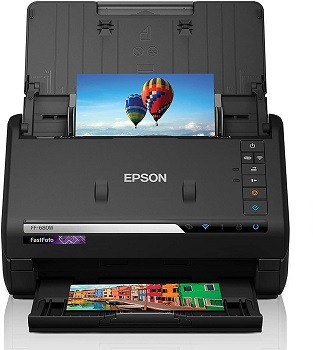 USB & Wireless
The box includes a super speed USB 3.0 cable, AC adapter with power cable, carrier sheet, cleaning cloth, instructions and scanner. You can insert photos, documents, postcards, business cards, polaroid photos and panoramas into this scanner. Use USB or wireless connectivity.
Safe Touch Technology
The max document sizes are 4″ x 6″, 5″ x 7″, 8″ x 10″ and panoramic prints. Safe Touch technology offers worry-free scanning for different sizes. Thanks to Single Step technology, you can scan both sides of the document at the same time. Use auto-upload to send scans to cloud services.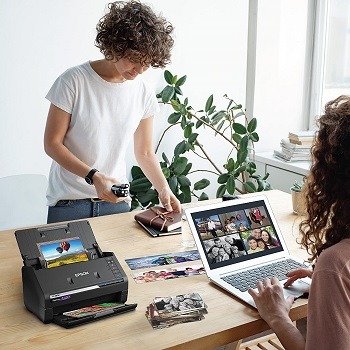 Optical Character Recognition
The Rpson high-speed photo document scanner use Epson's second generation of software. That software allows you to scan, restore, organize and share your important data quickly. With Optical Character Recognition you can create searchable and editable formats. Image optimization improves photo/document quality.
Highlighted Points:
world's fastest document scanner
it takes a second per single page
Safe Touch technology for different paper sizes
duplex scanning improves scanning speed
create searchable and editable documents
easy auto-upload to cloud services
Best Professional Fastest Document Scanner
Fujitsu Fi-7600 Fast Scanner
Heavy-duty Tasks
The Fujitsu Fi-7600 is a professional document scanner,  so it has a high price. This scanner is intended for heavy-duty tasks. The size of this device is 6.5 x 4.4 x 1 inches and it weighs 24 pounds. It is able to scan A4 size papers, thin documents, plastic cards and a large volume of papers.

Input Sheet Capacity
This fast document scanner machine holds up to 300 sheets. The scan speed is impressive, the Fujitsu scans 100 pages per minute. Because of that, this item is perfect for mid and large offices. It provides smooth scanning for various types of paper.
No Paper Damage
You can insert color, monochrome and black and white documents and photos. The straight paper path structure ensures stable scanning. You don't have to worry about paper damage, the Paper Protection function minimizes the risk of document damage.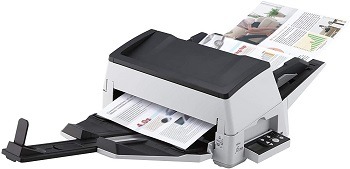 Daily Duty Cycle
The Fi-7600 high-speed document scanner has s daily duty cycle of 30,000 documents, it works continuously. This professional document scanner has Advanced Cleanup Function and Auto-color Detection. The interface is user-friendly, there is a backlit LCD panel, so it's easy to set it up and control the scanner.
Highlighted Points:
professional document scanner
it accepts up to 300 sheets per single pass
the scan speed is 100 pages per minute
good for mid and large size offices
Paper Protection function saves delicate sheets
back-lit LCD screen for easy control
Best Portable Fastest Document Scanner
Aibecy Document Camera Scanner
Overhead Scanner
The Aibecy is an overhead high-speed document scanner ideal for book scanning. Its dimensions are 3.2 x 3.1 x 12.8 inches. The product weighs 1.3 pounds only. Because of the low weight, you can carry it with you. Fold the device and store it in your backpack or drawer.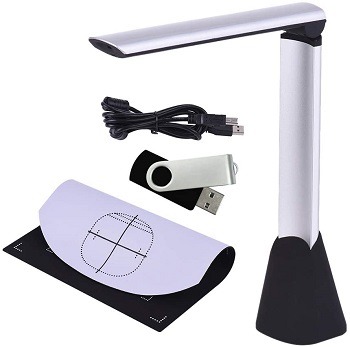 High-speed Book Scanner
This portable book scanner is powered by a USB cable. The package includes a scanner, USB cable, USB disk and pad. The pad size is 15.9 x 12.9 inches. The Aibecy scanner needs a second to scan a page. It is suitable for e-book making. The max size is A4 format. The scan speed is a second per page.
3D Object Scanning
Besides books, use this scanner for documents, ID cards, passports, photos, magazines and even 3D objects, like sculptures. Aibecy supports Optical Character Recognition which converts image formats into editable files. The CMOS is an optical sensor technology that has 5 megapixels and 2592 x 1944 resolution.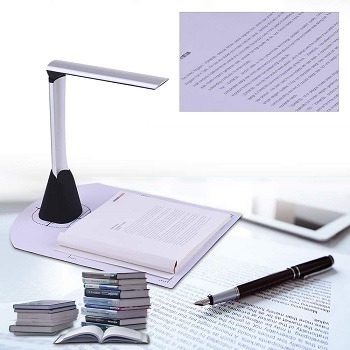 Picture Optimization
After you scan your pictures or photos, you can optimize them. Adjust the brightness, saturation, contrast, sharpness and other picture characteristics. Moreover, you can create searchable PDF files and merge them into one file. Aibecy supports real-time image capturing and showing via the projector.
Highlighted Points:
portable document camera scanner
overhead scanner with foldable design
it scans passports, book, photos, magazines, documents
the resolution is 2592 x 1944
the scan speed is a second per page
Best Office High-Speed Document Scanner
Raven Pro Document Scanner
Affordable Price
The Raven Pro document scanner is available in black and white colors. It measures 12.44 inches in length, 8.15 inches in width and 7 inches in height. The item weight is 9 pounds. Use it for the receipt, ID cards, document and other paper types. The price is affordable.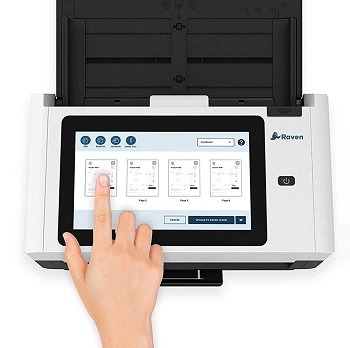 Wireless Connection
This office scanner uses wireless connectivity technology. If you have Mac or Windows, this scanner is able to work with these operating systems. The touch panel is big, its size is 8 inches, you can easily control the device and its settings. Send scans to different destinations.
60 Pages Per Minute
The high-speed document scanner's speed is 60 pages per minute, that is a second per page. The automatic document feeder holds up to 100 sheets per single pass. This fast document scanner can handle any office requirements. The different quality modes support 200, 300, 400 and 600 dpi.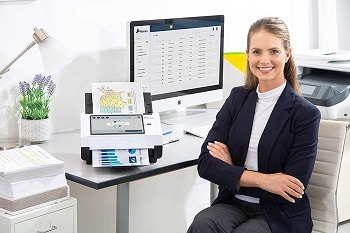 Ultrasonic Page Detection
You can optimize your scans, there are many options – automatic deskew, automatic orientation, automatic blank page removal and ultrasonic page detection. This last feature provides an optimal scanning workflow. The OCR function allows you to create searchable files.
Highlighted Points:
built to scan a variety of document types
the scanning speed is 60 pages per minute (ppm)
automatic document feeder holds up to 100 sheets
control the scanner via an 8-inch touchscreen
optimize your scans with automatic features
Optical Character Recognition is integrated
Best 2-sided High-Speed Document Scanner
Plustek PS186 Document Scanner
Home & Office Use
The Plustek PS186 is a high-speed document scanner designed for photos, papers, ID and business cards and documents. This scanner has 10.36 x 5.02 x 5.83 inches. It weighs 3.7 pounds. It will fit on every desk. Use it for home or office needs.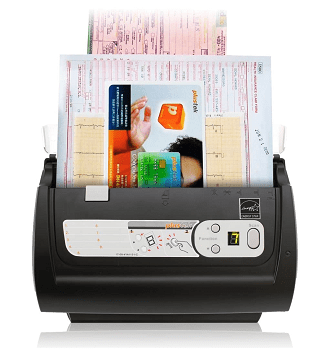 User-friendly Design
This scanner will guide you through the scanning process, it is easy to use it. The PS186 scans 25 pages per minute, it is a bit slower than those models above, but this is still a good scanning speed. The capacity of an automatic document feeder scanner is 50 pages per single pass.
Search It With Keyword
You can scan simplex and duplex documents with one press of the button. Moreover, you can create searchable PDF files. Give the name to these files, like keyword or sentence and you will find them easily. Then you can send it to your email, cloud service or USB flash memory.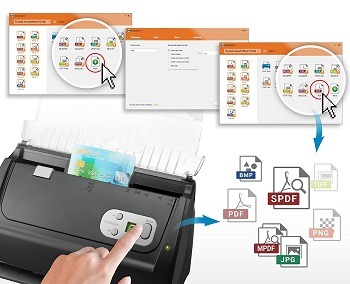 Barcode Function
A Barcode file reader is a system that is able to scan images and read the barcode data. The Plustek delivers a resolution of 600 x 600 dpi. There are more scanning features like auto-rotate, auto crop, auto deskew, blank page removal, character enhancement and others.
Highlighted Points:
duplex high-speed scanner for documents and photos
it scans 25 pages per minute
the automatic document feeder accepts 50 pages
the optical resolution is 600 x 600 dpi
integrated barcode file reader system
Things To Know About High-Speed Document Scanner
Before you decide which one high-speed document scanner is ideal for you, go through these features and terms. They will help you to understand the scanners better and see which features you want to have on your device.
Page Per Minute – This feature tells you how many pages a scanner scans in a minute. The ipm stands for impressions per minute, that term refers to scanners that scan both sides of the document at the same time. Ipm is mostly double the ppm. Fast scanners scan one page per second.
Duplex Scanning – If you looking for fast scanning to increase productivity, consider the duplex scanning feature. That means you don't have to flip over the page and scan the other side of the paper, the scanner scans both at the same time.
Blank Page Skipping – This feature is pretty useful. If you have a stack of paper to scan, you don't have time to check each paper. The scanners with this feature will detect and skip the blank pages, so you don't have to delete those pages after the scanning is finished.
Power Consumption – Because these high-speed document scanners have many advanced features, they usually have high power consumption. Look for scanners that are more energy efficient. For example the scanners with Energy Star certificate.
Auto-document Feeder – Before buying check out the scanner capacity. The most common automatic document feeder capacity is 50 pages. This feature allows you to insert a stack of paper into the feeder and you can leave the high speed scanner with automatic document feeder to scan it without your assistance.
Final Verdict
To conclude, we think that the best is the Brother ADS-2200 scanner. It is one of the fastest document scanners in the world, it delivers a resolution of 1200 dpi and has a 50-sheet capacity. If you need a scanner with high volume, consider the review of high capacity scanners. For those who require high sped, the post about high-speed photo scanners that contains useful information.