Do you want to have a perfect scanner for your family photos and documents?
You are in the right place. Here we talk about personal document scanners and their features. Choose the suitable model depends on its size, features, sheet capacity, image adjustment and other characteristics. Our buying guide will help you to understand some important scanner's terms.
Our Top Picks
6 Best Personal Document Scanners
Best Of Best Personal Document Scanner
Fujitsu ScanSnap Scanner
Popular Scanner
The Fujitsu ScanSnap iX1500 is a high-end home document scanner. It is one of the most popular document scanners. This personal scanner is available in two colors, white and black. It measures 11.50 x 6 x 6.30 inches. It weighs 7.50 pounds. The operating temperature is from 5 to 35°C or 41 to 95°F.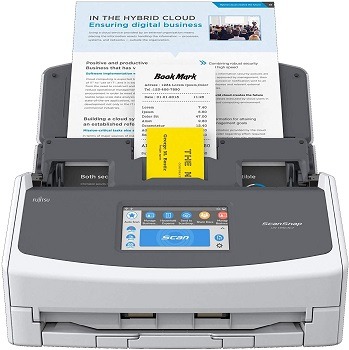 2-sided Feature
This personal scanner is able to scan the documents of any sizes, receipts, business cards, photos, drawings and more. It features a carrier sheet for sensitive documents or photos. If you need to, you can quickly scan the book, because this device scans two pages at once.
Compatible With Any System
Use this scanner for small business, too. It can scan up to 25 pages per minute, it can handle 2000 scans per day. In an automatic document feeder, you can insert 50 sheets. If you use Windows, Mac or Linux, the Fujitsu scanner is compatible with all of them.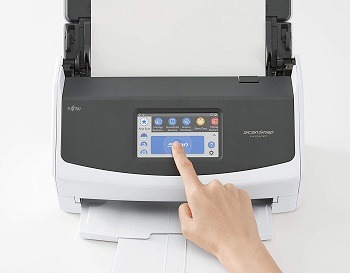 ScanSnap App
The software is integrated into this scanner, it cleans up and organizes your documents with automatic cropping, blank page deletion and more. The optical resolution is up to 600 dpi. The Scan Snap app allows you to access your scanned files easily, export them and more.
Highlighted Points:
high-end personal document scanner
scans documents and photos of any sizes
it scans up to 25 pages per minute
compatible with any networking system
automatic document feeder with 50-sheet capacity
Best Home Personal Document Scanner
Brother ADS-170oW Scanner
Compact & Portable
The Brother ADS -1700W home office scanner has an affordable price and it is available in white color. Its dimensions are 4.1 x 11.8 x 3.3 inches and it weighs 3.3 pounds. This scanner is compact, you can place it wherever you want, on the desk, on the shelf, it fits. Also, it's portable.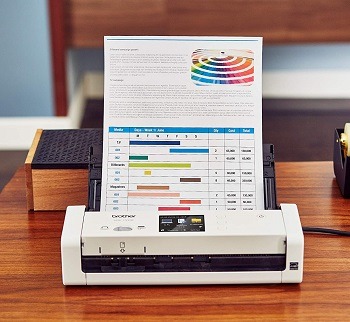 Colorful Touchscreen
This compact personal scanner is compact with Windows, Linux and Mac. The Brother ADS-1700W is a wireless scanner, so you need to connect it to the wireless network. On the front is a small and easy to use the touchscreen, it is colorful and has 2.8 inches.
25 Pages Per Minute
The auto document feeder has a capacity of 20 papers. It scans single and double-sided documents. It is able to scan maximally 25 pages per minute, or 50 ppm of 2-sided documents. Brother ADS-1700W scans documents to multiple destinations like email, cloud services, mobile devices and more.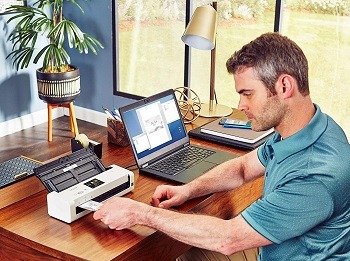 Dedicated Slot
The auto start scanning features start to scan when you insert the documents into the feeder. There is a dedicated slot on the front of the device. It is intended for photo ID cards and business cards. Before you scan the document, you can optimize it, there are automatic color detection, image rotation, text enhancement and more features.
Highlighted Points:
compact and portable personal scanner
the 20-page capacity of the auto document feeder
scans 25 pages per minute
simplex and duplex scanning
text and image optimization
compatible with Windows, Mac and Linux
Best Automatic Personal Document Scanner
Epson WorkForce ES-400 Scanner
Good Resolution
Epson WorkForce ES-400 is a compact personal scanner. It measures 12.3 inches in height, 12.6 inches of depth and 11. inches of width. It weighs 8 pounds. This scanner is compatible with Windows and Mac. It is a great device for photos, the resolution is 600 x 600 dpi.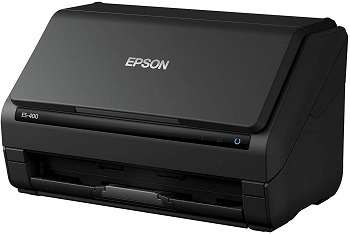 Single-Step Technology
The Twain driver provides a connection with multiple document software. It scans up to 35 pages per minute. Use the Single Step technology when you need to scan both sides of the page. Insert max 50 documents into the auto feeder. Besides the paper, it scans business and ID cards, receipts and more.
ScanSmart Software
Epson fast automatic feeder scanner is able to scan standard-sized papers and large documents. The powerful software is included, there is ScanSmart Software, so you can preview, email and upload the documents. Ultrasonic double-feed detection prevents missing pages. Also, there is Dynamic Skew Correction.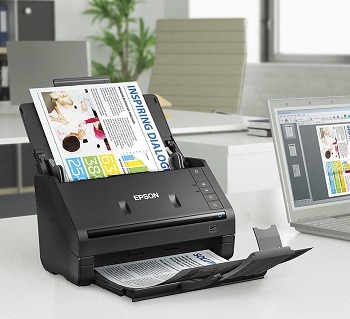 Intelligent Adjustment
This smart scanner allows you to adjust the color of the image, auto crop, remove the background, select the size and more. There is built-in Optical Character Recognition, it creates searchable PDFs and Word and Excel files, which you can editing.
Highlighted Points:
quality duplex document scanner
scans up to 35 pages per minute
color, image and document adjustment
ScanSmart software and Twain driver
50-page auto document feeder capacity
built-in optical character recognition
Best Portable Personal Document Scanner
Doxie Q Document Scanner
Wireless Scanner
The Doxie Q is a wireless rechargeable personal document scanner. It is small and requires no more space than a regular keyboard. It is 11.61 inches long and 3.1 inches wide. This device weighs 1.8 pounds only. Doxie Q requires 1 lithium-ion battery. It is included in the package.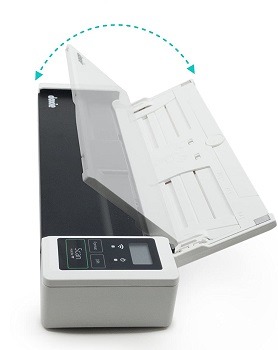 Micro USB Connection
Doxie Q portable photo scanner has one port, micro USB and its cable is included in the package. It works with all of your devices via WiFi, which includes PC, iPhone, iPad, iOS app and other. It scans up to 8 pages at once and requires 7.5 seconds per single page.
Simplex Scanner
It easy to use it, just flip Doxie open and insert the pages into the feeder. You don't have to use an automatic feeder, use a direct feed slot for photos, cards, receipts and other papers. Doxie provides 600 dots per inch (dpi). This is a simplex scanner, it can't scan both sides of the page at once.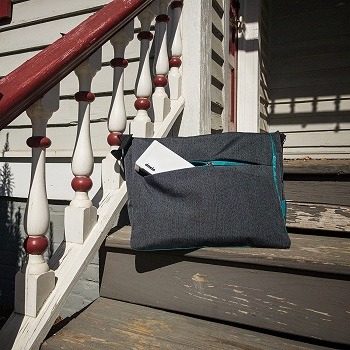 Intelligent Auto Adjust Feature
The computer doesn't have to be near the scanner, the WiFi is built-in, so it will easily sync with your devices. You can organize, save, edit and create searchable multi-page PDFs. It uses Optical Character Recognition. With Intelligent auto adjust, crop, rotate and change the contrast of your photos.
Highlighted Points:
a small device with a rechargeable battery
the built-in software provides automatic adjustment
automatic document feeder with an 8-page capacity
scanning speed is 7.5 seconds per page
optical character recognition for searchable pages
Best Small Personal Document Scanner
Canon Document Scanner
Lightweight Scanner
The Canon imageFormula R10 is a small and portable document scanner. It is 11.22 inches long, 1.57 inches high and 3.74 inches deep. It is easy to use anywhere. Its weight of 2.2 pounds makes carrying easily. The Canon supports Mac and Windows operating systems.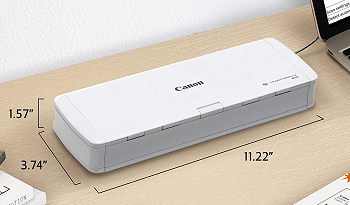 12 Pages per Minute
Via USB cable, you can connect this handheld documment scanner at your home, office, when you travel or work remotely. The automatic feeder can handle up to 20 sheets at once. The scanning speed is 12 pages per minute. The Canon supports letter-size papers, business cards, plastic cards, receipts and other document types.
Built-in Software
This small personal document scanner comes with free built-in software, Canon CaptureOnTouch Lite. This software allows you to preview and edit photos. You can change the height, width, colors, rotate the documents and more. It is able to scan both sides of documents per pass.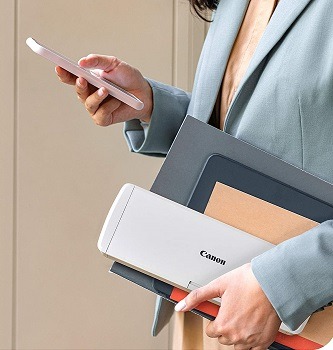 Quality Pictures
It takes documents of different sizes, but the max size is 8.5 x 14 inches. The Canon scanners use the same technology which is integrated into their quality cameras. You can count on high-quality pictures. Digitalize your family and friend memories and save them in a safe place.
Highlighted Points:
lightweight and portable scanner
scan both sides of documents at the same time
The 20-page capacity of automatic feeder
it scans 12 pages per minute
the software is integrated into the device
Best Cheap Personal Document Scanner
ClearClick Document Scanner
Battery Powered
The ClearClick document scanner is a small, lightweight and portable personal scanner. It runs on AA batteries or USB power. The three lithium-ion batteries are required and they aren't included in the package. Also, a USB power adapter isn't included.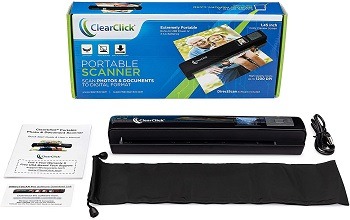 One Photo At A Time
It is an affordable document scanner with a 1-year warranty. If you need any questions, the tech support will help you. You can insert one photo or document at a time. The maximal dimensions of the document are 8.5 inches of width and 47 inches of length.
LCD Screen
This scanner doesn't require a computer, it is able to save your photos or documents on the MicroSD card in jpg. or PDF format. The max. capacity is 32GB. The microSD isn't in the package. The LCD screen has 1.4 inches. You can preview scanned photos immediately after scanning.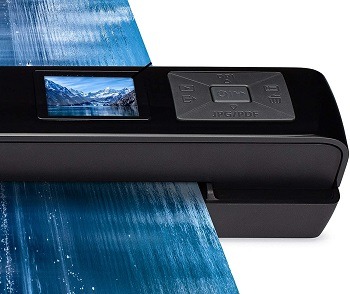 PC Or MicroSD
The scanned photos have a high-quality resolution, it is up to 1200 dpi. You can scan your papers and photos on the microSD card or to your PC. If you scan to your PC, the batteries or memory card aren't required. If you own Mac, you need to scan on the memory card.
Highlighted Points:
a built-in auto-feeder with 1 paper/photo per pass
the batteries or microSD are optional
photos with 1200 dpi quality
ultra-portable personal scanner
scans the documents quickly
Things To Know About Personal Document Scanners
There are many benefits to having personal document scanning. But you need to consider some features, most scanners on the market come in a wide variety of types, so check our tips.
More Space – With a personal document scanner, you don't need to have physical space to store all these files. You can store it as digital files on your PC or laptop or in cloud space like Google Drive. Then you can easily share these documents or photos with your friends or family members.
Scanning Material – Two most common things that get scanned are photos and documents. Also, you can scan your favorite books, business cards, postage stamps or even 3D objects like coins. If you have easily damaged material, like old photos, check out a sheet-fed scanner with protective plastics.
Page Capacity – This feature depends on your frequency of use. If you work from the home office, you need a higher capacity then someone who scans occasionally. The portable book scanners with 20+ sheet capacity are intended for offices. The 5 or 8-sheet will be enough for personal use.
Auto-feeder – If you have the high paper volume to scan on daily basis, consider the scanners with auto feeder. That means, you insert a stack of paper into a certain place and the scanner will scan it without your help. That is very practical, you don't have to insert one by one paper.
Scanning Speed – The earlier scanner models have very low speed. But nowadays, they are much faster. many of them take one or two seconds to scan photos. That is pretty fast. The more powerful scanners have the ability to scan about 20 pages per minute.
Final Verdict
We think that the Fujitsu ScanSnap scanner is really worth your money. This is a high-end personal document scanner, it scans up to 25 pages per minute and features an automatic document feeder with a 50-sheet capacity. If you want to check more scanners for personal use, you can read the review of handheld photo scanners, they are easier to use. For those who want to scan old family photos or other delicate photos, check out the best photo scanners for old photos post.