Do you need a paper scanner for legal-size documents?
In this review, we'll explain the most common misunderstand between two different paper sizes. Then we'll list the most important legal-size scanner's features. Moreover, here you can find the best scanners for legal size paper on the market.
Our Top Picks
Best 6 Legal Size Scanners For Documents
Best Of Best Legal Size Scanner
Epson Flatbed Scanner Legal-size
Heavy Item
The Epson WorkForce WF-7710 paper scanner, printer and copier measures 22.3 inches in width, 19.1 inches in depth and 13.4 in height. It weighs 40 pounds. So, this paper scanner isn't lightweight, you can't easily move it. Epson is intended for medium-sized offices.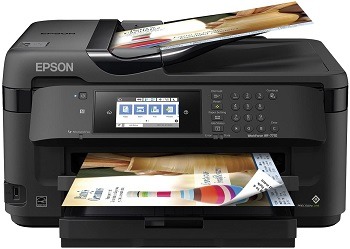 All-in-one Machine
The box includes a scanner, CD and documents for installation, ink cartridges and a power cord. The USB cable isn't included. This isn't just a scanner, it is a printer, too. Also, this scanner is able to copy and fax the documents. The Precision Core feature produces print-shop-quality prints.
2-sided Scanning
The maximal paper size it can scan is 11 x 17 inches. So, you can scan legal-size papers easily. The inkjet features a 250-page tray. Epson is able to scan both sides of the paper at the same time. The automatic document feeder can handle 35 papers. The color touchscreen has 4.3 inches for easy control.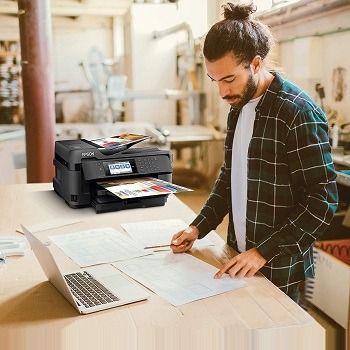 Alexa Compatible
This economical scanner uses 80%less power than other legal-size scanners. Epson periodically provides firmware updates to address issues. This scanner is a fast device, it scans 30 pages per minute. The Epson is compatible with Alexa, so you can control the scanner with your voice.
all-in-one device for print, scan, fax and copy
the Precision Core technology allows borderless prints
it features automatic 2-sided scanning
wireless printing + Alexa voice assistant
automatic document feeder handles 35 pages
4.3" color touchscreen for easy control
Best Flatbed Legal Size Scanner
Xerox DocuMate 3200 Scanner
Popular Scanner
The Xerox DocuMate 3200 is a very popular flatbed paper scanner. It is compatible with PC and Mac. The package includes a scanner, USB 2.0 cable, driver installation disk, quick installation card and technical support card. This scanner features an affordable price.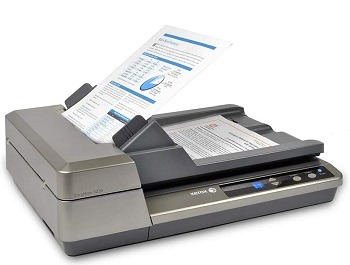 Automatic Feeder
The DocuMate dimensions are 17.9 inches in length, 13 inches in width and 5.5 inches in height. This flatbed scanner features an automatic document feeder (ADF). It can handle 50 pages. Use this scanner for scanning loose pages automatically. It scans 23 papers per minute.
Duplex Scanning
If you need to scan images, the Xerox scans 46 images per minute. The duplex scanning feature allows you to scan both sides of the paper per single pass. The maximal paper size for the automatic feeder is 8.75 x 38 inches and for flatbed is 8.5 x 14 inches. Both mechanisms are intended for legal size papers.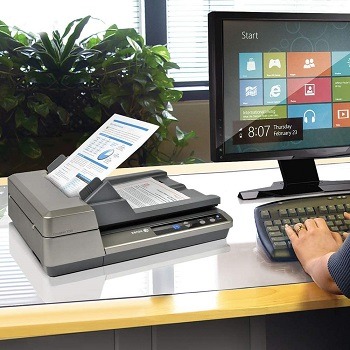 Searchable PDFs
The Xerox large format flatbed scanner supports Twain, ICA and WIA drivers. It is ideal for workgroups and medium-size offices. On the front panel, there is a single-button for easy operation. The DocuMate includes Visioneer Acuity software which improves the quality of scanned images. With Visioneer OneTouch, you can create searchable PDFs.
flatbed scanner with 50-sheet automatic feeder
compatible with Mac and PC
fast duplex scanning for documents
The Visioneer Acuity software is included
scans up to 23 papers per minute
Best Portable Legal Size Scanner
HP Scanner For Legal Size Paper
Flatbed Scanner
The HP ScanJet Pro 2500 scanner for legal size paper has an affordable price and a one-year warranty. if you have any questions about this item, you can call the HP custom service. This flatbed scanner measures 13.8 inches in length, 17.8 inches in width and 4.8 inches in height.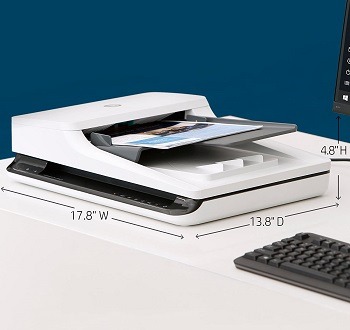 Control Buttons
The box includes a power cable, adapter, USB cable, installation guide, 2 software CDs and scanner. On the side of the scanner, there is a power button, LED light when an error occurs, cancel button, custom shortcuts, scan button and simplex/duplex button.
20 Pages Per Minute
This scanner weighs 9.5 pounds, it's a light item. Therefore, you can carry it wherever you need it. You can choose between simplex and duplex scanning. The scanning speed is 20 pages per minute. For images, it's able to scan 40 images per minute. With a single-pass, it scans 1500 pages on daily basis.

Multiple Options
The automatic paper feeder loads up to 50 pages per pass. The software is included and it allows you to edit the scans. There are automatic crop, exposure, orientation, page size detection, blank page removal, background removal and many other options. HP supports business cards, legal paper and letter-sized papers.
lightweight and portable legal paper scanner
powerful software provides many features
speeds up to 20 pages per minute
auto document feeder handles 50 pages
it scans 1500 papers per day
compatible with Mac and Windows
Best Office Legal Size Scanner
Plustek A3 Flatbed Scanner
Large Formats
The Plustek OS 1180 is a flatbed scanner that is designed for large formats. It scans legal-size documents and larger paper sizes with ease. This scanner measures 23.18 inches in length, 16.02 inches in width and 2.67 inches in height. Its weight is 9.52 pounds.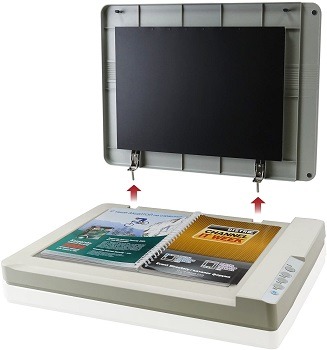 LED Light Source
This wide format scanner is able to scan up to A3 sized papers. It delivers a resolution of 1200 dots per inch. Windows and Mac users can use this scanner. Because of the LED light source, this device doesn't require warm up time. It scans newspapers, scrapbooks, magazines, all you need.
48-bit Color Depth
For A3 paper, this office scanner needs 9 seconds to scan it. The four one-touch scan buttons are intended for scan, OCR, PDF and email. They simplify the scanning process. The Plustek has 48-bit of color depth for the most accurate color reproduction.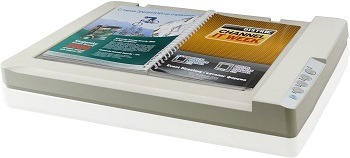 OCR Function
The Optical Character Recognition function allows you to digitalize and search your files easily. Moreover, you can save your image in searchable PDF format. Use the keyword to search the file or image. The Plustek is designed for libraries and schools, small offices and firms.
expensive versatile flatbed scanner
intended for large document format scanning
with an LED light source, the warm-up time isn't needed
four one-touch scan buttons for easy control
supports Windows and Mac operating systems
Best Automatic Legal Size Scanner
Mustek A3 2400S Scanner
Expensive Scanner
The Mustek A3 2400S requires 20 W of power consumption. It features an elegant design with 21.9 inches in length, 3.5 inches in height and 15.1 inches in width. This pricey scanner features a large flatbed with an expandable lid. Therefore you can scan thick bound books and large documents.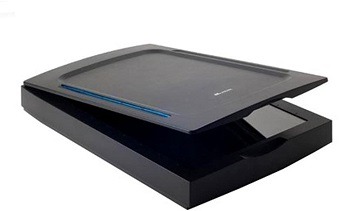 Quickly Scanning
This is a fairly fast legal paper scanner. If you need to scan the A3 sized document, the Mustek takes 6.8 seconds. So, the legal-sized paper, it will scan much quicker. Furthermore, the daily duty cycle is about 2500 pages. That means you can scan a few books per day.
High Resolution
The included OCR software allows you to fax, scan, email and create a PDF text files. The Mustek provides a high optical resolution of 2400 x 2400 dpi and software provides 9600 x 9600 dpi. The LED light source ensures no warm-up time.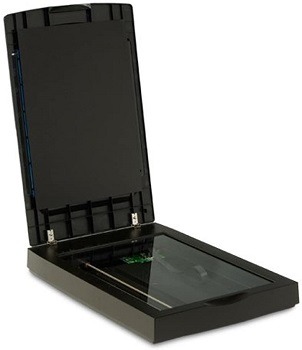 Windows Only
This automatic legal-size scanner is perfect for people who require high-quality scans. This scanner delivers smooth and more detailed images and photos. There are no faded colors. The control panel is easy to use. It is important to note that the Mustek isn't compatible with Mac, but Windows only.
elegant flatbed legal paper scanner
compatible with Windows system only
the optical resolution is 2400 x 2400 dpi
the removable lid is expandable
the integrated software allows you to scan, email, create PDFs
it delivers fast scanning speed
Best Professional Legal Size Scanner
Canon Legal Size Scanner
Powerful Scanner
The Canon imageFORMULA DR-M1060 is office document scanner. Its dimensions are 16.7 x 4.7 x 9.7 inches and it weighs 11 pounds. It is a small scanner for PC use, but it is abe to scan A3 and legal size papers easily. This model is intended for financial services, healthcare and companies.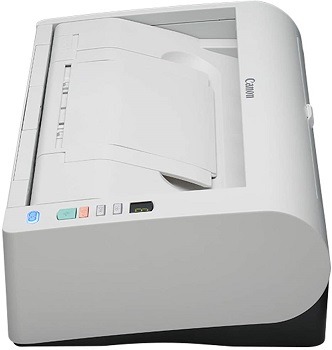 Versatile Item
Use this professional scanner for converting documents into editable files, reducing preparation time, enhancing images quality, file distribution, sharing, PDF creating and additional features. The Canon features versatile feeding paths: U-turn and straight feeding.
60 Pages Per Minute
This scanner is great for thin, thick, long, small document sizes. The user-friendly design makes scanning simple. The Canon is able to scan up to 60 pages per minute, or 120 images per minute. That includes color, black and white and greyscale documents.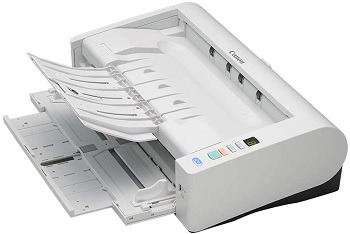 7500 Per Day
Canon scanner for legal size paper is able to scan over 7500 documents per day. You can boost your productivity. This scanner features an Energy Star certificate for low power consumption. The price is higher and the warranty lasts 1 year.
compact and economical paper scanner
it scans up to 60 pages per minute
great for legal size and larger documents
it scans 7500 pages per day
two feeding paths: U-turn and straight feeding
Things To Know About Legal Paper Scanner
Do you know the difference between paper sizes? Also, do you know which features your legal paper scanner should have? All this information and more, you will find in this buying guide.
Legal Size Paper – Many people replace ledger paper size for legal size. The ledger paper has 11 x 17 inches and the legal-size paper has 8.5 inches in width and it's 14 inches long. It's 22 x 36 centimeters. This size is larger than A4 or letter size paper.
Scanner Type – You can't buy any scanner type for this paper size. The flatbed scanners are intended for the legal size paper. But not all of them, check the scanner dimensions and its maximal paper size. All legal departments use legal size paper.
Scanning Speed – With the fast document scanner, you will save a lot of time. If you need a scanner for home office use, you don't have to buy the fastest scanner on the market. The paper scanner which is able to scan 8 pages per minute is the optimal choice. For larger offices, buy a faster scanner.
Paper Capacity – There are two paper scanner types, manual and scanner with automatic feeder. If the scanner has a tray, you can insert multiple pages into it. If you work with a low paper amount, the 10-sheet capacity will be enough, for business use, consider a 30-page capacity scanner.
2-sided Scanner – You need to choose between simplex and duplex paper scanner. The simplex scanner is able to scan the paper on one side only. The duplex paper scanners have the ability to automatically scan both sides of the paper at the same time. This feature spares a lot of time.