Are you interested in buying the best foosball table?
Here you can find an overview of the 20 best models and compare them between categories. To get more info on user-friendly features, read the buying guide. In the final verdict, we recommend additional articles to read.
Our Top Picks
What Is A Foosball Table?
It is a type of a game table where you have to spin and push rods on which foosball men are attached to shoot a ball into the opponent's goal to score. Such a table usually features four legs and a cabinet with the playfield inside, rods attached to it along with foos men, two goals, and a foosball.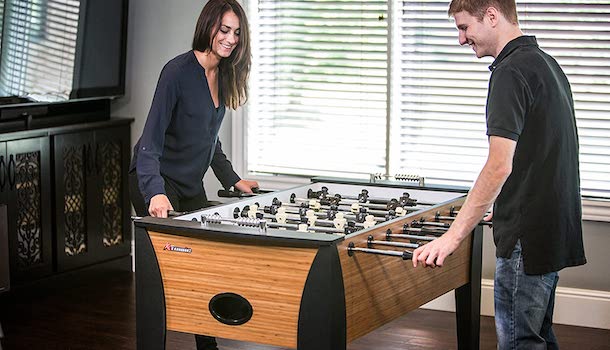 Other Names For Foosball
Besides foosball, this table game is also referred to as table soccer, babyfoot, table football, etc.
Where Are They Used?
There is more than one space where you can place your own table if you were to get one:
In your home – whether it be your playroom, living room, garage, you can always choose a model that is suitable for your household
Outdoor space – some models are suitable for use in outdoor spaces, such as your back yard
Commercial use – they are a great addition to pubs, restaurants, cafes, hotels, and other commercial environments
What Kind Is Best?
There is no single kind that is superior to others, unless you think about how you want to use it and where. For example, professionals will need a tournament-choice model, while kids will need something adjusted to their age and height. You can learn about all the available types below.
Types Available
There are multiple types available to choose from on the market:
Small – small sizes usually include tables under 30-inches long; usually featuring short legs that allow you to place the table on top of another tabletop surface
Official size – tables in official size are 56 inches long, 30 inches wide, and 36 inches high; used in competitions and tournaments, but can also be used elsewhere
Folding – great for space-saving, this type of table comes with collapsible legs or one folding leg which allows the table to fold and save space while being supported on one leg
Coin-operated – great for commercial spaces, requires coins to be inserted so that it can be played on; usually used in pubs, restaurants, etc
Coffee-style – type of soccer table that is the same height as a coffee table, featuring a glass top over the playfield so that it can be used as a table for both coffee and foosball
LED-lighted – this tyle of table features LED lights on the cabinet and/or legs to give it a nice lighted look in the dark, poorly-lit rooms, etc
Portable – this type of table can be easily transported with you as it is lightweight, some are also small in size so that you can transport them in your backpack
Outdoor – made from weatherproof materials, this type of table can withstand outdoor weather conditions and elements so you do not have to keep it inside
Combination game table – with more games in one table, combo tables usually let you play all foosball, pool, ping pong, and other games while saving you both space and money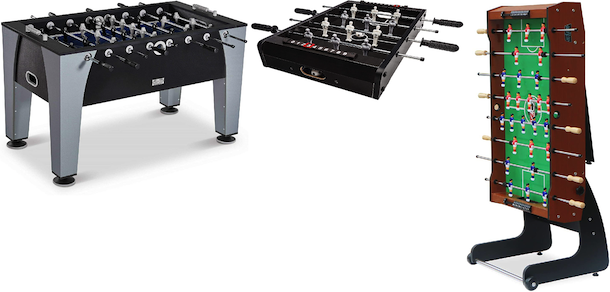 Do They Have Any Positive Or Negative Sides?
There are both advantages and disadvantages to owning a table for playing foosball that you can learn about here.
Reasons For Buying
Playing foosball helps in the following ways:
Anti-stress therapy – playing foosball on a table will help you unwind and reduce stress as you will be actively reducing the accumulated negative energy
Keeps you in shape – by playing foosball, you will be moving your body and engaging your mind, which can help you stay in shape
Experience is not required – to start playing foosball, you do not need to have previous experience, anyone can try it out and learn how to play
Bonding with family and friends – you get to spend time with your family and friends while playing foosball or watching them play foosball
Teaches about teamwork – for teamwork and team building, soccer table allow either two players to play against each other or four (two on each team)
Practicing – for anyone who wants to become a professional, having a table at home will allow them to play at any given time to advance in their game
Reasons Against Buying
It will be a bad idea if:
There is no enough space – you may want a proper playing experience and a free-standing table but you will not have enough space to fit it in your home
It is expensive – buying one may be a little expensive to some, especially regulation-size models that will cost even more than $1000
They can be hard to assemble – some people report struggling with putting the table together; it can be hard for one person if it is a big model and if the instructions are confusing
Who Are They For?
There are many different people who can use a table for foosball, for instance:
Beginners – they play foosball in their spare time, know the basics of the game, and a table can help them develop better playing skills
Advanced – those who play foosball professionally use them for practice, competitions, etc
Kids– even kids can spend time watching foosball to develop their reflexes, motoric skills, etc
How Do You Pick A Good Foosball Table?
Before you settle on buying one, you should know which features and characteristics to choose to get the best one for your money.
What Is The Best Size For It?
If you have the needed space, then it is the best to go for a standard-size model (56 x 30 x 36 inches) as it will give you the best playing experience. However, if you do not have the space, then you can even buy a folding standard-size model. Either way, this size is the best one to invest in.
How Much Space Do You Need?
Before you purchase a table, you need to ensure that you have enough space for it. Once the table is settled, you should have around 4 feet of extra space around it for moving on all sides. This means that you need around 10 feet by 8 feet of space available for a standard-size table (56 x 30 x 36 inches).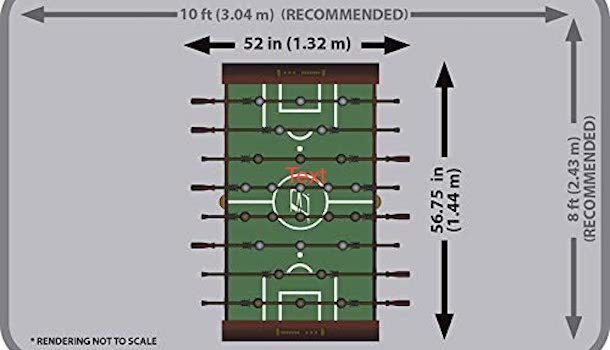 What Is A Good Weight For It?
They come in different weight – some can weigh under 20 pounds while some will way 100 to 200 or even above 300 pounds. So which one should you choose? We recommend choosing the one that weighs up to 200 pounds if you like rough play as that way the table won't move and shift during play. If you want something portable, make sure it is lighter, maybe up to 30 pounds.
Style
While many of them will be just classic style, you can also find modern-looking, industrial, vintage, and contemporary models on the market, among others. Choose according to the style you like and the style of the space where you are thinking to put it.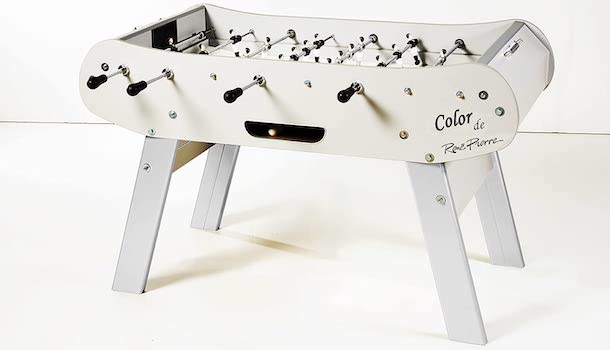 Quality Material
It is very important for the table to be made from quality material. For instance, solid wood. Wooden models are very durable, heavy, and expensive. A lighter, cheaper alternative, but still quite durable, will be a model made from MDF. For outdoor conditions, we recommend models made from weatherproof, hard, durable plastic.
Solid Vs. Hollow Rods
The rods are a very important part and dictate the speed of the game. If you like a fast-paced tempo, you might want solid rods made from steel. They are more durable and allow powerful shots. However, they can be a little too hard on smaller players and their wrists. Hollow rods are a good choice if you are not a professional. They are less durable but easier to spin and push.
Telescopic Vs. Non-Telescopic Rods
If you are worried about the safety, choose telescopic rods. They are the type that do not stick out on the opposite side of the table. This makes them a great choice for those who have kids, especially kids who are the same height as the table or whose eyes are in level with the rods. If you are not worried about the safety and do not think anyone could get injured, then non-telescopic rods will be alright.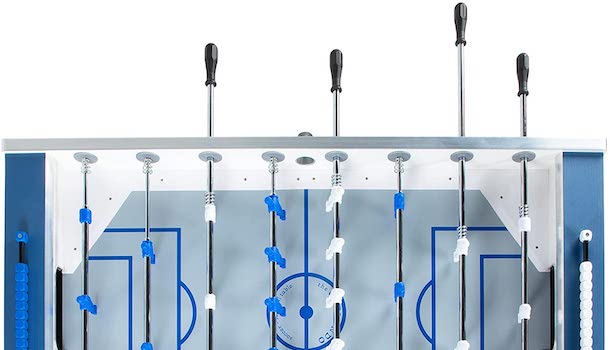 Ergonomic Handles
The rods can be comfortable for your hands and wrists if you choose those with ergonomically designed handles. They can be in octagonal shape and made from wood, plastic, etc. Pick non-shiny looking ones so they do not slip and cause wrist injuries.
Type Of Playing Surface
The playing surface can be either flat, ramped at the corners, or curved towards the centerline. We suggest one with a flat surface to begginers. Otherwise, the playing surface that is ramped at the corners or curved at the centerline will come with single-goalie configurations so the ball can always be inside the playing field.
Single Or Triple-Goalie Configuration
Single goalies are more common on European tables, while triple-goalies are more common on American ones. It might be easier to play with three goalies than it is with one, so if this is your concern, pick three goalies.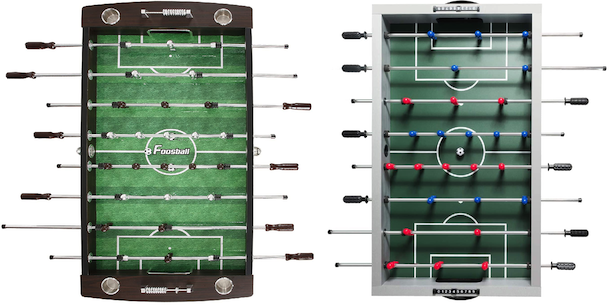 The Best Playing Figures
Foos men, how the figures are sometimes referred to, are another important part of a table. You should aways choose counterbalanced ones. This means that they have the same weight in their head and feet. Moreover, choose cross-hatched rather than rounded feet. They will allow you to control the ball and show off your skills more.
Leg Levelers
Levelers on legs are a good thing to have. That way, the playground will always stay flat and the game won't be spoiled. With the adjustable leg levelers, the legs will always be level for the best gaming experience on any terrain.
The Scoring System
Most models have abacus-style scoring systems where you can keep record of the score with the help of beads. Some models have electric scoring systems so you can competely focus on playing the game and the system will keep record of the scored goals.
Coin-Operation
Some models work only with coin operation. They are usually used in commercial settings. Make sure that the one you go for is suitable for US currency (or any other currency you would like to use).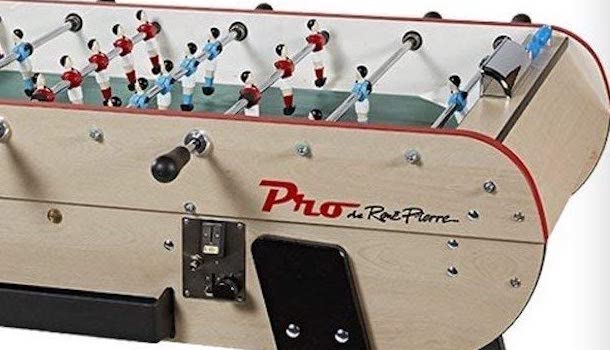 Additional Features
To have a table in your own style, it is also good to look for tables with graphics that you like, decals you can decorate it with, etc. You will personalize the table if you add your favorite teams decals, for example.
How Much Does A Good One Cost?
You can find tables for as low as $50 while some can cost you thousands of dollars. However, usually you can get a good model for sometimes even as low as $500 to $1,000.
What Is The Best Ball For Foosball?
There are different kinds of balls that you can choose between. We would recommend going for textured balls. They are easy to grip, show off your tricks and skills with, and give powerful shots. If you want a really light ball, then go for a cork version. We do not recommend soccer-style balls as they are very unpredictable and more of a novelty choice.
How Many People Can Play On It?
Most usually, two people can play foosball at once, one on one. However, some models with four rods or more for each team allow two people to play on one team.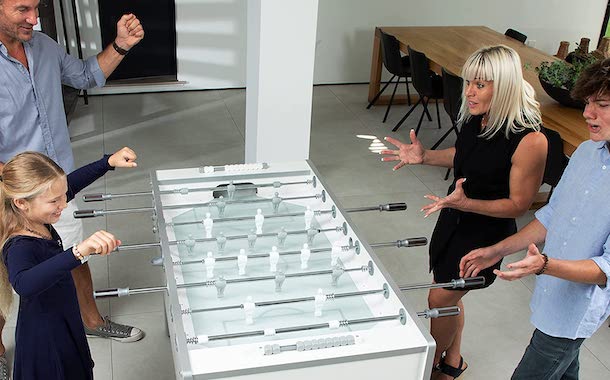 Do You Need A Cover For It?
If you have an outdoor model, then a cover for it will be essential. It will keep it protected from elements such as sun, wind, rain, moisture, dirt, etc. If you want to protect your table even when it is indoors, you can. You can buy a cover for it, which will protect it from dust and moisture when it is not in use.
Used Vs. New Model
Whenever it is possible, we would recommend buying a new table. Why? Well, you won't have to worry about whether it is functional. Also, if you buy a used one, it might be harder to get a hold of parts and accessories in case anyything needs fixing. Also, that way, the table can cost you more in the end if you have to invest in replacement parts, too.
The Best Brands
If you are unsure of which brand to choose, here are some that are reliable: Tornado, Kick, and Garlando are only some that you should not be scared to choose.
Top 20 Foosball Tables
Garlando G-500 Indoor Table
Thick Cabinet With Neutral Design
The playfield has a plastic laminate surface for fastball moving. Also, the design has a neutral color surface so it will look great in any room. You can choose between black, gray, and white versions. It's 1" thick.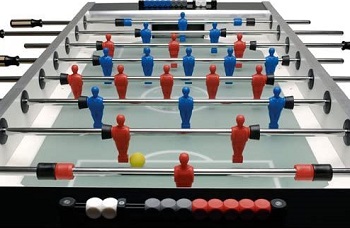 Legs With Integrated Levelers
This home model has legs with integrated levelers that ensure stability and a balanced playfield for a good game. The model features an official regulation size so you can also use it for tournament competition games.
MD Sports Combination Table
Accessories For Four Games
It's a multifunctional model that allows you to play four different games. It's packed with sports equipment so you can play immediately. Also, the foosball air hockey game table is space-saving. It's 54" long, 24.5" wide and 35.25" high.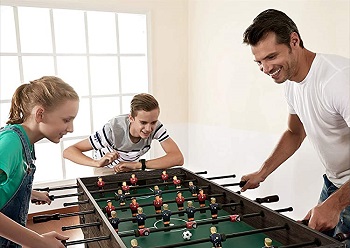 Steel Rods And Durable Frame
The 0.5" thick rods are made of stainless steel that's long-lasting and doesn't rust. It's made of durable MDF, ABS, and PVC materials. Also, the soccer table features oversized leg levelers for stability.
Giantex Wooden Folding Table
Compact And Smooth
It's compact because it measures 27.5" in height, 23" in width, and 28.5" in height. Also, the tabletop is suitable for kids that are 8 years old or above. The playfield is smooth and ensures a very fast game. The smooth round edges ensure safety.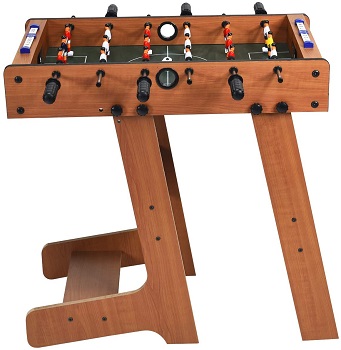 Smooth Playfield And Steel Rods
The affordable model can be folded so it's easy to store it and transport it. The playfield comes with six rods that are made of stainless steel so they don't rust. Also, you'll get 18 foosball men.
Barrington Urban Collection Table
Coffee Game Table Top
The top of the table has a glass surface that's multifunctional because it can be used as a coffee table. Moreover, the modern design featured gray faux concrete legs that are stable and long-lasting. It has robot-style foosball men.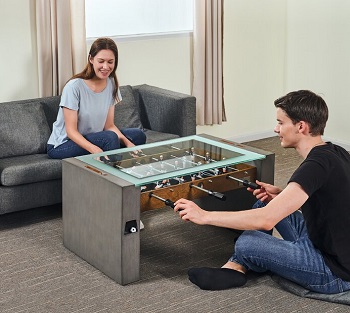 Counterbalanced Foosball Players
They're counterbalanced, which means they return to the beginning position when you let go of the rod. The thick electroplated steel rods are durable and have octagonal wooden handles. The table with a glass top is suitable for indoor use.
EastPoint Sports Official Table
Design And Goalie Configuration
The cheap model features red and white details with a black finish. The Robo-style foosball men have a 3-goalie configuration and they're attached to durable steel rods with ergonomic handles for comfortable grip.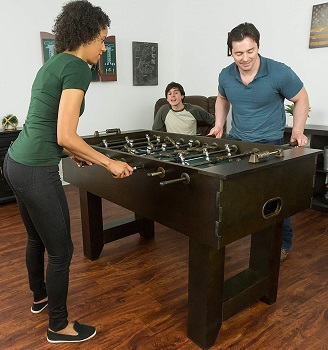 Dimensions And LED Scoring Units
The table is 48" long, 24" wide, and 32" high. Therefore, it's compact and space-saving. The leg levers ensure stability. Also, it has LED scoring units for tracking goals.
Playcraft Extera Outdoor Table
UV Coating For Outdoors
Since it's layered with UV-resistant PU coating, this model is resistant to weather, and colors won't fade away. Therefore, you can use it both indoors and outdoors. The package includes a cover and four balls.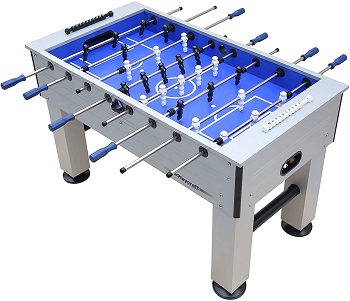 Heavy With Thick Walls
It weighs 225 pounds, so this white table isn't easy to transport. Moreover, it has a 12" deep cabinet with 1.5" thick walls. The square legs are 5" high and have 6" high leg levelers for stability. Handles are ergonomic and have aluminum rods.
Hall Of Games Kinwood Set Table
Concrete Finish And Birch Wood Legs
This model has a faux concrete finish attached to the wooden legs made of solid birch. Therefore, it's durable, long-lasting, and elegant. The four-leg levelers balance the playfield, and it has six panels for maximums stability.
Abacus-Style Scorers
It's industrial-style made with robot-style foosball men, textured 1.4" wide balls, and two abacus-style wooden scorers. The rods are layered with chrome and they end with octagonal solid wood handles.
Rally and Roar Foosball Tabletop
Compact And Easy To Store
It's 40" long, 20" wide, and 9" high which ensures easy transport. Also, this tabletop soccer table can be easily stored. The model is suitable for 2-4 players and it's made of a durable and long-lasting structure.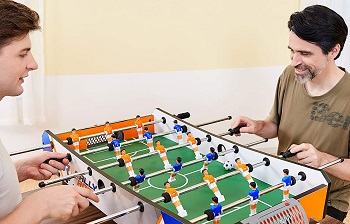 Thick Steel Rods
Therefore, it can be used for intense gams. The steel rods are 0.5" thick and plated with chrome. Also, they end with ergonomic handles. Legs are padded with foam to protect from floor damage.
DRM 36in Foosball Table
Dimensions And Superhero Design
This model is 36.2" long, 20" wide and 28.7" high. It's compact and space-saving. The foldable design makes it easy for moving, and its cool superhero design is great for kids. The corners are rounded for safety.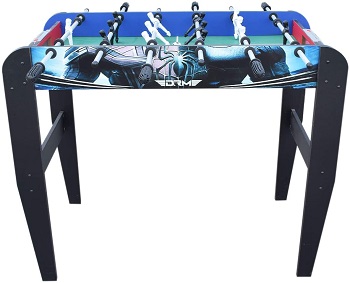 Steel Rods And Soft Handles
This small model has 0.6" thick legs for stability when playing. The six rods are coated with stainless steel and have slip-resistant handles. The playfield is warp-resistant. The frame is made of engineered wood.
Garlando Open Air Table
Weatherproof Cover And Telescopic Rods
The cabinet is layered with a weatherproof cover that's made of composition plastic materials reinforced with fiberglass. Therefore, it won't rust and color won't fade away. Telescopic rods have a stress-resistant coating of chrome plating.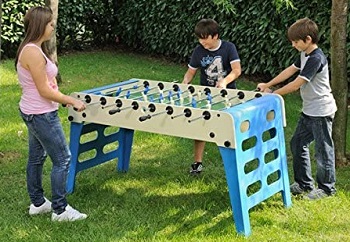 Rust-Resistant And Foldable
It's rust-resistant. Moreover, this outdoor model features a foldable design and roller bearings made of steel for improved game speed. It comes with 10 balls and weighs 180 lbs.
Tornado Venetian Mill Creek Table
Dark Wooden Finish
This vintage version features a dark brown wood finish and has additional features that create an elegant design. A high-quality model is made of MDF that's strong and long-lasting so it's built for competitive hames.
Foosball Men With Improved Foot
The patented Tornado foosball men have improved design with cross-hatch foot for more precise ball control. Also, this table features a smooth playfield and comes with two balls with a return system.
Bilhares Carrinho Portuguese
Handmade Wooden Table
This table is handmade in Portugal and can withstand intense tournaments and competitive matches. It's durable and long-lasting because it's made of solid wood. The pine legs ensure stability, and the playfield is smooth and curved.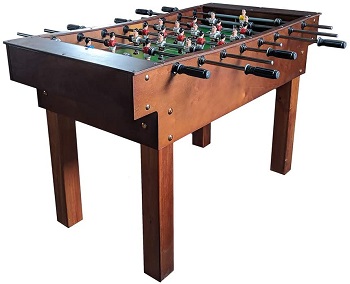 Aluminum Players And Slug Mechanism
The foosball men of this futsal table are made of aluminum and have a real human design. It has a red and white team, with the yellow and blue goalie. It comes with 5 playing balls and a slug mechanism.
Warrior Table Soccer Professional Table
Color Edges And Strong Cabinet
The table has variable blue, red, and green light on the edges of the green playfield. You'll get a remote control so you can adjust them as you like it. The cabinet is made of high-quality MDF and laminate.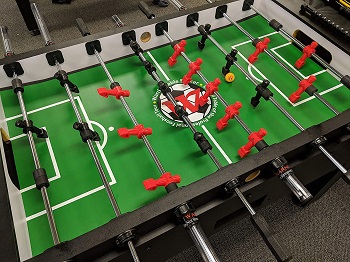 Counterbalanced Players And Ball Return
Also, it features counterbalanced players which are user-friendly. The lighted soccer table features a pro-style ball return. The swivel legs ensure stability and have levelers.
René Pierre Competition Table
Vintage Large Cabinet
The beechwood cabinet has vintage look and elegant design. It's 61" long, 41" wide and 26.5" high and 0.78" thick cabinet. The natural design makes it good for any room interior. The telescopic rods have steel construction and chrome plating.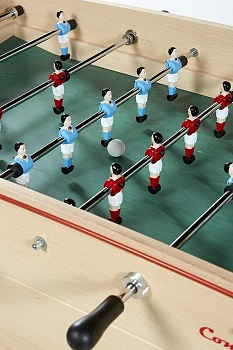 France Ergonomic Design
Moreover, the solid wood table is designed in France and features ergonomic handles for a comfortable grip. The model comes with built-in manual scoring units.
Hathaway Avalanche Foosball Table
Steel Rods And Robot-Style Players
For the low budget, you can get amazing features such as stainless steel rods that are chrome-plated and robot-style foosball men. They're made of high-density ABS material and they have an abacus-style scoring unit.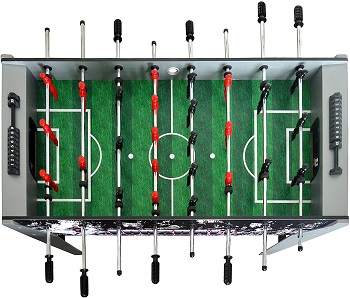 Compact Design With Graphics
The exterior of this cheap table has soccer-inspired graphics and L-shaped legs with integrated levelers for a balanced playfield. It's 48" wide, 24" long and 31" high. Also, it has ergonomic handles.
Shelti Pro Foos III Table
Professional Heavy Table
The heavy-duty professional table is long-lasting and suitable for intense games. The model weighs 375 pounds, so once it's assembled, it's hard to move it. Solid polymer legs have levelers for a balanced playfield.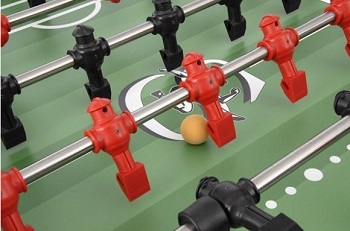 Smooth Playfield And MDF Frame
The thick MDF structure and smooth playfield ensure a fast game. The foosball men have improved angled foot for high-quality control of the ball. You'll get 12 balls for the game.
Tornado Tournament 3000 Table
Commercial-Grade Structure
This is a commercial-grade table built for competitive play. It's long-lasting and an official table of the Tornado National Tour and the International Table Soccer Foundation. Moreover, it comes in 3 colors- black, red and silver.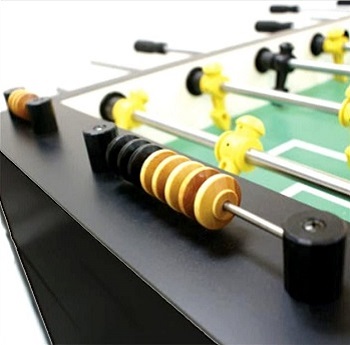 Goalie Setup And Adjustable Levelers
The counterbalanced foosball players return to the first position after you let go of the rods. Also, you can choose between 1-goalie and 3-goalie setup. Legs have adjustable levelers.
ESPN Net Attack Table
Weight And Dimensions
This brand is great for home use but also professional games. It weighs 120 lbs, and it's 56" long, 30" wide, and 35" high. It has melamine treated playfield that ensures good ball control. Also, it has an inset bead-style scoring unit.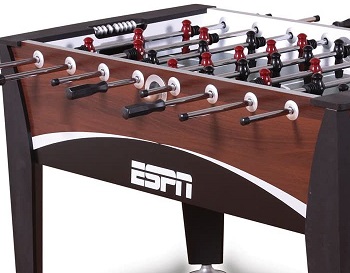 Lightweight Steel Rods
The rods are made of stainless steel, and they're durable and lightweight. Also, the PVC handles are long-lasting, comfortable, and suitable for a strong grip. The EPSN table has leg levelers for a balanced playfield.
Franklin Sports 54″ Foosball Table
Foosball Men And Design
The modern design is made of MDF material that's durable and long-lasting. It's 53.94" long, 34" wide, and high. Moreover, this table has an elegant black playfield with white lines and grey details. The robot-style foosball players come in black and silver teams.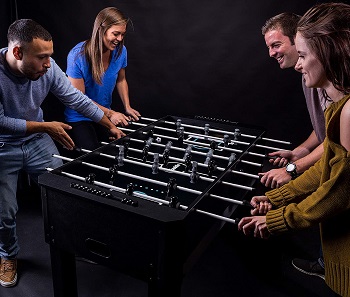 Non-Slip Handles
The stainless steel rods are painted in white, and the handles are ergonomic and prevent slipping. The legs have adjustable levelers that you can change according to the floor structure.
Win. Max Preassembled Table
Easy To Assemble
It's very easy to assemble it because it's delivered with all parts already installed. The foosball men have a stylish monochrome design and the frame is made of durable MDF structure. Therefore, it can withstand intense games.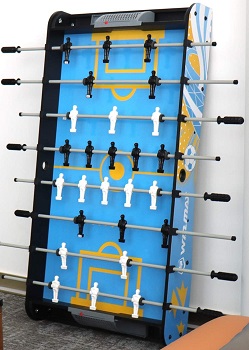 Foldable Ergonomic Design
The size and structure make it suitable for both kids and adults. The foldable design make sit easy for transport and storage. This kid's version is 47.64" long, 24.02" wide, and 31.89" high. Also, it has comfortable handles.
How To Care For It?
Once you buy a futsal table, you will also have to take some action to care for it if you want to keep it in the best condition.
Keeping It Clean
First of all, you will have to keep it free from dust and any other dirt. That is why you should not keep drinks near it so that you do not spill drinks over it. Use a soft cloth for cleaning to remove any dust. If there is a lot of dirt, then wet the cloth and then remove all the dust, dirt, and stains. You should do this at least on a monthly basis.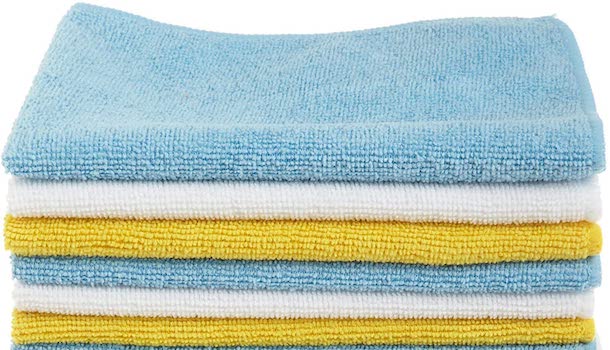 Lubricating The Rods
To keep the rods smooth so that they are easy to spin, you will have to clean them and lubricate them from time to time. When you notice that the rods are harder to spin, it is time to apply liquid silicone to them. For cleaning the rods, it is better to use spray silicone, but liquid silicone will also work.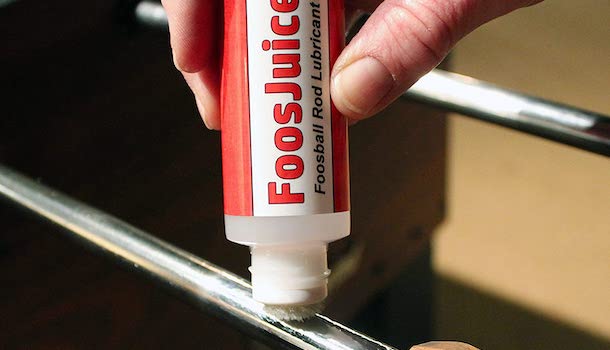 Covering Outdoors
If you will use the table outdoors, it's neccessary to cover it during the night or when it's not in use to protect it from rain and other harmful influences. The cover needs to be weatherproof and big enough to cover the whole table.
What Are The Rules For Foosball?
The purpose of a game of foosball is to score more goals than your opponent. To score a goal, you have to use the rods to move the figures on them and shoot the ball into the opposite player's goal. While there are many rules for the official matches that may be complicated for new and unexperienced players, there are some basic rules that anyone playing foosball should know and follow:
Flip a coin to decide who serves the ball to start the game. After the first goal is scored, the ball should be served by the team who scored the last goal.
Spinning with the rod (360 degrees) is not allowed without touching the ball.
It is not allowed to jar by slamming the rod against the cabinet wall to distract players or move the ball from its position.
A dead ball is the one that stops between the two teams. If it occurs, the ball needs to be taken and served again.
If the ball comes off the table or hits a top rail, it is out of play. It should be served again by the team that scored the last goal.
If you have a five-bar table, you also need to apply the rule of five-bar passing. It is only allowed for 10 seconds to pass between passing the ball from 5 bar rod to the offensive 3 bar rod after the serve. For the first serve, you have 15 seconds. A ball must move and touch two men on the 5 bar before it can be passed to the 3 bar. Moreover, the ball can only touch the wall twice before advancing. If it is a pass, then it is allowed for the ball to touch the wall for the third time.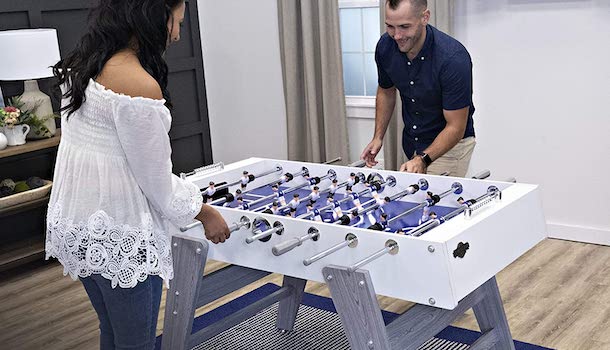 How To Set It Up?
Depending on which model you go for, it might take you longer to assemble the table as it varies from one manufacturer to the other.
How Many People Does It Take?
For smaller versions, it won't take more than one person to set up the table. However, if you buy a massive one, it might take even two to three people to put it together.
Which Tools Are Needed?
You will usually need the following tools to set up the table:
a screwdriver
an Allan wrench
a level
a hammer
Steps For Setting It Up
These are the steps you will usually have to take to set it up:
The table surface needs to be attached to the base first.
The sides and the rods need to be attached to the base.
To the tabletop, you then need to attach the legs.
Attach the players to the rods.
Lubricate the rods with silicone lubricant.
Attach any other features it comes with.