Are you looking for the best scanner for your Mac?
Fortunately, this review talks about photo scanners for the Mac operating system. You can see the list of the best six photo scanners for Mac. But before reviews, check out the features that improve the scanning experience.
Our Top Picks
6 Best Photo Scanners For Mac
Best Of Best Photo Scanner For Mac
Epson Perfection V600 Mac
USB-powered Device
The Epson Perfection V600 is a great photo scanner for Mac, it is intended for amateurs and professionals. This flatbed scanner measures 19 x 11 x 4.6 inches. It is a USB powered device which is compatible with Windows, too. Use it for negatives, slides, photos and documents.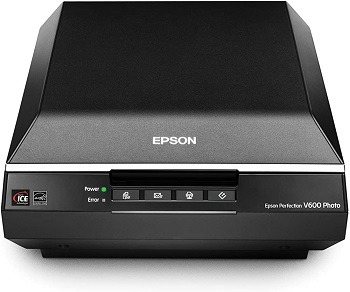 35mm Slide Scanner For Mac
This flatbed scanner offers an outstanding resolution. There are high 6400 dots per inch. The higher dpi is important for carrying out image enlargement. The Epson also scan negative films, it has a built-in transparency unit for 35mm negative films. It scans negatives up to 6 x 22 inches in size.
Digital ICE For Prints
The maximal scanning area is 8.5 x 11.7 inches. This photo scanner is good for letter-sized or A4 formats. There are a few image enhancement, like Digital ICE for film, it removes dust and scratches from film. The Digital ICE for prints removes tears and creases from photos.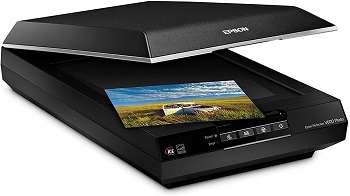 No Warm-up Time
This is a great and high-quality home photo scanner because it features an Photo Fix feature. The LED light source allows you to scan whenever you want, there is no warm up time. It ensures faster scanning and low energy consumption. Control the scanner with four buttons for email, OCR, copy and scan.
Highlighted Points:
best flatbed photo scanner for Mac
energy-efficient LED light source
Digital ICE for film removes dust and scratches
Digital ICE for prints removes tears and creases
convert your scans to editable files
the resolution is 6400 dots per inch
Best Slide Photo Scanner For Mac
Kodak Film Scanner
Compact Device
The Kodak portable photo scanner is able to scan photos, slides and negatives. Connect it to your computer with a micro USB cable. This is a compact device with 4.09 x 3.7 x 6.65 inches. You can save it in your bag and carry it easily. Also, it doesn't require much space, store it in your drawer.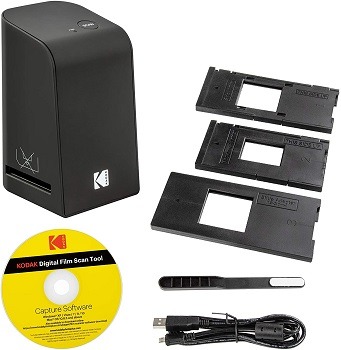 CMOS Image Sensor
This scanner is compatible with 35mm film negatives and slides, in color or black and white. But it's important to note that Kodak doesn't support 110, 120 and 8mm. It uses a CMOS image sensor. The standard resolution is 2592 x 1680 dpi and interpolated is 5184 x 3360 dpi.
Software Functions
It is compatible with Mac and Windows OS. The integrated software allows you to view, edit and save photos. Moreover, the software offers image interpolation, rotate, flip, adjust brightness and enlarge images. You can feed the slide after slide, it supports continuous scanning.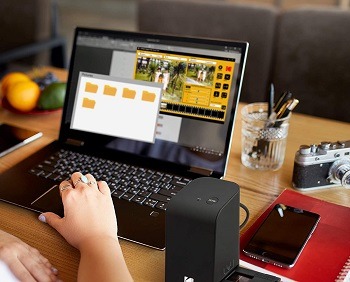 Included Items
The package includes a scanner, slide tray adapters, negative tray adapter, capture software CD, USB cable, cleaning cloth and user guide. You can transfer your photos directly to your computer, you don't have to save it on the SD card. Convert your photos into JPEG and TIFF formats.
Highlighted Points:
small and compact photo scanner for Mac
compatible with 35mm negatives and slides
integrated CMOS image sensor
the standard resolution is 2592 x 1680
transfer your scans directly to the computer
Best Flatbed Photo Scanner For Mac
HP ScanJet G4010 Mac
CD With Software
The HP ScanJet G4010 is a flatbed scanner designed for slides, negatives, paper and photos. It measures 20 inches in width, 11.93 inches in depth and 3.86 inches in height. It weighs 12 pounds. The box includes a scanner, USB cable, power supply adapter and cord, CD with software and guide.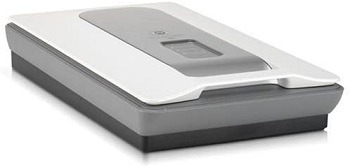 Energy Star Certificate
The Energy Star certificate ensures low energy consumption. You can easily scan, copy, scan films or scan to PDFs. The size of the scanning area is 8.5 x 12.3 inches. Scan 35mm films and negatives, iron-on transfers, papers and even 3D objects.
High Color Depth
The color depth is very high, there is 96-bit. The delivered resolution is 4800 x 9600 dots per inch. On the front panel, there are buttons for control. After scanning, you can save images into multiple formats, that include BMP, JPEG, GIF and TIFF.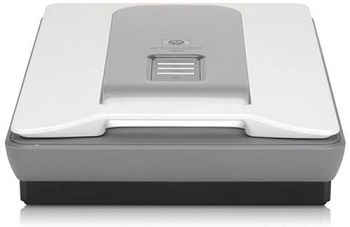 Accurate Scans
This high quality photo scanner delivers good resolution and high color depth, you can have true-to-life results and more accurate photos. This photo scanner for Mac allows you to restore your old photos. The software will automatically remove dust and scratch for scans. For a 4×6 photo, it takes 11 seconds.
Highlighted Points:
integrated powerful photo restoration software
it scans images up to 4800 x 9600 dots per inch
compatible with 35mm film negatives
use it for photos, slides, documents, negatives
it saves images into multiple formats
Best 2-sided Photo Scanner For Mac
Fujitsu ScanSnap Mac Scanner
Large Touchscreen
The Fujitsu ScanSnap iX1500 photo scanner works great with Mac and Windows OS. It uses Wi-Fi and USB connections. The item dimensions are 11.5 x 6 x 6.30 inches and it weighs 9 pounds. It fits perfectly on any desk. It features a large LCD 4.3-inch touchscreen so it is a large bed scanner.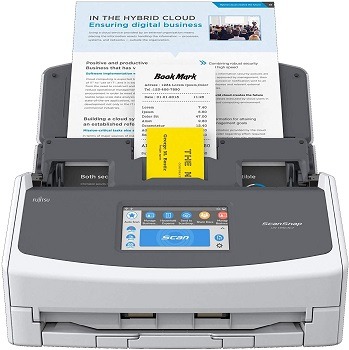 Quick Menu
It has the ability to scan receipts, photos, paper and business cards. Moreover, you don't have to flip over the paper on the other side because it is a double sided scanner. It scans both sides of documents or photos at the same time. The Fujitsu offers an easy-to-use Quick Menu, start scanning with one touch. The scanning speed is 30 ppm.
Save Your Settings
You can create up to 30 pre-configured and save your most common settings to your profile. Select them with one touch. Send the scans to multiple destinations, like Google Drive, OneDrive, Dropbox and more. The ScanSnap software is integrated, it helps you stay organized.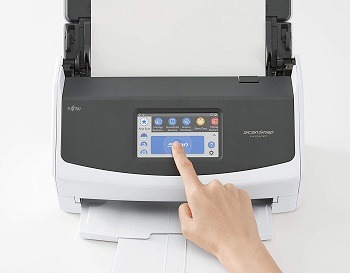 Correct Your Photos
Optical Character Recognition permits you to create searchable PDFs and editable Word or Excel formats. Use the intelligent image adjustment and optimize your scans, you can optimize contrast, rotate the photos, remove blank pages and crop images.
Highlighted Points:
duplex sheet-fed photo scanner for Mac
create multiple user profiles and save your settings
Optical Character Recognition provides better organization
Wi-Fi and Mac connection
send your scans to multiple locations
the scanning speed is 30 pages per minute
Best Office Photo Scanner For Mac
Canon Image Capture Mac
Lightweight Scanner
The Canon CanoScan Lide 400 is USB powered large fomat flatbed scanner. It measures 14.50 x 9.9 x 1.70 inches. It works well with Windows and Mac OS. This is a lightweight scanner, there are 3.6 pounds only. The USB Type-C is able to power and transfer data at the same time.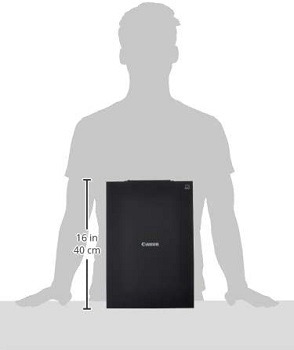 Detailed Photos
This photo scanner for Mac provides fast scanning, it takes 8 seconds. Moreover, it delivers detailed photos with 4800 x 4800 resolution. The maximal paper or photo size is 8.27 x 11.69 or 8.5 x 11.69 inches. Press the Send to Cloud button and send your photos directly to your cloud service.
Upright Scanning
The Canon CanoScan is able to scan upright, which is great for the office's desks with limited places. The Auto-scan mode automatically detects the document or photo you want to scan and adjust the settings. With OCR software you can create multi-page PDF files.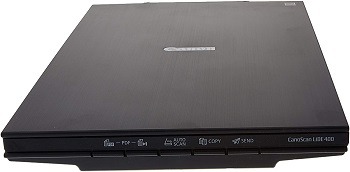 Five EZ Buttons
You can scan multiple photos at one time and the scanner will recognize them as separate items and save them into individual files. If you have some old photos, you don't have to worry about scanning. This device won't damage them. It features 5 EZ buttons for easy control.
Highlighted Points:
color image scanner for photos in high resolution
the scanning speed is 8 seconds
it delivers 4800 x 4800 dpi resolution
built-in Optical Character Recognition
send your scans to cloud services
Best Automatic Photo Scanner For Mac
Xerox XD-Combo Mac Scanner
Combo Device
The Xerox XD-Combo is an automatic photo feeder and a flatbed scanner in one device. It scans papers, photos and receipts. The dimensions of this scanner are 5 inches in height, 13 inches in depth and 15.8 inches in width. The box includes a USB cable, power supply and adapter, ADF pad and DVD with drivers.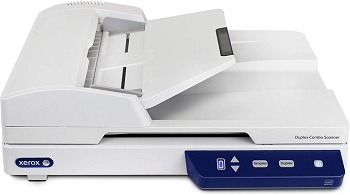 1500 Pages Per Day
It is powered by a USB cable. You can load the automatic document feeder with maximally 35 pages. It scans documents and photos in color, black and white and greyscale. The daily duty cycle is 1500 pages per day, so this picture scanner for Mac scans 25 pages per minute.
Long Documents
The max paper size is 8.5 inches in width and 118 inches in length. That means you can easily scan panoramas. If you want to send your scans to some destination, there is just one button that you need to press. This scanner is ideal for small offices. It's compatible with Mac and Windows.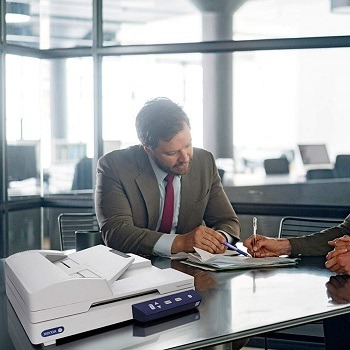 Acuity Software
The Visioneer Acuity software is integrated into Xerox. It automatically improves photo quality. For example, it removes unwanted marks and smudges, improves visual clarity, etc. The Optical Character Recognition allows you to create searchable and editable formats.
Highlighted Points:
automatic document scanner and flatbed combo
Visioneer Acuity software improves photo quality
fast scanning – 25 pages per minute
the feeder has a capacity of 35 pages
built-in Optical Character Recognition
Things To Know About Photo Scanner For Mac
The basic criterion is Mac compatibility, but there are other relevant features you should consider, like scanner type, photo size, resolution and advanced functions.
Flatbed Vs Sheet-fed Scanner – The sheet-fed scanners have automatic document feeders, so they are intended for large amounts of photos. The flatbed scanners provide better quality and offer some specialized features for photo scanning.
Scanner's Resolution – It isn't the same to scan documents and photos. For photos, you need to require a high resolution. The resolution is measured in dots per inch. The more dots per inch, the more detailed photos. The 4800 dpi provides high-quality scans.
Photo Enhancement Tool – The newer photo scanner comes with photo enhancement tools integrated. Use these tools and improves your picture quality. The photo scanner for old photos restore photos, adjust the brightness, crop, deskew and rotate them.
Paper Size – If you need to scan artwork, large photos or drawings, you need to choose the scanner that is able to scan large sizes. Usually, the scanners are intended for A4/letter paper size (8.5 x 11 inches). But there are scanners that support all sizes of papers.
Connectivity – You can choose between wireless and USB connections. If you have a USB-powered scanner, just connect it to your computer or laptop. With wireless connectivity, you can connect to your scanner from anywhere. You can provide the access to multiple users.