Are you interested in a quick photo scanner?
Well, here we talk about photo scanners which deliver a higher scan speed. Read our buying guide and learn about features that every photo scanner should have. In our list, you can read the reviews of the best high-speed photo scanners.
Our Top Picks
6 Best High-speed Photo Scanners
Best Of Best High-speed Photo Scanner
Epson Fast Photo Scanner
In The Box
The Epson FastFoto-680-W is one of the best and high-speed document scanners you can find on the market. The box includes a scanner, instruction, super speed USB 3.0 cable, AC adapter with power cable, carrier sheet and a cleaning cloth. Use the cleaning cloth for dust removal.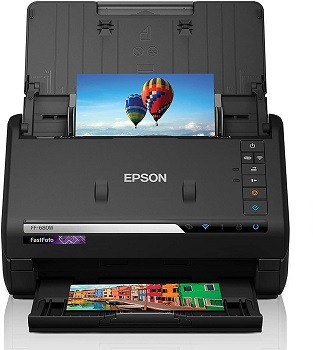 Panoramas Scanning
This scanner measures 11.7 inches in width, 11 inches in height and 6.7 inches in depth. Use it for photos, postcards, receipts, documents, polaroid photos and panoramas. This is a wireless scanner, so the computer isn't needed. Use the USB to transfer photos to your PC.
Fastest Photo Scanner
The Epson is able to scan continuously. Moreover, it scans a photo per second at 300 dots per inch. It can scan at a higher resolution of 1200 dpi. The Safe Touch technology allows you to scan photos of almost any size. Epson's second-generation software provides scanning, restore, organize and sharing photos.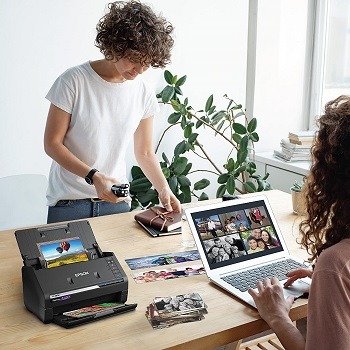 ScanSmart Software
Use this photo scanner for documents, too. It scans 40 pages per minute and 90 impressions per minute. The Single Step technology ensures duplex scanning. The Optical Character Recognition feature provides you to create searchable PDF files. The picture system will improve the quality of the old photos with auto enhancement, color restoration, red-eye reduction, deskew, crop and rotate.
world fastest personal photo scanner
Single Step technology provides duplex scanning
it scans a photo per second
built-in Optical Character Recognition
picture system improves photo quality
the optical resolution is 1200 dpi
Best Feeder High-speed Photo Scanner
Canon imageFormula R40 Scanner
Office Use
The Canon ImageFormula R40 is a great office scanner that is compatible with Mac and Windows OS. Use it for photos, documents, receipts and business cards. This scanner has 11.14 x 9.9 x 9.6 inches. It weighs 11 pounds. The allowed size is A4 or 8.5 x 11-inch paper.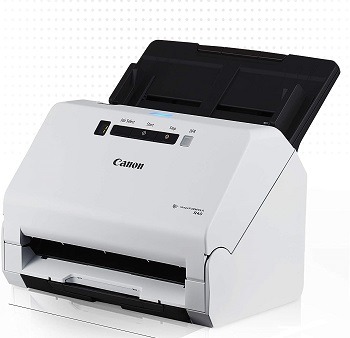 Easy Set-up
The power consumption is 22 watts. It is a USB powered device, so connect it to your computer. It's easy to set it up and use. The Canon features a one-touch operation. The duplex scanning provides 2-sided scanning at the same time. The scan speed is 40 pages per minute.
60-page Capacity
The automatic document feeder holds up to 60 pages, just load the tray with a stack of paper and let the scanner to finish the job. The Twain driver is included. This fast photo scanner automatically adjusts the output resolution depends on photo size.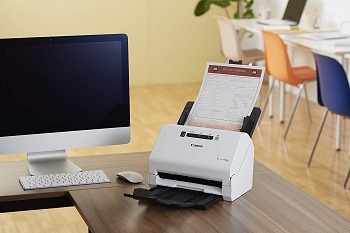 CaptureOn Touch Software
Canon has built-in CaptureOn Touch Software plus free licenses for Readiris PDF, OCR software and Cardiris business card software. With Optical Character Recognition you can easily convert your documents into searchable PDF files. Then you can send them to cloud services.
fast photo scanner with feeder
the automatic paper feeder has a 60-page capacity
the scan speed is 40 pages per minute
built-in CaptireOn Touch software
use the duplex scanning and increase productivity
Best 2-sided Fast Photo Scanner
Fujitsu Image Scanner
Pricey Item
The Fujitsu ScanSnap iX500 is USB powered scanner. Its dimensions are 15.5 x 10.9 x 9.8 inches. This is a lightweight scanner, there are 3 pounds only. So you can easily move it and transport wherever you need. The price is higher and the warranty lasts 1-year.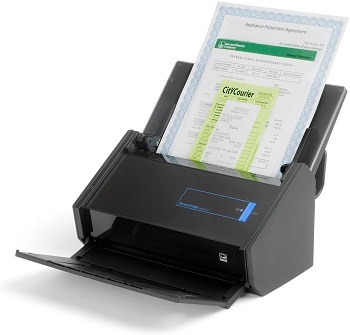 Quick Access
The power consumption is 20 watts when it scans. It is simple to use it, this scanner guides you through the scanning process. Scan and save your photos and you can access them anytime and anywhere. Send the photos to the cloud, PC, Mac, iPad/iPhone and Android devices.
Carrier Sheet
You can scan different documents types, from business cards to A4 and even A3 formats. Use the carrier sheet for large document sizes, newspapers and photographs. The bundled software allows you to create searchable files and stay organized.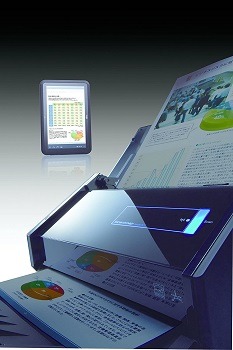 Stack Of Photos
The Fujitsu quick photo scanner provides double-sided scanning. The large document scanner speed is 25 photos per minute. This device is able to scan a stack of 20 photos at 600 dots per inch. For that job, it needs a minute. The automatic document feeder has a capacity of 50 pages.
USB powered fast photo scanner
the automatic document feeder accepts 50 pages
it scans 20-25 photos per minute
the resolution is 600-1200 dots per inch
send photos to cloud, PC, email, Word, iPhone, etc
built-in software improves photo organization
Best Portable Fast Photo Scanner
ClearClick Photo Scanner
Handheld Scanner
The ClearClick is a portable document and photo scanner. This handheld scanner runs on USB power or you can buy 3 AA batteries. They aren't included in the package. The box includes a scanner, user's manual, software download card, carrying case and USB cable. The price is affordable.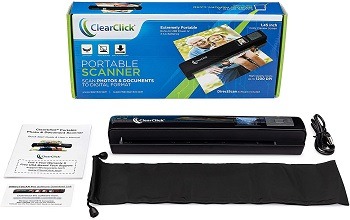 Auto Feeder
This fast photo scanner has a built-in automatic feeder. You can insert one document or photo at a time. The maximal photo or document size is 8.5 inches in width and 47 inches in length. The resolution is optimal, 1200 dots per inch. This item weighs 12 ounces, you can carry it in your bag.
Extremely Fast
The ClearClick scans the photos to digital JPG or PDF formats. There is a small LCD screen of 1.45 inches, so you can preview photos immediately after scanning. For each photo, this scanner takes a second to scan it and save it. There are two ways of use.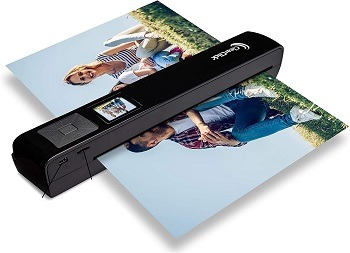 Two Ways To Use
If you want to scan without the computer, you need to load batteries and insert a memory microSD card. The max is 32GB. When you want to transfer photos, use the USB cable. The second way is scanning the photos to your PC directly. Then there is no need for batteries and memory cards.
handheld portable photo scanner
auto feeder accepts one photo or document
scan the photos directly to PC
scan the photos to the memory card
it takes a second to scan a photo
small LCD screen for preview scans
Best Home Quick Photo Scanner
Plustek Photo Scanner
Flatbed Scanner
Plustek OS 1180 is a flatbed scanner with an elegant design. It is available in white color. This photo scanner is perfect for libraries, schools, mid offices and home use. The dimensions are 23.18 inches in length, 16.02 inches in width and 2.67 inches in height. It weighs 9.52 pounds.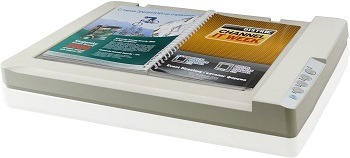 Large Format
This is a USB powered scanner which uses LED Light source. That means the warm-up time isn't needed. Use this fast photo scanner for large photos and documents format. It is capable of scanning A3 format or 11.69 x 17 inches. You can scan panoramas, too.
Accurate Color Reproduction
The color depth is 48 bit which provides accurate color reproduction. The optical resolution is up to 1200 dots per inch. This high-speed photo scanner is ideal for art, scrapbooks, photos, newspapers and others. It is easy to use the scanner, there are four one-touch buttons.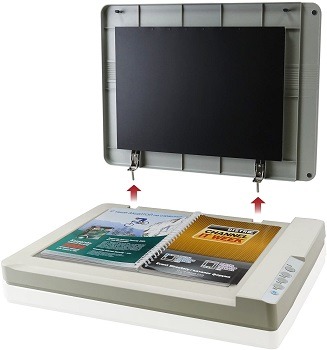 Four Buttons
These buttons are intended for scan, email, OCR and PDF files creation. The Plustek supports Windows and Mac Os and TWAIN drivers. From the Plustek official website, you can download the latest driver version. To scan the A3 document, this portable flatbed scanner takes 9 seconds.
tabloid-sized quick photo scanner
the optical resolution is up to 1200 dpi
the color depth is 48 bit
four one-touch buttons for easy operating
with an LED light source the warm-up time isn't needed
Best Flatbed Quick Photo Scanner
Epson Perfection Photo Scanner
Versatile Device
The Epson Perfection V600 is an amazing photo scanner. It provides great versatility and quality, so it is perfect for home, office, studio, etc. This flatbed scanner measures 19 x 11 x 4.6 inches and weighs 9 pounds only. The power consumption is 16.5 watts.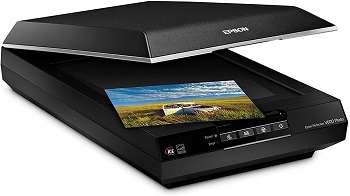 Outstanding Resolution
This flatbed scanner delivers amazing resolution, it's 6400 x 9600 dots per inch. Use it for photos, film, negatives, slides and documents. The Digital ICE for film removes dust and scratches from film. The Digital ICE for prints removes the tears and creases from photos. The color depth is 48-bit.
Easy Photo Fix Feature
The Epson features an Easy Photo Fix feature. This feature restores the faded photos and provides high quality. The ArcSoft PhotoStudio feature ensures complete photo restoration. With a built-in Transparency Unit, you can scan slides, negatives and medium-format panoramic film.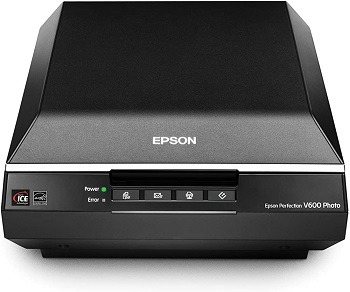 3D Object Scanning
With this fast photo scanner, you can even 3D objects. The included Optical Character Recognition software allows you to convert your scans into searchable and editable files. On Epson's interface, there are four buttons for scan, copy, scan to email and PDF files.
fast photo scanner with low energy consumption
a flatbed scanner which delivers a resolution of 6400 x 9600 dpi
Easy Photo Fix restores faded color photos
removes dust, scratches, tears and creases
built-in Optical Character Recognition
Transparency Unit for slides, negatives and panoramas
Things To Know About High-speed Photo Scanner
If you want to purchase a photo scanner, the most important thing is optical resolution. Here you'll learn which resolution is optimal. Also, check out other essential features and pick the best model for your needs.
Optical Resolution – The optical resolution is measured in dots per inch. The higher the resolution, the more detailed photo. The resolution of 1200 dpi is optimal for photos. If you have high resolution, you can easily enlarge the photos without fuzzy images and some other issues.
Color Depth – The color bit or depth is the amount of information the scanner gathers about the photo. At higher bit depths, the scanned photo will look much better. For example, if your scanner has 24-bit depth, it will deliver approximately 17 million colors.
Photo Size – What size of photos you need to scan? Do you have 4 x 6, 8 x 10, panoramic or photos of other sizes? Moreover, if you need a scanner for old photos, check if it has some security features. Many scanners are able to scan the A4 format size.
Scanner's Speed – If you plan to scan a high volume of photos, speed is an essential factor you need to look for. Also, it will be useful if you buy a duplex scanner, that kind of scanner is able to scan both sides of the photo simultaneously. It is measured in ipm – images per minute.
Connectivity – There are two ways of connection – USB cable or wireless. Choose the connection depends on your needs. If you need a portable scanner, consider the wireless option. The USB 2.0 or 3.0 cable provides high transfer speed to your computer or tablet.