Are you looking for a high-speed scanner that is durable and works smoothly?
Then you should keep reading.
This review brings information about high speed scanners – you can learn how fast they are, how many papers they can hold and which other useful features they have. We'll explain important terms in our buying guide and tell you which features you should look for. Check our list with quality and fast scanners.
Our Top Picks
6 Best High-speed Scanners
Best Of Best High-speed Scanner
Canon High-speed Scanner
Affordable Item
The Canon imageFormula R40 is an office document scanner that is compatible with Mac and Windows operating systems. You can place it on your desk, it doesn't take much space. Here are its dimensions: 11.14 x 9.9 x 9.6 inches. It weighs 11.2 pounds. The price is affordable.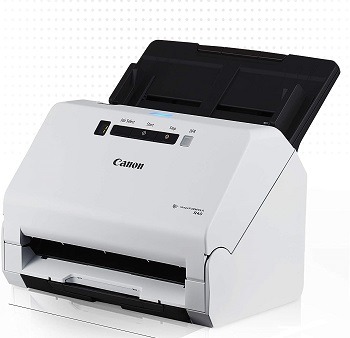 USB Cable
It is easy to set it up, use the USB cable and connect the scanner to your computer. This high speed desktop scanner handles receipts, reports, contracts, business cards, long documents, photos, thick and thin papers. The Canon scans both sides of the document which increase scanning.
Convert Your Files
The scan speed is 40 pages per minute. The automatic document feeder can hold up to 60 pages. After you scan the documents, you can send them to your email, cloud service and other destinations. The Optical Character Recognition allows you to convert your scans into searchable PDF files.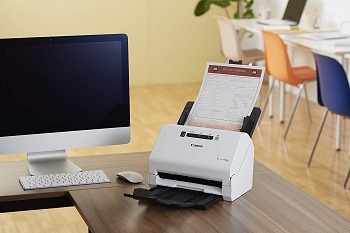 Energy Star Certificate
You don't have to worry about power consumption, this scanner owns an Energy Star certificate, so it has low energy consumption. The Canon has built-in software – Canon CaptureOnTouch software – and a free license for Readiris and OCR and Cardiris software.
Highlighted Points:
high-speed scanner machine for office use
USB powered scanner with an automatic feeder of 60 pages
the resolution is 600 dots per inch
it scans 40 pages per minute
convert your documents into searchable files
optimal power consumption
Best Desktop Speed Scanner
Xerox High-speed Scanner
Drives Included
The Xerox DocuMate 3125 document scanner measures 6.5 inches in length, 11.2 inches in width and 6.7 inches in height. It is lightweight, there are 8 pounds. It will fit on every desktop. The box contains a scanner, ADF pad, power supply and AC cable, USB 2.0 cable, DVD with drivers and instruction.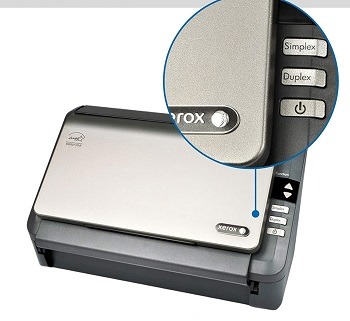 40 Pages Per Minute
This speed scanner works with PC and Mac. It is able to scan color, greyscale and black and white documents. Insert 50 pages into an automatic document feeder of the scanner, that's its capacity. The scan speed is up to 40 pages per minute and 70 impressions per minute at 200 dpi.
Acuity Technology
There are simplex and duplex scanning, choose the option depends on your needs. The maximal paper size is A4 or letter-size papers. The max paper length is 38 inches. The color depth is 24-bit. Visioneer Acuity technology automatically improves document clarity.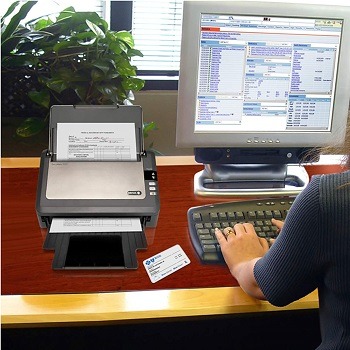 Quick Organization
When you scan your documents, you can use OCR software and create searchable PDF files. You can find them easily with keywords or sentences. Xerox's daily duty cycle is 3000 pages. Send your scan to multiple locations with the OneTouch scanning feature.
Highlighted Points:
compact high-speed desktop scanner
Visioner Acuity technology improves scans clarity
convert your scans into searchable PDF files
it scans 40 pages per minute
simplex and duplex scanning options
send your scans to cloud services
Best Duplex High-speed Scanner
Fujitsu High-speed Scanner
Portable Scanner
The Fujitsu Fi-7160 high-speed scanner is capable of handling receipts, sticky notes, plastic cards and documents. This 17.7 x 9.5 x 11.2-inch device is compatible with Windows operating system only. The item weighs 9 pounds, so it's easily portable.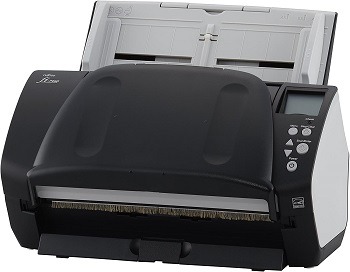 120 Images Per Minute
Use the duplex feature and increase scanner productivity. This high speed double sided scanner scans color, monochrome and black and white documents. The resolution is 600 dots per inch, which is pretty enough for documents. The scanning speed is 120 images per minute and 60 pages per minute.
Min & Max Paper Size
The automatic document feeder accepts 80 pages per single pass. The maximal document size you can insert into this scanner is 8.5 inches in width and 220 inches in length. You can scan panoramic documents. The minimal document size is 2 x 2.1 inches.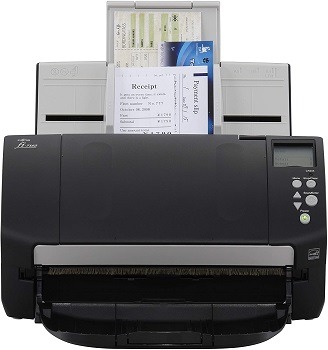 LED Light Source
When the office scanner scans, the power consumption is 38 Watts. When it's in standby mode, it's 0.35 Watts. The Fujitsu uses an LED light source, so the warm-up time isn't needed. The daily duty cycle is 4000 pages. The TWAIN and ISIS drivers are included, so this high-speed double-sided scanner is compatible with almost any software.
Highlighted Points:
lightweight duplex high-speed scanner machine
it scans 60 pages per minute and 120 images/minute
integrated TWAIN and ISIS drivers
low power consumption
no need for the warm-up time
Best Flatbed High-speed Scanner
Kodak High-speed Scanner
Heavy Scanner
The Kodak i2900 scanner is a flatbed scanner and has larger dimensions. It measures 22.1 x 21.1 x 15 inches. Also, it is a bit heavier, there are 42 pounds. This is a robust scanner intended for A4, letter and A3 paper size. Its price is high, but it is a durable and reliable device.
Auto Document Protection
It scans 60 pages per minute and has a 250-sheet feeder. You can use simplex or duplex scanning. The delivered resolution is 1200 dots per inch. The Intelligent Document Protection saves your document from damage, if sensors detect a bent edge, the device will stop scanning.
SmartTouch Button
This high speed flatbed scanner is designed to handle books, folder, fragile documents and others. It is even a passport scanner. You can scan very long and thick documents. With the SmartTouch button, you can scan documents to email, file and storage, Microsoft SharePoint, printers and other applications.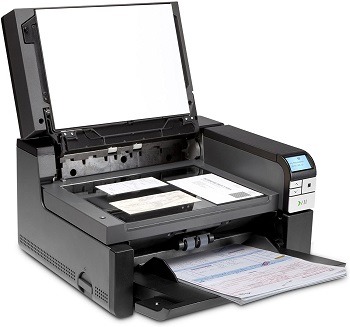 High-Quality Scans
The Perfect Page Technology delivers features like streak filtering, image hole fill, sharpness filtering and other options for outstanding image quality. The recommended daily volume is 10,000 pages. Control the scanner with an LCD display, there are four buttons.
Highlighted Points:
flatbed scanner with a daily cycle of 10,000 pages
LCD screen with four control buttons
Perfect Page technology increase scans quality
it scans 60 pages per minute
press the SmartTouch button to send a scans
the automatic feeder accepts 250 sheets
Best Portable Speed Scanner
Raven Pro High-speed Scanner
Wireless Scanner
The Raven Pro Document is the device designed as a scanner for home office use. You can choose the color, there are black and white colors. Use this scanner for business cards, receipts and documents. There are Wi-Fi and wireless connectivity. You can scan and send papers wirelessly, without a PC.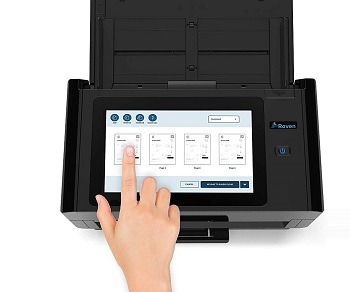 Scan To Cloud
The item dimensions are 12.44 x 8.15 x 7.01 inches. You can easily transport it wherever you need to scan something. For a single page, the scanner needs a second. That means it scans 60 pages per minute. It allows you to scan directly to the cloud – Google Drive, OneDrive or email and fax.
Huge Screen
This high speed portable scanner features a huge 8-inch screen which ensures more visibility, easy navigation and document editing. The Optical Recognition software allows you to create searchable PDF files. Find it easily with a keyword or some sentences.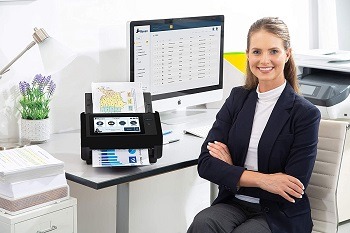 Built-in Document Editor
The automatic document feeder has a capacity of 100 sheets. It is adjustable and has an anti-jam feature. With Document Editor, you can name documents, add or remove pages, reorder pages, crop and rotate them, saved combined or separate files.
Highlighted Points:
Wi-Fi and wireless high-speed portable scanner
it features a screen of 8 inches
the automatic paper feeder accepts 100 pages
the scanning  speed is 60 papers per minute
built-in Optical Character Recognition
Best Office High-speed Scanner
HP ScanJet High-speed Scanner
Small Scanner
The HP ScanJet Pro 3000 scanner is a small device designed for small office use. Its dimensions are 16.2 x 12.2 x 11.8 inches and weigh 6 pounds. The power consumption is 24 watts. The maximal paper size 8.5 inches in width and 122 inches in length.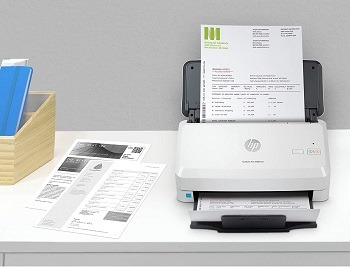 Simplex/duplex Scanning
This is a USB powered device, so you can easily send your scans to your computer. It scans 40 documents per minute. With the duplex feature, it scans 80 impressions per minute. The recommended daily duty cycle is 4000 pages. You can insert maximally 50 sheets into this multi-page document scanner.
Multi-feed Detection
The HP ScanJet Pro supports Mac, Windows and Linux operating systems. The Optical Character Recognition allows you to create searchable PDF files, that will help you with the organization. Multi-feed detection prevents documents from damage.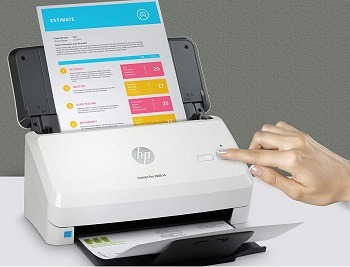 TWAIN Drivers
This high-speed scanner for small business features a document input tray with an extension for longer documents so it is a good choice for . The HP ScanJet Pro document scanner has TWAIN and ISIS drives integrated. The delivered resolution is 120o dots per inch.
Highlighted Points:
small high speed scanner for office use
compatible with Linux, Mac and Windows OS
it scans 40 papers per minute
the automatic feeder holds up to 50 pages
the resolution is 1200 dots per inch
integrated TWAIN and ISIS drivers
Things To Know About High-speed Scanners
The high-speed scanners have the ability to scan your documents faster than other ones. They are reliable enough to scan thousands of pages smoothly. Check what speed they reach and other essential features.
Scan Speed – The speed is measured in ppm or ipm. The ppm stands for pages per minute and ipm for impressions per minute (that is double-sided scanning). The ipm is usually double ppm. So, consider the document camera scanner which is able to scan 35 or 40 pages per minute. That's fast.
Duplex Scanning – There are two scanner types, simplex and duplex scanners. Simplex scans one side of the paper and the duplex scanners scan simultaneously both sides of the paper. With this feature, you can avoid manually flipping documents.
ADF Capacity – Nowadays, almost all document scanners have automatic document feeders. Use the automatic feeder to load paper into it. The higher the capacity the less frequently you need to reload the feeder. If you work with a high volume of papers, pick the scanner with at least a 50-page capacity.
Scanning Resolution – The resolution is measured in dots per inch. The most common range is from 150 dpi to 600 dpi. If you work with documents only, a higher resolution than 600 dpi isn't necessary. If you want to buy a high-quality photo scanner, choose a resolution of at least 1200 dpi.
Optical Character Recognition – The OCR or Optical Character Recognition is a very useful feature. With this feature, after you scan documents, you can create searchable PDF files. Search it with a keyword or sentence. The OCR increase efficiency and do document recognition.
Final Verdict
There are pretty fast document scanners, right? We would like to recommend the Canon high-speed scanner. It scans 40 pages per minute, features an automatic document feeder with 60-page capacity and integrated software. For more speedy scanners, check out the review of the fastest document scanners. If you need a scanner for photos primarily, read the high-speed photo scanners post.