Do you want to digitalize your physical books?
Then consider the automatic book scanners. These devices are able to scan a thousand pages. Also, they have improved technologies intended especially for book scanning. Find more in our buying guide and pick the best model from the top 6 list.
Our Top Picks
Best 6 Automatic Book Scanners
Best Of Best Automatic Book Scanner
Czur Aura-B Book Scanner
Overhead Scanner
The Czur Aura-B automatic book scanner is an overhead scanner type. It features 7.08 inches in length, 5.11 inches in weight and 17.44 inches in height. This is a lightweight item, there are 3.3 pounds only. The scanner is compatible with Mac and Windows operating systems.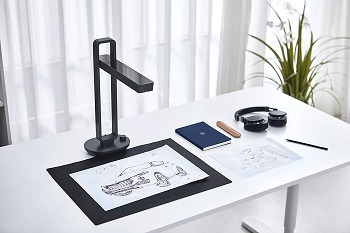 Intuitive Night Light Mode
This automatic book scanner features night light mode. There is a smart lamp that uses sound sensors. If there is noise in your environment, the lamp will brighten. If there is silence around you, the sensors will automatically dim the lights. This device features a collapsible design.
Book Curve Flattening
The Czur uses book curve flattening technology, it utilizes three precise lasers for scanning accuracy and image clarity. This technology flattening the curved pages of bind books. The scanning speed is 2 seconds per page, so you don't have to wait too long.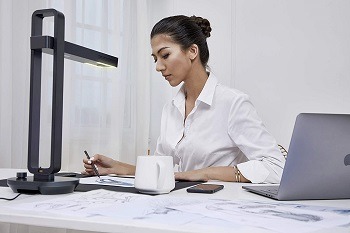 Remote Working
The Czur Aura Windows and Mac scanner uses a USB connection. The scanner is compatible with the Zoom app, you can use it for remote working, teaching or meeting. You can annotate, highlight, scroll and click on the screen. The Czur supports Video Recording, Snapshot and other tools.
the great overhead book scanner
it features a multi-function button design
turn on the automatic night light mode
book curve flattening technology for bind books
compatible with Zoom, Snapshot, Video Recording
share your screen with your colleagues or students
Best Portable Automatic Book Scanner
Aibecy Automatic Book Scanner
Affordable Scanner
The Aibecy is an affordable automatic book scanner. It weighs 1.3 pounds and has 3.2 x 3.1 x 12.8 inches. The pad size is 15.9 x 12.9 inches. The box includes a scanner, pad, USB cable and USB disk. So, it is a USB-powered device that supports the Windows operating system.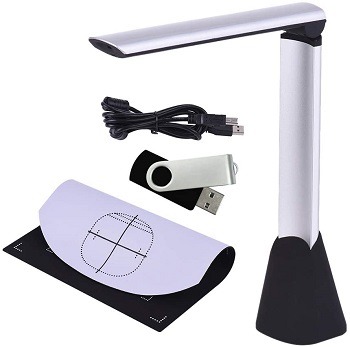 CMOS Sensor
Use this cheap scanner for documents, passport, magazine, ID and business cards, photos and books. The maximal paper size is A4. The Aibecy uses CMOS sensors and delivers 5 megapixels or 2592 x 1944 dpi of resolution. The color depth is 24-bit. Moreover, the scanning speed is 1 second only.
Durable Item
This scanner is made of aluminum alloy material with a rubber padded base. It is durable and stable, so you can use it for a long time. The design is foldable, it's convenient to store and carry. The Aibecy is equipped with LED lights, which is useful if you work in a dark environment.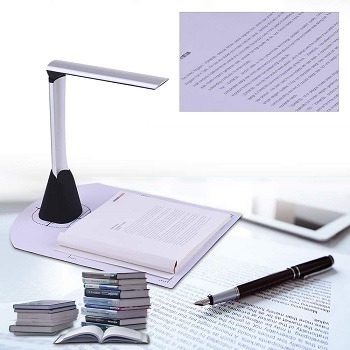 Multifunctional Design
The automatic book scanner is able to real-time capture, scheduled scan, PDF creating, and more. You can scan and convert the data into PDF files. That is great for E-book making. The Aibecy supports JPG, PNG, BMP, TIFF, PDF and others. It supports OCR software.
the high-speed portable automatic book scanner
ideal for libraries, classrooms, offices, banks
the resolution is 2592 x 1944 dpi
the maximal scan size is A4
it supports Optical Character Recognition software
Best Professional Automatic Book Scanner
iCodis Book Scanner
Scans Anything
The iCodis X9 is a book and document scanner. It's a professional book scanner which is great for office use and classroom. It handles whatever document you need to scan, even A3 format documents. It scans blueprints, magazines, books and catalogs.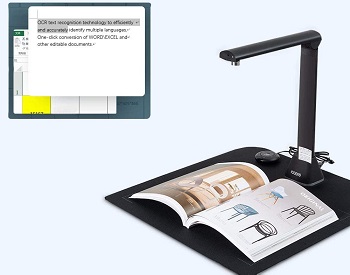 Not Compatible With Mac
It is important to note that software isn't compatible with Apple Mac OS. The flattening curve technology is able to automatically detect the bending of the book and automatically flatten the curve. You don't have to do it manually. The timer ensures continuous scanning.
21 Megapixels
The iCodis provides 21 megapixels for high-quality scans. If you need to work in a dim environment, there are 9 built-in LED lights that provide brightness. This book scanner is equipped with the latest technology, like multifile scanning, background purification, automatic correction, finger free cropping, etc.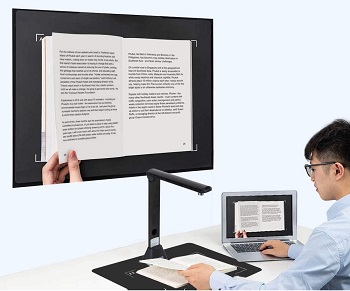 Easy-to-use
This automatic book scanner is able to merge two small photos. The iCodis is made of high-quality aluminum alloy, it is foldable and portable. Fold it, store it and use it wherever you need. Moreover, you can easily install the scanner and operate with it.
easy to install, use and operate with it
the portable and foldable book scanner
flattening curve technology for books
it delivers a resolution of 21 megapixel
isn't compatible with Mac OS
Best Office Automatic Book Scanner
IriScan Book Scanner
Windows Only
The IriScan Desk 5 pro book scanner measures 14.76 x 3.34 x 2.95 inches. It is a lightweight device and this scanner is compatible with Windows OS only. This is a USB powered device, so you don't have to use an AC adapter. IriScan office scanner has a high price.

Versatile Scanner
This scanner is useful for books, documents, passports, contracts and drawings scanning. Actually, you can scan anything you need. If you need to scan receipts, you can put multiple receipts on the pad and scan them, at the same time. Also, it scans the barcode to MS Excel.
Desktop Camera
It is a very fast scanner, to scan and export a double page to a PDF file, it takes three seconds. Use the smart image flattening and edge correction functions for perfect results. The desktop camera will detect the page change and erase your fingerprints. You can record books.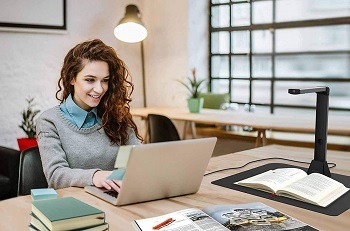 Programmable Timer
The IriScan has a programmable timer that provides scans at regular intervals. Furthermore, it merges book pages and marking the front and back covers. The Optical Character Recognition software is integrated into the device. This software recognizes more than 130 languages.
the portable desktop book scanner
USB powered device for documents, books, magazines
it scans and exports books into multiple files
built-in Optical Character Recognition
set the programmable timer for continuous scanning
smart image flattening for bind books
Best Overhead Automatic Book Scanner
Fujitsu Book Scanner
Delicate Papers
The Fujitsu ScanSnap SV600 is an overhead book scanner. Its size is 8.3 x 15.1 x 6.1 inches. You can use this scanner for books, documents, receipts and delicate papers. It won't damage them. This is a USB powered device and it supports Windows systems only.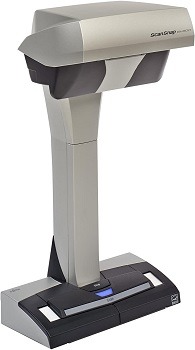 Automatic Page Turner
The scanning speed is high, it takes under three seconds to scan a page. If you have many small photos or receipts, you can scan them at the same time. When you scan the book, you don't have to hit the scan button each time, there is an automatic page detection feature.
Correction Functions
After scanning, use the advanced image correction software. You can edit your photos immediately after scanning. The software allows you to flatten curved pages, remove fingerprints, straighten and crop all images. The interface is simple, there is just one button.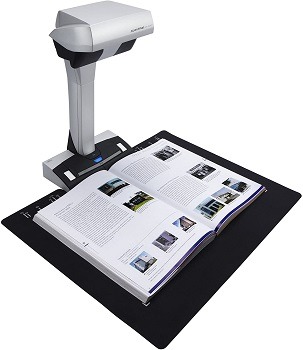 Robust Scanner
This automatic and professional photo scanner is designed for scanning on daily basis. It is robust, professional and delivers high-quality scans. The Fujitsu features quality CCD optics, advanced LED illumination and improved capture technologies. It is a reliable scanner.
the robust and professional book scanner
scan a page in under 3 seconds
digitalize bound books and correct the curves
multi-document scanning at the same time
it features page-turning detection software
Best Flatbed Automatic Book Scanner
Plustek Automatic Book Scanner
LED Light Source
The Plustek OS 1180 is a flatbed book scanner with 23.18 x 16.02 x 2.67 inches in size. It is a USB powered device. The package includes a scanner, user's manual, AC adapter, USB cable, and CD with software. With an LED light source, you don't have to wait for the device to warm-up.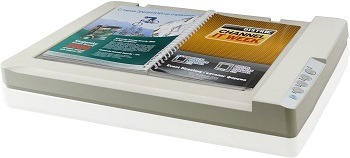 1200 DPI
The scanning area measures 11.69 x 17 inches, so you can scan large-format magazines, legal-sized documents, books, scrapbooks, newspapers and photos. The maximal optical resolution is up to 1200 dots per inch. This large-format flatbed scanner supports Windows and Mac OS.
Four Buttons
For an A3 document in greyscale, it takes 9 seconds only. For the color document, the scanner needs 15 seconds. It is easy to use this scanner. There are four one-touch scan buttons, use it for scan, OCR, PDF and email. That makes the scanning process faster and easier.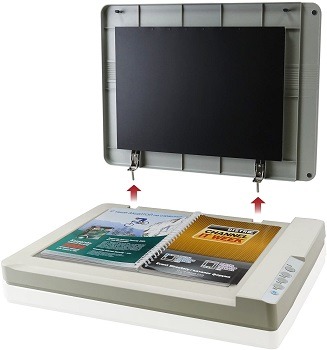 Intelligent Functions
You don't have to worry about document damage, this scanner won't damage any document types. After scanning, you can use some features to correct your scans. For example, there are auto-rotate, background removal, denoise and character enhancement.
the large format flatbed scanner
scans color, greyscale and black and white documents
convert your scans easily with OCR software
compatible with Mac and Windows systems
intelligent scan correction functions
the optical resolution is 1200 dots per inch
Things To Know About Automatic Book Scanner
Before you buy an automatic book scanner, you should know which features you can get for your money. You can choose between different scanner types, software and advanced technologies.
Scanner Type – There are three main scanner types on the market – flatbed scanners, overhead scanners and handheld scanners. The handheld scanner isn't intended for a book with many pages, you need to hold it all the time in your hands. The overhead and flatbed scanners are a better choice.
Optical Character Recognition – This software is really useful if you need to digitalize many books. Then convert your books into searchable files. You can organize them and find a particular book easier with some keywords or sentences.
Book Curve Technology – Some models call it auto-flatten technology. That feature is great because you don't have to unbind books before scanning. This technology uses some special algorithm which straightens book curves. It increases productivity.
Portability – Each model has different dimensions and designs, but if you looking for a more mobile book scanner, check out the followed features. The flatbed scanner can have low weight, so you can easily move it around. The overhead scanners are usually foldable, so they don't take much space, you can store it and move it.
Video Streaming – Some overhead book scanners have a camera and LCD projector, so you can record the content and show it to your colleagues or students. It is practical for remote working, meeting or teaching. Share your screen and stay connected with people.
Final Verdict
The Czur Aura-B Book scanner ensures great features. It is able to scan any book or document of up to A3 size, it features book curve flattening technology and has a foldable design. If you looking for similar models, consider the document camera scanner post. The portable book scanners are more convenient and practical, check out the best models.