Are you looking for the best electric binding machine?
Then keep reading these reviews.
You will learn how to bind the books with an electric binding machine and which features should have a quality binding machine. Read our buying guide first, then check out our list with the best models on the market.
Our Top Picks
Best 6 Electric Binding Machines
Best Of Best Electric Binding Machine
Fellowes Electric Binding Machine
Large Offices
The Fellowes 5218301 Galaxy E500 binding machine is designed for daily use in large offices. This product measures 19.75 x 8.31 x 23 inches. It is pretty heavy, there are 32 pounds. It's best to find someplace for this machine and don't move it often. The color is grey.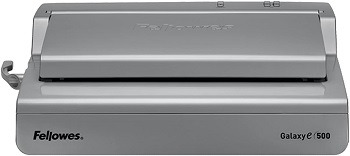 25-sheets At The Time
This electric comb binding machine is useful for school, recreational and business use. The Fellowes is able to punch up to 25 sheets of paper at a time. With a 2-inch comb, this machine binds up to 500 sheets. You need to insert the documents vertically for accurate punch alignment.
Two Users
You can separate the binding mechanism and use them individually. In that way, you can increase productivity. Also, you can release the dies for different paper sizes. You can quickly set up the machine because the integrated comb storage tray features a document measurement device.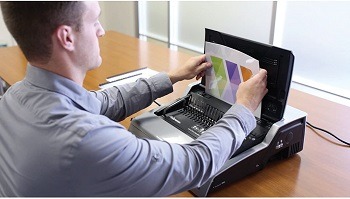 Mistake-proof Tool
The edge guide is adjustable and allows you to center the documents preciously. The mistake-proof tool helps you to choose the right size of the comb for your documents. It's easy to use this electric binding machine, just push the button and the device will automatically punch up the sheets.
Highlighted Points:
this electric machine punches up to 25 sheets
it binds up to 500 sheets with a 2-inch comb
load the documents vertically
the removable binding mechanism for separate use
document measurement device for more precision
Best Spiral Electric Binding Machine
TruBind Binding Machine
Professional Use
TruBind is a machine intended for professional office use. It is an electric machine which has a high price. Also, it comes with a 1-year warranty. This model has an electric punch and electric coil inserter. The package includes the binding machine and coil cutter/crimping tool.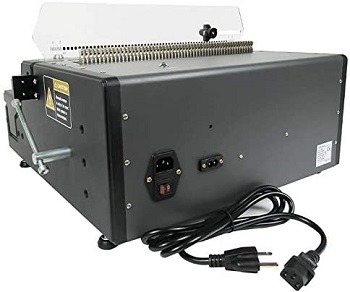 Electric Coil Binding Machine
This electric coil binding machine is able to punch up to 25 sheets of paper at a time. It is intended for high volume binding requirements. Also, there is an electric coil inserter, you can insert 7/8 inches of coils. There is a disengaging die type, so use disengaging pins and eliminate a partially punched hole in your book easily.
Oval Dye Shape
This electric spiral binding machine has an oval dye shape, even the round shape is most common. With this dye type, you can easily turn the pages and insert the coil. With this machine, you can adjust the length of the hole punches. Also, you can adjust the side margin and choose where you want to punch holes.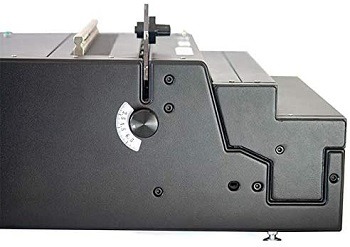 Hands-free Operation
It is very easy to control this machine. With the front button, you can turn on/off the electric coil inserter. Push the button to electronically punch the documents or book. You can use the foot pedal for that. If a jam occurs, you need to unplug the machine and use the handle for manual reverse.
Highlighted Points:
electric binding machine for professional use
the punch capacity is 25 sheets
use the button or electric pedal for punching
the depth and side margins are adjustable
electric coil inserter for safe operation
the package includes coil cutting and crimping tool
Best Automatic Electric Binding Machine
GBC ProClick Electric Binding Machine
Professional Binding
This electric binding machine is made of high-quality materials, its warranty lasts 1 year. The product dimensions are 14 x 16 x 8 inches. It weighs 22 pounds. This is the ProClick P210E model which will give you professional binding power. It has a high price.
Mid-sized Offices
Choose this electric machine if you need to bind the documents or other projects on daily basis. But the ProClick isn't designed for heavy-duty tasks, but for mid-size offices or schools. Use this binding machine with GBC ProClick Spines only, you need to buy it separately.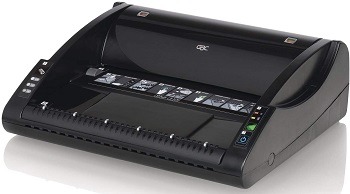 Open & Edit
The binding capacity is 110 sheets. The electric punch is able to pierce 15 sheets at the time, then they are ready for binding. The GBC ProClick is a flexible machine, you can easily open and edit the content. For the opening, you can use the pen or your hand. You can easily open and close binding.
Handy Right Feature
This electric binding machine works with a max spine size of 5/8 inches. Use the ProClick for letter-size documents as well as oversized papers and covers. The Handy Right feature provides accurate punching and binding every time. There is no messy work anymore.
Highlighted Points:
designed for everyday binding needs
compatible with GBC ProClick spines only
great for small and large documents
it punches 15 sheets at the time
the machine binds up to 110 sheets
Best Wire Electric Binding Machine
Akiles WireMac Binding Machine
Powerful Motor
The Akiles WireMac-EX31 electric binding machine features a powerful motor that is ideal for commercial volume workloads. This machine provides fast, accurate and professional binding. The dimensions of the machine are 19 inches in width, 16 inches of depth and 17.5 inches of height.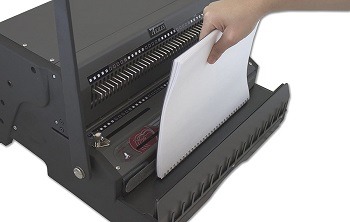 25 Sheets Of Paper
The Akiles is pretty heavy, there are 55 pounds. It's made of quality metal materials and has a high price, but there is a warranty which lasts 1 year. The punch capacity is up to 25 sheets of paper. Also, you can insert a hardboard which is 2.6mm or 0.10 inches thick.
40 Disengaged Dies
The single punch length is 14 inches, but the side is open if you want to use even wider documents. There are 40 dies, but you can disengage them if you work with shorter papers. The Akiles has an anti-jam feature if the paper stuck. Turn off the device, then use the reverse function.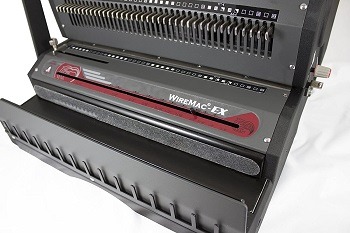 Manual Wire Closing
This wire binding machine makes three holes per inch. It has square holes of 4 x 4mm. You can punch the paper electrically, but the wire closing is a manual operation. But there is a convenient wire holder. This machine allows you to adjust the scale and control the margin.
Highlighted Points:
the construction is made of quality metal
it punching up to 25 sheets at the time
there are 40 dies which you can disengage
the reverse function for easy punching
convenient wire holder for simple use
adjustable margins and scale
Best Comb Electric Binding Machine
Fellowes Quasar Electric Machine
Compact Machine
The Fellowes Quasar E 500 binding machine is compact and practical for use. It measures 7.10 x 18.75 x 20.5 inches and weighs 21 pounds. This sturdy machine is made of steel, so it is durable and lasts for many years. It is easy to use the Fellowes – first punch the holes, align the paper and put the comb on.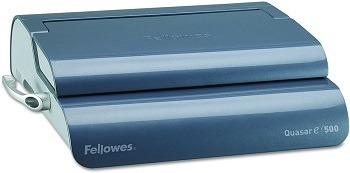 Measurement Device
This electric binding machine is able to punch up to 20 sheets of paper automatically. You just need to push the button. With a 2-inch comb, you can bind up to 500 sheets. There is a built-in comb storage tray with a measurement device for documents. That ensures more precise operation.
Daily Use
There is an adjustable edge guide, so you can easily center the documents and punch them more accurately. The mistake-proof tool prevents the wrong comb size. This electric comb binding machine is a good choice for daily use in large offices.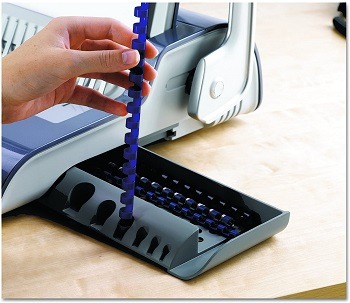 Vertical Loading
The Fellowes Quasar machine allows you to put the documents vertically for more accurate alignment. If you store some documents in the storage tray, it is easy to clean up, the front tray provides easy waste disposal. This electric binding machine is useful for school, recreational use for photographs or maps and business use.
Highlighted Points:
compact device with a user-friendly design
it punches up to 20 sheets
binds up to 500 sheets of paper
built-in comb storage tray with measurement
vertical paper loading for accurate operation
Best Cheap Electric Binding Machine
Swingline VeloBind V110E Machine
Lightweight Machine
The Swingline VeloBind V110E binding machine has 20 inches of length, 12 inches of width and 8 inches of height. It weighs 8 pounds only. It is the lightest electric binding machine on this list. You can easily move the device from one office to another. The price is affordable.
Neat Binding
This machine is good for large offices, companies and departments. You need to use it with VeloBind spines because they will provide neat and stackable binding. You can bind up to 200 sheets of paper at a time. With an electric punch, you can pierce through 24 papers.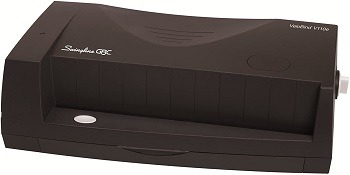 Push-button Operation
Read the instruction before use, but it is very simple to use this machine, when you want to punch the documents, push the button. That's it. Use the Swingline machine for standard document size, but it is good for non-standard oversize documents.
Editing Tool
If there are paper jams, use the jam release knob to clean it up. The paper alignment guide ensures precise punching. The editing tool is included, use it to add or remove the documents without canceling the whole binding process. Call the customer support if you have any questions, also, you can rely on a 1-year warranty.
Highlighted Points:
it offers a 24-sheet punching capacity
binds up to 200 sheets of paper
use it for standard and oversize documents
jam release function for smooth operation
Things To Know About Electric Binding Machine
There are two main binding machine types – manual and electric. Here you will learn more about the electric type and its important features.
Binding Frequency – The small business or organization will choose the small manual wire binding machines. But, medium-sized companies or users will often choose the binding machine with an electric punch. The biggest organizations will use two machines for punching and finishing.
Amount Of Papers – Or punching capacity. This is the most important feature. It tells you the maximal number of sheets that you can insert for a single punch. The home binding machines can punch up to 8 sheets and the heavy-duty machines punch up 20+ sheets of papers.
Binding Capacity – This feature also depends on how often you need to use this machine. If you are a casual user and need the binding machine for some booklet, consider 250 pages capacity. For professionals, that isn't enough, they should go with 400+ pages.
Easy To Use – When you buy an electric binding machine, you should read the instruction, because you can ruin your documents. The punching isn't complicated, especially the electric one, there is push-button or elelctric pedal. There is a useful fact, if you are left-handed, there is a device adjusted to your way of use.
Machine Versatility – If you have a binding machine with versatile features, you can use it for different sizes of paper. Often, these machines have a wide throat system, so you can use it for unconventional paper sizes. But, you can usually find this feature in professional binding machines, not casual ones.
Final Verdict
Did you read the reviews of binding machines and find your favorite one? If you still can't decide, we recommend the Fellowes Galaxy binding machine. It is intended for frequent use, Fellowes is able to punch up to 25 sheets electronically and it can bind up to 500 sheets. If you are interested in similar products for binding, check out the paper binding machines post. For notebooks, there is a useful guide and some quality models in the review of notebook binding machines.