Are you looking for a quality photo scanner to digitalize your valuable photos?
Or you are a professional photographer and need a new scanner?
Whichever the reason is, this review will be useful for you. There are two main parts: in our buying guide, we'll explain the features and advanced technology that these scanners use. In the second part, we selected the best professional photo scanners from the market which are equipped with excellent features.
Our Top Picks
6 Best Professional Photo Scanners
Best Of Best Professional Photo Scanner
Epson FastFoto FF-680W Scanner
Mac & Windows Compatible
The Epson FastFoto FF-680W scanner is one of the best on the market. This item measures 11 inches in height, 6.7 inches in depth and 11.7 inches in width and weighs 8.2 pounds. It is compatible with Mac and Windows operating systems.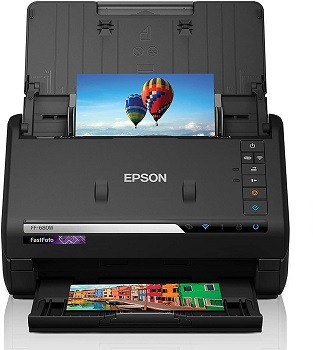 Fastest Scanner
This professional photo scanner is the word fastest personal photo scanner. It scans one photo per second. The package includes a carrier sheet, cleaning cloth, power cable with AC adapter, USB 3.0 cable, instruction and photo scanner, of course.
Safe Touch Technology
Epson is capable to scan a stack of 36 images up to 8.5 inches wide and 36 inches long. The Safe Touch technology allows you to scan paper or photo of any size, that includes polaroids and postcards. The Single Step technology ensures 2-sided scanning.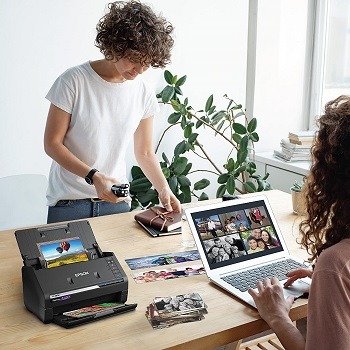 Intelligent Software
For photos you want to save, it features auto-upload and backup to Dropbox, Google Drive or OneDrive services. You can access your photo library anytime from anywhere. The Epson delivers a resolution of 1200 dpi. The software features auto enhancement, color restoration, deskew and red-eye elimination.
Highlighted Points:
use it as a wireless or USB powered device
single-step technology provides 2-sided scanning
it achieves a resolution of up to 1200 dpi
world's fastest personal pro photo scanner
automatically restore image quality
scans documents or photos of any sizes
Best Cheap Professional Photo Scanner
Canon CanoScan Lide 220 Scanner
Compact Device
The Canon CanoScan Lide 220 is a compact and affordable photo scanner. The dimensions are 14.40 x 9.90 x 1.60 inches. The weight is 3.4 pounds. You can easily store it in your backpack or briefcase and carry it. It can be used by Windows and Mac users.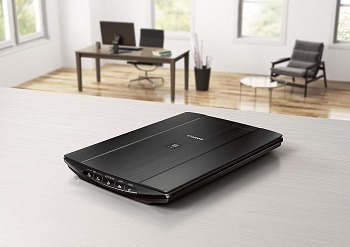 281 Trillion Colors
The maximal power consumption in operating mode is 2.5W. The maximal document or photo size you can insert is 8.5 x 11.7 inches. This professional photo scanner features 48-bit color depth, so it's able to produce more than 281 trillion colors.
Five EZ Buttons
Canon CanoScan cheap document scanner features five EZ buttons, use them for scan, copy, send data to cloud services, quickly create a single or multiple-page PDFs. The Auto-document Fix feature delivers quality scans with image analysis and data correction. The max optical color resolution is 4800 x 4800 dpi.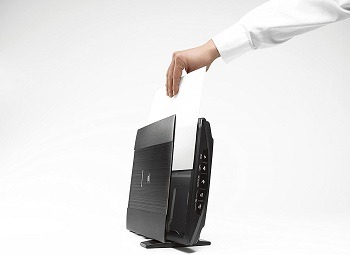 Automatic Features
With Auto Scan Mode 3, the scanner automatically recognizes the document of phototype, scans it and saves with suitable settings. The Canon CanoScan comes with a stand that offers vertical scanning. Moreover, you can scan two small photos and the software will recognize them as separate items.
Highlighted Points:
affordable, but very quality photo scanner
compatible with Windows and Mac
optical color resolution is 4800 x 4800 dpi
five buttons for easy scanning and saving
automatically recognize the document type
Best Wireless Professional Photo Scanner
Fujitsu ScanSnap iX500 Scanner
User-friendly Design
The Fujitsu ScanSnap iX500 is a bit bigger device, its size is 15.50 x 10.90 x 9.80 inches and weighs 3 pounds. It is compatible with three operating systems – Mac, Windows and Linux. The Fujitsu has a user-friendly design, it will guide you through the scanning process.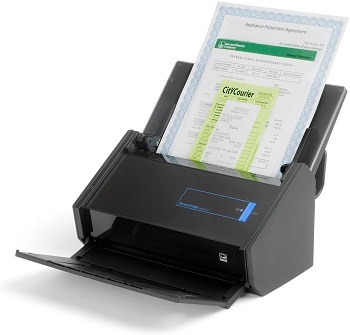 Wide Range Of Sizes
This professional photo scanner has a high price. After you scan your documents and photos, you can access them anywhere and anytime. You can wirelessly scan to your Mac, iPad, iPhone or Android device. The Fujitsu is designed for different sizes – from business cards to even A3 document size.
Protect Your Data
When you scan the photos, send it to wherever you want, for example to your cloud service. The integrated software allows you to create searchable PDFs. You can generate a password and digital ID attached PDF data and protect your sensitive information for unauthorized access.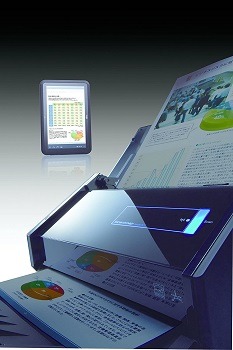 Intuitive Menu
The Fujitsu pro photo office scanner comes with a dual-core GI processing engine. That means you can wirelessly operate the scanner via your smart devices. The Intuitive Quick menu will recognize your scans type and will recommend the related settings. The ScanSnap Receipt allows you to extract information from receipts.
Highlighted Points:
it features a newly developed GI processing engine
synchronizes automatically photos between PC and mobile device
ScanSnap Receipt allows you to extract data from receipts
carrier sheets for larger documents sizes
built-in searchable PDF creation software
scan directly to your cloud service
Best Negative Professional Photo Scanner
Optix Digital Photo Scanner
Film Scanner
The Optix Digital Photo negative scanner is designed for film and photo scanning. The box contains a film holder, frames film holder, AC/DC adapter, photo/name cardholder, OCR software CD, user manual and photo scanner. The dimensions are 8.66 x 8.1 x 5.7 inches. It weighs 1.8 pounds.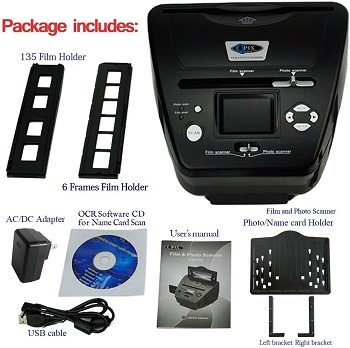 Memory Card
This professional photo scanner is powered by a USB/5V adapter. The LCD screen size is 2.4 inches. The sensors provide a high resolution of 3352 x 2392 dpi. It delivers 8.1 megapixels. The Optix features an integrated memory card, so you can save the photos directly on the SD card.
File Transfer
When you want to transfer your scanned photos, plug the USB cable into a PC or Mac and turn on the USB transfer mode. The negative scanner has an integrated memory for recording and these files have a top priority for saving. On the LCD screen, you can immediately see your scanning photos.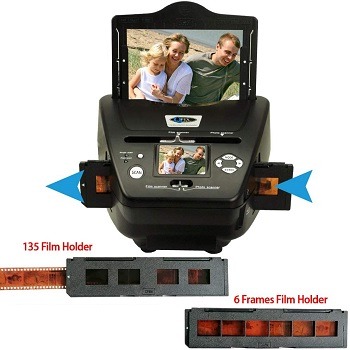 Loading Negatives
First, you need to open the negative film holder, then place the slide into a recessed area. Do it carefully, the slide should fit. After that, close the negative holder and press the edges. Hold it in position and insert the slide holder on the right side.
Highlighted Points:
film and photo scanner with 8.1-megapixel sensor
2.4-inch color LCD screen for viewing scanned photos
this scanner has a built-in memory of 128MB
saves photos directly on SD card
compatible with Mac and Windows
Best Slides Professional Photo Scanner
ClearClick Photo Scanner
14 Megapixels
The ClearClick scanner is designed for photo, slide and negative scanning. The overall scanner size is 8 x 7 x 6 inches, it is a compact device. The LCD screen size is 2.4 inches, its size is measured diagonally. The ClearClick delivers 14 megapixels of scanning resolution.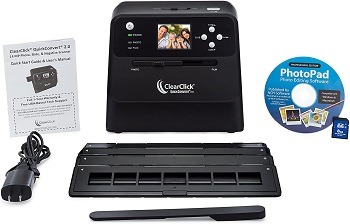 8GB Memory Card
The package includes a scanner, slide and negative holders, cleaning brush, batteries, power adapter, USB cable, memory card of 8 GB, software CD and instruction. Before you buy this item, you should know some specifications, for example, the compatible photo size is 4 x 6 inches and smaller.
Slide Size
The compatible slide size is 135/35mm. Also, you need to change switches to film mode and press the Type button. Then you can select the appropriate settings. The compatible negative sizes are 135/35mm, 120 and 110. The memory card can handle over 2000 photos.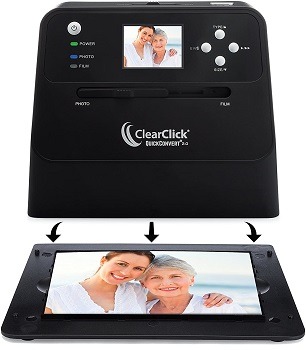 PhotoPad Pro Software
ClearClick works with Windows and Mac systems. With PhotoPad Pro software you can edit, resize, retouch and crop your photos. This is a portable slide scanner, you don't need a computer, cords, take it with you and scan wherever you want. It takes 2-3 seconds to scan a photo or slide.
Highlighted Points:
fast photo, negative and slide scanner
no need for computer, cords or drivers
the scanning speed is 2 to 3 seconds
it scans at 14 megapixels and saves the data
the built-in memory card of 8GB
the rechargeable batteries are included
Best Flatbed Professional Photo Scanner
Epson Perfection V850 Pro Scanner
Heavy Item
The Epson Perfection V850 Pro Scanner is a flatbed scanner type. It measures 6 inches in height, 19.8 inches in width and 12.1 inches in depth. It weighs 20 pounds, so place it in some fixed place. The package includes an installation CD, scanner, AC adapter and power cable, USB 2.0 cable and film holders.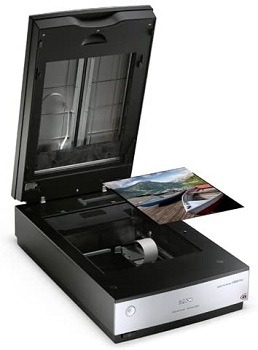 Very High Resolution
This flatbed scanner is intended for professionals and detailed-oriented film photographers. It features an incredibly high resolution of 4800 x 9600 dpi.  Each photo made by this scanner looks amazing. it is important to note that the scanner is compatible with Windows and Mac.
Shadow Details
It features a 48-bit color depth and 4.0 Dmax dynamic range. These features keep scans consistent. The Epson is able to deliver smooth gradations and fine shadow details. Digital ICE technology automatically removes scratches and dust from scans.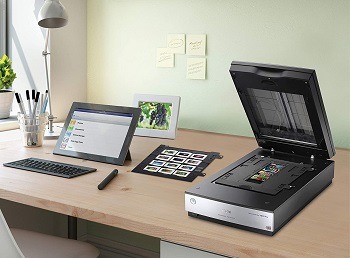 Dual Lens System
As we mention, the resolution is high, but this professional photo scanner features a dual-lens system. This system is capable of 6400 x 9600 dpi. Furthermore, the lens system automatically places the optimal lens in the optical path, depends on the scanned media.
Highlighted Points:
high-end professional photo scanner
delivers a high resolution of 6400 x 9600 dpi
it features a dual-lens system
powerful software controls highlights and shadows
it restores faded color photos to its original look
automatically removes dust and scratches
Things To Know About Professional Photo Scanner
The professional photo scanner features more advanced characteristics than regular photo scanners. Check out their resolution, scanning speed and other features.
High Resolution – If you are a professional, you need to deliver high-quality photos. So you need to choose the photo scanner with high resolution. We recommend you to consider the scanners with 4800 or 2400 dpi resolution. The 600 dpi is reserved for non-professionals.
Intelligent Features – The professional scanners often have some advanced features. That makes your work easier. For example, they automatically remove the scratches and dust from your photos. Many pro scanners come with integrated software that recognizes and saves your scans.
Scanning Speed – You can't buy a pro photo scanner which requires 7 seconds to scan a single photo. That is definitely too long time. Consider the scanners with at least 3 seconds for scanning. In our list, you can find the fastest world photo scanner.
Scanner Type – There are different scanner on the market. Many professional photographers recommend flatbed design. How do they work? You need to lift the lid, place the photo on the glass platen and press the scan button. Pretty simple. They are able to scan large formats.
Slide, Negative, Photo – Good scanner isn't designed just for photo scanning and saving. If you already buy a professional photo scanner, choose the model which is able to scan slides, negatives, films. So you can use it for multiple tasks. It should be equipped with appropriate parts like slide holders.
Final Verdict
Did you decide which model is the best for you? Well, if you didn't, consider the Epson FastFoto FF-680W scanner once again. It is one of the fastest photo scanners and it features advanced technologies like safe touch technology, high resolution and many others. If you require high quality, check out the post about high-resolution photo scanners. For those who work with a large volume of documents and photos, the review of high capacity scanners will be useful.