Are you looking for a practical photo scanner?
More and more people take their business at home or work in different places. Because of that, they looking for an appropriate device. If you are one of them, you will be interested in a portable photo scanner. To help meet your needs, we write a buying guide which is full of valuable information. Also, we pick some quality models, so check out their reviews.
Our Top Picks
6 Best Portable Photo Scanners
Best Of Best Portable Photo Scanner
Epson WorkForce DS-30 Scanner
For Travelers
The Epson WorkForce DS-30 is a small and convenient scanner. It measures 10.86 x 1.97 x 1.45 inches and weighs 0.70 pounds only. It is available in black color. This portable picture scanner is great for people who travel a lot, go to meetings and conferences.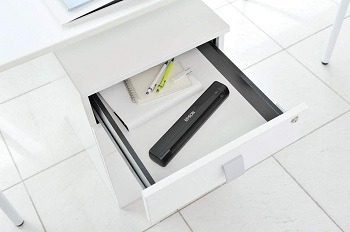 USB Powered
Because of its small dimensions, it fits in your drawer, backpack or purse. It is great for any business set up because it's compatible with Windows and Mac. The Epson doesn't require an external power supply. This is a USB powered scanner.
Photos, Cards, Papers
This portable photo scanner has the ability to scan documents, photos, business cards, plastic cards and more. But you can't insert document of any size into this device. The maximal document size is 8.5 inches in width and 14 inches in length. Don't exceed that limit, you'll cause paper jams.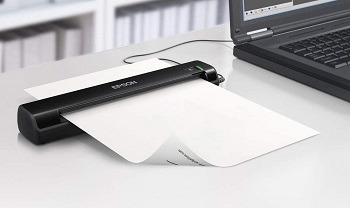 Editable Texts
The software is included and the scanner is compatible with popular cloud services. You can scan your documents and send them to could, like Google Drive. Also, you can create editable texts and searchable PDFs with Optical Character Recognition (OCR).
Highlighted Points:
travel-friendly picture scanner
scan documents, business cards, photos
the max paper size is 8.5 x 14 inches
USB powered device, the cable is included
compatible with Windows and Mac
Optical Character Recognition feature
Best Compact Portable Photo Scanner
Brother DS-620 Portable Scanner
Less Than Pound
The Brother is a very popular company which produces many different scanners, they all have quality features. So as Brother DS-620 handheld photo scanner. This is a mobile picture scanner that measures 11.4 inches in length and less than one pound. That makes it easy to carry around.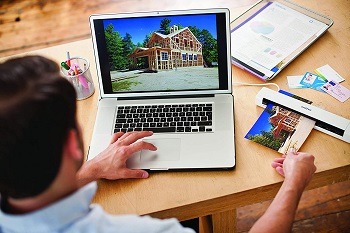 1 Page Per Pass
This compact photo scanner is powered by USB, just plug it into the USB port. The Brother DS-62 is compatible with Linux, Windows and Mac. You can use this device for business cards, receipts, ID cards, photographs and more. It takes one sheet at a time.
Integrated Software
It is a single-side scanner, but it scans up to 8 pages per minute. The max paper size is 8.5 x 14 inches. The DS-620 scans at up to 1200 x 1200 dpi resolution. With integrated software, you can scan a document to a local file, to a shared folder, email,… It is easy to save and share documents.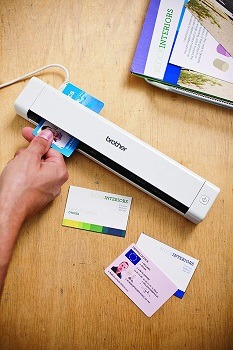 Operating Temperature
This scanner features industry-standard drivers, that includes Twain and Sane. You can quickly merge different files of different formats to one multi-page PDF. The operating temperature goes from 41°F to 95°F or in celsius, from 5°C to 35°C. The max daily duty cycle is 100 pages.
Highlighted Points:
the fast scanner of up to 8 pages per minute
compatible with Windows, Linux and Mac
it scans receipts, documents, photos, cards
1200 x 1200 dpi resolution
scan, convert, organize and share documents easily
Best Flatbed Portable Picture Scanner
Canon CanoScan Scanner
No Warm-up Time
The Canon CanoScan 9000F scanner is a flatbed scanner. This scanner type uses a flat surface for scanning documents. It is ideal for those who scan old documents and photographs. It has zero warm-up time and uses a white LED that provides low power consumption.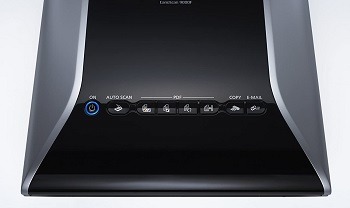 Bigger Device
The dimensions of this scanner are 18.9 x 10.7 x 4.4 inches. It is a bit bigger than other portable photo scanners on this list, but it weighs 10 pounds, so it's easy to carry it. It isn't designed for all document sizes, the max size is 8.5 x 11.7 inches. This is a pricey scanner.
Film Scanning
The Canon features an Auto scan mode which automatically detects what you are scanning and immediately adjusts the settings. It is compatible with Windows 7, Windows Vista, Windows XP/2000 and Mac. With this scanner, you can scan documents, photos and even 35mm film.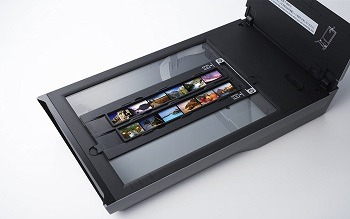 Auto-fix Feature
This scanner delivers incredible film scanning resolution of 0f 9600 x 9600 dpi. The Auto Document Fix feature automatically analyzes and corrects text and photos. Your text will be clear for reading and the photos will maintain their color quality. The gutter feature removes shadow when you scanning the book.
Highlighted Points:
portable flatbed scanner with great features
scans documents, photographs and films
the high film scanning resolution – 9600 x 9600 dpi
auto-document fix feature improves the quality
auto-scan mode adjusts the settings automatically
Best Handheld Portable Picture Scanner
ClearClick Portable Scanner
USB Cable Included
The ClearClick is a portable document and photo scanner which doesn't require a computer. The box contains a scanner, user's manual, carrying case, software download card and USB cable. There are some required things, which will improve your scanning experience: microSD and batteries.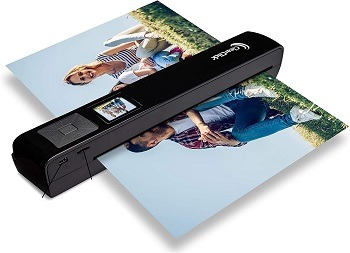 Mac Users
You can use this portable scanner in two ways. If you don't want to use a computer, buy a microSD card. The 32GB is maximal. Also, you'll need three AA batteries. When you scan the photos, use the USB cable and connect the scanner to your PC, then you can transfer all scanning pictures.
PC Only
If you don't want to buy batteries or memory card, use the USB cable, connect the handheld document scanner with your PC and scan documents and photos to your computer. The software is included, so you can automatically convert the transferred things. Use the instruction before scanning.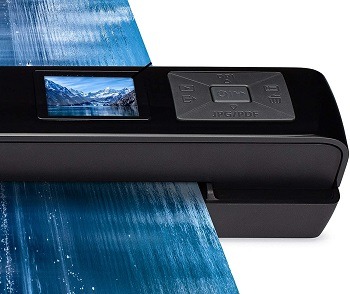 Fast Scanning
You can insert one photo or document at a time. The ClearClick is a very fast scanner, it scans within a few seconds. The maximal document or picture size is 8.5 inches in width and 47 inches in length. This handheld scanner ensures quality scanning of up to 1200 dpi. When you scan the photo, you can see it immediately on the 1.4" LCD screen.
Highlighted Points:
quality handheld scanner with a USB cable
works with microSD, batteries and directly with PC
1.4" LCD screen shows a scanned picture
insert one document or photo at a time
it scans within few seconds
Best Home Portable Photo Scanner
Doxie Q Portable Scanner
Wireless Device
Doxie Q is a wireless rechargeable document and a picture scanner. It is a pretty small device, we can compare it with the keyboard. There are Doxie's dimensions: 29.5 inches of length and 8.1 inches of width. It weighs less than 2 pounds. This device requires 1 lithium-ion battery and it is included in the package.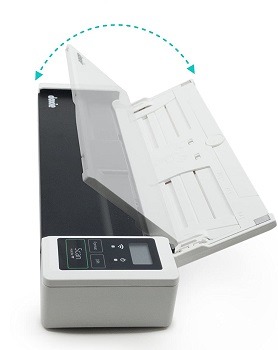 Fits Anywhere
The Doxie Q is great for home use, but it is truly portable, so you can put it into your bag, backpack or purse. It fits anywhere. It has one port, a micro USB port. This provides power and data transfer via USB. The memory is included and the WiFi is integrated into this scanner.
User-friendly Design
It is pretty simple to use this home document scanner, just flip Doxie Q open, insert your document or photo and hit scan. You can insert a stack of 8 pages at once. This portable scanner provides 600 dpi. Also, you can use a direct slot for cards, photos, receipts and other fragile items.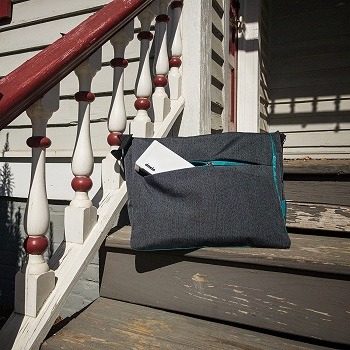 ABBYY OCR Technology
Doxie Q uses awarded ABBYY OCR technology. You can save scans to your desktop, laptop, cloud or somewhere else. This scanner includes Mac and PC apps, so you can create and organize multi-page PDFs. With a full battery, you can make 1000 scans before recharging.
Highlighted Points:
wireless rechargeable scanner
built-in WiFi and software
it scans up to 8 pages at a time
you can organize, scans and create multi PDFs
intelligent auto-adjust for your documents
Best Cheap Portable Photo Scanner
Visioneer RoadWarrior Scanner
In The Box
Visionner RoadWarrior is a good mobile scanner. It is compatible with PC and Mac with included drivers. This portable photo scanner measures 11.5 x 2.6 x 1.6 inches and weighs 1.1 pounds. The box includes a scanner, travel bag, USB cable, carries sheet, quick install card, DVD with user's manual.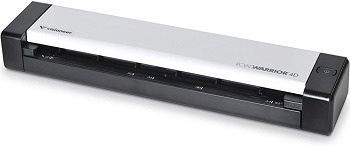 Carrier Sheet
The carrier sheet is a plastic sleeve which is useful for delicate originals. It uses OneTouch technology which makes scanning simple. The Visioneer is powered by USB. It is a duplex scanner, which means, it is able to scan both sides of the page at the same time.
Acuity Technology
Acuity technology immediately improves visual clarity. To scan a single page, this scanner takes 8 seconds. It delivers 300 dots per inch. With this portable scanner, you can scan 100 pages on daily basis. The max document size you can insert is 8.5" W x 32" L.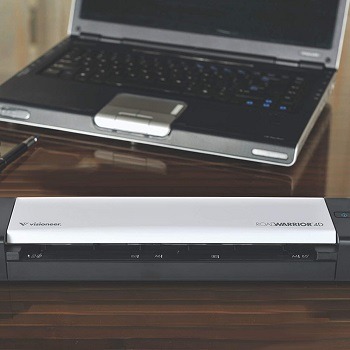 OCR Software
The minimum paper size is 1.5 x 1.5 inches. This affordable scanner is good for documents, pictures, receipts, business cards and others. You can create multi-page PDFs for better organization. After you scan the documents, you can deliver them to email, file folder or cloud. The Optical Character Recognition software is included.
Highlighted Points:
compatible with Windows and Mac
OCR software is included in the device
OneTouch technology for easy control
Acuity technology improves picture quality
scanning speed – 8 seconds per page
Things To Know About Portable Photo Scanner
The portable picture scanners have a bit different features than regular ones. First, they have different dimensions. Also, there are different capacity, speed, compatibility and other features.
Scanner Dimensions – The portable picture scanners have some features in common, the design and dimensions are pretty similar. They come in small sizes and handheld design. You can carry these scanners in your bag and use them wherever you need them. They are very practical.
Page Capacity – Because they are small products, you can't insert 20+ pages into these machines. They can take up to 8 sheets. That is maximum. Also, you can use direct scanning if you like. The page capacity range goes from 1 page to 8 pages.
USB/Battery Powered – Usually, these scanner types are wireless. They often work on batteries. Before buying, check out if the batteries are included in the package. Use a USB cable to recharge the scanner and to transfer the picture and documents on your PC /laptop.
Duplex Scanning – If you want to buy a portable scanner, but have many pages to scan, consider a scanner with a duplex feature. That means, this multi-page document scanner is able to scan the pages from both sides at the same time. You don't have to turn it on the other side and scan again.
Scanning Speed – These scanners aren't the fastest on the Earth. But there are some models on our list which are able to scan the document within a few seconds. But usually, they require about 5 to 8 seconds for a single page. Picture scanning requires even more time.
Final Verdict
It is hard to decide which model is the best on this list. Find one which suits your needs. We suggest the Epson WorkForce DS-30 scanner. It is lightweight and compact, compatible with Windows and Mac and USB-powered. If you work with books, check out the portable book scanners review. The flatbed scanners provide the highest quality, if that is something you look for, read the post about portable flatbed scanners.