Are you interested in a mobile scanner for your photos?
If you are, keep reading.
We will talk about handheld photo scanners and their benefits. In the buying guide, we'll explain the features you need to look for. Then you can explore the models from our list, we pick some with outstanding features.
Our Top Picks
Best 6 Handheld Photo Scanners
Best Of Best Handheld Photo Scanner
Brother DS-740D Handheld Scanner
USB-powered Device
The Brother DS-740D is a compact handheld photo scanner. It measures 11.9 in length, 2.5 in width and 1.8 in height. It is lightweight, so you can carry it with you if you travel somewhere and store it easily. It is a USB powered device at an affordable price.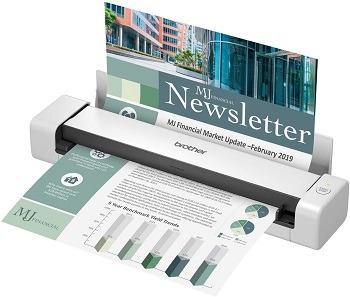 Duplex Scanning
This handheld image scanner has the capability to scan one-side or both sides at the same time. That is a very useful feature, it saves your time. The DS-740D can scan 16 pages per minute, it is a fast scanner. It is compatible with Linux, Mac and Windows.
Send To The Cloud
The Brother image scanner supports TWAIN, Sane and ICA drivers. When you want to transfer your scans, use the micro USB 3.0 cable and connect it to your PC or laptop. You can scan to many locations, like email, cloud services, file images, etc.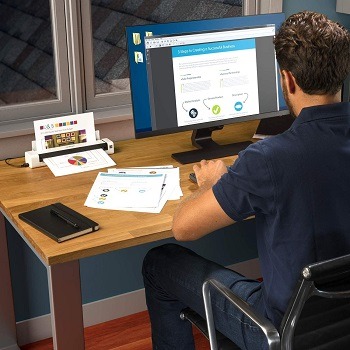 OCR Function
Use this handheld document scanner for papers, documents, photos, business and ID cards. The maximal paper or photo length is 72 inches. The photos could be colored and black and white. The DS-740D uses Optical Character Recognition, you can convert your scans into editable and searchable PDF files.
the compact and portable handheld image scanner
use it for photos, documents, business cards
it's compatible with Linux, Mac and Windows
the max paper length is 72 inches
it scans photo or paper from both sides
Best Home Handheld Photo Scanner
ClearClick Handheld Scanner
Battery-operated Item
The ClearClick handheld picture scanner runs on batteries, It requires 3 AA batteries. Also, you can use a USB wall power adapter. The batteries aren't included in the package. The box contains a scanner, manual, carrying case, USB cable and software download card.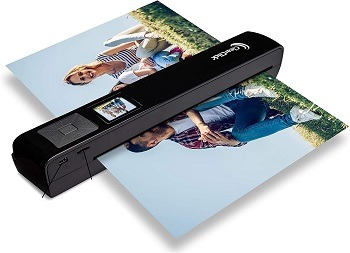 Built-in Automatic Feeder
This handheld photo scanner doesn't require a computer, it scans directly to SD memory card in JPG or PDF format. The scanner has a built-in auto-feeder that scans one photo/document at a time. The max dimensions of paper/photo are 8.5 x 47 inches.
Two Ways Of Use
You can immediately preview the scans on the 1.4-inch LCD screen. The delivered resolution is 1200 dots per inch. Use this home document scanner in two ways; firstly, use the memory card, scan all of your photos and after that, transfer them to your PC. Secondly, use it without battery and memory card, scan directly to PC.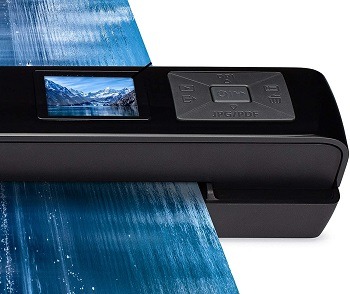 Tech Support
This scanner is durable and quality. The manufacturer provides a 1-year warranty. But if the instructions aren't clear, you can call the Tech support and they will answer your questions. The price is affordable, so this handheld picture scanner is great for personal use or small business.
affordable handheld scanner with a 1-year warranty
the max paper/photo size is 8.5 x 47 inches
use it in two ways – with battery or USB cable
preview the scans on a 1.4-inch LCD screen
it features integrated auto-feeder
Best Automatic Handheld Photo Scanner
Doxie Q Photo Scanner
Elegant Design
Doxie is a very popular scanner brand. Here we talk about the Doxie Q model. It is a handheld photo scanner with an elegant white design. The dimensions are 11.61 inches in length, 3.19 inches in width and 1.61 inches in height. It weighs 821 grams or 1.8 pounds.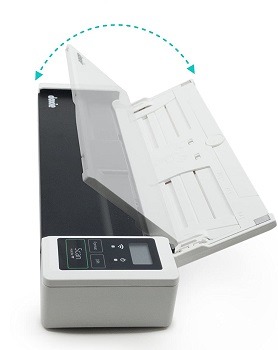 Wireless Device
It has built-in Wi-Fi and rechargeable batteries. With the full battery, you can make over 1000 scans. Doxie Q has a collapsible flip open automatic document feeder. It is able to scan one side of the paper or photo, this isn't a duplex scanner. I can be used by Mac and Windows users.
600 DPI Resolution
The automatic feeder is able to scan up to 8 photos at either 300 or 600 dots per inches. The integrated software allows you to organize, save and create searchable multi-page PDFs. You can save your files to your PC, local apps, cloud services like Google Drive, OneDrive, etc.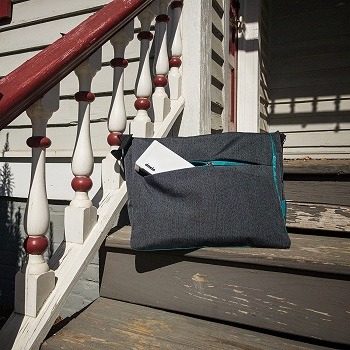 ABBYY Technology
Doxie home office scanner is able to scan receipts, photos, cards, documents and others. The ABBYY technology is popular, award-winning technology for PDF files creating. To scan one page or photo, this handheld photo scanner takes approximately 7.5 seconds.
automatic and rechargeable photo scanner
it scans the page for up to 7.5 seconds
the automatic feeder is able to scan up to 8 photos
the resolution is 600 dots per inch
the ABBYY technology is integrated
Best Office Handheld Photo Scanner
Vupoint Handheld Scanner
Operating Systems
The Vupoint office scanner is a USB powered device and it is available in black color. It measures 13.20 x 3.20 x 2.10 inches and weighs 1.4 pounds. You can store it in your drawer, bag or backpack if you go on some trip. The Vupoint handheld photo scanner supports Mac and Windows.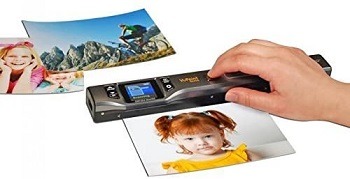 Preview Your Scans
This handheld photo scanner requires a lithium-ion polymer battery. When you scan photos or documents, you can save it onto a microSD or microSDHC memory card. The max space is 32 GB. On the 1.5-inch color LCD panel, you can preview your scans.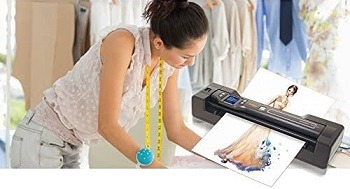 3 Seconds Per Page
The Vupoint handheld image scanner delivers a resolution of 1200 dpi. The maximal paper or photo size is 8.5 inches in width and 125 inches in length. That is a pretty long paper. Moreover, the scanning speed is optimal, it scans one page per 3 seconds.
it uses a rechargeable lithium-polymer battery
the resolution is 1200 dots per inch
it accepts panoramic photos of 125 inches in length
the scanning speed is 3 seconds
there is a 1.5-inch LCD panel for preview scans
Best 2-sided Handheld Photo Scanner
Epson Wireless Scanner
Convenient Scanner
The Epson Wireless scanner is a quality scanner, it' has small dimensions, so you can carry it with you in your office or home, wherever. It will fit in your backpack, too. The dimensions are 3.5 x 11.3 x 2.6 inches and the weight is 3 pounds.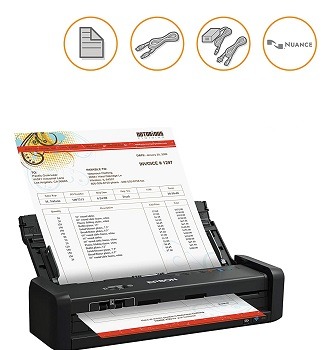 Searchable PDF Files
This scanner is compatible with Mac and Windows. You can scan documents, photos, receipts, cards. The optical resolution is 1200 dpi for color pages. You can create your searchable PDFs. Save them to your computer, tablet, laptop or cloud service, like Google Drive or OneDrive.
Single-Step Technology
The Epson is able to scan different photos or document sizes, from business cards to legal size papers. The automatic document feeder handles up to 20 pages. This scanner scans both sides of the paper at the same time. Moreover, it scans up to 25 pages per minute or 50 images per minute.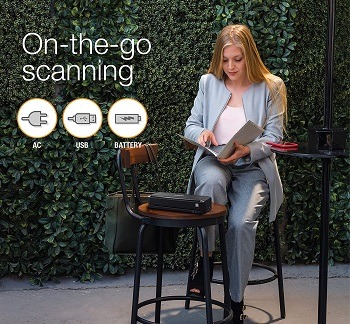 Scan Correction
This handheld image scanner has intelligent scan correction features, that include auto color detection, auto rotation, crop, blank page removal, deskew and others. The Epson is able to scan color, grayscale and monochrome photos.
wireless automatic document feeder
OCR technology for searchable PDF files
optical resolution of up to 1200 dpi
it handles different paper sizes
intelligent scan correction features
Best Cheap Handheld Photo Scanner
Canon imageFormula Scanner
Slim Design
The Canon imageFormula P-208II is a small personal scanner. It is a slim and lightweight scanner with 15.25 x 5.75 x 4.75 inches. It weighs 1.3 pounds. You can carry it in your briefcase, bag, it fits anywhere. It can handle receipts, business cards, long documents and photos.

Cloud Compatibility
This is an affordable handheld photo scanner with a 1-year warranty. The Canon supports Windows and Mac and the TWAIN driver is included. It is ideal for home, office, actually wherever you need to use it. Scan the photos quickly and send them to third-party cloud services, like Google Drive.
Automatic Feeder
When you insert the photo into the cheap document scanner, the Canon automatically adjusts the settings to deliver optimal images. It is able to scan both sides of the document at the same time. This handheld picture scanner scans 8 pages per minute. The automatic feeder can handle up to 10 sheets.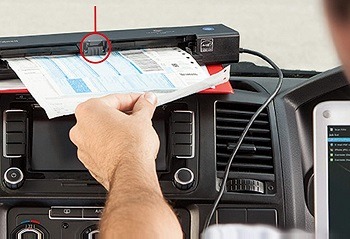 Energy Star
The Energy Star certification means low power consumption. It can scan in color, black and white and greyscale. You can insert thick, thin, plastic or embossed documents. This is a USB powered device, so plug it into the computer. Canon delivers a resolution of 600 dots per inch.
affordable personal handheld scanner
it scans in color, black and white and greyscale
accepts thin, thick, plastic and embossed documents
the resolution is 600 dots per inch
it automatically adjusts settings for photos
the automatic feeder handles 10 sheets
Things To Know About Handheld Photo Scanner
The handheld photo scanners have many benefits, they are compact, good for photos, documents and business cards and you can carry it with you and scan wherever you need. Check out other features.
Portability – The handheld photo scanners have a lightweight and convenient design. They are small, so you can carry them in your briefcase, purse, backpack, they fit anywhere. Use it for scanning documents and photos and convert them into digital files.
Easy-to-use – The handheld scanners have a simple interface and they usually don't have some advanced features. There are a scan button and send-to-the-cloud-applications button. When you place it somewhere, you need to hold it in a straight position.
USB Or Wireless – You can choose which connection type you want to use. There are USB powered handheld scanners, you need to plug it into your PC or laptop, scans photos and send them to some location. The wireless scanners save scans on the memory cards.
Software – These scanners often have integrated software. The software is useful for memory organizing, capturing image data and processing pictures into standard JPEG format. You need to install software on your PC, too. Then you can correct and improves photo quality.
Paper Sizes – The handheld scanners aren't intended for small paper sizes only, there are also legal size paper scanners. They usually can take a variety of document sizes. That means you can scan business and ID cards, thin and thick papers. You can use one device for all of these document types.